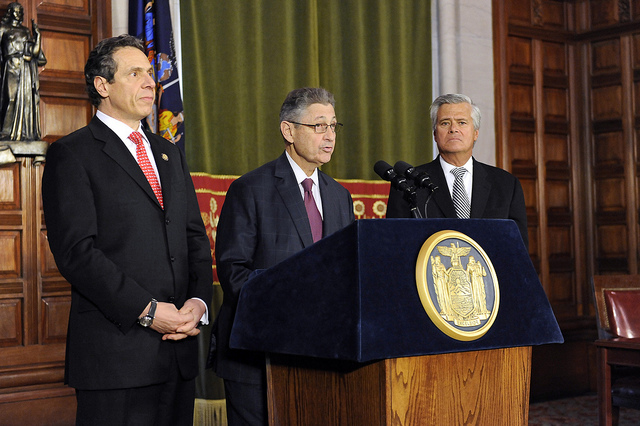 Gov. Cuomo, Sheldon Silver & Dean Skelos in 2012 (photo via The Governor's Office)
---
As allegations of sexual harassment and assault against disgraced movie producer and major Democratic political donor Harvey Weinstein piled up earlier this month, women around the world took to social media to share stories of abusive behavior using the hashtag #MeToo.
The light being shone on the predatory behavior of Weinstein and many others resonated at statehouses across the United States, from California to Rhode Island, where women in politics have been speaking out about sexual misconduct they experienced first-hand or witnessed, with victims including legislators, young staffers and interns, lobbyists, and others.
In New York's capital, the response has been more muted, in part because the Legislature is not currently in session, but also because Albany was recently forced to face its own mishandling of sexual misconduct scandals. As recently as 2014, the aftermath of a debacle around sexual harassment by Assemblymember Vito Lopez, which led to his forced resignation from the Assembly, produced a number of significant reforms to how harassment, misconduct, and discriminatory behavior are addressed in the state Assembly.
Now, three years later and amid a national reckoning with issues related to sexual misconduct, women in state government who spoke to Gotham Gazette noted an improvement in the Albany culture since these reforms, but say that sexist attitudes and behavior continue to plague New York state government.
While several female legislators were hesitant to speak on the record about their own experiences with sexual harassment, Secretary to the Governor Melissa DeRosa spoke frankly about her own experiences with sexism in the political sphere at a recent forum organized by Berkeley College in Manhattan. She described one incident, a decade ago, when on a conference call, it was announced that she would take the lead on a project. A man on the line, who is now a national leader in progressive politics, according to DeRosa, joked, "She can take the lead right up to my hotel room," apparently unaware that DeRosa was on the line.
"These instances have stuck with me, but I'm not kidding myself and neither should you — many women have and still do experience far worse every day, and it's not just actresses you're reading about in the news this week," she said, according to a transcript distributed by the governor's office.
Calling for "societal course correction," DeRosa encouraged young women in all industries to speak out.
The statement was a powerful one coming from DeRosa, who at 34 became the youngest person and first woman to be named Secretary to the Governor, the top aide to the state's most powerful government official, when she was appointed to the post by Governor Andrew Cuomo. Days after DeRosa's remarks, a former top official in Cuomo's administration came forward with allegations that her former boss sexually harassed staffers, saying she was inspired by DeRosa's remarks, according to The New York Post.
Patricia Gunning, who had recently resigned as the special prosecutor/inspector general of the Justice Center for the Protection of People with Special Needs, told The Post that she faced retaliatory violence for calling out her boss for his behavior.
"My hope is that this conversation will be the beginning of a new era in [how] these issues are addressed by employers," Gunning told The Post.
On Monday, it was revealed that Sam Hoyt, a former assemblyman and Cuomo ally who ran Buffalo area projects for the state's Empire State Development Corporation, had abruptly resigned to take a job in the private sector. By Tuesday afternoon, Hoyt, who was disciplined by the Assembly in 2009 for an affair with 19-year-old intern, was accused by a former state employee of pressuring her into a romantic relationship. She told The Buffalo News that she was paid $50,000 for her silence.
In a statement, Cuomo spokesperson Dani Lever acknowledged that allegations of misconduct had emerged against Hoyt and that an investigation was underway.
"All state employees must act with integrity and respect," the statement read. "When the complainant made these allegations, they were immediately refered to the Governor's Office of Employee Relations (GOER) for an investigation."
After GOER determined there were grounds for further review, the matter was referred to the Inspector General's Office, and later, the Joint Commission of Public Ethics (JCOPE), according to the statement. Hoyt maintains that the relationship was consentual, according to The Buffalo News.
But while to this point there has not been a new public outcry at the New York Legislature, female lawmakers say that the Weinstein scandal and its fallout have struck a chord and sparked private conversations about their early experiences in Albany and how they can best aid young female staff aides and legislators.
One such conversation occurred at a retreat for the Women's Legislative Caucus in Saratoga two weeks ago, where women shared uncomfortable incidents they had experienced early in their careers and discussed how they could better unify when scandals occur, according to Assemblymember Crystal Peoples-Stokes, a Buffalo area lawmaker who chairs the Women's Caucus. One thing agreed upon, Peoples-Stokes said, was that the Assembly's sexual harassment enforcement could be enhanced by a mentorship program for incoming members and their aides.
"We wanted to see if there is anything we can do in addition to ensure that we never need to have these experiences again," said Peoples-Stokes. "It is something that we decided we are going to do as women of the Legislature, and you know, when women decide to do something, we get it done."
While the Assembly reforms appear to have improved the culture in the 150-seat chamber, Albany's sexual harassment problem has not disappeared. The Senate and the Assembly have spent hundreds of thousands of dollars over the past two years on outside counsel to investigate sexual harassment complaints. The Assembly's ethics committee -- which exists solely to enforce policy on sexual harassment, discrimination, and retaliation -- convened a meeting in executive session on October 12 and is expected to meet again on November 2. The matter at hand is not clear.

Currently reported to be under investigation by JCOPE and the Erie County District Attorney's office is Senator Marc Panepinto, a Democrat from Buffalo, who announced he would not seek reelection last year amid rumors of sexual harassment. Also last year, the Senate paid out $121,000 for two contracts with Kraus & Zuchlewski LLP "for legal counsel related to U.S. Equal Employment Opportunity Commission matters and investigation of sexual harassment claims."
Assembly members who spoke with Gotham Gazette acknowledged the body's embarrassing history of dismissing sexual misconduct claims internally, which has led to a slew of unflattering headlines in 2012 and 2013, but noted that an influx of female legislators to the Assembly in recent years has also helped to reshape the culture. At the Senate, such scandals and its culture of protecting those in power has not drawn the same scrutiny.
Last week, New York's chapter of the National Organization of Women (NOW) made an effort to further jumpstart the conversation, calling on women and men who currently or previously work(ed) in government in Albany and throughout the state to speak out about their personal experiences with sexual harassment or assault while on the job, citing the Legislature's history of quashing sexual harassment complaints.

"Government sets the standard and the policies and the laws that all other industries are asked to uphold," said Sonia Ossorio, president of the National Organization for Women - New York, said in a statement. "Given that Albany is a place where lawmakers have abused their power and sexual harassment has gone unchecked in the past, we felt it was important to give women in politics a platform to speak up."
The women's advocacy organization has announced the creation of a new, dedicated hotline for individuals in government to report their experiences (people can call 518-362-7857 or submit a story online at nownys.org).
In an interview with Gotham Gazette, Ossorio said the goal is to build on the momentum of the #MeToo movement. The hotline will provide independent counsel and resources to victims while also assessing how effective recent policies have been, she said.
"We immediately thought about the culture that has existed in Albany and we wanted to be able to empower women who work in politics, particularly young women and interns who head to their internships idealistic and wanting to be part of American government and are disillusioned by it," she said. "We really want to know to what degree the environment of sexual harassment has been uprooted."
The personal stories tumbling out of statehouses around the nation are eerily familiar to anyone who has closely watched New York state government in recent years. In California, women leaders in government have formed a campaign called "We Said Enough," sharing stories about how they have endured groping, inappropriate comments about their bodies and abilities, and insults and jokes that diminish them professionally. In some cases, "men have made promises, or threats, about our jobs in exchange for our compliance, or our silence. They have leveraged their power and positions to treat us however they would like," wrote the group on a website created for women to submit their stories.
An open letter circulated by members of the Illinois Legislature drew a direct comparison between the Weinstein scandal and the coercive situations in which women in government find themselves and had drawn 130 signatures by Tuesday afternoon, the AP reported.
"Every industry has its own version of the casting couch," reads the letter. "Ask any woman who has lobbied the halls of the Capitol, staffed Council Chambers, or slogged through brutal hours on the campaign trail. Misogyny is alive and well in this industry."
Albany, which has historically been referred to as the New York's own "sin city," is no stranger to such scandals. Repeatedly, a series of particularly egregious complaints of sexual harassment or rape has led the Legislature to a watershed moment of sorts, producing much-needed reform in how accusers are treated and how their complaints are handled.
A major turning point for the Assembly occurred in 2004, when, roiling from a series of rape accusations against Assemblymember Adam Clayton Powell IV and Michael Boxley, chief counsel to Assembly Speaker Sheldon Silver, its leadership decided to bar members of the Legislature from fraternizing with interns.
In the state Senate, a somewhat similar soul-searching happened, but at the time many of its members were strongly opposed to the idea of an intern-fraternization ban.
In comparison to the 150-seat Assembly, sex scandals in the 63-seat Senate have unfolded more discreetly -- hinted at through money spent on lawyers or a senator or a top aide leaving the job abruptly amid rumors -- and as a result the body's leadership has not been forced to publicly reckon with its record in the same way, according to Senator Liz Krueger, a Manhattan Democrat who was instrumental in compelling the Senate to implement a mandatory sexual harassment training program.
A decade ago, Krueger said she was privy to two incidents involving interns who were molested by older male senators. One incident occurred in a packed elevator and Krueger famously threatened to kick the senator if he touched an intern again. The other time she learned of a sexual assault claim when she found a young staffer crying outside a senator's office at the Capitol.
After the second incident, Krueger, who is known for her bluntness on the topic, said she urged then-Senate Leader Joe Bruno, a Republican from the Capital Region, to create mandatory sexual harassment training for all senators. When she threatened to hold a press conference naming and shaming the offending senators, Bruno, who later stepped down from the leadership role amid his own public corruption scandal, responded he would hold a competing press conference naming Democratic senators.
The way Krueger tells it, she said, "I didn't tell you [what] party this senator is in. I don't give a damn what party they are. We can do a joint press conference, and we all can name names. I don't give a [expletive]." To which Bruno responded, "OK, OK, we'll do mandatory sexual harassment training," Krueger told The Albany Times Union.
The training became mandatory for senators and staff members and the regulations were clearly stated in a written document.
It was not the last time Krueger took her colleagues in the Legislature to task over crimes against women. In June 2003, when Boxley was led out of the Capitol in handcuffs, having been accused of rape for the second time, Krueger said she had a very public confrontation with Assemblymember Lopez, who a decade later would be toppled by his own slew of sexual harassment scandals. They were scheduled, coincidentally, to hold a joint press conference in front of the Legislative Correspondents Association office. According to Krueger, the Assembly member fumed, "How dare they come over here and arrest our counsel in our house?"
"I said 'excuse me, he was tried with rape,' pause, 'for the second time,' pause," Krueger recalled to Gotham Gazette, "'It seems to me that if you have anything to say publicly about this, it's let justice be fair and swift. Otherwise, I think you should keep your mouth shut.'"
Lopez's Assembly colleagues later told her that she had made an enemy for life. "I said, 'Good. Some enemies are worth having,'" said Krueger of the former Brooklyn Democratic boss, who lost a City Council race in 2013 and died in November 2015.
Still, Krueger acknowledges that the current sexual harassment policy in the Senate does not encourage women to come forward. "I'd like to believe the written policies the Senate came up with and mandatory training might have helped in some small way," she told Gotham Gazette last week.
In 2014, following a series of sexual misconduct scandals involving Lopez, Assemblymember Micah Kellner, and Assemblymember Dennis Gabryszak, the Assembly officially changed its policy on sexual harassment, which had last been updated in 2009. In the past, sexual harassment complainants would typically report the incidents to the speaker's office or the Joint Commission on Public Ethics (JCOPE), but it was up to the discretion of the speaker's counsel whether to investigate the complaints.
When it was revealed that Speaker Silver did not follow protocol and report misconduct allegations by two staff members against Assemblymember Lopez to the ethics body, instead cutting a secret $103,000 settlement with the women, Silver publically apologized for the lapse and announced that the Assembly would review its practices.
To help restructure the chamber's sexual harassment policy, the Assembly's ethics committee enlisted CUNY Law School Professor Merrick Rossein, an attorney, law professor, and expert in discrimination litigation. Through interviews with women in the Assembly, Rossein made a series of recommendations to the bipartisan legislative task force that was convened to address deficiencies in the Assembly's policy.
"There are a number of things in this policy that I'm very proud of that I'd like to see in every sexual harassment policy, including the private sector," said Rossein, who has since been retained by the Assembly as an outside counsel to investigate complaints against members, in an interview with Gotham Gazette.
Recommendations made by Rossein include the appointment of an outside investigator to look into complaints; a guarantee of confidentiality for accusers; severe consequences for an employer that retaliates against a complainant; and more. Most importantly, a lawmaker accused of harassment is barred from talking to the accuser until a designated time. Additionally, lawmakers were made mandatory reporters, required to inform the ethics committee about sexual misconduct if they see it or hear about it -- a component women say has had a dramatic impact on the culture in Albany. A hotline has been set up for people to submit tips.
The Assembly policy outlines two types of harassment, hostile work environment harassment — which is directed at somebody based on their sex, would be considered offensive by a reasonable person, and is severe or pervasive enough to interfere with one's work environment — and quid-pro-quo harassment, the type described by victims of Weinstein, in which professional opportunities are offered in exchange for sexual favors.
In response to the barrage of corruption and sexual harassment scandals over the last decade, the Legislature has also dramatically revamped the way it approaches its ethics and sexual harassment training, according to Assemblymember Charles Lavine, a Democrat from Nassau County and former chair of the Assembly's ethics committee. Not only are class sizes smaller, according to Lavine, but they have gone from obligatory and dry, to dynamic, thought-provoking, and interactive.
"We have gone from the days when it was almost an obligation to provide -- or what seemed to be at the time -- ethics training that was done in large groups of people," said Lavine in a January interview with Gotham Gazette. "And while it was content-specific and good, it was not nearly so effective as the modern approach, which is to work with smaller groups of individuals in an interactive environment."
Still, there is undoubtedly more work to be done to rectify inequities for women and in Albany. It likely doesn't help that those at the top of Albany's power chain are all men. Many have pushed for Senator Andrea Stewart-Cousins, a Westchester County legislator who has led Senate Democrats since 2012 and is the first woman or person of color to lead a legislative conference, to be included at the negotiating table during budget and other high-level talks. Currently, the state's $150 billion-plus budget is largely hammered out by four men: Governor Cuomo, Senate Majority Leader John Flanagan, Assembly Speaker Carl Heastie, and Senator Jeff Klein, leader of the Independent Democratic Conference (IDC), which forms a ruling coalition with the Republican conference. Democrats hope that the 2018 state-level elections and an agreement with the IDC will lead to Stewart-Cousins becoming the leader of a new Senate majority.
Having more women in the Legislature would go a long way towards creating a safer space for female employees at all levels of government, according to Stewart-Cousins.
"The most disturbing thing is that almost every woman has a story regarding harassment or worse," said Stewart-Cousins, in a statement to Gotham Gazette. "This is true in every walk of life and unfortunately true in government. Only by confronting sexism and gender bias head-on will we be able to truly create a culture which respects everyone equally. We need to support women and pro-women candidates for office and energize pro-women New Yorkers to get out and vote."
An increase in the number of women in Albany has helped reshape the culture from an old boys' club, in which women were largely relegated to secretarial positions, to a more egalitarian environment, where women are not only elected to office, but have risen to acquire key chair positions in both houses and led the passage of women-friendly legislation.
Assemblymember Nily Rozic, who became the youngest woman in the state Legislature and the first woman ever to represent Queens' 25th District when she was elected in 2012, said she has watched the culture transform since she began her tenure in Albany as an aide to Assemblymember Brian Kavanagh.
"It's certainly gotten better since I was a legislative staffer, but we have a long way to go. The underlying change that's happening is that more women are getting elected to the Legislature and that really positively affects our work place," said Rozic.
Aside from the most serious cases of sexual assault and rape, it's often sexual comments and diminishing jokes -- such as the one described by DeRosa -- or an extra-long hug that makes the state Legislature a treacherous place for young women.
Alexis Grenell, a political strategist and commentator on feminist issues, said the comment described by DeRosa is a quintessential example of how women are verbally undermined in the workplace.
"The harassment that Melissa described is fundamentally dehumanizing," said Grenell. "There is nothing benign about it. It's meant to take away her worth as a thinking, contributing person in a professional environment and renders her the sum total of her physicality and sex appeal. That is dehumanizing. It's not why she's on the call."
Assemblymember Yuh-Line Niou, in an interview with Gotham Gazette, recalled her first years as a legislative staffer in Washington, D.C. and as chief of staff to Assemblymember Ron Kim, of Queens. She said that when she first arrived in Albany, Kim warned her not to get into elevators with "the wrong people." Later, she learned that she had been named on a "hot or not" list that had been circulating among male staffers at the Legislature.
"People would stop me in the hallway and say 'you are just so exotic,' but you know I'm not going to report them for it," said Niou, who was elected to Silver's old Assembly seat in 2016. "It's just an ignorant and not very thoughtful comment."
These types of incidents collectively create a hostile environment that women internalize and come to see as normal, she said.
"Over time, I've built this protective shell, like 'oh these things are just going to bounce right off of me,' but these things happen every day," said Niou. "Somebody insists a kiss on the cheek -- like forces it -- but everyone kisses on the cheek, all over Albany people do the kiss-kiss thing."
The cheek kiss, which is often reserved for women in political settings, falls into a bit of a grey area, but many women in government have observed the greeting often provides an opportunity for hands to roam. The Assembly's newest sexual harassment policy warns that touching -- including brushing against the body, squeezing, hugging, massaging or patting -- may fall under the category of sexual harassment, but that has not ended the practice.
Grenell, who frequently holds press conferences at the Capitol, said to bypass the double kiss, she initiates a handshake by extending her arm as far away from her body as possible.
A similar strategy is deployed by one Pennsylvania lawmaker, who at a recent women-led panel in the state, explained how she avoids the cheek kiss -- by placing one hand on her colleague's shoulder, and the other outstretched for a handshake, according to an account by a journalist covering the Harrisburg Capitol in the Philadelphia Inquirer.
Albany veterans say they have grown accustomed to awkward and demeaning daily experiences.
"I've been saying for the last 15 years: Every week, I drive three hours north and 30 years back in history in regards to how we treat women," said Senator Krueger, of Manhattan.
With women across all industries, including government, empowered by the Weinstein blowup and its ripples to speak out about their experiences, Krueger said she would not be surprised if it led to another watershed moment in Albany.
"I would suspect in the New York State Legislature, like so many other places -- where you have men in powerful positions and young women who might not have a lot of worldly experience, who think these are very important men," she said, "I wouldn't be surprised if more stories come out."
Update: The story has been updated with allegations about former EDC official Sam Hoyt that emerged Tuesday afternoon.