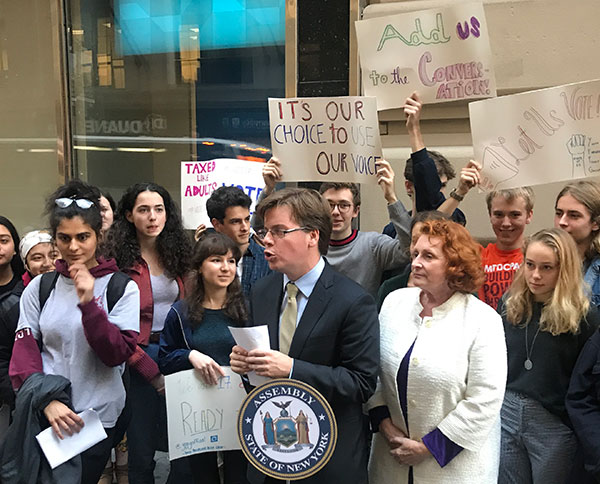 Assemblymember Robert Carroll at Monday's rally
---
On the eve of Election Day 2017, a state Assembly member from Brooklyn held a press conference focused on voter engagement and turnout, but it wasn't in support of his own candidacy -- he's not up for reelection until next year -- or anyone else's. Instead, Assemblymember Robert Carroll was talking about his push to allow 17-year-olds to vote.
In the state capital of Albany, Carroll recently introduced a bill, the Young Voter Act, that would allow 17-year-olds to cast ballots in state and local elections. The voting age is currently 18 for national elections and within New York. The legislation would also require that all students in public high schools receive at least eight hours of formal civics education, and that schools provide voter registration forms to students when they turn 17.
The proposal, which Caroll will attempt to see moved when the Legislature returns to session in January, is aimed at improving New York's dismal record of voter turnout (among the worst states in the country). On Monday, Carroll rallied in support of the bill outside the city's Board of Elections with fellow Brooklyn Democratic Assemblymember Jo Anne Simon, as well as several politically engaged high school students and advocates.
This included the leadership of the Youth Progressive Policy Group (YPPG), a group of students whose stated mission is to "give the youth of New York a voice in our state's political process." The group claims that engaging people in the electoral process early will lead to a more civically active life later on, and it is thus important to not only educate students in civics at an early age, but also to empower them to be a part of it.
YPPG's President, Eli Frankel, a senior at Manhattan's Bard High School, was quick to note that 17-year-olds are productive members of civic society in other ways, and that this should be extended to voting.
"We are organizing rallies like this, we're going out and we're talking to people, and a lot of 17-year-olds are contributing to their communities and have responsibilities of adulthood already," Frankel told Gotham Gazette. "They're paying taxes, they're driving, some can enlist in the military. So, it's time that voting is incorporated into those responsibilities that 17-year-olds already have so they can begin participating in government in a really substantive way so their voice is heard."
Chris Stauffer, YPPG's vice chair and a senior at Bard, noted that in places where voting rights were extended to high school students, the turnout results have been very promising.
"Sixteen- to 18-year-olds in Takoma Park, Maryland actually have double the turnout than 18- to 25-year-olds," Stauffer told Gotham Gazette of the locality that has lowered its voting age to 16. "This is without any reform to civics education." People who are still in high school may have fewer extraneous obligations than someone in the age bracket immediately following, where many are away from home at college, allowing them to vote with regularity and consistency and setting them up for a lifetime of civic engagement.
Lowering the voting age alone might not be enough to spur extensive turnout among high school students and young people in general, which is why the bill includes more robust, comprehensive civics education in New York schools.
The non-profit group Generation Citizen partners with schools in cities around the country, including New York City, to provide students with an "action civics" curriculum centered around local issues, wherein students seek to enact change in specific issue areas. Generation Citizen helps fill a gap in civics education found in many schools and school systems, but it currently operates in a relatively small percentage of classrooms.
Civics education is often lacking in schools, especially as it relates to close-to-home politics and government.
"A lot of civics courses focus on larger, more grand themes in American history," Frankel said. "And the civics seminars that this bill mandates all students get really directs students on the nuts and bolts of how they can go out and vote, how they can fill out a ballot correctly, how to register to vote, how to make sure their voice is heard outside of voting, how elections work, and where they can find the information about candidates and about elections that they need to go out and turn out."
The bill also would provide for instant registration within schools. Schools currently have most relevant information for voter registration anyway, aside from an individual's signature and party registration, according to YPPG Policy Director Max Shatan, a senior at Bard. This allows the process to involve minimal effort on the part of students.
According to YPPG PR Director Ilana Cohen, a senior at the Beacon School in Manhattan, these foundational steps in schools would engage people in the process even more than simply allowing them to vote at 17.
"Establishing the importance of voting in the classroom has a much greater effect than simply allowing teenagers to go out after high school and let them independently register to vote," Cohen said.
Prior to the bill's introduction, Assemblymember Carroll sat down with some of the students at YPPG to gather input on a pre-registration bill already in the Assembly. According to Carroll's chief of staff, Dan Campanelli, during this conversation Carroll suggested crafting a bill to lower the voting age to 17, which was ecstatically received by the students. Carroll subsequently worked on the bill with the students.
"In this age of civic participation and interest, we need to make sure, in New York State, that we are teaching our young people what it means to be an active participant in their democracy," Carroll said at Monday's rally. "We teach young people all sorts of things. We teach them how to drive cars, we teach them how to take the SAT. We should teach them how to be active citizens and how to vote."
Although the bill has 23 co-sponsors in the 150-seat Assembly including Carroll, it would have to overcome the significant hurdle of passing the Republican-controlled state Senate, as well as to bypass a culture in Albany that is notoriously resistant to voting reform. Senate Republicans have been resistant to election reform measures that have passed the Assembly, like early voting and same-day registration. Younger voters typically skew Democratic, giving another reason for the GOP to oppose Carroll's bill, especially as Republicans cling to the slimmest of majorities in the Senate, only due to several rogue Democrats who either caucus or form a coalition with the GOP. Though Carroll largely did not speak to its chances in the Senate, he is confident in its ability to pass the Assembly if it gets out of committee there.
"If you are against more people accessing the ballot box, then guess what? You're against democracy," Carroll said Monday. "And maybe you should get out of the business of holding elected office, because that's the point of it."
Note - This article has been updated to clarify that YPPG's members are seniors at Bard High School, not juniors.