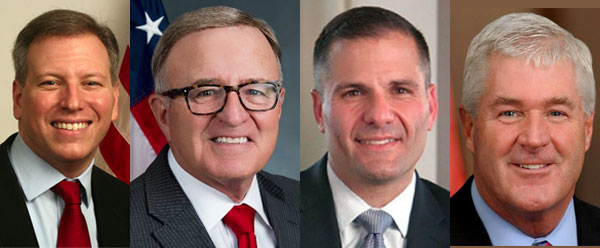 L-R: Harry Wilson, John DeFrancisco, Marc Molinaro, Brian Kolb
---
The Republican pool of candidates exploring an attempt to unseat Governor Andrew Cuomo in the 2018 gubernatorial race appears to be shrinking. Now just four Republicans say they are exploring a run -- down from at least seven prior to this past Election Day -- with the potential candidates vowing to announce their decisions by Christmas.
Targeting the well-funded Democratic governor seeking his third term would typically be a bold but calculated bet. On one hand, Cuomo has significant vulnerabilities going into 2018, but the outcome of Election Day 2017, which many are interpreting as a "blue wave" of Democratic wins in reaction to the presidency of Donald Trump, may give some Republicans more pause.
A GOP gubernatorial win in New York, which has not happened since George Pataki won a third term in 2002, would require sizeable success in the New York City suburbs, but after voters handed GOP county executive seats in Westchester and Nassau to Democrats earlier this month, potential 2018 candidates must consider how the anti-Trump sentiment will play out next year.
"What looked to be a very deep pool suddenly got ankle-deep shallow, with the water still going down. That's what a mini-tsunami election will do to anyone rationally thinking of running against a political tide," said William O'Reilly, a Republican strategist who runs the November Team. That wave seems to have both unseated and knocked from 2018 contention Westchester County Executive Rob Astorino, an O'Reilly client who lost to Cuomo in the 2014 gubernatorial race.
Harry Wilson, a hedge fund manager from Westchester, is seen as a clear front-runner to become the GOP nominee next year, as he may be capable of coming closest to Cuomo's immense fundraising capabilities and he performed well in his 2010 bid for state comptroller. The other three most-discussed potential GOP gubernatorial candidates are all current officeholders -- Dutchess County Executive Marc Molinaro, Assembly Minority Leader Brian Kolb, and state Senator John DeFrancisco -- who would begin a race with a solid local base of support and some name recognition.
"I would hope that Senator DeFrancisco or County Executive Molinaro will make the leap," said O'Reilly, "but in the end the 2018 Republican candidate for governor may have to come down to a recruitment effort."
For his part, Cuomo is heading toward his reelection year facing criticism from the right and the left for New York City's subway crisis. Among other issues, he is also maligned for high property taxes around the state, not to mention corruption trials about to begin involving his economic development initiatives, which involve some of his closest associates. Cuomo is not especially popular outside of New York City, where his favorability remains fairly high, and the second-term Democrat may very well face a tough primary of his own, as he did in 2014, given that many in the left flank of his party see him as too centrist.
The New York State Republican Party has calculated that ideally it should avoid a primary to have a shot at victory -- assuming Cuomo is in the running -- so the four potential candidates are now courting GOP leadership for the nod. All four men say they are on good terms with each other and each is taking his own path to testing the waters. Molinaro and Kolb have discussed running on a ticket together for governor and lieutenant governor, but both say that no such decision has been made (and it is not clear which would run for what).
Publically, the party leadership is shrugging off the losses from Election Day, pointing to other victories like that of Republican Steve McLaughlin, an Assembly member elected county executive of Rensselaer. State Republican Party Chair Ed Cox, on Fred Dicker's Focus on Albany radio show, chalked up Astorino's loss to "third term-itis," the same challenge now facing Cuomo, whereby it is notoriously difficult to win third terms in politics.
Regarding the election of Democrat Laura Curran to the historically-Republican Nassau county executive seat, Cox pointed to a Democratic voter base energized by opposition to the constitutional convention ballot question. Former County Executive Ed Mangano's indictment last year on federal corruption charges also tainted the Republican Party and turned many independents, who make up a large segment of Nassau's electorate, against GOP contender Jack Martins, he said.
Wilson, who did well in his 2010 run for state comptroller, losing to Democrat Tom DiNapoli 49.7 percent to 47.2 percent and has had private sector success, may be willing to put in $10 million or more of his own money. Molinaro, Kolb, and DeFrancisco would each be able to kick off fundraising from their local supporters.
With a governor that has $25 million and counting in the bank, and was recently in California courting major donors, Republican candidates might want to get an early start in fundraising, but that would require more commitment to exploring or declaring a run (on the Democratic side, for example, former state Senator Terry Gibson, considering a primary challenge to Cuomo, recently opened a campaign account so he could start raising money).
Prior to his run for comptroller, Wilson flexed his business acumen and negotiating chops when he helped President Barack Obama execute the auto industry bailout early in Obama's first term. One "prominent Republican county chairman" told The Daily News that "If Harry Wilson says he wants to be the nominee, he'll be the nominee." Wilson's bipartisanship could prove helpful in a general election against Cuomo, as could his New York City-focused criticisms of the governor.
On Dicker's show, on November 15, Wilson suggested that his current priority is raising his four daughters, two of whom are teenagers, and said he would decide over the holidays whether the timing was right for his family.
"In four years from now two of our girls will be out of the house. In eight years from now, all our girls will be out of the house and I'll still be a young man," said Wilson, referring to the possibility of holding off this year and running in the future. "It's a question of that tradeoff of where I can be most useful, most effective, and balancing my commitment to my family and helping others."
Meanwhile, Molinaro, a suburban county executive who felt the Nassau and Westchester losses close to home, said in an interview with Gotham Gazette that those outcomes would likely factor into his own decision-making.
"What occurred certainly in the suburbs of New York City in 2017 should weigh on us," said Molinaro. "I think what happened [on Election Day] is the result of an energized [Democratic] base, which is upset with the national politics -- no question -- and organized opposition to the constitutional convention question; those two things combined, with a few other local variables."
Molinaro, who has been a vocal critic of Cuomo on social media and elsewhere, is especially critical of the administration's failure to accompany the state's property tax cap with adequate mandate relief, the heroin crisis, and failing schools, and has a good reputation as a county manager. Like Wilson, he has emphasized city metro area interests like fixing the subway system. He has also cited his young family, including a 6-month-old son, as one reservation about running.
On the more conservative end of the spectrum are the two upstate legislators, DeFrancisco and Kolb, both of whom have extensive legislative experience and have not been shy about criticizing the governor and his policies.
DeFrancisco, who has been representing the Syracuse area since 1992, says he recognizes Cuomo's fundraising advantage and name recognition, but also sees many similarities between today and 1994, the year Pataki beat Cuomo's father, former Governor Mario Cuomo, who was then seeking a third term amid buzz about presidential aspirations, like those that surround Andrew Cuomo now.
"Back then people were leaving the state, exactly like it it is now. There was a deficit back then -- I remember it vividly -- of $5 billion. The Democratic comptroller is estimating that the budget deficit going into January is going to be $4 to $6 billion. Almost an identical situation," said DeFrancisco. "And there was a feeling out there -- the same thing I'm hearing now -- that it's 'anybody but Cuomo.' An individual by the name of George Pataki that nobody knew, the former mayor of Peekskill, a first-term senator, ends up being the nominee and beats him."
DeFrancisco regularly attacks Cuomo, and he hasn't hid his frustration with the fact that much of his legislation, including a bill to restore procurement oversight powers to the state comptroller, has not reached the Senate floor, even as the chamber is controlled by Republicans. "I believe the best way to make change and the fastest way to make substantial change is by having a Republican governor," he said.
Kolb, as leader of the minority conference in the Assembly, has had the liberty of taking principled stands, such as pushing for significant ethics reform and advocating for a "yes" vote on the constitutional convention. The Republican from Canandaigua has consistently voted against legislation that is controversial in upstate's more conservative, rural areas, like Cuomo's signature 2013 gun-control legislation, the SAFE Act.
Kolb, who prior to taking office in 2000 was an entrepreneur and ran two manufacturing companies, Refractron Technologies and North American Filter Corporation, said he believes he has "the best blend of private sector and public sector experience."
"I've created jobs. I know the obstacles and how to fix them. I'm problem solver and I've done it in the public sector and the public sector and I've also shown I could work across the aisle," he said.
The Republican contenders all say they would work to capture the disillusionment in Cuomo's policies felt on both sides of the aisle. In 2014, Cuomo endured a bruising primary amid criticisms from progressives that he empowers the Senate GOP alliance with rouge Democrats, impeding the state from moving in a more progressive direction, a rallying cry that has since picked up steam. Zephyr Teachout, a professor at Fordham's law school, won a surprising 34 percent of the Democratic vote in that primary after running a truncated campaign that began with no name recognition or money. Another tough primary in 2018, which Cuomo has done some work to avoid by passing more progressive legislation, could hurt the governor in a general election, largely depending on the opponent.
The potential GOP candidates said they plan to hold Cuomo accountable on issues like the subways, upstate's crumbling infrastructure and outmigration, rising property taxes, his failure to tackle corruption in state government, and what they see as his failing economic development initiatives.
A key initial step for those exploring the race and possibly seeking the GOP nomination is to appeal to Republican county chairs, who make up the party committee and meetings have been taking place, with candidates touring the state. A deal may be cut in advance in order to avoid a primary, but there have been years when the committee votes are split between two or three candidates and an open contest for the GOP nomination is held. Candidates unhappy with or outside the party establishment process can always petition themselves onto the ballot whether an intra-party deal is struck or not.
Some watchers of state politics say that regardless of the GOP nominee, the math just doesn't work for the Republican Party. "When you break it down arithmetically, they have to crack 35 percent in New York City to have a chance to win, and carry 57 percent of the vote of the Suburban downstate counties -- Suffolk, Nassau, Westchester and Rockland -- and then pass 60 percent upstate," said Bruce Gyory, a former advisor to three Democratic governors and now a professor at Albany University. "That was the Pataki model for his three terms and particularly his third term, and boy-oh-boy the Republicans are nowhere close to meeting that challenge in any region."
In 2014, the Republican Party made strides from 2010 with Astorino as their candidate, grabbing 41 percent of the vote compared to Cuomo's 57 percent. Astorino took 42 of 50 upstate counties, compared to just 13 upstate counties won by 2010 GOP candidate Carl Paladino. In the suburbs, Astorino also gained ground, but ultimately did not crack 50 percent in the crucial Westchester, Nassau, and Rockland counties. He drew approximately 15 percent of the vote in the five boroughs.
Cuomo's approval rating took a hit earlier this year, apparently due to New York City's ongoing subway woes, but his popularity has appeared to be on the rebound, with a Quinnipiac University poll from October showing that 70 percent of city voters approved of the Democratic governor, including more than 50 percent of Republicans.
Another threat to party-affiliated GOP candidates may be coming from Paladino, the Buffalo-area businessman and Donald Trump supporter. Paladino was reported to be mulling another run, but went silent after his removal from the Buffalo school board for allegedly leaking confidential information from executive board meetings. He also drew negative attention last year for racist comments sent to a Buffalo publication about former President Barack Obama and First Lady Michelle Obama. A Paladino entrance into the race could drag a prefered Republican establishment candidate to the right or cause other problems for the GOP, including additional focus on Trump or requiring Paladino's opposition to raise and spend significant money to win the primary. Paladino did not return a request for comment about whether he will run.
"I could see him coming to the conclusion that the only way to regain public prestige is to run again for governor and he could complicate the primary field a great deal because he could change the regional balance of power if he continues to have that hold on western New York," said Gyory. "He's a man who, if you study him, his public person, he has a thin skin and great pride."
Correction: A previous version of this article mistated the totals for the 2010 New York Comptroller's race.