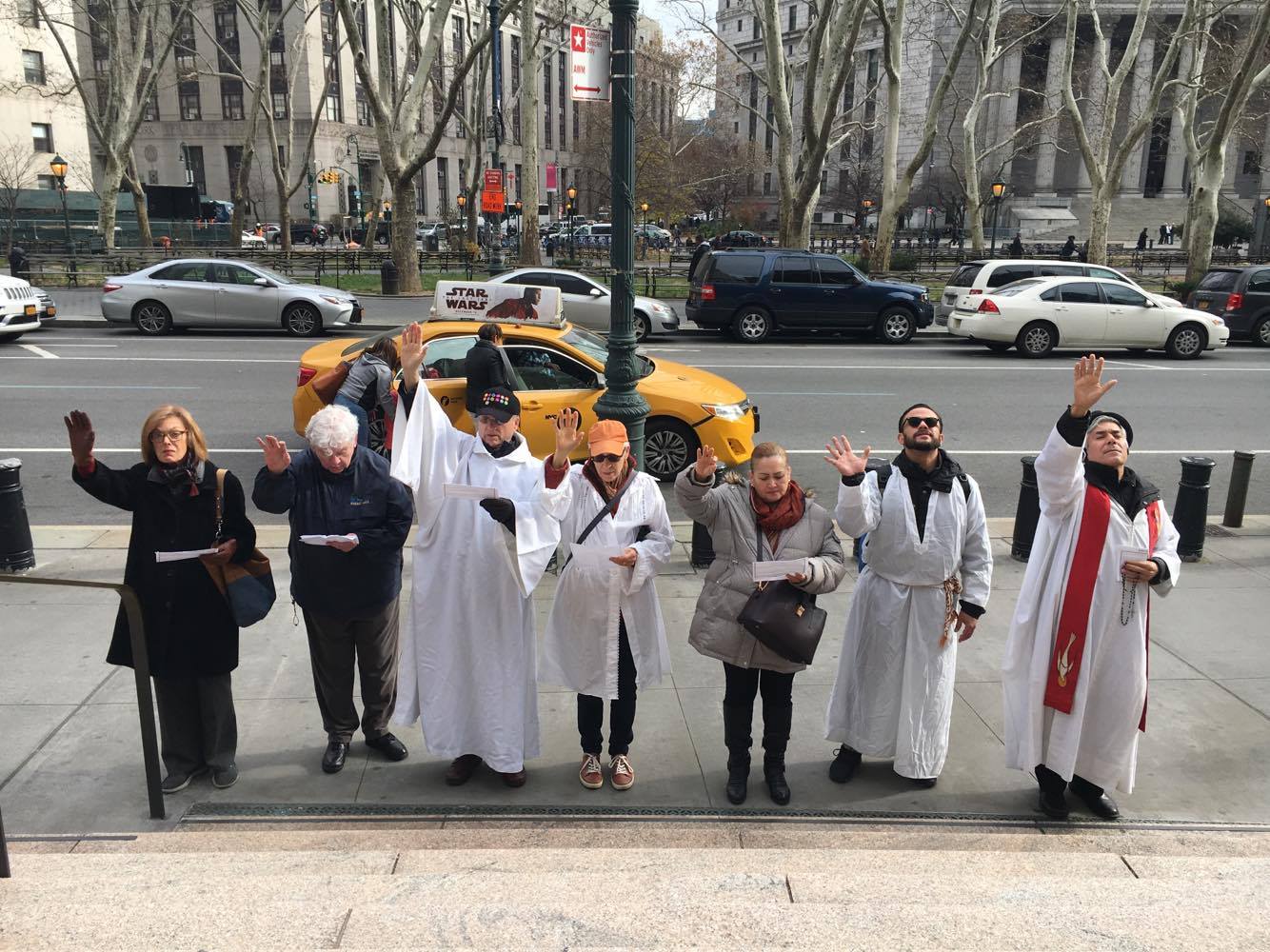 A New Sanctuary Coalition "Jericho walk" (photo: Katrina Shakarian)
---
The day before Thanksgiving, a group of volunteers met Manuel, an asylum seeker from El Salvador, in back of the Dunkin Donuts at 321 Broadway in Manhattan, to accompany him to his immigration court hearing at 26 Federal Plaza.
The volunteers were part of the New Sanctuary Coalition's accompaniment program, which trains people to accompany undocumented immigrants on check-ins with U.S. Immigration and Customs Enforcement (ICE) and to immigration court hearings. The program aims to support people caught in deportation proceedings by creating a community that is present with them and bearing witness to the process.
"I think it's really important that people that show up for a hearing or a check-in know that there are people supporting them," said Denise Rickles, a retired teacher from Manhattan, who attended Manuel's accompaniment. "I try to come once a week and I've been doing it for a number of months."
The New Sanctuary Coalition of NYC, founded in 2007, is an interfaith network of congregations, organizations, and individuals that stand in solidarity with the city's undocumented residents facing deportation. The coalition receives funding through Judson Memorial Church, its fiscal sponsor. In addition to organizing accompaniments, the coalition hosts immigration clinics and leads weekly prayer walks around Federal Plaza in protest of deportations.
In 2017 -- as the national conversation around immigration and deportation reached fever pitch after the election and inauguration of President Donald Trump, who has regularly demonized immigrants and promised crack downs on immigration -- the coalition organized about nine accompaniments a week, said Managing Organizer Sara Gozalo.
Volunteers go on three types of accompaniments: ICE check-ins and court hearings for non-detained individuals at 26 Federal Plaza, and hearings for people who are detained at a location on Varick Street.
"Advocacy without confrontation," is how Gozalo described the program at a recent volunteer training in a hall of St. Boniface Church in Brooklyn, speaking to about 60 attendees. "Even if you feel like you're not doing anything, your presence there means a lot. I promise you. It's much harder to deport someone when people are watching."
Gozalo's reassurance, and the support of the coalition's volunteers, comes at a time of sweeping rhetoric from the White House and increased immigration enforcement by the federal government under President Donald Trump.
Arrests by ICE are at a three-year high, although total deportations are actually down from fiscal year 2016. The discrepancy is due, in part, to the backlog of cases in federal immigration court. There are more than 650,000 pending cases nationally, about 85,000 of which are being heard in New York City courtrooms, according to data from the Transition Records Access Clearinghouse at Syracuse University (TRAC).
While President Obama was not seen by many immigration advocates as adverse enough to deportations, one of Trump's first acts as president was signing an executive order that sought to increase enforcement of federal immigration laws.
ICE explicitly attributes its increase of administrative arrests to the direction set forth in Trump's order. The agency made 143,470 administrative arrests in fiscal year 2017, which it describes as the highest number of such arrests over the past three fiscal years. Fiscal year 2017 ended on September 30, and according to its latest Enforcement and Removal Operations Report, the uptick in arrests began after Trump's inauguration.
On November 23, seven people followed Manuel out of the Dunkin Donuts and through security at the Worth Street entrance of 26 Federal Plaza. The group piled into an elevator and rode to the twelfth floor where Manuel was scheduled for a Master Calendar hearing -- a short and preliminary hearing at the very beginning of deportation proceedings, months and sometimes years before a final determination is made and enforced.
On this day, Manuel, whose last name is being withheld at the request of New Sanctuary Coalition leadership, intended to bring his asylum application, completed with the help of the coalition, and those of his wife and children, to the attention of a judge.
An undocumented immigrant detected by the federal government is served with a Notice to Appear in federal immigration court by the Department of Homeland Security. The Master Calendar hearing is that person's first appearance in front of a judge, during which they confirm having received the notice and acknowledge the government's case against them.
During Master Calendar hearings, judges inform defendants that they can obtain legal counsel. However, since deportation proceedings are considered civil cases and not criminal, the right to counsel guaranteed by the sixth amendment does not extend to immigrants facing deportation. Many people end up facing government attorneys, litigating their status alone.
On one side of the twelfth floor, the names of judges line a black bulletin board with the day's caseloads and room numbers printed on white sheets of paper underneath. On the other side are the courtrooms, which on this day had waiting rooms so packed that appointment holders and their families overflowed into the grey and windowless hallway.
At least 30 people lined the walls. One woman held a baby across her chest, others had toddlers in strollers, and some were grown children and teens plopped onto the floor with their backs against the wall. Sections of the hallway's fluorescent lights had blown out, so most of the crowd waited in the dark.
"The waiting is the worst part," said Melvyn Stevens, a retiree from Manhattan on his sixth accompaniment with the coalition. "When I got up this morning I already had anxiety. It's manageable, but given everything, it's not a good environment. The building is made to make you feel small."
People showing up for ICE check-ins and hearings often do it alone and with little to no English language proficiency. So, coalition volunteers help them navigate their appointments.
Upon arrival, the volunteer group leader confirms their appointment on the bulletin board, and helps them locate their courtroom. Others on the accompaniment offer small gestures like conversation during the wait, and making a run to the sixth floor cafeteria to buy them a bottle of water or a snack.
The New Sanctuary Coalition's accompaniment program is "very reassuring for people," said Anne Pilsbury, director of Central American Legal Assistance (CALA) in Brooklyn. "[26 Federal Plaza] is a very confusing place and it's hard to get information from anyone. The accompaniments humanize a very inhumane process."
CALA sends its overflow of asylum seekers to the New Sanctuary Coalition's weekly immigration clinics for assistance completing applications.
On accompaniments to Master Calendar hearings, such as Manuel's, volunteers can sit in the courtroom during the hearing. When his case was called, volunteers in the room made their presence known to the judge by standing up when he walked to the respondent's table, and sitting down when he did.
This is different from accompaniments to ICE appointments, on which volunteers are not allowed in ICE's waiting room on the ninth floor. Instead, the group waits in the sixth floor cafeteria, and one by one they take turns going to the ninth floor and briefly checking in on the person until they're called into the appointment. If the outcome is detainment, the volunteers spring into action, contacting the detainee's family, launching a letter writing campaign in their defense, and in some cases, rallying the press and other organizations in their support.
Back in the courtroom, Manuel's hearing was brief. His lawyer was not present. An in-house Spanish interpreter translated the judge's every word, and in turn, Garcia's responses were translated into English. He submitted a printed copy of his asylum application to the judge and now waits for a decision.
According to TRAC, across the country in fiscal year 2017, "asylum grants increased, [but] denials grew faster." Its report shows that roughly 60 percent of asylum applications were denied, making it the fifth year in a row that denial rates increased nationally.
The same report cites an increase in the proportion of asylum seekers who go through the process without a lawyer. Ten years ago, only 13 percent of applicants were unrepresented, while in 2017 the figure shot up to 20 percent. Asylum seekers who are not represented by an attorney are denied 90 percent of the time.
There aren't enough immigration lawyers to keep up with demand, and some people can't afford them even when they are available.
Recently, in New York City, Democratic Mayor Bill de Blasio and the heavily Democratic City Council, under the leadership of former Speaker Melissa Mark-Viverito, sought to bridge that gap and counter the Trump administration's immigration policies, by allocating $30 million for immigrant legal services in the city's budget for the current fiscal year.
The money will pay for legal representation of immigrants, both documented and undocumented, at all stages of the process, whether they are applying for asylum, fighting deportation, or have been detained. De Blasio and the Council have expanded the counsel program, known as the New York Immigrant Family Unity Project (NYIFUP), over the past few years, with additional urgency since Trump's election.
Immigration proceedings are hardly straightforward. Someone can have one or multiple Master Calendar hearings over the course of several years. Eventually, a hearing for a final judgment does takes place, once a determination on asylum is made, or for those not seeking asylum, once they've made some other case for remaining in the United States.
If a judge rules to deport, the case can be drawn out further, as people have the option to file several rounds of appeals.
All the while, ICE has broad discretion over requiring check-ins. For some, check-ins start before or during the Master Calendar Hearing process. For others, there are no check-ins until a final judgement to deport is made.
While a person cannot be deported before an order of removal is final, they can be detained. People in deportation proceedings who are convicted of crimes are generally detained. Those convicted of less serious crimes, however, may be given an opportunity to post bond, explained Edward Cuccia, the attorney representing Riaz Talukder, a beneficiary of the New Sanctuary Coalition's accompaniment program.
Talukder came to the United States from Bangladesh in the 1980s. Today, he is the sole breadwinner for his family of two American-born children and a wife, who is battling thyroid cancer.
In 2010, he discovered there was an 11-year-old deportation order against him stemming from a failed application for asylum years before. That year, he was granted a stay of deportation, and has been checking in with ICE annually every since.
During Obama's presidency, such deferments of deportation were a courtesy to thousands of people like Talukder who had been living in the United States for many years, abiding by the law, forming families, and establishing their lives.
Under Trump, the directive has changed. ICE officers are under tremendous precious to ratchet up numbers. There are no more courtesies, everybody is a priority, explained Cuccia, the lawyer.
On November 20, Talukder showed up for his second appointment in four weeks. He was granted a temporary stay of 6 more months, an apparently lucky outcome.
"There are a lot of factors determining decisions made by ICE," said Cuccia.
"Certainly, having a community presence with a client, even a small one, has the potential to influence the outcome positively. For my client, the volunteer accompaniment, the massive press response, and the overwhelming community support, was, in part, what resulted in a favorable decision at his last check-in," he said.
Similarly, organizers and volunteers at the New Sanctuary Coalition say that the vast majority of judges are happy to see community support in the courtroom. Some judges will acknowledge them during the hearing, and commit their presence to the record.
"For our friends," as the coalition refers to the undocumented immigrants they support, "often times, for the first time since they've entered the whole removal process, people are treating them with respect and dignity," said Carol Scott, a self-defense instructor in Brooklyn who was the volunteer leader of Garcia's accompaniment on the twenty-third.
"We've had friends send notes after. One person who was in detention said, you didn't send people, you sent seven angels," said Scott. "So, the language is just beautiful. Not being alone in a hostile environment is a powerful balm to the soul."
Earlier in the day, while Manuel waited for his hearing, he was approached two times by people waiting for their own names to be called, inquiring about his entourage. At the end of each conversation, he handed them a New Sanctuary Coalition business card with a smile on his face.
***
by Katrina Shakarian for Gotham Gazette
@GothamGazette