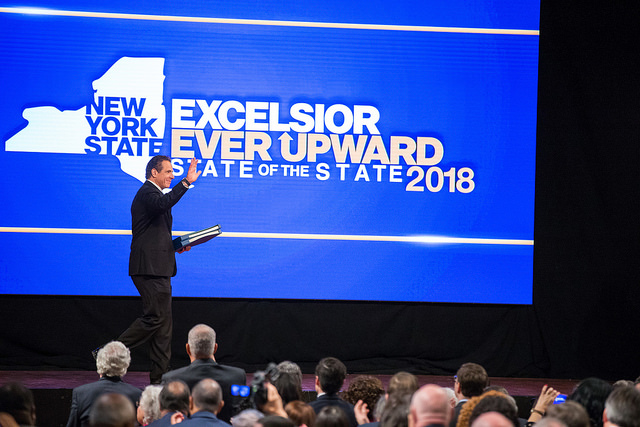 Gov. Cuomo at his 2018 State of the State (photo: Philip Kamrass/Governor's Office)
---
During his 2018 State of the State speech on Wednesday in Albany, Governor Andrew Cuomo spent little time on government ethics reform, but did address at somewhat greater length his proposals to increase access to the ballot box and change state campaign finance law.
In sum, the "reform" portion of Cuomo's remarks were relatively brief, though the governor did expand more on his proposals to change voting, campaign financing, political advertising, and the jobs of legislators in the accompanying 374-page policy book that details his 2018 agenda. Many of these proposals are repeated from prior years. Cuomo has not prioritized things like early voting or a public campaign finance system, so they have not become law in New York.
Known for his ability to bend the Legislature to his will for policy items he puts his weight behind -- like marriage equality or a $15 minimum wage program -- Cuomo has overseen some incremental ethics reforms but little by way of seismic shifts to prevent corruption or increase election participation. He has also been unwilling to go along with contracting reform that is aimed at bringing more oversight and transparency to his own economic development programming.
The governor's speech came just ahead of a handful of corruption trials that will occur this year, including some of his top aides and donors who are accused of engaging in major bid-rigging and kickback schemes dealing with the governor's signature economic development programs. Two former legislative leaders will also be retried for public corruption after their recent convictions were overturned due to a new Supreme Court ruling.
In an hour-and-a-half speech on Wednesday, government ethics was sandwiched briefly between Cuomo's discussion of doing more to help mentally ill homeless people and focusing on "new problems" facing the state, like the "rise in terrorism," climate change, the opioid epidemic, and more. Cuomo devoted just one brief segment to the topic, and in doing so nodded to legislators' disinterest in further reform.

"With all we have to do as a government, it is more important than ever that we have the public's trust," Cuomo said. "I know the Legislature feels that we have done much on ethics reform and they are right. I know they feel that whatever we do, it will never be enough in this political atmosphere and they may be right, but we must do more anyway. The single best ethics reform is to ban outside income, remove any possibility for conflict and let legislators say 'I work for the public. Period. And there are no possible conflicts presented.'"

The Democratic governor, now in the final year of his second term and seeking a third, has proposed banning outside income for legislators before, along with other reforms that he did not name Wednesday but are again in his policy book, like term limits. These and campaign finance reforms have mostly gone nowhere in the Legislature, especially the Republican-controlled state Senate, though lawmakers would like their first salary increase since 1999. Cuomo is in favor of a pay raise for legislators, but in exchange for strict limits on outside income and other reforms.

In moving toward "new" challenges, Cuomo referenced previously announced pieces of his larger "Democracy Agenda," including more transparency for online political advertisements. Action must be taken, he said, to address "the distortion and manipulation of our elections by big donors, foreign money and social media advertising and the alienation of our citizens."

Noting that "social media has revolutionized our elections," Cuomo said that the "freedom of the internet" must be respected, but that laws must be followed. "Foreign countries like Russia and big anonymous donors cannot jeopardize our democracy. Social media must disclose who or what pays for political advertising because sunlight is still the best disinfectant."

"Disclosure must apply to social media the same way that it applies to a newspaper ad or a TV ad or a radio ad," Cuomo said. "Anything else is a scam and a perversion of the law and an affront to democracy. Let's stop this abuse, and while Washington talks about it and dithers, let New York lead the way and address this challenge and let's do it this session."

Cuomo also said that in "this time of citizen alienation and outrage, the best thing we can do is let people know that their voice is heard, that they matter and that they can and they should vote. And we should make voting easier, not harder, with same-day registration, no-fault absentee ballots, and early voting."

He said that New York could "increase trust" through campaign finance reforms like closing the infamous LLC loophole, which allows virtually unlimited campaign donations from people and businesses through multiple limited liability companies (which Cuomo has benefited mightily from), and public financing of electoral campaigns. Both are ideas Cuomo has said he supports for years but has not been able to see passed through the Legislature. A 2014 pilot public campaign financing program that was passed but only applied to the comptroller race fizzled almost immediately.

Cuomo, king of the mega-donors, as The New York Times recently pointed out, says in his policy book that "candidates are incentivized to focus on large donations over small ones." New York does have excessively high individual donation limits, at more than $65,000 for gubernatorial candidates. Cuomo writes that the only way to fix the situation is to offer matching funds for smaller donations, like the New York City system does.

The governor is also calling for laws mandating financial disclosures by local elected officials, which would institute requirements on officials not in state government, but municipal and county offices around the state, where there are not uniform requirements to create more transparency around potential conflicts of interest.
Cuomo is also again calling for extending the state's Freedom of Information Law to the Legislature, which is not currently subject. He also calls for FOIL and the open meetings law to apply to state ethics monitors the Joint Commission on Public Ethics (JCOPE) and the Legislative Ethics Commission.
The governor is again calling for extending the power of the state Inspector General to nonprofits affiliated with the SUNY and CUNY systems, including their contracting processes. This reform relates to some of the alleged bid-rigging in Cuomo's economic development programs. While Cuomo is open to the IG having more power, he continues to resist re-establishing the state Comptroller's pre-clearance of contracts procured through SUNY-affiliated nonprofits.
On that same note, Cuomo is also again proposing the creation of a Chief Procurement Officer in order to "oversee the integrity" of contracting processes. Critics have called this potential position duplicative given the role of the Comptroller. The governor's policy book notes, "despite existing legal safeguards, conflicts of interest and unlawful conduct may jeopardize the impartiality and objectivity of the current procurement process. This risk is further heightened by the significant amount of dollars spent by state and local public agencies, which exceeds tens of billions of dollars annually."
Cuomo is also proposing legislation toward eventually creating a uniform contract-tracking system among various state entities that each currently use their own.
There is no indication of a new appetite for the voting, ethics, and campaign finance reforms that Cuomo has proposed before, and it is unclear if there will be support for some of the new proposals, like more transparency around digital political advertisements. Several of the proposals would likely pass if the state Senate flips to Democrats, which could occur at some point later this year. The governor must first call a special election for the 11 vacancies in the Legislature, two of which are in the Senate.