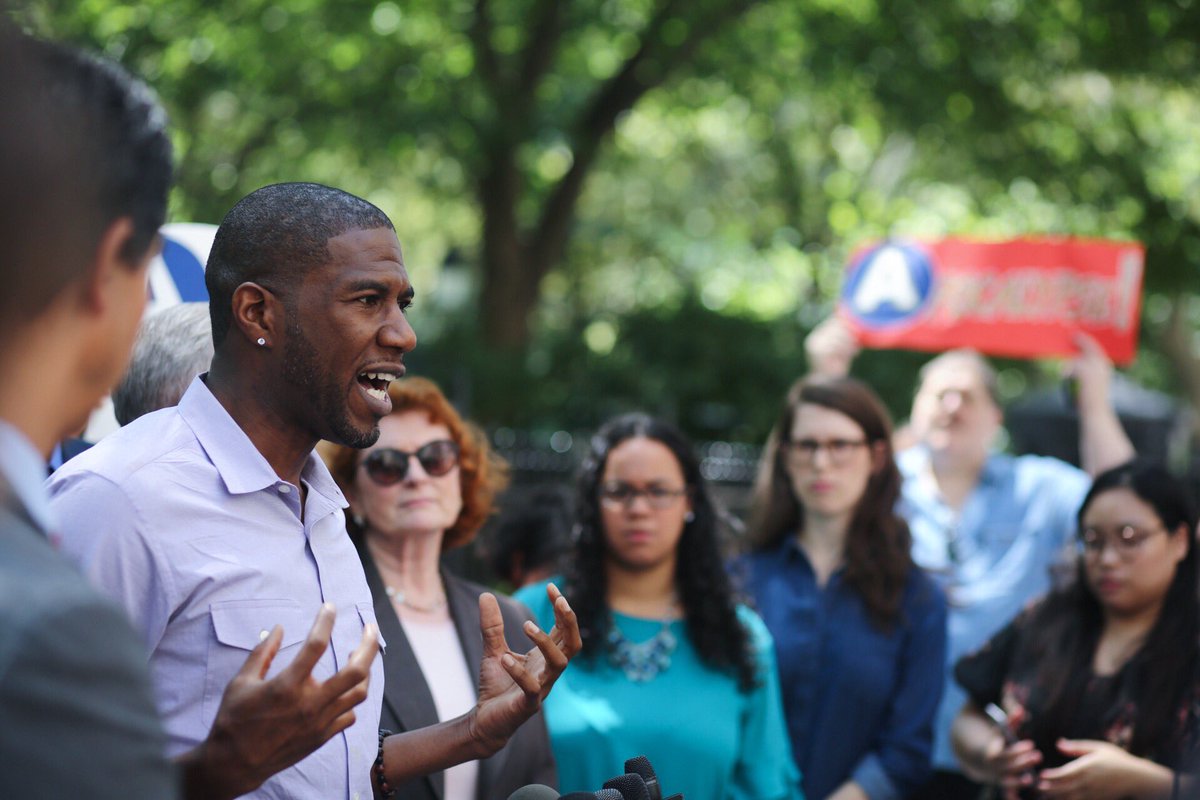 City Council Member Jumaane Williams (photo: William Alatriste/City Council)
---
At the end of stirring and emotional remarks on Martin Luther King Day, City Council Member Jumaane Williams announced that he is exploring a run for Lieutenant Governor. Williams, who was just re-elected to a third Council term and was unsuccessful in his pursuit of the speakership of the city's legislative body, gave the keynote address at Salem Missionary Baptist Church in Brooklyn on Monday, passionately discussing the legacy of Dr. Martin Luther King, Jr. and explaining how it informs his activism, legislating, and possible pursuit of the state-wide position that is on the ballot this fall.
In order to become Lieutenant Governor, Williams would likely first have to prevail in the Democratic primary over incumbent Kathy Hochul, who ran on the 2014 ticket with Governor Andrew Cuomo. While Hochul is expected to again be Cuomo's running mate, the positions of Lieutenant Governor and Governor are elected separately by statewide popular vote in the primary. If victorious in the primary, Williams and Cuomo, assuming he wins any Democratic primary he faces, would run as a connected ticket in the general election.
During his Monday remarks, Williams spoke broadly about civil rights, injustice, protest, and making government respond to the people, and made some mention of the apparent reasons he is exploring a run for the statewide post that comes with minimal statutory power and a relatively small budget. The campaign for Lieutenant Governor and holding the position if victorious would give Williams a bully pulpit to shape statewide public discourse and have some effect on policy. Most immediately, he could create significant headaches for Hochul and Cuomo, whom Williams has been critical of over the past several years on issues like affordable housing, transportation, and criminal justice.
Williams said when reflecting on King's legacy, he often thinks about the saying, "Do what you can, with what you have, where you are." He discussed the importance of agitating for what is morally right, no matter the political ramifications, and how public protest moves government to act.
It takes a great deal of "energy," more than people realize, to "move the needle," Williams explained. "You move the needle with moral disruption to a status quo that is unjust."
"Government does not move unless we make it move. They respond to protest," Williams said. "I understand that because I'm in those halls seeing how my colleagues respond."
Before announcing that he was forming "an exploratory committee" to possibly run for Lieutenant Governor, Williams pointed to some of the problems around the state that appear to be motivating his exploration. He said "we need people in government who will continue to push forward on progress" and cited "homelessness in New York City, housing in Rochester, gun violence in Brooklyn, gun violence in Syracuse, the relief of opioid crisis in Staten Island," and more, adding, "these issues are not unique to one area."
Williams said his job on the inside of government is to make sure his colleagues are moving on what people are bringing to their attention and what is "morally correct."
"We need leaders will forcefully advocate for progress no matter the political winds," Williams said, in one of several references to doing what is right over what is politically expedient.
Williams also discussed the "need for diversity in government," echoing an argument he made during the City Council speaker race, when he insisted a person of color should be elected to the role. Williams is black. Corey Johnson, a white man, prevailed.
On Monday, Williams listed the many city, state, and federal offices in New York that are held by white people, a list that includes Cuomo and Hochul.
A challenge to Hochul by Williams would be from the left, as he would almost certainly offer a more progressive platform on the whole, and he would likely aim much of his fire at Cuomo. It is unclear who might challenge the governor from the left, but there is a good deal of unrest among progressives who see Cuomo as too centrist and enabling of a Republican-led state Senate. Williams endorsed Senator Bernie Sanders in the 2016 Democratic presidential primary.
Former state Senator Terry Gibson appears to be the only Democrat currently actively exploring a gubernatorial bid. Like Williams, Gibson has a state-level campaign account open. Now a professor at SUNY New Paltz, Gibson has been traveling the state meeting with progressive groups, spending a lot of time in the five boroughs, and trying to gauge how much initial support he can garner for a full-fledged run.
There are other potential challengers from Cuomo's left, including former Syracuse Mayor Stephanie Miner and actor and education activist Cynthia Nixon.
In 2014, Cuomo sought a second term and had to fend off a surprising challenge from Zephyr Teachout, a little-known, underfunded professor who embarrassed Cuomo by winning 34 percent of the primary vote. Teachout's running mate, Lieutenant Governor candidate Tim Wu, did even better against Hochul, who was running for the post for the first time, winning 40 percent to Hochul's 60.
Williams is likely to be at a significant financial disadvantage to Hochul, depending on how much money he can raise and how much Cuomo and his political apparatus come to Hochul's aid. Williams' ability to win votes in New York City could pose a major challenge to Hochul, who is from western New York. Williams' potential candidacy is quickly going to put other Democrats like new City Council Speaker Johnson and Mayor Bill de Blasio in tricky positions. De Blasio recently declined to give an opinion when Gotham Gazette asked him if Cuomo deserved to be challenged from the left.
On Monday, Williams did not get into any details of a potential campaign, though he will have to decide relatively soon if he is going to make a full run for the position. The Council member explained that he sees his role as "a molder of consensus" like King and part of ruckus upsetting the status quo. Williams credited King for being a "disruptive, righteous agitator" and discussed the need to put in the work of activism to make the change you believe must occur in the world.
"If you don't understand the protests of today, I suggest you keep 'Martin Luther King' from out of your lips," Williams said at one point.
He cited King's "fierce urgency of now," and asked the church crowd to think about why society is still struggling in 2018 with the same major problems of King's era, the 1950s and '60s, such as jobs, police abuses, and justice. He cited some progress, noting that there are not segregated water fountains and there are fewer lynchings.
Williams explained that he has tried to do what he can as a member of the City Council, and now believes that he may be able to take on new challenges and "do more" through the potential run for Lieutenant Governor.
Notably, the Council member clearly stated his support for LGBTQ individuals, which has been a point of contention for him as he has personally held views against marriage equality. Williams has also held a personal view against abortion, citing personal experience. But, he has repeatedly tried to argue that he does not legislate or vote to advance those personal beliefs and taken steps to show that he supports the LGBT community and women's reproductive rights. The issues could be at the center of attacks from Hochul and Cuomo toward Williams, given that Cuomo has prided himself on passing marriage equality in New York and touts himself as a champion of women's rights.
Note: this article has been corrected to clarify that the Governor and Lieutenant Governor run as a Democratic ticket in the general election, but are elected separately in the party primary.