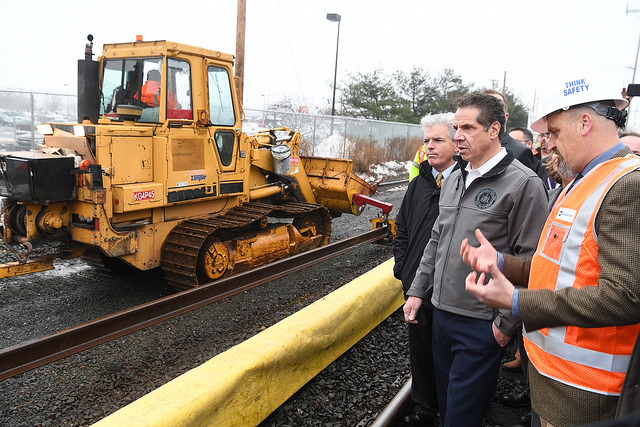 Gov. Cuomo at a construction scene (photo: The Governor's Office)
---
Governor Andrew Cuomo has repeatedly extolled the virtues of design-build, a process that allows state authorities to seek combined design and construction bids for infrastructure projects from a single entity, saving billions of dollars and valuable time. Streamlining procurement and construction, it is a tool currently employed by five state agencies.
But, even as design-build is praised as a commonsense measure to ensure government savings, the state continues to deny New York City the authority to implement it. Cuomo's $168 billion budget proposal, unveiled Tuesday, makes no mention of extending design-build to the city despite support for it from a bipartisan group of state legislators, persistent pleas from New York City Mayor Bill de Blasio, and the governor's own repeated contention that the city should be allowed to use the process.
Design-build is one of de Blasio's top priorities for the legislative session in Albany and his administration has made it clear to the governor's office that they are seeking its authorization for several city agencies. A bill passed by the state Assembly last year, sponsored by Assemblymember Michael Benedetto, would have authorized the process for eight infrastructure projects in the city, including the reconstruction of the Brooklyn Queens Expressway and the overhaul of the NYPD's training facility in Rodman's Neck. The bill failed in the Republican-controlled state Senate.
According to estimates from the mayor's office, design-build would save about $158 million from the $2.5 billion budget for the eight projects and, on average, has reduced project completion for state projects by 18 months.
"We've been asking for the ability to use Design Build in New York City for years," said mayoral spokesperson Freddi Goldstein, in an emailed statement. "At a time when the federal government is taking every swing they can at New York City, it's critically important for us to be able to use all the tools available to save money, complete projects faster, and minimize disruptions to residents and businesses – clearly, the State agrees when it comes to its own projects."
State agencies such as the Port Authority, the Department of Transportation and the State Thruway Authority have used design build in more than 30 projects, including the Tappan Zee Bridge and the Long Island Rail Road, saving billions over the years. "The Governor is the single biggest proponent of expanding design-build because it saves time and taxpayer money on major infrastructure projects," said Peter Ajemian, a spokesperson for Cuomo, in an email. "His budget proposal includes design-build for state agencies to fund the state's capital plan, and we will have discussions with the legislature about expanding it to all local governments."
The Citizens Budget Commission, a city-based independent fiscal watchdog, called the exclusion of city agencies from design-build authorization "disappointing" news, in a tweet on Wednesday morning. CBC estimated in 2016 that the city could save as much as $2 billion over ten years by employing design build for city bridges.
Last week, a group of state Senators and Assembly members wrote to the governor, stressing the urgency of design-build for the BQE and emphasizing that "prolonged reconstruction could damage the region's economy," according to a New York Daily News report. The letter noted that the city's Department of Transportation faces a Spring deadline to begin procurement for the BQE rehabilitation if they want to use design-build. The effort was led by Senator Brian Kavanagh and Assemblymember Jo Anne Simon.
"We know this reconstruction project isn't going to be easy for our communities and New Yorkers from Carroll Gardens to Brooklyn Heights to Downtown Brooklyn to Williamsburg to Greenpoint will be on the front lines," said Kavanagh, in a statement to Gotham Gazette, "but design-build could lessen the burden."
Kavanagh also said it was "disappointing" that the governor's executive budget proposal did not include authorization for the city and that he would continue to make the case for it. "This streamlined process would save taxpayer dollars and shorten the project timeline. Most importantly, design-build would help keep trucks off local roads and ensure that while we're fixing the BQE, we do as little damage as possible to Brooklyn's neighborhoods," he said.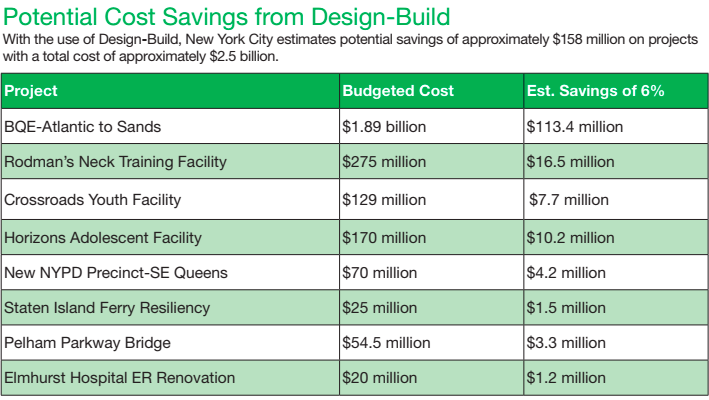 [Related: De Blasio Lays Out Initial 2018 Albany Priorities]
Graph provided by the de Blasio administration.