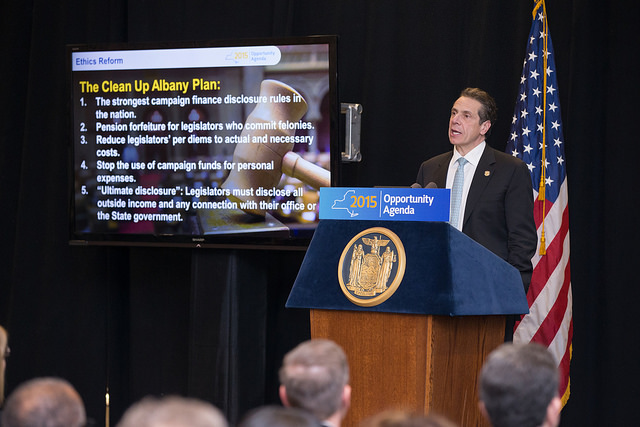 Gov. Cuomo unveils an ethics agenda (photo: The Governor's Office)
---
With the four statewide positions up for election again this year, Governor Andrew Cuomo's ill-fated 2014 public campaign financing experiment, in which candidates for state comptroller were eligible to test-run a pilot program, appears all but forgotten.
New York State Comptroller Tom DiNapoli, like Cuomo a Democrat running for another four-year term, has long been a proponent of a comprehensive program to match certain private campaign donations with public dollars, as a way to curb real or perceived influence of money in government and the possibility of pay-to-play politics. DiNapoli would support a program that only targeted his office, he said, restating his views during a question-and-answer session last week at the Albany Times Union's Hearst Media Center.
In 2014, DiNapoli briefly saw a version come to fruition, when a last-minute budget deal between Cuomo and the leaders of the Senate and Assembly instructed the State Board of Elections to quickly create a public funding program for the comptroller race in the middle of the election cycle, just eight months before Election Day -- a proposal many immediately saw as cynical and doomed to fail.
Recalling that pilot program nearly four years later, DiNapoli told the Times Union's Casey Seiler he believes the state is long overdue for publicly financed elections for all state-level offices -- including candidates for the state Legislature -- given the numerous corruption trials involving former lawmakers, former state officials, and others that are looming over this legislative session. DiNapoli marveled at the state's immensely lax campaign finance laws, including the infamous loophole that allows limited liability corporations (LLCs) to pour virtually unlimited funds into candidate campaign accounts.
"I don't say it's a panacea, but I do think public financing of elections will create more access for people to run for office," said DiNapoli, adding, "Democracy works when there is a competition of ideas."
In 2013 and 2014, there was a lot of momentum in New York and nationally around campaign finance reform, including a significant push for Cuomo to take the issue up the way he did other progressive initiatives in prior budget negotiations, where Cuomo is known for getting his top priorities passed. Newspaper editorial boards, government reform groups, and others continued to call on Cuomo to usher through a new campaign finance system, something he had repeatedly called a priority. And, it was a gubernatorial election year, and leaders of the left-wing Working Families Party indicated that they would withhold their endorsement of the Democratic governor, then seeking a second term, unless he pushed for comprehensive campaign finance reform.
Notably, the governor's own Moreland Commission on Public Corruption -- a bipartisan panel primarily made up of district attorneys rather than politicians -- recommended public funding of all elections as the key component in reforming the state's porous campaign finance system to prevent the type of scandals that had rocked state government in recent years. In addition, the panel recommended lower contribution limits and closure of loopholes, tighter guideline for how campaign account monies can be spent, and increased disclosure on outside spending, such as spending on ads that could be "reasonably considered' campaign ads.
When at the end of March 2014 a budget deal came together between the governor and legislative leaders, Cuomo squeezed through the pilot program, passed as part of the last-minute horse trades that occur annually during the final hours of budget negotiations.
At the time, Republicans controlled the Senate -- as they do now -- and the compromise was notable given the Republican leadership's vehement opposition to spending any state funds on public campaign financing, which they typically see as likely to bolster Democrats and a questionable use of state funds for campaign purposes. But then-Senate Majority Leader Dean Skelos agreed to include in the final budget bill the pilot, limited only to the comptroller's office. While it could open the door to larger campaign finance reforms, the pilot would benefit DiNapoli's Republican challenger more than the incumbent, who had already raised significant funds. Some saw Cuomo's use of the comptroller's race as a way to frustrate DiNapoli, who Cuomo has at times sought to undermine.
"The pilot program for public financing of the comptroller's election is a poor excuse to avoid real reforms New Yorkers deserve. At this point, I cannot participate in this pilot," DiNapoli said in a statement at the time.
As surprising as it was to some that Senate Republicans had agreed to even the pilot, Cuomo had the leverage of the Moreland Commission, which had begun to irk the Legislature (and the governor himself), according to those familiar with budget negotiations. On March 31, 2014 -- about two days after the proposed pilot program had been announced -- Cuomo abruptly shut down the commission, just halfway through its planned 18-month duration, citing inclusion in the new budget of reforms aimed at addressing bribery and corruption and enforcement of election law, which he said would eliminate the need for the panel.

DiNapoli had been surprised to learn of the pilot, having not been informed "even by his friends in Legislature," the former assemblymember said last week. According to the pilot, statewide candidates would need to raise $200,000 in donations above $5 from at least 2,000 New York State residents. For each eligible donor, every dollar donated up to $175 would be matched with $6 of public money.
"The process was flawed," DiNapoli said at the time, just after the pilot proposal was announced and before it was voted through as part of the 2014-2015 state budget. "I was excluded from the negotiations, and it appears a historic opportunity was missed for comprehensive campaign finance reform and public financing for all statewide and legislative offices."

Unlike DiNapoli's own proposal -- which would create a seven-member board, appointed by a variety of offices, to create guidelines and procedures to ensure that the public funds are appropriately spent -- Cuomo's proposal entrusted the state Board of Elections to administer the program. The Board was instructed to issue payments "as soon as it is practicable," write advisory opinions, and create new regulations as needed. Civic groups opposed the program, writing in a letter to the Cuomo administration that, "the Board is ill-suited to take on such as task, much less set up an entirely new administrative system for an election cycle which has already begun." They noted that Cuomo's Moreland Commission had investigated the Board and found a great deal of dysfunction at the agency in its preliminary findings.
Good government groups also raised concerns about the timing of the pilot -- which would launch just months from Election Day and not easily provide candidates with adequate time to organize their campaigns in a way that would allow them to opt in. They noted that the program did not need to be piloted; New York City already has a successful public matching system.
Indeed, DiNapoli, who had already done significant fundraising, chose not to opt in to the pilot, and his severely disadvantaged Republican opponent, Robert Antonacci, the Onondaga County comptroller, did not meet the $200,000 threshold to qualify for public matching funds. DiNapoli wound up winning the election, 60 percent to Antonacci's 36.6 percent.
Blair Horner, executive director of New York Public Interest Group, recalled the 2014 push and the budget compromise, and called the program a "kamikaze pilot" that was designed to fail.
"Despite the fact that the governor said it was a pilot project, we never heard about it again," said Horner. "If it was a serious proposal, [a comprehensive public campaign finance system] would have gone into effect within months."
Cuomo, in a May 2014 op-ed in the Huffington Post, "Finishing the Job Teddy Roosevelt Started: Public Financing of Elections," acknowledged that the deal was not sufficient, but said critics should recognize the significance of Republicans conceding "the crucial ideological point they had resisted for decades."

"We crossed the ideological Rubicon and the world did not stop spinning — now it's time to finish what we started and pass a full-fledged program of public financing for state campaigns," Cuomo wrote. "If you can use public funds for a demonstration program then you can use public funds for a full program."
The Board of Elections did briefly review the failed pilot, recommending that a future version of the program allow two years for implementation and coordinate better with other agencies. "It is important to note that the 2014 program was to be implemented nearly 3 ½ years into the election cycle for this office," the report's authors wrote.
Now, four years later, the four statewide offices -- governor, lieutenant governor, attorney general, and comptroller -- are again up for election, with Democratic incumbents in each position likely to seek another term. As they are every two years, all the seats in the state Legislature will also be on the ballot this year. While Cuomo, who is sitting on a $30 million warchest, including millions in dollars from LLCs, put provisions for a small-donor public matching program and closure of the LLC loophole in his State of the State policy book again this year, the proposals were only briefly mentioned in his 92-minute address on January 3.
"We should increase trust by closing the LLC loophole and open up the electoral process with public financing, but not our current public financing system that has public financing but private loopholes," Cuomo said. "I mean a true public financing system in which the exception does not swallow the rule. That's what we need to do to regain the trust of the citizens in this state and across this nation."
There's no indication that Cuomo will prioritize campaign finance reform this year, especially given the difficult budget situation the state is in, with a $4.4 billion deficit to close and a new federal tax code to react to. While the Democratically-led Assembly appears to continue to support campaign finance reform, it is not evident as a top priority in the lower house. Senate Republicans regularly dismiss the idea of campaign finance reform, and when discussing the LLC loophole typically point to the influence of labor unions in donating to Democratic candidates.
The state's broken campaign finance system will likely be on display during the upcoming corruption trials of eight men, including Cuomo's former top aide Joe Percoco and former SUNY Polytechnic Institute President and CEO Alain Kaloyeros, whom Cuomo regularly praised and empowered. The massive bid-rigging scheme associated with the governor's signature Buffalo Billion program benefited developers who contributed generously to Cuomo's re-election campaign. After the scheme came to light, Cuomo vowed to instruct his campaign to turn away donations from those bidding for state projects, but ultimately did not follow through on that promise.
Karen Scharff, executive director of left-leaning advocacy group Citizen Action of New York, who was involved in the negotiations of 2014, said advocates sensed they had hit a wall with the Republican-controlled Senate after their major push to pass comprehensive public financing system failed. Despite this, she said, nothing has changed in Albany and these reforms are needed more than ever.
"We continue to see a donor-driven culture where critical policy is determined based on who the biggest donors are. And who can run for election and who can win is also heavily based on who can raise money from real estate and hedge funds," she said. "We're not going to have a real democracy in New York State until we have publicly funded elections."