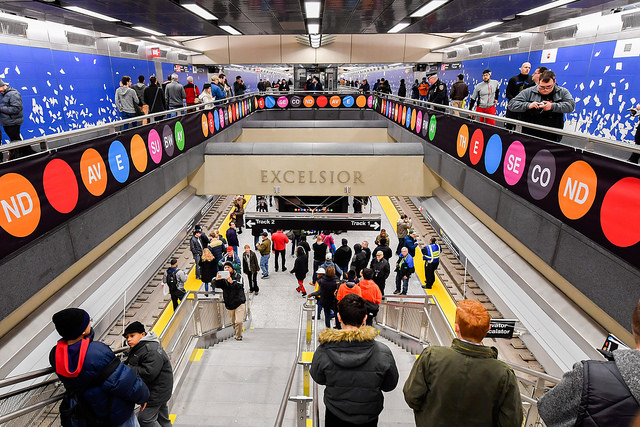 (photo: The Governor's Office)
---
Alex Matthiessen, the founder and director of Move New York, joined the Max & Murphy Podcast Tuesday to discuss the path ahead for congestion pricing now that Governor Andrew Cuomo's "Fix NYC" panel has releases its recommendations and the governor is vowing to negotiation with the Legislature to pass measures that will reduce congestion in Manhattan and create dedicated funds for the MTA.
Matthiessen explained the recent history of congestion pricing in New York and how his group came together in the wake of former Mayor Michael Bloomberg's ill-fated attempt at a version of congestion pricing and took a multi-year approach to crafting and promoting a new, more inclusive plan.
Matthiessen said that while there are some differences, including positive ones, Move New York is strongly behind the plan put forth by Fix NYC and vowing to lead a campaign to see it passed.
"I thought that we had created the gold standard of congestion pricing plans, especially for the City of New York, tailored for the City of New York, and these guys actually improved upon our plan in a number of ways," Matthiessen said of Move New York and the new recommendations, citing the panel's notion of tolling a congestion zone, but not the East River bridges. The plan includes new transit investments, a dedicated Manhattan zone that would require an additional fee to enter, added surcharges on for-hire vehicles and trucks in the zone, and other measures to fight congestion and improve the public transit system. It is outlined for a three-step and three-year phase in, eventually estimated to raise about $1.5 billion annually for mass transit.
Matthiessen pointed to the subway crisis that developed this past summer and tens of billions of dollars in estimated lost productivity because of Manhattan congestion as key drivers of the urgency now behind congestion pricing, starting with new support from Cuomo, who he indicated will be the key actor in determining whether a deal can be reached with legislators.
"There is a lot of pressure on the governor and on the Legislature to deliver something, and I don't think that we can afford to wait," he said, pointing to the April 1 deadline for a new state budget. "This is the most viable plan out there at the moment, I don't expect that to change. There is a lot of momentum behind this."
"I think there is a lot of expectations by the public that Albany has to deal with this issue this year," Matthiessen said. "They've got elections coming up. No one likes to get behind a plan that's going to cost people more than it cost them before, in terms of their daily commutes, but I don't think they want to go into a 2018 election, either, having basically abandoned the 9 million people that use the region's transit system."
While Cuomo has referenced items that his Fix NYC panel did not put forward that he may pursue as he negotiates with the Legislature, such as reducing the tolls on existing bridges with them, like the Verrazzano and Whitestone, many including Matthiessen want to see funding for reduced-price MetroCards as part of the final deal. There will be no shortage of moving pieces and points of negotiation, but Matthiessen is confident that the timing is right and the political stars aligned, despite the fact that there has been cold water thrown at congestion pricing from the Democrat-led Assembly, the Republican-led Senate, and Mayor Bill de Blasio.
"You just can't continue to underinvest in a trillion dollar transit system like ours and not pay the price for it. We've already paid the price for it," Matthiessen said on the podcast.
There's a lot more to the conversation -- listen to the full discussion on the Max & Murphy podcast here, or find it wherever you get your podcasts, including on iTunes.