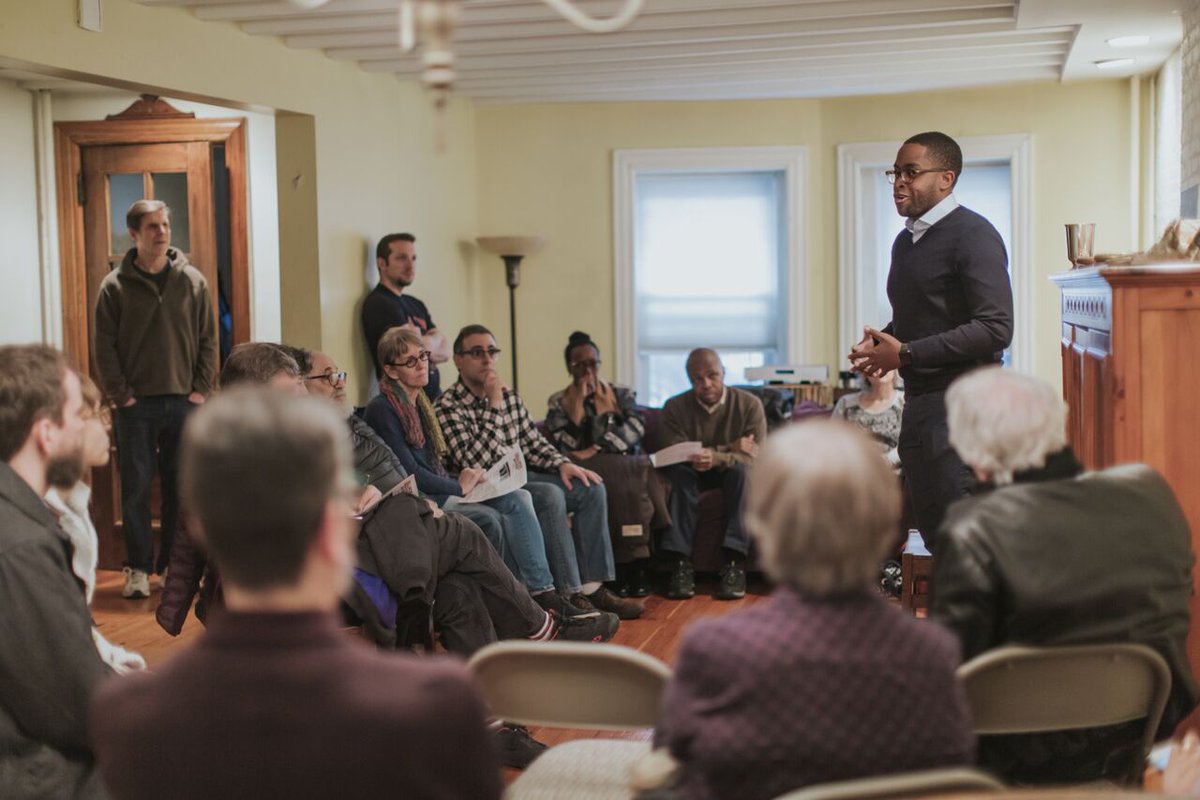 Zellnor Myrie at a campaign event (photo: @zellnor4ny)
---
Despite a tentative unity deal between the Senate Democratic conference and the breakaway Democrats in the Independent Democratic Conference (IDC), a number of progressives are pushing forward in their bids to unseat the so-called "turncoat Democrats."
Challengers of the eight-member IDC, which forms a ruling coalition government with Senate Republicans, say they have drummed up broad grassroots support, as evidenced by pulling impressive fundraising numbers over a short period of time, with the bulk of the campaign funds raised from small donations.
They argue that Democrats are energized to unseat defectors who are empowering Republicans and blocking essential progressive legislation from moving through the Legislature; the Assembly is overwhelmingly controlled by Democrats, who often pass bills that die in the upper house.
Elections for every seat in the state Legislature are on the ballot this fall. While IDC challengers may have some solid initial money in the bank, without the support of the Democratic Party establishment -- members of which are behind the precarious Senate Democratic unity deal -- the candidates are looking at an uphill battle.
Two candidates have emerged to take on IDC Leader Jeff Klein, a Bronx senator. Lewis Kaminski, a Bronx attorney, has raised $11,075, while Alessandra Biaggi, a former aide in the Cuomo administration, has raised $8,042 and spent around $2,000 in the early going. Klein, who has well over $2 million in his campaign account and access to a great deal more money in broader IDC campaign accounts, will be an especially difficult figure to unseat. He easily survived a primary challenge in 2014 from former City Council Member Oliver Koppel, though some activists and candidates argue that circumstances in 2018 are far different, in part shifted by both awareness of the IDC and the election of Donald Trump as president.
Other members of the IDC may have a harder time beating back primary challenges.
Zellnor Myrie, a Brooklyn native and community activist who is challenging Brooklyn IDC Senator Jesse Hamilton, for example, began fundraising in late October and has since secured over 650 donations totaling $93,577, according to his January filings with the state Board of Elections (BOE). Seventy-five percent of the campaign's contributions were $100 or less and 100 percent of contributions came from individuals, Myrie said.
"This is a people driven campaign," said Myrie in a statement. "This early success shows that this community is ready for a real Democrat to bring real change. I am the only real Democrat in this race who can say they will fight back against the Trump-Democrats in Albany and truly represent working families and the middle class residents of central Brooklyn when elected."
Hamilton has pulled $99,525 in receipts since July, $20,000 of which is a transfer from the Senate Independent Campaign Committee, a fundraising arm of the IDC, and has about $119,600 in the bank, according to his January filings. In a statement, Myrie noted that "an alarming sixty-six percent of my opponent's contributions come from Corporations and GOP friendly donors, and he only received 36 individual contributions."
IDC Senator Jose Peralta, of Queens' 13th Senate District, also holds a small but comfortable initial fundraising lead over his two challengers, raising $79,460 and holding $157,006 in the bank. LGBTQ activist Andrea Marra has pulled in $47,630 in contributions and has $46,043 in the bank, while Jessica Ramos, a former aide to Mayor Bill de Blasio, received $30,997 and has $29,687 in the bank after a short early fundraising period since she left City Hall and declared her intention to unseat Peralta.
"More than half of those contributions came from residents of Senate District 13. 94% of donations were $100 or less," Ramos said by email. "This filing shows a groundswell of support to elect a real Democrat who represents the progressive values of our communities."
A third Peralta challenger, Tahseen Chowdhury, a 17-year-old high school student, had $895 in July 2017, but has not completed a January filing.
Senator Marisol Alcantara, of the 31st district in Manhattan, is facing a challenge from former City Council Member Robert Jackson, who lost to the incumbent in 2016, coming in third. This time, Jackson has the support of the second place finisher in that race, Micah Lasher, former chief of staff to Attorney General Eric Schneiderman. The 2016 Democratic primary to replace senator-turned-congressman Adriano Espaillat was close; Alcantara pulled in 32.43 percent of the vote, compared to Lasher's 30.19 percent and Jackson's 29.72 percent.
Per his January filing with the state BOE, Jackson has raised $81,971 since July from thousands of individual donors and has a little over $105,000 in the bank. A source from the IDC noted that Jackson has spent funds from an old 2016 campaign account. Jackson's 2016 account reports $268.88 spent, apparently due to automatic cellphone app payments linked to a campaign credit card, a problem that has since been rectified, according to Jackson's spokesperson. Alcantara has raised $106,323, including a $10,000 transfer from the IDC, and has a little over $120,000 in the bank, according to her BOE filings.
Syracuse University administrator Rachel May, who recently announced a challenge against IDC Senator David Valesky, has netted $34,799 in donations since she opened her campaign committee in late November. In an apparent attempt to undercut the initial haul, an IDC source noted that a large chunk of May's money has come from family and friends outside the district.
Valesky, of Oneida County, has raised $66,309 and has $612,761 in the bank. He told the Syracuse Post Standard he is unfazed by the competition.
Currently, no challenger has declared candidacy for the seats of IDC Senators Tony Avella of Queens, Diane Savino of Staten Island, or David Carlucci of Rockland and Westchester Counties.
A number of high profile New York Democrats, from Governor Andrew Cuomo to U.S. Senator Kirsten Gillibrand, have thrown their support behind the potential unity deal, which would preclude IDC challengers from receiving the potentially critical backing of the Senate Democrats' fundraising apparatus, the state Democratic Party controlled by Cuomo, or Democratic Party leadership.
"There is a deal in place with the Independent Democratic Conference. Therefore, we will not support any primaries," said Mike Murphy, spokesperson for the Senate Democratic Campaign Committee.
Senate Democratic Leader Andrea Stewart-Cousins has said that the deal will only be on the table if the Democrats regain 32 seats in the 63-seat chamber, which would have to happen through a special election to fill currently vacant Senate seats. Mainline Democrats led by Stewart-Cousins would have to follow through on the deal with Klein and the IDC, while also convincing rogue Democrat Simcha Felder of Brooklyn, who conferences with the Senate Republicans, to join them as well.
Cuomo has not yet indicated whether he will call the special election to fill two Senate and nine Assembly vacancies before the session ends in June. A source from the mainline Democratic conference said that if the unity deal falls through, IDC challengers will be backed by the Democratic Senate Campaign Committee (DSCC), which is sitting on more than $1 million and raising more as the election year heats up.
For Queens Democratic Party boss and Congressional Rep. Joe Crowley, the deadline for reunification is even sooner. In recent comments to the Queens Chronicle, he warned wayward Democrats to return to the fold by April -- when the budget process is complete -- or see a "head-on primary by everyone."
Peralta and Avella are the two Queens IDC members, though Crowley's reach extends beyond the borough. Crowley had a stern warning for Peralta in particular.
"If [Peralta] comes back then, we've agreed that he would have the support of the apparatus," he said. "If he comes back earlier, that I think is better for him...if he doesn't, he will have a primary sanctioned by me and the state apparatus, as well as working with our friends in labor."
Currently, IDC challengers are supported by a number of grassroots progressive groups, including NO IDC NY, which since opening a multi-candidate campaign committee in August, has raised more than $20,000, mostly from small donations of $5 or $10. Since the summer, NO IDC has spent more than $8,500 in support for May, Biaggi, Zellnor, and Ramos, according to Board of Elections records.
While a number of progressive groups oppose the IDC, those organizations tend to support a host of progressive issues, but NO IDC is focused exclusively on unseating the breakaway Democrats, according to the group's treasurer, Jim Casteleiro.
"We make the commitment of saying this is a very important issue and regardless of what happens, we cannot take our eye off the ball," said Casteleiro. "We exist because there is no institutional body that has stood up to say, unconditionally, 'We are going to get rid of these people who are blocking us from having a majority.'"
Meanwhile, IDC members have additional support from the Senate Independence Campaign Committee (SICC), which has $1.2 million in the bank. In addition to transferring money to Alcantara and Hamilton, records show the SICC has sent $25,000 to Avella, who may face another challenge from former City Council Member, Comptroller and mayoral candidate John Liu.
An IDC spokesperson dismissed the notion that any of the anti-IDC candidates pose a serious threat. "The Independent Democratic Conference and all eight members demonstrated they have the resources necessary to communicate with voters and are all well positioned to win reelection," said conference spokesperson Candice Giove.
Clarification: The article has been updated with an explanation from Robert Jackson's campaign for payments made from a 2016 campaign account.