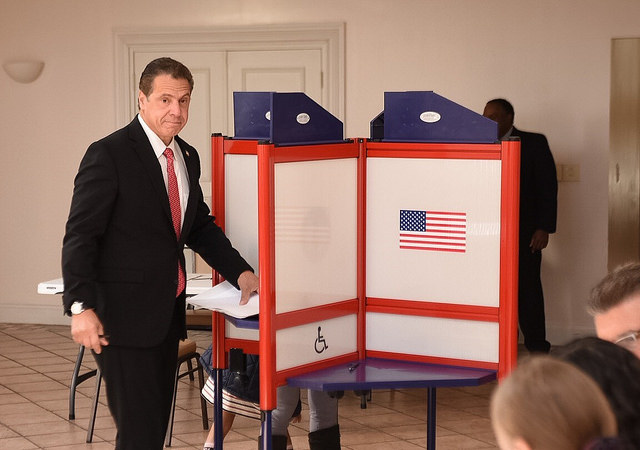 Gov. Cuomo voting (photo via The Governor's Office)
---
Governor Andrew Cuomo has officially called a special election to fill 11 vacant seats in the Legislature — two in the Senate and nine in the Assembly — for April 24. Of these, four vacancies are located within the five boroughs of New York City. The short races are quickly heating up to replace three former city-based state legislators who have joined the City Council -- former Assembly members Francisco Moya and Mark Gjonaj and former Senator Ruben Diaz Sr. -- and another lawmaker, Brian Kavanagh, who left the Assembly for the Senate.
While all of these seats are likely to remain in Democratic hands, the other Senate special election is in a key Westchester swing district where party control of the upper chamber -- Republicans' last stronghold of power at the state level -- is at play. There, Senate district 37, Democrat George Latimer left a vacancy when he was elected Westchester County Executive in November.
The governor had faced pressure from Democrats to call the special elections on January 1, the earliest possible date, which would have meant March elections and winners in place to represent their districts in final budget negotiations -- a new state budget is due by April 1. But, Cuomo decided to wait, saying he did not want to inject politics into the budget process, and called the specials so they would occur in April. Winners will be seated in the Legislature in time for negotiations during the final weeks of the legislative session that ends in June.
The backdrop also features a tentative reunification deal between the Senate's breakaway Democratic faction known as the IDC and their mainline peers -- which is only on the table if Democrats regain the requisite 32 seats to retake the majority in the 63-seat chamber before the end of the 2018 session. Winning the two Senate seats is essential, and a great deal of focus will be on the Westchester race. The IDC, which forms a ruling coalition with the Senate GOP, includes eight members, while the mainline Democratic conference currently features 21 members, and one nominal Democrat, Senator Simcha Felder, caucuses with Republicans.
In New York, special elections do not include typical primaries, with party nominees picked by party officials rather than the larger voting pool. In the city's deep blue districts, this often means that the Democratic nominee is virtually handed the seat. Upstate, a number of GOP-held seats are likely to remain safely Republican.
A closer look at where things stand in each of the 11 legislative vacancies home to special elections April 24 -- party candidate nominations must be set with the Board of Elections by February 26.
SENATE
Senate District 37 - Westchester
Since Latimer won the Westchester County Executive contest in November, unseating two-term GOP County Executive Rob Astorino, the race is heating up to fill his vacant 37th Senate District seat.
Assemblymember Shelley Mayer was chosen as the Democratic nominee for the seat -- beating out teacher and activist Kat Brezler -- in a mini-convention held by county Democratic leaders in January. Former Rye Councilmember Julie Killian, who lost a Senate race to Latimer in 2016, secured the GOP nomination in early February over former Yonkers Inspector General Dan Schorr. Republican candidate Sarmad Khojasteh had previously dropped out of the race to endorse Killian.
While Democrats have a two-to-one enrollment advantage in Westchester, the district has become a battleground in recent years. If Mayer is elected, the 90th Assembly District will be left vacant and without representation until the November 2018 election.
Senate District 32 - The Bronx
This Senate seat became available when Diaz Sr. won the election for New York City Council's District 18, which was left vacant by term-limited Annabel Palma.
Diaz Sr., a conservative Democrat who had served the Senate's 32nd District since 2002, easily beat several third-party candidates in the general election after a more competitive primary. Assemblymember Luis Sepulveda, a Democrat, formally declared his candidacy for the Senate seat in December and is expected to be Diaz Sr.'s successor in the overwhelmingly Democratic district. This would leave a vacancy in the 76th Assembly District.
ASSEMBLY
Assembly District 39 - Queens
This position was vacated by former Assemblymember Francisco Moya, who was elected to the City Council District 21 seat in November. Moya replaced Julissa Ferreras-Copeland, who decided not to run for re-election. Candidates running for Moya's seat include Catalina Cruz, the former chief of staff for Ferreras-Copeland, and Aridia Espinal, a former Moya staffer and district leader, who has Moya's endorsement.
Cruz has criticized the nature of special elections in New York. "Unfortunately, the special election process for the state Assembly does not allow for Democratic primary voters to decide who represents them on the Democratic Party ballot line," Cruz said in a statement.
Assembly District 74 - Manhattan
The 74th State Assembly seat was vacated by Brian Kavanagh when selected by Democratic Committee leaders last fall to replace Dan Squadron in the State Senate. Democrat Harvey Epstein, scooping up endorsements from a slew of City Council members, Public Advocate Letitia James, Comptroller Scott Stringer, and other Democratic power players, handily won the Democratic nod over Mike Corbett, an aide to City Council Member Costa Constantinides and president emeritus of the New York State Young Democrats, on February 12.
The New York Republican County Executive Committee unanimously endorsed Bryan Cooper for race.
Assembly District 80 - The Bronx
This seat was held by former Assemblymember Mark Gjonaj, who was elected to the City Council's 13th District, replacing term-limited James Vacca last year.
Gjonai's former chief of staff Nathalia Fernandez received the Democratic nomination for the Assembly's 80th District on Thursday, paving the way for her to take the seat in April.
"Our district deserves an Assembly Member who has the experience to get things done. My deep roots in the community and my experience has prepared me to be an effective representative on day one," said Fernandez, who has the backing of her former boss.
Fernandez said her priorities will include improving quality of life in the district, increasing education funding in the state budget, supporting small businesses, and improving public transportation. The district includes Morris Park, Pelham Parkway, and Norwood, among other Bronx neighborhoods.
Assembly District 5 - Suffolk County
This Suffolk County seat was vacated by Republican Assemblymember Al Graf, who won his bid for district court judge in Islip in November. Graf represented the 8th District, which includes Holbrook and Stony Brook, since 2010. Like much of Suffolk County, this district is a toss up between Democrats and Republicans -- though the GOP maintains a slight advantage.
Doug Smith, a 27-year-old former aide to Graf, has secured the Republican nomination, while Democrats are searching for a new nominee after union leader Peter Zarcon received the Democratic nod, but pulled out of the race Wednesday citing "personal family concerns."
According to Newsday, Democratic leaders say they are now interviewing Deborah Slinowsky, a former school board member who works in the Suffolk County Department of Social Services, and Jenn Hann, a legislative aide.
Assembly District 102 - Greene County
Former Republican Assemblymember Pete Lopez stepped down from his Assembly position to become a Region 2 Administrator at the United States Environmental Protection Agency in October. Schoharie Town Supervisor Christopher Tague has secured the Republican nod, beating out former Ulster County Legislature candidate Santos Lopez, while Aidan O'Connor Jr., a member of the Greene County Legislature, is the Democratic nominee. The district encompasses parts of four counties -- Albany Columbia, Greene, and Schoharie -- and has a slight Republican advantage.
Assembly 17th District - Nassau County
Former Assemblymember Thomas McKevitt, a Republican, stepped down for a seat on the Nassau County Legislature. No candidates have yet emerged. The district has a GOP advantage.
Assembly 142nd District - Buffalo Region
Michael Kearns, a Democrat who ran on the GOP line, narrowly defeated Democratic candidate and former radio host Steve Cichon, a lifelong Republican, for Erie County Clerk in the fall. While the majority of the district is Democratic, party affiliation can be complicated in Buffalo.
Erie County Legislator Patrick Burke has nabbed the Democratic nomination for this vacant seat, while the Republicans have picked a Democrat, Erik T. Bohen, as their candidate in the special election to replace Kearns.
The district includes parts of South Buffalo, Lackawanna, Seneca, and Orchard Park.
Assembly District 10 - Suffolk County
Former Republican Assemblymember Chad Lupinacci left this seat to take over as supervisor of Huntington, a seat held by Frank Petrone for 24 years. The 10th District of the Assembly, which includes large portions of Suffolk County, has a Democratic advantage.
Assembly District 107 - Rensselaer, Albany, Columbia
No candidates have emerged yet for the seat of former Assemblymember Steve McLaughlin, a Republican who left the Assembly after winning the race for Rensselaer County executive, but five Democrats and two Republicans have reportedly been interviewed by respective party leaders.
The district is evenly split between Democrats and Republicans.