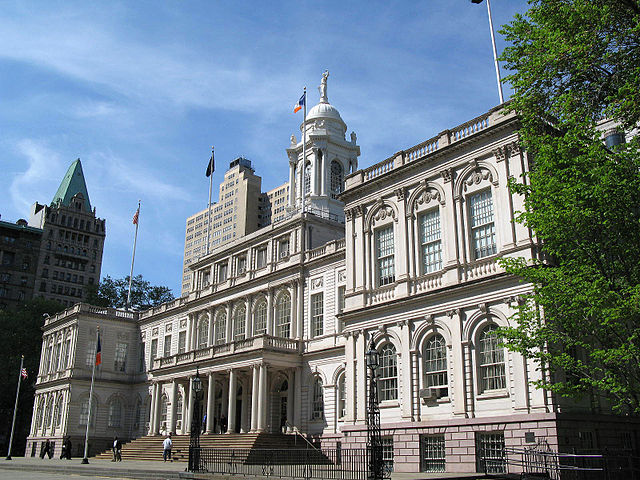 New York City Hall
---
What to watch for this week in New York politics:
This week the City Council and state Legislature are on their annual mid-February breaks that coincide with school vacation week in New York. There are no session days or budget hearings in Albany, and there are no City Council hearings in the city. (The state Legislature will be back in session for two days next week, Tuesday and Wednesday, before a very busy March.)
There are several events to be aware of in this holiday-shortened week -- see below for a day-by-day rundown. Meanwhile, we're watching for more as races heat up for the 11 special state legislative elections that will be held April 24; as the gubernatorial race continues to unfold, specifially whether State Senator John DeFrancisco can continue to rally Republican support for his nomination; as City Council Member Jumaane Williams continues to pursue his recently-announced bid for the Democratic nomination for Lieutenant Governor; and more.
There will be continued examination this week of Governor Andrew Cuomo's executive budget plan, specifically with regard to the "30-day amendments" he released last week, which now form the full picture of his proposal that will focus negotiations with the Legislature. We're also heading toward the one-house legislative budgets, which will be unveiled mid-March.
And, this week will also see more analysis of Mayor Bill de Blasio's State of the City agenda, as we await more news about his promised charter revision commission, and more detail about other parts of his new plans focused on reinvigorating the city's democracy. Meanwhile, there will continue to be discussion of the state of NYCHA, including a press conference Tuesday morning at City Hall, which promises to garner some attention.
***Do you have events or topics for us to include in an upcoming Week Ahead in New York Politics?
e-mail Gotham Gazette editor Ben Max: This email address is being protected from spambots. You need JavaScript enabled to view it.***
The run of the week in detail:
Monday
Monday is the Washington's Birthday (celebrated) holiday.
Tuesday
At 9:50 a.m. Tuesday, Lieutenant Governor Kathy Hochul will deliver "a message of welcome to immigrants during naturalization ceremony for 31 new Americans,: at Theodore Roosevelt Inaugural Site in Buffalo. At 11 a.m., Hochul will celebrate "upcoming Maple Weekends and inclusion of maple industry in NYS Grown and Certified Program with Ceremonial Tree Tapping," at Smith's Maple Farm in Hamburg.
"On Tuesday, rapper Ja Rule alongside Council Members Alicka Ampry-Samuel and Ritchie Torres, electeds, and public housing residents from across NYC, will hold a press conference and rally to call for more investment and immediate renovations to NYCHA's failing heating systems and to #TurnUpTheHeat. Persistent heat and hot water outages at NYCHA developments throughout the city have impacted 323,000 public housing residents--80% of NYCHA tenants--leaving them in frigid apartments throughout the winter season. The rally will be held on the steps of City Hall at 11:00 AM and will include remarks from Ja Rule."
At 1:30 p.m. Tuesday, the New York City Board of Elections will hold a commissioners' meeting.
At 5 p.m. Tuesday, Civic Hall and Citizen Action NY will host "The Revolution Will Be Localized," a discussion on closing Rikers, bail reform, and other criminal justice issues, at Civic Hall's headquarters.
On Tuesday at 6:15 p.m., Public Advocate Letitia James will deliver remarks at Congressman Joe Crowley's Black History Month Celebration. At 7:30 p.m., James will deliver remarks at the People's Climate Movement-NY 2018 Kickoff Meeting, at Judson Memorial Church in Manhattan.
At 7 p.m. Tuesday, "State Assembly Speaker Carl Heastie will talk disparities in health and economic security that hurt communities of color on WBLS's "Open Line" program with Judge Bob Pickett and Bob Slade. Speaker Heastie, fellow legislators, AARP, the NAACP and Urban League will address two key state budget proposals by Governor Andrew Cuomo: to create a workplace retirement savings option that private sector companies could offer their employees, and to expand telehealth." The event will be at the Schomburg Center for Research for Black Culture. Along with Heastie, participants will include State Senators Brian Benjamin and Kevin Parker; Hazel Dukes, President, New York State NAACP; Arva Rice, Executive Director, NY Urban League; and Beth Finkel, AARP New York State Director, among others.
Wednesday
At 9 a.m. Wednesday, the CUNY Urban Food Policy Institute will host a discussion on New York City food policy since 2008 and "lessons for the next decade." Panelists will include City Council Member Mark Levine; Cathy Nonas, formerly of the Center for Health Equity; and Dwayne Wharton, of the Food Trust. The event will take place at the CUNY Graduate School of Public Health and Health Policy in Harlem.
Thursday
At 9 a.m. Thursday, City & State will host its "Digital NY Summit," convening "New York's information leaders from government and industry" for discussions "on the innovative ideas being used to improve the delivery of services to both citizens and government agencies," at the Manny Cantor Center on the Lower East Side. DoITT Commissioner Samir Saini will deliver the opening keynote address. Other speakers include Manhattan Borough President Gale Brewer, City Council Member Ydanis Rodriguez, and New York City Chief Technology Officer Miguel Gamiño, among others.
At 10 a.m. Thursday, the MTA will hold a public board meeting.
At 11:30 a.m. Thursday, Bronx Borough President Ruben Diaz Jr. will deliver his 2018 State of the Borough Address at the Bronx High School of Science.
At noon Thursday, the Senate Independent Democratic Conference (IDC) will hold a public meeting at 250 Broadway in Manhattan regarding cryptocurrency, its impacts, and regulation of it.
At 7 p.m. Thursday, Women of Color for Progress will host "Why Does County Committee Matter" at the Flatiron School in Manhattan. Panelists will include Brooklyn District Leader Nikki Lucas, Manhattan County Committeewoman Reshma Patel, Queens State Senate candidate Jessica Ramos, and Bronx District Leader Marjorie Velazquez.
Friday and the weekend
At 8:15 a.m. Friday, the Center for New York City Law at New York Law School will host Police Commissioner James O'Neill for a discussion as part of its ongoing CityLaw Breakfast series.
At 8:30 a.m. Friday, New York Law School and the Federal Bar Association will host the 2018 New York Asylum and Immigration Conference at the New York Law School. Bitta Mostofi, Acting Commissioner of the Mayor's Office of Immigrant Affairs, will deliver the keynote address.
At 9 a.m. Friday, State Senator Tony Avella will hold a town hall meeting at Clearview Park Golf Course in Bayside, Queens.
Mayor de Blasio is expected to make his weekly appearance on WNYC's The Brian Lehrer Show at 10 a.m. Friday.
At 11 a.m. Saturday, several unions, including AFL-CIO, AFSCME, and DC37, will host the New York "Working People's Day of Action," calling for an end to a "rigged" system and advocating on behalf of issues such as the right to organize as a union, affordable healthcare, and equal pay. The event will begin at Foley Square.
On Saturday in Jamaica, Queens, "Council Member I. Daneek Miller hosts Black History Month celebration featuring live performances and guest speakers, including Drs. Rameck Hunt and George Jenkins of the Three Doctors Foundation, and co-authors of The Bond, The Pact and We Beat the Street."
***
Have events or topics for us to include in an upcoming Week Ahead in New York Politics? E-mail Gotham Gazette executive editor Ben Max any time: This email address is being protected from spambots. You need JavaScript enabled to view it. (please use "For Week Ahead" as email subject).
***
by Ben Brachfeld and Ben Max
@GothamGazette