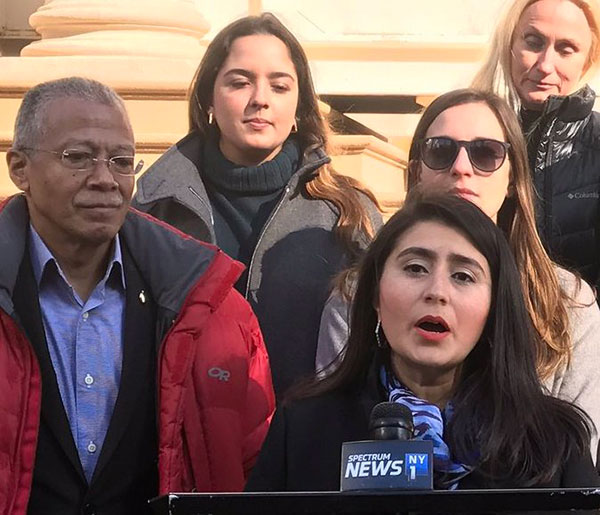 Jessica Ramos and Robert Jackson
---
The eight-member Independent Democratic Conference of the New York State Senate has drawn increasing ire from Democrats around the state, especially in New York City. Democratic senators who have broken away from their colleagues in the regular Democratic conference, IDC senators form a power-sharing agreement with Senate Republicans, helping the GOP enhance its razor thin majority. The Senate is the only current Republican stronghold in state government.
Several factors, including the election of Donald Trump as President, have led to increased awareness about the IDC, and most IDC members are now facing primary challenges from the left in this election year where all seats in the state Legislature are on the ballot.
Jessica Ramos and Robert Jackson are two candidates taking on IDC members: Jose Peralta of Queens and Marisol Alcantara of Manhattan, respectively. On Monday, Ramos and Jackson joined the Max & Murphy Podcast from Gotham Gazette and City Limits to discuss their candidacies, why they are taking on the "Trump Democrats" of the IDC, and more.
"I'm running for state Senate because the Queens I was born in, the Queens that I'm raising two sons in, the Queens I love, isn't being represented in the state Senate," Ramos said, indicating that the anti-IDC push is aimed at ensuring "real" Democrats occupy seats in the Legislature, not "turncoat" elected officials, as Jackson put it. Both candidates agreed that the IDC was helping Republicans stand in the way of a more progressive state.
They called discretionary funding that IDC members bring back to their districts "blood money," the spoils of a rotten power grab.
Jackson, a former City Council member, is running in the Democratic primary for the 31st State Senate District against incumbent Sen. Alcantara, who was first elected to the seat in 2016, narrowly defeating Jackson and Micah Lasher, who came in second and is backing Jackson this time around, in a contentious primary. The district encompasses much of the west side of Manhattan, from Hell's Kitchen to Inwood.
Ramos, a former aide to Mayor Bill de Blasio, is a first-time candidate, running against Sen. Peralta, who was first elected in 2010 to represent the 13th State Senate District, which includes communities of Jackson Heights, Corona, and East Elmhurst in central and northwestern Queens.
While the IDC has claimed it is able to work with Senate Republicans to pass more progressive legislation than would otherwise be passed, Ramos, Jackson, and other IDC critics have sought to debunk that claim. The legislation has been "watered down," Jackson said, referring to things like the state's relatively new minimum wage program, and Ramos agreed.
"They're eating crumbs off the Republican plates," Jackson said of IDC members.
Ramos describes funding IDC members get -- often significantly more than mainline Democratic senators and even some members of the Republican conference -- as "payment that they are receiving in exchange for supporting the Republican majority, and lest we forget that that discretionary funding is actually our very own taxpayer dollars." The funding, she says, is more about politics than really serving the district.
"Every single district that has New Yorkers that pay taxes should be receiving the same amount of funding," Ramos said.
"The bigger picture," Jackson said, "is all of the legislative stuff that can be done, that's where our people are going to benefit from."
Both Ramos and Jackson said that replacing IDC members with true Democrats would help lead New York in a more progressive direction. In total, they listed more than half a dozen bills or programs that they believe a Democratic majority in the Senate could deliver, including more education funding, single-payer health care, codification of Roe v. Wade abortion protections into state law, and more.
The two candidates touted early endorsements they've received, such as Ramos getting the backing of The Working Families Party.
During the podcast the candidates answered questions about their records on particular issues, whether they have a path to victory, and other tougher subjects than simply going on the attack against the incumbents they hope to unseat.
Ramos, for example, worked for de Blasio, and has to navigate how she approaches the mayor during her campaign. She discussed her work at City Hall whether she expects the mayor to campaign for her leading up to September's primary vote.
Listen to the full Max & Murphy episode with Jessica Ramos and Robert Jackson here, or find Max & Murphy wherever you get your podcasts.
Ben Max contributed to this article.