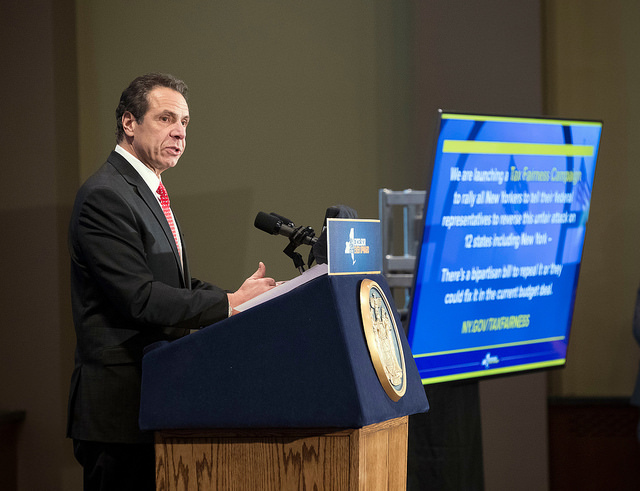 Governor Cuomo (photo: Mike Groll/Governor's Office)
---
The federal corruption trial of Joseph Percoco, a former top aide and close ally of Governor Andrew Cuomo, and three co-defendants reached near conclusion with prosecutors making closing arguments to the jury on Tuesday.
Percoco and the three others, all corporate executives, face several bribery, bid-rigging and fraud charges related to state contracts sought by the companies represented by Percoco's co-defendants. Percoco was charged with accepting bribes amounting to more than $300,000 from the three businessmen -- Joseph Gerardi, Steven Aiello and Peter Galbraith Kelly -- with whom he was involved in a broad criminal conspiracy, prosecutors have alleged.
At a federal court in lower Manhattan, prosecutor David Zhou summarized more than six weeks of testimony in a final plea to jurors for a guilty verdict, reading a selection from thousands of emails that were presented as evidence in the trial.
"'Where the hell is the ziti?'" Zhou cited from an email sent by Percoco from his personal AOL account to lobbyist Todd Howe, a former lobbyist and Cuomo ally who played middleman in the conspiracy and is a cooperating government witness who pleaded guilty to several counts himself. The term "ziti" was thrown around hundreds of times between Howe and Percoco, old friends, and referred to bribes, as appropriated by the men from "The Sopranos," the popular television show featuring the eponymous mafia family.
"These are Joe Percoco's own words...begging, requesting, demanding 'ziti,'" Zhou told the jurors.
Zhou meticulously laid out the prosecution's case over the course of about three hours, detailing how Percoco allegedly wielded his powerful position in the governor's office to take favorable official actions towards two firms, COR Development and Competitive Power Ventures, in corrupt exchanges with executives from the companies. Howe, in turn, funnelled payments from the firms to Percoco and to his wife, Lisa Percoco, who received a "low-show" job from CPV paying $90,000 a year for little work. "Ladies and gentlemen, you've put more time into this trial than Lisa Percoco did from her $90,000-a-year job," Zhou said.
The prosecution's case was complicated when, earlier this month, Howe admitted to attempted credit card fraud on the witness stand, violating his cooperation agreement with the government and leading to his arrest as the trial progressed.
As they began their closing arguments, lawyers for the defense emphasized Tuesday that Howe is an unreliable witness who is attempting to save himself from jail time.
The prosecution tried to preempt that argument, with Zhou telling the jury he expected the defendants to attack Howe's credibility. "They're hoping to distract you from the clear evidence in this case. Don't let them," he said, emphasizing that Howe's testimony was only a part of their case and that a massive paper trail implicated the defendants and did not depend on Howe. "You don't need an insider's view to convict these defendants.They convict themselves," he said.
After Zhou concluded, lawyers for Percoco's co-defendants took their turns tearing into Howe while describing their clients as unwitting victims of a "master manipulator" who has even fooled the government.
"The government's case is heavily leveraged on Howe," said Milton Williams, an attorney for Gerardi, a COR Development executive. Williams said Howe's talent with the "magic phone call game" made him an effective operator who lobbied government officials and got things done with a simple phone call.
Howe, he said, controlled "the flow of information" between all the defendants and that Gerardi was "played for a fool" like the others. "It's up to you to stop the damage of Todd Howe," Williams told the jury.
COR executive Steven Aiello's attorney, Stephen Coffey, did not hold back as he spent two hours painting the image of Howe as the mastermind who played both sides and entrapped his client in the different schemes that make up the charges. "The only person spinning this web tangled with lies...is Howe," he said, describing Howe as a "walking, talking reasonable doubt."
"If ever a man exemplified reasonable doubt, it's Todd Howe," he said.
Coffey also attempted to draw a line between the charges faced by Aiello and Gerardi as opposed to those faced by Kelly and Percoco. "Anything you find went on with the Kelly matter or the Percoco matter, we're not involved in it," he said. "There's no 'ziti' with Steven Aiello and Joe Gerardi."
CVP executive Peter Galbraith Kelly's lawyer, Daniel Gitner, also addressed the jury Tuesday, portraying the relationship between his client and Percoco as a close friendship. "Braith's actions were never the actions of a man who thought he'd rigged the system," Gitner said, using a nickname for Kelly. "Quid pro nada," he added.
Instead, Gitner said Kelly was simply a generous man who wanted to help a friend in financial distress with no expectation of any favors in return. "No such agreement was discussed. No such bargain was struck," he said, explaining the circumstances of the how Kelly's company gave a job to Percoco's wife.
Gitner also accused the prosecution of attempting to "whitewash" Howe's contribution to its case in closing statements after "touting" him in the trail's opening remarks. Just over an hour into his closing, Gitner was barely halfway done before the court adjourned for the day. Closing arguments will continue and may conclude on Wednesday, possibly leading to initial jury deliberations the following day.
The trial has raised a number of questions about Governor Cuomo's knowledge of Percoco's behavior and ways in which Cuomo oversaw both his reelection campaign and government administration. Cuomo has declined to answer any media questions about the trial, saying it wouldn't be appropriate given the ongoing trial and his self-professed respect for the legal process.