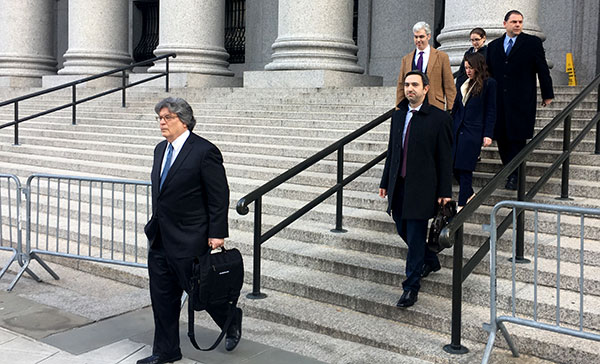 Joseph Percoco, rear, his legal team, and others (photo: Samar Khurshid)
---
Jury deliberations began Thursday in the federal corruption trial of Joseph Percoco, a former top aide to Governor Andrew Cuomo, and three corporate executives who were allegedly involved in a criminal conspiracy to pay Percoco bribes in exchange for favorable official actions in their efforts to do business with the state government.
In federal district court in lower Manhattan on Thursday morning, the prosecution offered its rebuttal to the defense's closing arguments from the previous two days, capping a six-week long trial that has exposed the inner workings of the state government and put on display the actions and behavior of Percoco, whom Cuomo once referred to as "my father's third son." The trial has raised questions about what Cuomo knew about Percoco's activities, including his former top aide's use of a government office while technically on leave to run Cuomo's reelection campaign.
The charges against Percoco and his co-defendants -- Peter Galbraith Kelly, Joseph Gerardi and Steven Aiello -- stem from two separate bribery schemes tied together by the government's key witness, former lobbyist Todd Howe, who pleaded guilty to facilitating payments totalling more than $300,000 from the executives to Percoco and his wife, Lisa Percoco.
Percoco and the others have been charged with ten felony counts of solicitation and payment of bribes and gratuities, conspiracy to commit honest services fraud, extortion under the color of official right and conspiracy to commit extortion under the color of official right, wire fraud, and making false statements to federal investigators. (One extortion charge, related to actions Percoco took while he was working on the governor's reelection campaign in 2014, was dismissed by U.S. District Judge Valerie Caproni on Monday.)
One of the schemes involved real estate developer COR Development and it's executives Gerardi and Aiello. The second involved energy firm Competitive Power Ventures and Kelly, who is accused of giving Percoco's wife a "low-show" job paying $90,000 annually.
The defense largely based its case on attacking Howe's credibility as a witness, claiming that he manipulated Percoco and the others into the schemes. Once he was caught for his own crimes, the defense attorneys claimed, he pointed fingers to try and reduce his prison sentence. That argument was bolstered in part when Howe was arrested during the trial for violating his cooperation agreement with the government.
Prosecutors, however, have pointed to other evidence, including thousands of emails, that they say shows the corrupt agreements struck between the defendants. Howe's testimony formed only a part of their case, they claim, and was far from the foundation of the prosecution.
"Their best defense is to make you think it all comes down to Todd Howe," said prosecutor Janis Echenberg, in the government's rebuttal Thursday morning. "See the defense arguments for what they are. They are asking for a free pass. They're saying 'We dealt with a bad guy so we should get away with it.'"
Echenberg also sought to counter the "friendship defense" forwarded by attorneys for both Percoco and Kelly, who claimed that the two did favors for each others because they were close friends. One example the defense cited was Percoco and Kelly going on a fishing trip together.
"This whole fishing sideshow," Echenberg told the jury, "You're being played hook, line and sinker."
"Even if there was a friendship between them...you don't get a pass on bribery just because you're bribing a friend," she added.
After Echenberg's plea to the jury for a guilty verdict, Judge Caproni addressed the jury, reading through a 40-page booklet of all the charges against the defendants and instructing them to carefully consider their decision.
Later in the day, the jury sought clarification on whether Percoco had to have been a public official throughout the duration of the two schemes he is accused of participating in in order to be found guilty. The prosecution had argued that though Percoco left state government to work on the governor's reelection campaign, he still wielded his influence within state government to pressure officials for favorable action towards his co-defendants. The defense, on the other hand, in the words of Percoco's lawyer Barry Bohrer, said Percoco couldn't possibly have been "selling his office" during the campaign since "he had no office to sell."