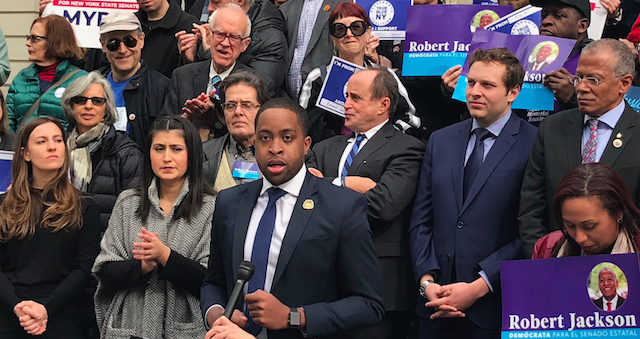 Zellnor Myrie, center, and other IDC challengers
---
The Working Families Party is escalating its efforts to unseat members of the breakaway Independent Democratic Conference of the New York State Senate. The WFP, a progressive political party that regularly cross-endorses Democrats, is rolling out additional endorsements of candidates challenging IDC members in this year's elections, which include all the seats in the state Legislature.
The IDC has a power-sharing agreement with Senate Republicans that helps keep the GOP in control of the upper chamber of the Legislature, Republicans' only stronghold in state government.
Awareness of the eight-member IDC has grown recently and anti-IDC organizing has increased dramatically since the election of Donald Trump as president and a corresponding increased recognition of the importance of state governments, and specifically party control of the state Senate in New York.
The WFP -- which offers organizing and fundraising help to its candidates -- recently announced the endorsement of three IDC challengers: Jessica Ramos; Alessandra Biaggi, and Rachel May. On Wednesday, the WFP endorsed three others: Zellnor Myrie, John Duane, and Jasmin Robinson. On Thursday night, the party endorsed a seventh candidate, Robert Jackson.
These candidates are challenging IDC Senators Jose Peralta, Jeff Klein, Dave Valeski, Jesse Hamilton, Tony Avella, Diane Savino, and Marisol Alcantara, respectively. The WFP does not yet have an announced candidate to take on Senator David Carlucci.
On Sunday, the WFP is holding a rally in Brooklyn to bring its endorsed state Senate candidates together, as well as to formally back United States Senator Kirsten Gillibrand. The event, to be held at Medgar Evers College, is being billed as the 2018 "campaign kickoff rally" of the "progressive insurgence," according to the WFP event listing. "This is the first time these Working Families Democrats will share a stage," said an email from the WFP encouraging people to attend. "[W]e need all hands on deck to elect a progressive majority to the State Senate."
The rally is being co-hosted by several groups that have sprung up in recent months with a focus on local politics, defeating IDC members, and moving New York leftward. These include True Blue NY, No IDC NY, New York Progressive Action Network, Empire State Indivisible and local "Indivisible" chapters. These groups held a press conference at City Hall on Thursday to back an initial handful of the IDC challengers. It was headlined by Zephyr Teachout, who ran a grassroots Democratic primary challenge to Governor Andrew Cuomo in 2014 (without WFP support).
An added element of conflict -- and intrigue -- for Sunday is a rally being organized by Senator Hamilton's office, set for outside Medgar Evers College at the same time participants will be arriving for the WFP rally. Hamilton has a district office nearby, and his team has put together what is billed as a "Black Minds Matter Rally." Purportedly, the rally is "in support of black history education" and Hamilton's bill that seeks to build a path toward the mandated teaching of black history in New York schools.
However, the Hamilton-led rally, organized by his government office, is being called a fairly obvious response to the WFP campaign event. Hamilton's office had asked Reverend Al Sharpton's National Action Network (NAN) to participate, and its leadership agreed, but that changed when the apparent but unsaid motives for the rally became clear.
"While NAN strongly supports badly needed efforts to bolster black history education, organizers of the Black Minds Matter Rally on March 4th neglected to inform us that their event was a thinly veiled counterprotest of the Working Families Party's rally on behalf of a number of their endorsed candidates," said Kirsten John Foy, northeast regional direction for NAN, in a statement to Gotham Gazette.
"Given our strong collaboration with WFP and other grassroots groups in the resistance against Trump's attacks on people of color and working people everywhere, we want to clarify that we do not support this counter-protest," Foy said.
Past and current flyers for the Hamilton rally show NAN as a partner and not.
Reached for comment, a spokesperson for Hamilton responded with a clarifying question, but, once it was answered, did not offer any clarity about the event or response to Foy's assertion.
The WFP describes the IDC as "a group of 8 turncoat Democrats who empower Republican senate leadership." Candidates seeking to unseat IDC members regularly refer to them as "Trump Democrats." They say that the IDC is part of what is holding New York back from enacting a sweeping progressive agenda including more school aid, more stringent rent regulations, universal health care coverage, codification of Roe v. Wade abortion protections, and more. IDC members, led by Klein, say that they are able to influence legislation and budgetary priorities in the Senate and also bring home added spoils to their districts because of the power-sharing agreement.
"The Working Families Party is proud to support this slate of progressive challengers," said Bill Lipton, director of the New York Working Families Party, in a statement to Gotham Gazette about the IDC challengers. "Unlike the incumbents who voted to install a Trump loyalist as leader of the state senate, these Working Families Democrats are committed to supporting the progressive leadership of Democratic Conference Leader Andrea Stewart-Cousins on day one. Only when progressives hold the gavel can we actually deliver on the progressive agenda working families demand: fair funding for public schools and universities, stronger rent laws, real criminal justice reform and so much more."
While the progressive backers of the IDC challengers are rallying and preparing for a big push through primary day in September, a tentative Democratic unity deal hangs in the background. Cuomo, a second-term Democrat who has had an up-and-down relationship with the WFP and other progressives, has helped orchestrate an agreement for mainline Senate Democrats and the IDC to join forces based on a number of factors, starting with Democrats winning two special Senate elections taking place April 24 to fill vacant seats.