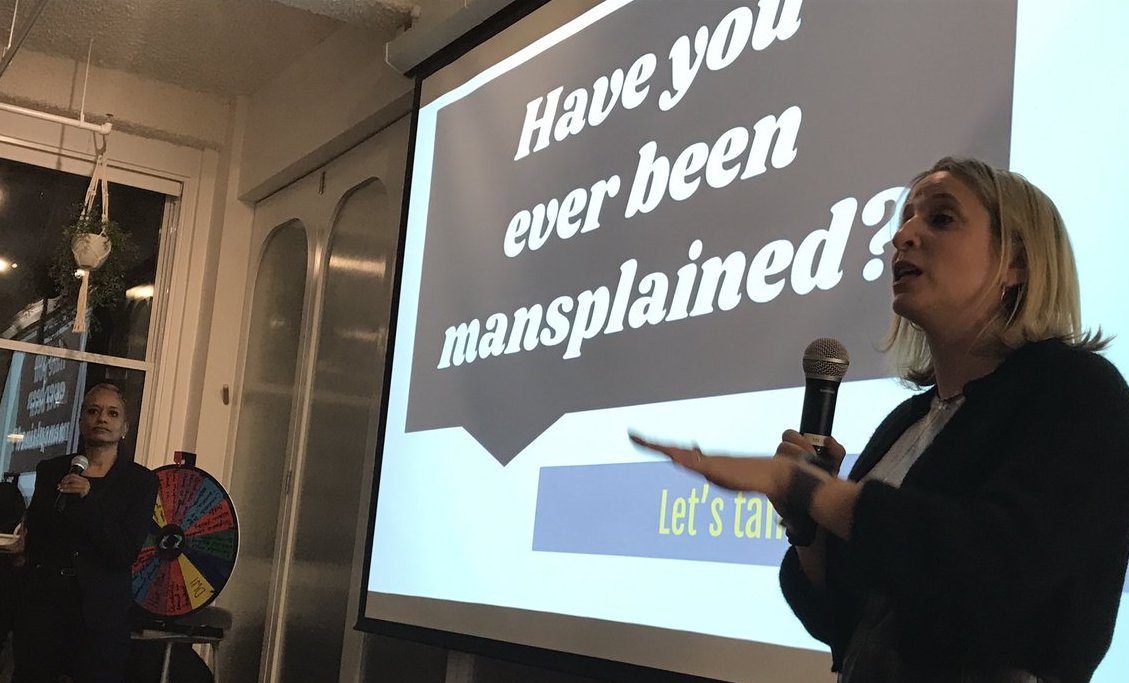 Rebecca Katz at The Broad Room (photo: Monica Klein on Twitter)
---
Actress and education activist Cynthia Nixon is reportedly close to launching a gubernatorial bid and may challenge Governor Andrew Cuomo in this year's Democratic primary.
Nixon has long been rumored as a candidate for governor and is close to making an official announcement that she is running, according to NY1's Zack Fink, who also reported that Nixon has tapped two prominent Democratic political consultants, and former campaign staffers to New York City Mayor Bill de Blasio, to help her prepare for a possible run. The two advisors, Rebecca Katz and Bill Hyers, lead the New York office of Hilltop Public Solutions, a political consulting firm that works with progressive candidates and includes de Blasio as a client.
"Many concerned New Yorkers have been encouraging Cynthia to run for office, and as she has said previously, she will continue to explore it," said Rebecca Capellan, a spokesperson for Nixon, in an emailed statement to Gotham Gazette. "If and when such a decision is made, Cynthia will be sure to make her plans public."
In an unrelated conference call with reporters on Tuesday, Cuomo seemed unconcerned about a potential run by Nixon. "On people who may or may not run for governor on both sides of the aisle, that's up to them, and we'll deal with it as the campaign progresses," he said. On Wednesday, on yet another conference call press briefing, Cuomo was asked who he thought may have put Nixon up for running, and joked, "I think it was probably either the mayor of New York or Vladimir Putin. I am going to leave it to you, great investigative reporters to follow the facts and ferret out the truth."
Nixon has also been a close ally of de Blasio -- she campaigned for him in 2013 and sat on the City Hall dais during both his mayoral inaugurations -- and it should come as no surprise that she would look to Katz and Hyers for their expertise. De Blasio relationships aside, a number of progressive Democrats have been looking for a strong primary challenger to Cuomo, including some of the same people who backed insurgent Zephyr Teachout in 2014, when the law school professor made things uneasy for Cuomo as he sought a second term.
Katz and Hyers are fierce defenders of de Blasio and his agenda, and are relentless critics of Cuomo, with whom de Blasio has had a long-running feud despite the fact that they are members of the same party and share similar positions on many issues.
That feud again escalated Wednesday as questions about Nixon's potential candidacy gave the mayor another opportunity to criticize Cuomo, after which the governor called in to NY1 and bashed the mayor for too much talk, not enough action, and defended his own progressive record.
With an active presence on social media, Hyers and Katz have often shielded their former boss from criticism and also regularly strike out at Cuomo and his administration. Niether Hyers nor Katz responded to requests for comment for this article.
In January, for instance, when the federal corruption trial of Joseph Percoco, a former top aide to Cuomo, had just begun, Katz tweeted, "Worth asking what kind of press coverage this trial would get if it involved the closest confidant of the Mayor, and not Governor Cuomo's second brother."
When Teachout -- who managed to get a significant 34 percent vote share despite limited funds, no name recognition, and almost no institutional support -- criticized Cuomo for not calling special elections for 11 vacant seats in the state Legislature, Katz highlighted the comments for her 11,000-odd Twitter followers. "There's a lot going on right now, but don't miss this important @ZephyrTeachout thread. And then don't let Andrew Cuomo ever call himself a progressive Democrat," she wrote.
In December, when Cuomo's campaign was planning a birthday fundraiser for the governor featuring former President Bill Clinton, Katz wrote sardonically, "$50k to sit with the Governor. Cuomo, man of the people."
In November, when the U.S. Congress was considering an overhaul of the federal tax code, Governor Cuomo criticized the "treasonous" Republicans from New York who voted for it. Katz, who also worked in the de Blasio administration for about 15 months before departing in 2015, added to her criticism of the governor for allowing Republicans to control the New York State Senate. "Wonder what he'd call a Democratic Governor who helped bring us a Republican State Senate," she tweeted sarcastically.
Katz has also called out Cuomo for lying or flip-flopping on key issues. Last year, when the MTA was amid a growing operational crisis and the governor sought to shift responsibility away from the state, she tweeted, "Cuomo at launch of 2nd Ave Subway - it's me me me! Cuomo lying today 👇"
Recently, Katz spoke at a training put on by The Broad Room for women in politics, and discussed dealing with "mansplaining," which included having participants watch a clip of Cuomo talking.
Hyers has a slightly more infrequent presence on Twitter, and fewer followers, with about 2,600, but his anti-Cuomo tweets are no less acerbic, and he's also been a willing Cuomo critic in the press.
In late November, there was yet another Cuomo-de Blasio dust up when the mayor said the governor's apparent presidential ambitions were the only reason Cuomo was supporting a deal to reunite the mainline state Senate Democrats with the Independent Democratic Conference. De Blasio noted as example that Cuomo had failed to hold to an agreement in 2014 to help elect a Democratic majority to the state Senate, brokered when de Blasio helped Cuomo get the reelection endorsement of the Working Families Party.
In response, a Cuomo spokesperson hit out at the mayor for his failed 2014 attempt at flipping the Senate, which invited a state investigation of his fundraising efforts. Hyers was not happy.
"So were all supposed to buy that Cuomo didn't help the IDC for years? Are we all this stupid? This is very Trumpian…," he tweeted.
On Wednesday, de Blasio laughed off the notion that he would again help Cuomo earn the WFP endorsement and ballot line.
Earlier that same November day, Hyers wrote, "So Cuomo land pushes stories about his Presidential ambitions everywhere then takes pop [sic] shots when the Mayor points it out?"
In July of last year, Hyers also weighed in on Cuomo's effort to distance himself from the MTA's problems, repeatedly criticizing the governor's hands-off approach. He also pointed out the governor's tendency at that time to avoid mentioning the president by name when being critical of the federal government. "Now I know why Cuomo doesnt mention Trump, he's going to adopt his flat out lying style," Hyers wrote.
When Nomiki Konst, a correspondent with The Young Turks network and also a vocal Cuomo critic, said in July 2017 that the second-term Democrat did not have a base of supporters on the left, Hyers mused, "Wait, Cuomo is a Democrat? When did he switch parties?"
On Wednesday, de Blasio was asked if he'd encouraged Nixon to take on Cuomo. The mayor danced around the subject, praising his long-time friend and saying Nixon makes her own decisions, and that though he hasn't spoken with her lately, he said, he also wouldn't divulge the contents of private conversations. Including on Wednesday, the mayor has declined to endorse Cuomo for a third term, but has also shied away from definitively saying the governor deserves a primary challenge from the left. He did say he wants to see "real Democrats" in charge, and that he'd have more to say on the 2018 elections at a later date.

Hyers himself has acknowledged that he goes out of his way to take jabs at the governor. In late June 2017, a campaign ad for Democratic Congressional candidate Randy Bryce, an ironworker from Wisconsin known popularly as "IronStache" who is challenging Republican House Speaker Paul Ryan in this year's midterms, went viral. Bryce's campaign strategist was Hyers, which a reporter pointed out on Twitter with a link to a story about the viral ad.
"I do some things besides horseraces and heckling Cuomo," Hyers joked, and Katz retweeted.
Note- This article has been updated to note that Nomiki Konst is a correspondent with The Young Turks network, not a Democratic consultant.