Ben Max, left, of Gotham Gazette, and Jarrett Murphy, right, of City Limits
---
March 13, 2018 - Max & Murphy Podcast: A Journalist Runs for State Senate, with Ross Barkan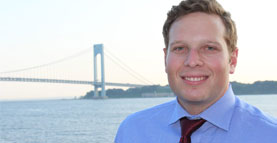 Ross Barkan announced late last year that he was making the leap from journalism to running for elected office and entered the race in the 22nd State Senate District, a Brooklyn seat currently held by Republican Marty Golden that is on the ballot this fall. Golden is part of the GOP majority in the Senate that Democrats like Barkan blame for preventing a host of progressive legislation from moving through the Legislature.
Before he can directly take on Golden, Barkan must first prevail in the Democratic primary, where he faces Andrew Gounardes, an aide to Brooklyn Borough President Eric Adams who lost to Golden in 2012. (We had booked both Barkan and Gounardes for this episode, but Gounardes later said a work obligation came up, so Barkan appeared alone.)
In this episode, Barkan explains his rationale for running, how journalism has prepared him for elected office, his campaign platform, and more.
Listen to the full conversation and let us know what you think -- we're on Twitter @TweetBenMax and @JarrettMurphy and guest Ross Barkan (@RossBarkan). You can listen to the episode through the embedded audio below or download the episode wherever you get your podcasts.