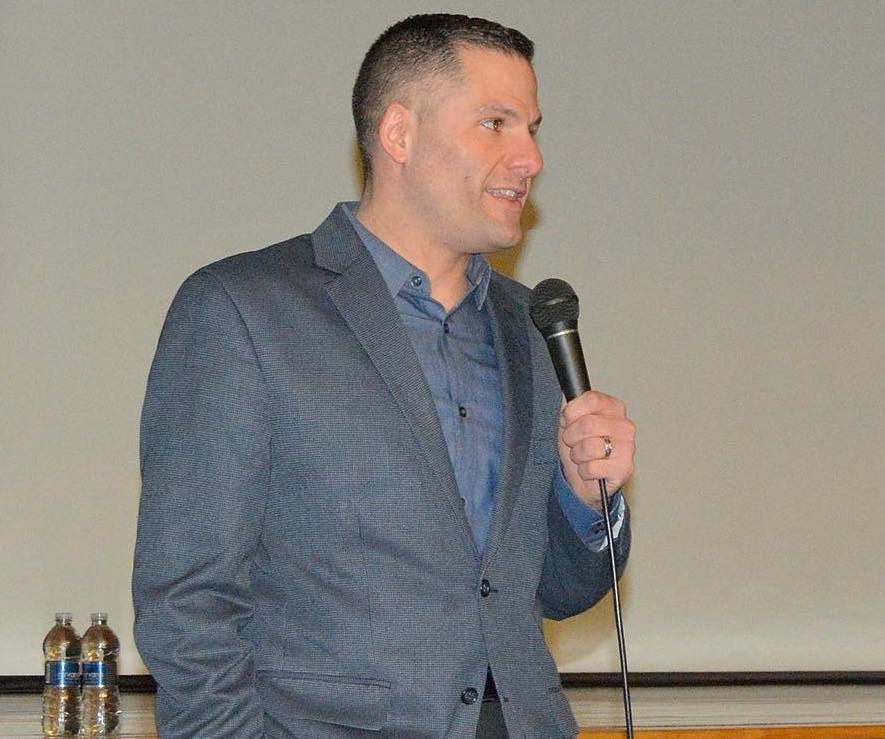 Marc Molinaro (photo via Facebook)
---
Weeks before he is set to officially launch his campaign for governor, Dutchess County Executive Marc Molinaro has all but claimed the Republican nomination, and on Wednesday, he locked up another endorsement putting him closer to the goal.
At a gubernatorial candidate screening Wednesday night at the Metropolitan Republican Club in Manhattan, Molinaro emerged as the top choice of the Manhattan County Republicans over state Senator John DeFrancisco and Joseph Holland, a former aide to Governor George Pataki.
Over the course of about 90 minutes, one by one, the three candidates pitched their qualifications and their electability to a gathering of more than 100 Republicans. The crowd cheered, and jeered, as the three each took their jabs at Governor Andrew Cuomo and Mayor Bill de Blasio, both second-term Democrats, and presented their vision for governing New York State. Though few concrete policy prescriptions were aired, the gathering seemed pleased to hear each candidate variously criticize the Cuomo administration for how, as Holland said, it "over-taxes, over-spends, and over-regulates."
Cuomo has said he is seeking a third term this year, and has more than $30 million in his campaign account. But, given several issues, including the upstate economy, the MTA subway crisis, and, on Tuesday, the corruption conviction of Cuomo's former top aide and closest confidante, Joseph Percoco, Republicans see an opening to win the governorship for the first time since 2002.
On Wednesday night in Manhattan, each of the three candidates had roughly 20 minutes to demonstrate how they'd reach what Manhattan GOP Chair Andrea Catsimatidis called the "magic 30 percent number" of New York City voters who could give them enough votes to beat Cuomo. While the governor is less popular outside the city, he relies on the five boroughs for a significant portion of his ability to win statewide elections.
Molinaro, who spoke last, framed himself as a committed public servant who would work with his opponents across the aisle, and has no interest in political posturing. "I think that we are paralyzed in New York by elected officials all too often working to posture instead of trying to produce real results," he said.
Speaking first was Holland, a Harlem minister who has previously served as state housing commissioner under the last Republican governor, George Pataki, has never been in elected office but pitched himself as the "most electable" of the three candidates. His appeal, he slowly and deliberately said, breaks down to three P's: Profile. Proven. Power.
"It's a profile that I have which is unique, it's a proven track record as an experienced outsider, and then the power to win at the ballot box in November," he told the audience. Holland spoke of his past -- which includes playing all-American football, founding and running a homeless shelter, a law degree, and a career in the real estate industry -- and recounted a previous failed run for state Senate. He mentioned his upstate roots in Auburn in Cayuga County, and his time working for both the executive chamber and the state Legislature in Albany.
"I'm an outsider with experience, and ladies and gentlemen, let me tell you, that's what the electorate wants right now," he said, referring to the election of Donald Trump as president. Noting that the party had never before nominated an African-American for governor, he promised a "fresh, bold, dynamic approach" that can forge a winning coalition of upstate and downstate voters.
In each candidate's Q&A after their individual presentations, moderator Frederic Umane (the Republican Board of Elections Commissioner from Manhattan) asked how they'd raise the necessary funds to go against Cuomo's $30 million war chest "without having to cook ziti," in a reference to the preferred term for bribes used by Percoco and co-conspirators, as revealed through the federal corruption trial that just concluded.
Holland admitted it would be a challenge, but said he'd tap his varied networks from his time at Cornell University, Harvard Law School, and his ties to the real estate industry. He pointed out, though, that "it's more difficult until you're the actual nominee."
But when questioned on specific issues such as homelessness, the MTA, school safety, infrastructure projects, and public housing, Holland had few proposals. In each instance, he said he would work with the necessary stakeholders while avoiding the public spats that Cuomo has resorted to with de Blasio and others, and the open defiance of President Trump.
While Holland has no experience with public office, DeFrancisco, a Syracuse native, has served in the Legislature for more than 20 years. Armed with an acerbic wit and disinterest in political correctness, DeFrancisco took his turn at convincing the audience to support his candidacy. "I've had leadership positions in everything I've ever done," he said, listing everything he's done from being top of his class in high school and captain of his college baseball team to now, serving as deputy majority leader of the Senate. (DeFrancisco sought the position of majority leader in 2015 but lost that bid to current Majority Leader John Flanagan, who is among those to endorse the senator for governor.)
"President Lincoln once said that 'If I had six hours to chop a tree, I'd use the first four hours to sharpen the axe.' And my axe is sharpened and it's directly aimed at our current governor, Andrew Cuomo," DeFrancisco said.
Touting the 17 electoral victories over the course of his career, DeFrancisco said he could easily remain in the Senate for the foreseeable future. "But I find, as a legislator, you can only make changes along the edges. The real fundamental changes that have to be made, in my mind, only can come from the governor's office," he said.
DeFrancisco insisted that an earnest campaign based on building trust with voters could be successful. "Whether you're from the far left, the far right, or in between, people don't like the manner in which this person does business...it's a very personal campaign against Cuomo," he said.
In response to queries from the audience, DeFrancisco did take some policy positions but did not advance many new ideas. He said he is in favor of fracking, against congestion pricing, and for a set-aside of a percentage of income taxes to fund the MTA. He opposes term limits for statewide elected officials and state legislators, and is against the Child Victims Act, which would extend the statute of limitations for victims of child abuse to make claims. He called for cuts to spending and streamlining bloat at state agencies.
DeFrancisco also expressed confidence that Cuomo's campaign funds weren't a threat to him but rather a liability for Cuomo himself, alluding to the governor's heavy reliance on campaign finance loopholes that has allowed large sums of money to flow to him from entities doing business with the state (Yet another aspect of the Percoco trial.) The senator noted that he already has about $1.5 million for his campaign.
"You can't just be Mr. Nice Guy and be able to compete with his money and the negative things he's going to say about you or his surrogates are going to say about you without fighting back," he said. Proudly referencing a New York Times article from last year which referred to him as an "irascible straight shooter," DeFrancisco said, "You couldn't have a better contrast with an irascible straight shooter and a lying sack of you-know-what. That's the race that you should have and I'm ready, willing, and able to do that."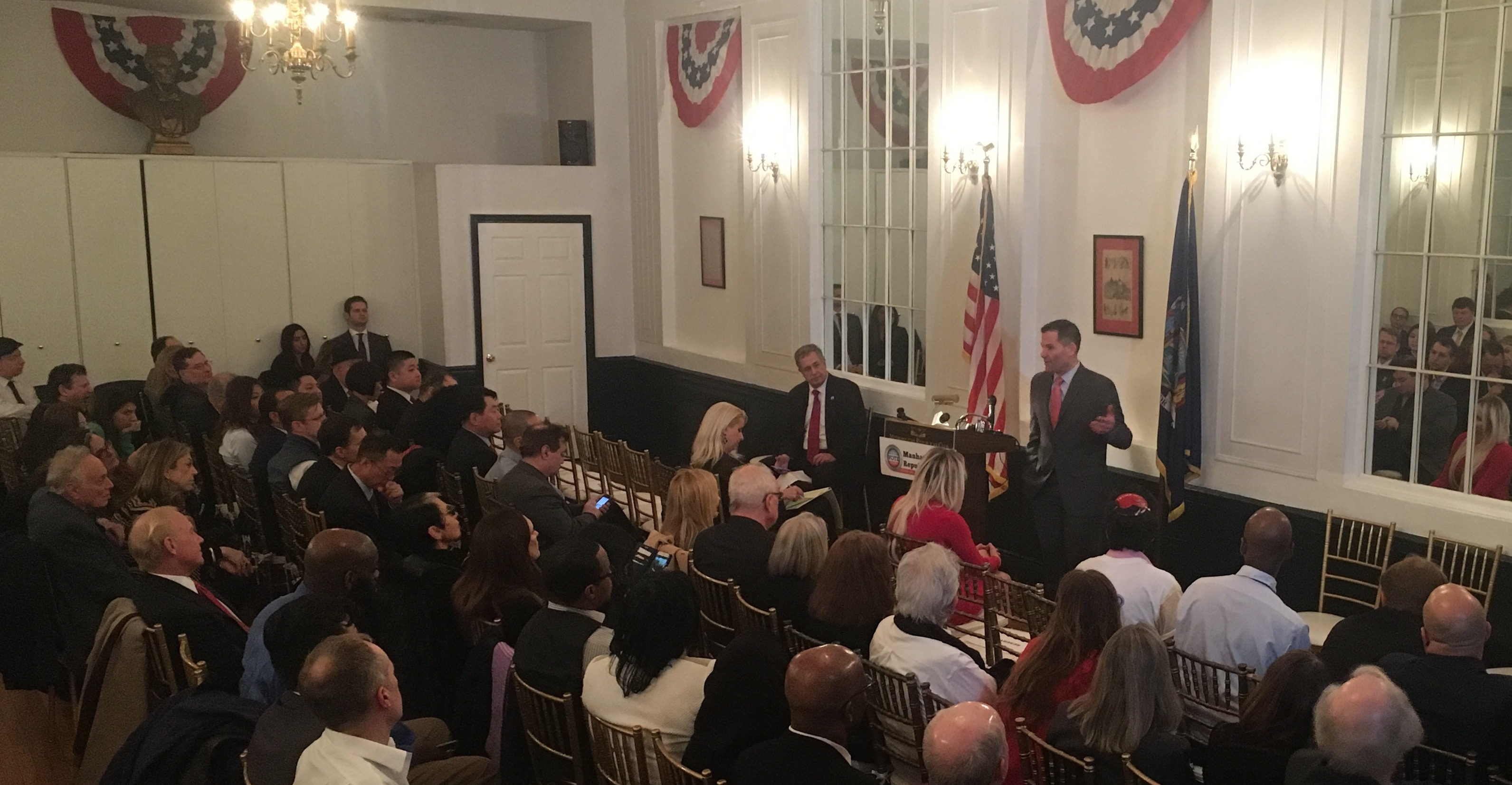 Last to speak but far from least was Molinaro, who charismatically sped through an almost bulleted list of positions he's held, his accomplishments, and his reasons for running. The latest entrant into the race, Molinaro had just two months ago said he would not run, but as he explained Wednesday, he changed his tune after he received a flood of solicitations and endorsements from more than two dozen Republican county leaders and officials following Assembly Minority Leader Brian Kolb's early exit from the race.
Those endorsements, including from Kolb, also mean that, coming into Wednesday night, Molinaro had already secured roughly 45 percent of the necessary votes he needs for the nomination from the Republican convention in May. Manhattan put him over 50 percent in terms of county chairs or delegations that have endorsed him -- while Molinaro is the clear frontrunner, votes still have to be taken at the convention.
"I have admittedly spent every day of my adult life in public service because I believe deeply in the responsibility to contribute to one's community," Molinaro said, hearkening back to when he was first elected at the age of 18 to the board of trustees for the Village of Tivoli on the banks of the Hudson River in Dutchess County. "Where I come from, you hold elected office because its an honor, it's a duty, it's a dignified responsibility," he said.
Molinaro criticized the "new normal" of a pay-to-play culture in Albany and a state government that continues to "spend more than it can, tax more than it should and borrow to make up the difference."
Emphasizing that the Republican Party can "breathe new fresh air into Albany," he said he would work to empower state legislators if elected. Molinaro is a former member of the Assembly himself. He also said a successful campaign would have to be based on strong messaging that touches at the heart of issues affecting everyday New Yorkers, and by creating an extensive presence on the ground in communities.
"I think that our party has to assemble a ticket that reflects the complexion of New York, the people of New York. There needs to be a New York City voice," he said. There has been no indication who Molinaro might seek as a lieutenant governor running mate.
Molinaro was also confident that he'd be able to elevate the importance of the Republican ticket beyond the confines of New York to bring in the funds that he needs to challenge Cuomo. "I have run for office for a while. I've always had competition. I have always raised enough to be competitive...I do believe I have the ability to nationalize this election," he said. "I do, because I believe that our party wants candidates like us, to stand up nationally and say, 'The Republican Party cares about people.'"
Asked how he'd approach working with Mayor de Blasio if elected, Molinaro insisted he'd rise above petty squabbles and wouldn't seek to politically "outmaneuver" the mayor, as Cuomo has often tended to do with his fellow Democrat. (He did, however, smile cheekily as he said he'd work with anyone who is "honest and earnest," clearly alluding to de Blasio's checkered ethics record).
On the inevitable Trump question, Molinaro made no bones about supporting the president when he champions hard-working, middle-class Americans. But, he was clear that he disagreed with using the bully pulpit to belittle his opponents.
"You'll always hear me say it the way I see it just like I think many people admire the way he says it the way he sees it," Molinaro said.
Molinaro's charm offensive was clearly effective. Within an hour after the forum, the Manhattan GOP's executive committee had "overwhelmingly endorsed" his candidacy.