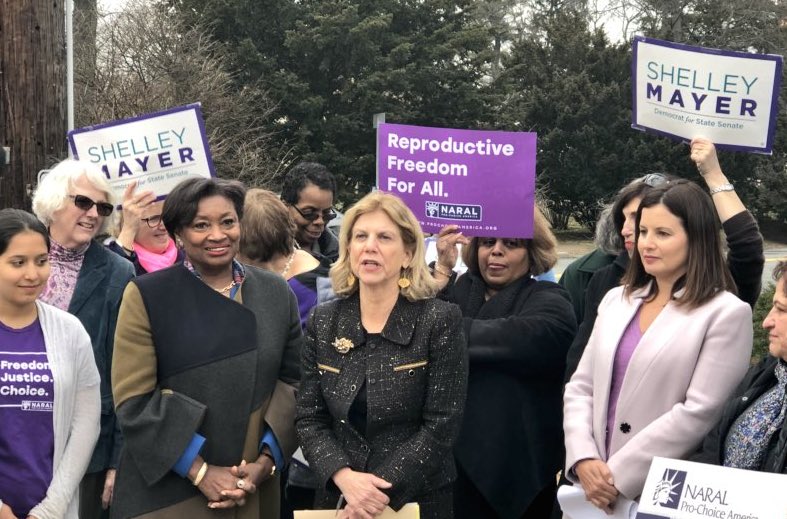 Shelley Mayor, center (photo: @Shelley4Senate)
---
A coalition of progressive community organizations representing thousands of members across New York State will support Shelley Mayer, the Democratic Assemblymember who is running for an open state Senate seat in Westchester that could decide which party leads the legislative chamber.
Mayer is running against Republican Julie Killian for the 37th Senate District seat, in a special election scheduled for April 24. The seat has been vacant since January after its previous occupant, George Latimer, was elected Westchester county executive.
A Mayer victory in the district would likely give Democrats the numerical majority in the state Senate, paving the way for a unity deal between mainline Senate Democrats and the Independent Democratic Conference, a breakaway group of eight senators who prop up Republican control of the chamber along with renegade Democrat Simcha Felder. A deal is on the table that parties other than Felder have agreed to pending the results of two special Senate elections, the highly competitive Mayer-Killian race and one in the Bronx, where Assemblymember Luis Sepulveda is all but guaranteed to win.
The state Democratic Party has begun to put its weight behind Mayer's candidacy, and Governor Andrew Cuomo has also endorsed her. Earlier this week in Larchmont, Cuomo rallied with fellow Democratic elected officials in support of Mayer. "This is a crucial race and Shelley's victory will help bring the Democratic Majority in the Senate we need to continue our proud legacy of fighting and advancing progressive change for New Yorkers," Cuomo said in a statement on Sunday. (The Westchester County Independence Party has also backed Mayer.)
Now adding its voice to the growing support for Mayer is the "Progressive Power Coalition" of five community advocacy groups -- Make the Road Action, NY Communities for Change, Citizen Action of New York, Community Voices Heard Power, and VOCAL-NY Action Fund -- which will announce its endorsement of Mayer on Friday.
The groups cite, as reasons for their support, Mayer's impressive record of fighting for working New Yorkers and immigrants, her support of campaign finance reforms that prioritize small donors over wealthy interests, her advocacy for expanding childcare, affordable housing and combating homelessness, and her leadership on protections against wage theft by bad-actor employers. Democratic control of the state Senate, currently Republicans' only stronghold at the state level, is seen as key to ushering through a wave of progressive policies.
"Shelley Mayer is a powerful leader for New York State," said Sojourner Salinas, a member-leader of Community Voices Heard Power from White Plains, in a statement. "She stands tall and firm on what we believe in: fighting for communities of color and low-income families of New York State on all the tough issues that we are being attacked on by the Trump administration."
Members of the coalition intend to bolster Mayer's campaign by mobilizing their base of activists to knock on doors, call constituents and get out the vote in the lead up to, and on, Election Day. Several of the groups are known for their abilities to have boots on the ground for such activities. Mayer is considered a favorite given the district's Democratic enrollment advantage and recent election trends, including Latimer's runaway victory over two-term incumbent Rob Astorino.
Mayer said in a statement that she was "proud" to receive the coalition's endorsement. "Donald Trump's constant attacks on our values and the failures of his Republican allies in the State Senate have made this special election critical for our future," she said. "I'm proud of my track record fighting for families and creating better opportunities for Westchester's hard working families, and I will continue that work in the State Senate."
Killian, Mayer's opponent, is a former Rye City Council member and deputy mayor taking her second shot at the 37th Senate District, after failing to unseat then-Senator Latimer in 2016. Her campaign has focused on portraying Mayer as an Albany insider and on decrying the culture of corruption that has flourished in the state Capitol. Earlier this week, after Joseph Percoco, a former top aide to Cuomo, was found guilty on federal corruption charges, Killian's campaign tweeted, "One would hope that today's conviction of Gov. Cuomo's top aide in a bribery scheme would help slow down Albany's rampant corruption, but history sadly shows us that it will continue unimpeded. Only way to change Albany is to change who we send there."