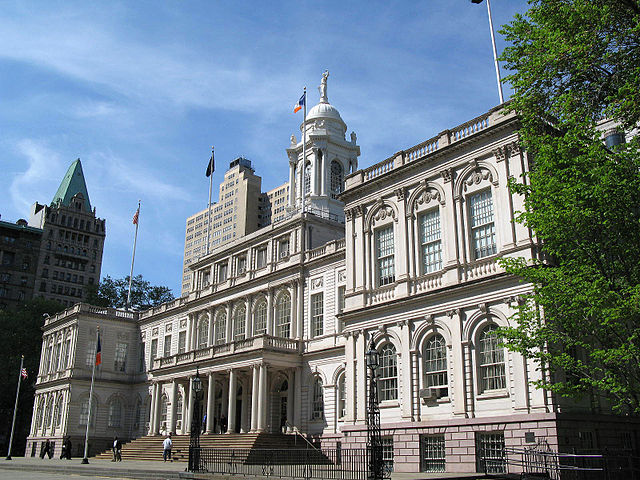 New York City Hall
---
What to watch for this week in New York politics:
A new state budget due by midnight Saturday, but lawmakers have promised to have the spending plan completed before Friday, acknowledging the Passover and Easter holiday weekend. Legislators are scheduled to be in Albany Monday through Thursday. As in years past, there is always a chance that the budget is not done until after the new fiscal year begins April 1. State officials could break for the holiday weekend and resume talks next week, but as is always the case in Albany, things are fluid and much will be brokered behind closed doors and voted through, most likely, in the middle of the night with little-to-no public review of the final budget and policies stuffed into bills. [READ: Key New York City Issues in Final State Budget Negotiations]
Budget negotiations are taking place amid the political backdrop of a major election year, with races for Congress, state Legislature, and statewide positions, especially governor. This will be Cynthia Nixon's second week of candidacy in the Democratic primary, where she is trying to unseat Cuomo, and we're watching to see when she will hold events outside the five boroughs. Nixon is making her first trip to Albany as a declared candidate on Monday, to criticize Cuomo on education and corruption - see below for details.
And Monday marks one week until Dutchess County Executive Marc Molinaro plans to formally launch his gubernatorial campaign, which is already declared and strongly supported by many Republicans across the state. Molinaro is currently seen as the frontrunner for the nomination, which will be decided at the party convention in May. Molinaro has said he'll formally launch his campaign Monday April 2.
As politicos in New York City try to shape state budget outcomes this week, City Council hearings on Mayor Bill de Blasio's preliminary budget will conclude. Next steps for the city budget will be significantly affected by both City Council priorities and the details of the state budget, not to mention the federal spending bill that was just passed in Washington, D.C., and signed by President Donald Trump.
De Blasio just cut what was supposed to be a long weekend in Florida short after the death of a New York City firefighter late Thursday night (on Monday, de Blasio will attend the wake of FDNY Lieutenant Michael Davidson). De Blasio was thus around to participate in the March For Our Lives event that took place in Manhattan on Saturday, where many other public officials also marched to call for federal action to better regulate guns and take other steps to reduce gun violence.
The Manhattan march was part of a national movement with dozens of marches, the main one took place in Washington, D.C., led by survivors of the February 14 school massacre in Parkland, Florida.
De Blasio will surely be working this week to influence the state budget outcomes, largely through the leadership of Assembly Speaker Carl Heastie, of the Bronx, who is the city's main advocate in Albany. De Blasio is also due to hold a town hall meeting in Queens on Wednesday night.
As always, there's a great deal happening all over the city, with many events to be aware of - see our day-by-day rundown below.
***Do you have events or topics for us to include in an upcoming Week Ahead in New York Politics?
e-mail Gotham Gazette editor Ben Max: This email address is being protected from spambots. You need JavaScript enabled to view it.***
The run of the week in detail:
Monday
On Monday, Mayor de Blasio will attend the wake of FDNY Lieutenant Michael Davidson, which is closed to the press. In the 7 and 11 p.m. hours, the Mayor will appear on NY1's Inside City Hall.
At the City Council on Monday, the following committees will hold preliminary budget hearings:
--Education at 10 a.m., regarding the School Construction Authority.
--Oversight & Investigations, regarding the Department of Investigation.
--Immigration at 10 a.m., regarding the Mayor's Office of Immigrant Affairs.
--Civil and Human Rights at 1 p.m., regarding the Human Rights Commission and the Equal Employment Practices Commission.
The New York State Legislature will be in session on Monday in Albany.
At 9 a.m. Monday, the Association for a Better New York will host a debate on the topic of congestion pricing, moderated by NY1's Errol Louis. Arguing for congestion pricing will be MTA board member Veronica Vanterpool and Regional Plan Association chair and MTA board member Scott Rechler; arguing against congestion pricing will be Assemblymember David Weprin and Patrick Hyland, executive director of the NY Metropolitan Trucking Association. The event will take place at The Mezzanine.
At 9:30 a.m. Monday, advocates will rally on the steps of City Hall to call on the mayor and City Council to restore funding for adult literacy education in the city's upcoming budget.
"On Monday, March 26, New Yorkers Against Hidden Predators (NYAHP), an organization of advocates and sex abuse survivors from across New York, will be at the New York State Capitol from 10:30 a.m. to 4 p.m., urging Senate Majority Leader John Flanagan and Senate Republicans to include the Child Victims Act in the state's budget. NYAHP survivors and advocates, including co-founders Kathryn Robb, Steve Jimenez, and Marci Hamilton, will be available for comment throughout the day," per a media advisory.
On Monday at 11 a.m. at the state Capitol, "Watchdog Groups Call for Passage of Budget Proposal Creating Greater Transparency and Accountability of Business Subsidies." Participants will include "Reinvent Albany, Citizens Budget Commission, Fiscal Policy Institute, League of Women Voters New York State."
At 11:30 a.m. Monday, State Comptroller Tom DiNapoli will release his annual "Wall Street bonus estimate" and report on Wall Street profits for 2017. [Listen to DiNapoli discuss the report and much more of his work, assessment of state finances, and key issues facing state budget negotiations on the latest episode of What's The [Data] Point? from Gotham Gazette and Citizens Budget Commission]
At noon at the Hilton Albany, "Candidate for governor of New York, Cynthia Nixon, will return to Albany on Monday to speak out against Andrew Cuomo's budget and demand that public schools in every district in the state get the resources they need. Cynthia will speak at a press conference sponsored by the Alliance for Quality Education, followed by a roundtable with parents from around the state."
At 1 p.m. Monday, City Council Speaker Corey Johnson will speak at the Lavendar Line exhibit opening, at LaGuardia Community College.
On Monday at 1 p.m., "Brooklyn Borough President Eric L. Adams will be joined by an array of parks advocates in Highland Park, which straddles the Brooklyn-Queens border and is home to the newly nationally-recognized Ridgewood Reservoir, as he unveils the findings of "Pulse of Our Parks," a year-long analysis conducted to assess the condition of 270 parks across the borough. In addition to identifying key areas where Brooklyn's parks fall short — including in access to comfort stations, drinking fountains, and publicly-accessible Wi-Fi — as well as showing which communities are best served by quality open space, the report recommends ways that community engagement and new City funding can support "complete parks" and their upkeep. The report's announcement comes one day ahead of the City Council's preliminary parks budget hearing, and will be held at the Ridgewood Reservoir, which Borough President Adams and other local elected officials recently supported for designation to the National Register of Historic Places; this 50-acre reservoir served as a main water supply for Brooklyn from 1858 to 1959. Borough President Adams will be joined by representatives from Coney Island Beautification Project, Friends of Wingate Park, Friends of St. Johns Park, and Open Space Alliance for North Brooklyn (OSA)."
"On Monday, March 26 at 2:45 PM, Assemblymember Linda Rosenthal, State Senator Brad Hoylman, State Senator Tim Kennedy, and child sex abuse survivors and advocates will deliver more than 100,000 petition signatures to the Senate Republicans, calling for inclusion of the Child Victims Act in the New York State budget. This includes over 45,000 petition signatures collected by Senator Hoylman, Senator Kennedy, and Assemblymember Linda Rosenthal and an additional 75,000 signatures collected by survivor Melanie Blow. The senators and dozens of survivors and advocates will hold a press conference at 2:45 PM outside the Senate Chambers before delivering the signatures."
At 6 p.m. Monday, State Comptroller Tom DiNapoli will join the New School's Center for New York City Affairs to discuss his efforts as comptroller "to shape corporate policies and practices on environmental, social and governance issues and achieve strong returns for the fund." The event will take place at the Theresa Lang Student Center in the West Village.
At 7 p.m. Monday, Public Advocate Letitia James will deliver remarks at the Sunnyside Shines Annual Meeting.
Tuesday
At the City Council on Tuesday, the following committees will hold preliminary budget hearings:
--General Welfare at 10 a.m., regarding the Human Resources Administration, Department of Social Services, Department of Homeless Services, and the Administration for Children's Services. The Juvenile Justice Committee will join for the hearing on ACS at 1:30 p.m.
--Contracts at 10 a.m., regarding the Mayor's Office of Contracts.
--Parks & Recreation and Capital Budget jointly at 1 p.m., regarding the Department of Parks & Recreation.
Also at the City Council on Tuesday:
--The Subcommittee on Zoning and Franchises will meet at 9:30 a.m.
--The Subcommittee on Landmarks, Public Siting, and Maritime Uses will meet at noon.
--The Subcommittee on Planning, Dispositions, and Concessions will meet at 2 p.m.
"On March 27th at 11 AM, representatives of the Good Call organization and advocates for criminal justice reform will deliver over 1,000 petition signatures calling for City Council to support expansion of the critical Good Call program. The community-led Good Call service provides timely legal representation and family notification for people in New York City jails. With the City Budget close to completion, these activists are calling on the City to help expand Good Call to all five Boros by funding the program in the budget this year. Good Call's Co-Executive Directors will deliver the petition to City Council during the Juvenile Justice Preliminary Budget Hearing that afternoon."
The New York State Legislature will be in session on Tuesday in Albany.
The Joint Commission on Public Ethics will meet on Tuesday in Albany.
At 9 a.m. Tuesday, the Senate Standing Committees on Investigations & Government Operations, Energy & Telecommunications, and Aging will meet jointly in Albany for a public hearing to "evaluate the reason behind widespread power outages and slow restoration of power in the Hudson Valley over the past two weeks."
At 10 a.m. Tuesday is the funeral of FDNY Lieutenant Michael Davidson, who recently died fighting a fire. Many elected officials will attend. Mayor de Blasio will be among those who deliver remarks.
At 4 p.m., de Blasio will "hold public hearings for six pieces of legislation: Intro. 600-A reaffirms the declaration of NYC's housing emergency and extends rent stabilization laws to April 1, 2021; Intro. 262-A requires reporting on how many students have individualized education programs by school; Intro. 410-A mandates the creation of a plan to offer 21-24 year old homeless young adults the same services as 16-20 year old homeless youth and requires annual reporting on services and demographics; Intro. 490-A mandates time frames for runaway and homeless youth shelter services; Intro. 556-A relates to shelter services for homeless young adults; and Intro. 605-A requires reporting on marijuana possession enforcement by NYPD. This event is open press. There will be no Q-and-A."
At 5:30 p.m. Tuesday, Bronx Borough President Ruben Diaz Jr will host a celebration of Women's History Month at the Tosca Marquee in Throgs Neck.
Comptroller Scott Stringer will host a Women's History Month event on Tuesday evening.
Wednesday
At the City Council on Wednesday:
--The Committee on Land Use will meet at 11 a.m.
--The Committee on Consumer Affairs and Business Licensing will meet at 2 p.m. to discuss a proposed law "adding members to the nightlife advisory board."
The New York State Legislature will be in session on Wednesday in Albany.
At 8 a.m. Wednesday, Crain's New York Business will host Rick Chandler, the commissioner of the New York City Department of Buildings, for a "Business Breakfast Forum" at the New York Athletic Club. Chandler will "discuss efforts to modernize the Department of Buildings, improve efficiency and enforce the city's new construction safety law."
At 10 a.m. Wednesday, the City Planning Commission will hold a public meeting at 120 Broadway.
On Wednesday at 10:30 a.m. by conference call with members of the media, "Citizens Union will announce the latest findings of their annual "Spending in the Shadows" report, illuminating $11.7 billion in nonspecific lump sum funding "pots" found in the New York FY 2019 Executive Budget. "Spending in the Shadows" is the fifth report which identifies lump sum expenditures proceeding without information as to their specific justification or use. Additionally, this spending lacks information about who will benefit from these sums of money, now equalling an amount over $11.7 billion. Without any public reporting from the New York State Assembly or Senate, New Yorkers need a clear way to judge or understand the spending of these enormous sums of money."
At 6 p.m. Wednesday, City & State will host its 2018 "Above & Beyond Awards" at DREAM Downtown, honoring "30 exceptional women from New York for their accomplishments across various sectors including politics, media, education, nonprofit, and beyond." Honorees include Lieutenant Governor Kathy Hochul, Manhattan Borough President Gale Brewer, and State Regents Chancellor Betty Rosa.
At 6 p.m. Wednesday, City Council Speaker Corey Johnson and the Council Women's Caucus will hold a celebration of Women's History Month in the Council Chambers.
At 6:30 p.m. Wednesday, Mayor de Blasio will hold a town hall meeting at IS 145 in Jackson Heights, Queens. He will be joined by City Council Member Danny Dromm, Queens Borough President Melinda Katz, and Assemblymember Michael DenDekker.
Thursday
The New York State Legislature will be in session on Thursday in Albany.
At noon Thursday, the Manhattan Institute and Empire Center will host "New York After Tax Reform: What the SALT Deduction Cap Means for the Empire State" at the Harvard Club in Midtown. The event will discuss the impacts of the tax reform bill on New York State and Governor Cuomo's proposals to restructure the state tax code in response. Speakers include Scott Drenkard of the Tax Foundation, EJ McMahon of the Empire Center, and Andrew Mason of Sullivan and Cromwell; they will sit on a panel moderated by MI's Howard Husock.
Thursday is the declared deadline for reaching a state budget deal for the fiscal year that begins April 1.
Friday and the weekend
Mayor de Blasio may make his weekly appearance on WNYC's The Brian Lehrer Show at 10 a.m. Friday.
Passover begins at sundown Friday night.
Saturday at midnight is the actual April 1 start of the new fiscal year.
Sunday is Easter.
***
Have events or topics for us to include in an upcoming Week Ahead in New York Politics? E-mail Gotham Gazette executive editor Ben Max any time: This email address is being protected from spambots. You need JavaScript enabled to view it. (please use "For Week Ahead" as email subject).
***
by Ben Brachfeld and Ben Max
@GothamGazette