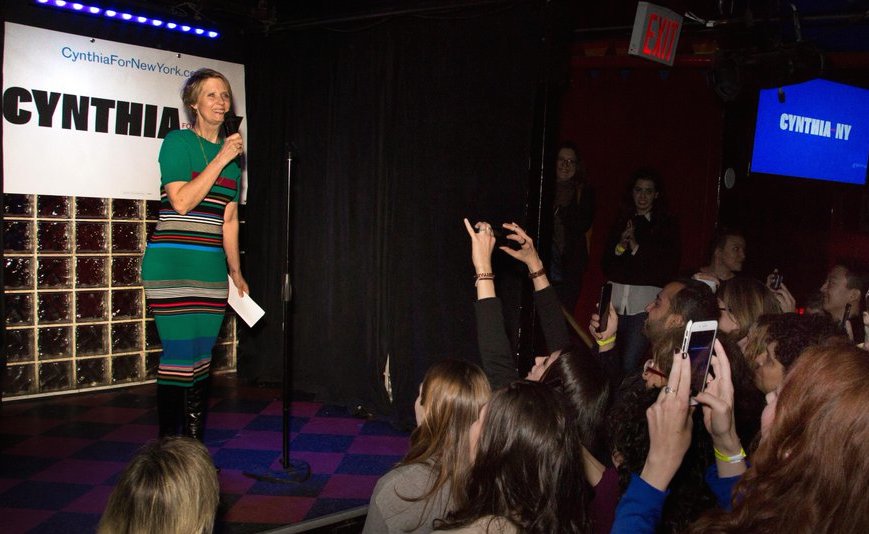 Nixon at a campaign event (photo: @CynthiaNixon)
---
When actor and activist Cynthia Nixon recently launched her gubernatorial campaign, she said that in 2010 she voted for Andrew Cuomo, the man she is now running to unseat in this year's Democratic primary, but that she became disillusioned with the governor as his approach to governance took shape.
While there is no apparent reason to doubt Nixon's claim about that vote, there are questions about her voting record, particularly where she has been registered in recent years.
Nixon has shifted her voter registration multiple times in the past few years, recently re-registering in Manhattan, where she lives, a few weeks before voting in the 2017 general election.
Manhattan Board of Elections records obtained by Gotham Gazette show that in October the actress and activist, who announced her challenge to Cuomo last week, shifted her voter registration from Montauk, on Long Island, to Manhattan. It appears that Nixon was only registered in Suffolk County a short time, however, having previously been registered in New York County (Manhattan), where she voted for Mayor Bill de Blasio in the 2013 election, according to her campaign. During that election, Nixon was a prominent backer and surrogate for de Blasio.
Based on the Board of Elections records, Nixon did not re-register in the city in time to vote for de Blasio in the 2017 Democratic mayoral primary, which he won handily, but she did vote in the general election. BOE records indicate if a voter went to the polls for a certain election, but a Nixon campaign spokesperson said she voted for de Blasio as he easily outran a field led by Republican nominee Nicole Malliotakis.
It is not clear why Nixon changed her registration to Montauk, which is on the far eastern tip of the south fork of Long Island. NY1's Courtney Gross reported on Friday that it may have been in an effort to vote in a contentious 2016 congressional election in the district encompassing the Montauk address Nixon used to register, which is listed on her 2017 Manhattan BOE form as her prior voting address.
Asked a series of questions about Nixon's registration and voting history, campaign spokesperson Rebecca Katz said in a statement, "Despite New York's archaic voter laws, Cynthia has been a regular and active voter who has voted in 36 primary and general elections over the past 26 years."
Katz did not explain why Nixon had shifted her registration or provide her full voting history. The Board of Elections will only provide records based on the current registration of a voter. Katz did say that Nixon voted in the 2013 New York City mayoral primary and general and in the 2014 primary and general elections. Katz said Nixon voted for Zephyr Teachout in that year's Democratic gubernatorial primary against Cuomo as he sought a second term. Teachout, who won 34% of the vote in that primary, is now Nixon's campaign treasurer.
Katz did not respond to the question of whether Nixon voted for Cuomo in the 2014 general election, when he beat a field led by Republican nominee Rob Astorino.
Nixon voted in both the primary and general elections in 2016, Katz said, presumably voting for Hillary Clinton over Donald Trump in November of that year. Nixon, like Cuomo, backed Clinton in that year's Democratic primary.
Nixon, a first-time candidate for elected office, is now challenging Cuomo from his left, running on more of a Bernie Sanders-style platform. One issue that progressive activists are upset with the incumbent governor about -- and that came into stark relief around the time of the 2016 Clinton-Sanders primary -- is the state's antiquated election laws, including lack of early voting and same-day registration, and party-change deadlines extremely far in advance of the applicable vote.