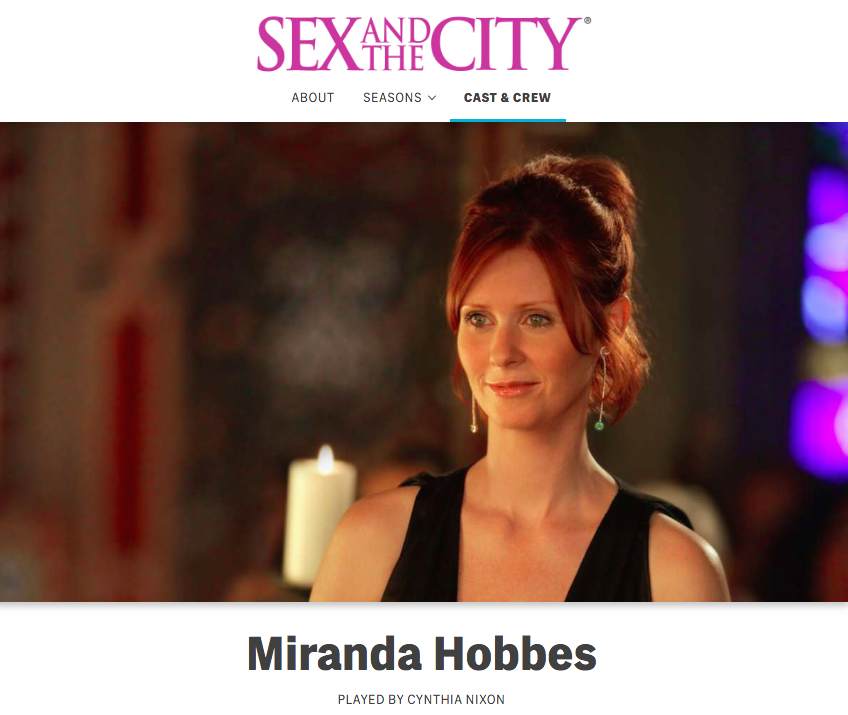 (image via Sex and the City website)
---
With actor Cynthia Nixon now running for governor of New York, questions arise about whether reruns of her most famous show, "Sex and the City," would need to be pulled from the airwaves to not violate federal election rules mandating equal time for candidates on television and radio broadcast networks.
But, given its current distribution, Nixon's show may not be subject to the federal equal time rule, which applies to broadcast networks but not cable channels or streaming services.
The Federal Communications Commission has, since 1934, required that broadcasters provide equal time to political candidates so as to not create the appearance of bias or reality of favor. The rule has come into play in recent celebrity campaigns, including that of former California Governor Arnold Schwarzenegger. But "Sex and the City" may be able to get around this because it airs in syndication on cable, which is not explicitly regulated under the rule.
"Sex and the City," on which Nixon famously played Miranda Hobbes, originally aired on premium cable channel HBO from 1998 to 2004 and currently airs in syndication on the E! Network. It also streams through HBO and Amazon online platforms.
Exemptions to the federal rule also include appearances on newscasts, news interviews, documentaries, and "on-the-spot coverage" of news events. In the decades since its inception, the FCC has broadly interpreted this statute, according to The Atlantic, to include exemptions for interviews on television talk shows, including those which are primarily comedic instead of news -- for example, late-night variety shows like The Tonight Show.
What isn't exempted is scripted programming, such as "Sex and the City," whether the series or one of the two movies with the same name. During the 2016 presidential election, candidates Donald Trump, Hillary Clinton, Bernie Sanders, and Ted Cruz all appeared on "Saturday Night Live" during their respective campaigns, all in scripted comedic roles. Only Trump, however, actually hosted the program, which resulted in requests from rival candidates John Kasich, Lindsey Graham, Jim Gilmore, and Mike Huckabee for equal time on NBC's airwaves. The request was granted with airtime on local affiliates in Iowa, New Hampshire, and South Carolina.
Networks are not required to comply with the rule unless equal time is specifically requested by a rival candidate. Candidates have one week from the initial broadcast to make a request.
Broadcast networks are subject to much more stringent FCC regulations in general than cable networks. Broadcast networks transmit television and radio content over public airwaves, while cable content is broadcast through privately owned cable infrastructure.
Prior to Nixon's run, the issue has arisen with past celebrity candidates. When Schwarzenegger, one of the biggest movie stars in the world at the time, ran for governor of California in 2003, broadcast network affiliates in the state stopped airing his films. When Fred Thompson ran for president in 2008, Law & Order reruns where he appeared were halted by NBC. But cable network TNT aired both Schwarzenegger films and Thompson reruns without challenge.
Though Trump faced an equal time question when he hosted SNL, the issue largely didn't come up in relation to his longtime television show, "The Apprentice." After Trump's inaugural campaign remarks where he accused Mexican immigrants of being "rapists," NBC cancelled its business relationship with Trump and removed the Trump-helmed show from its lineup and its streaming platforms.
It's not firmly established legal precedent that cable networks aren't subject to the equal time rule, but rather an area that the FCC has not yet breached. The FCC has not had serious talks about extending the regulations to cable. If Governor Cuomo's campaign requested equal time, it's likely the FCC would reject the application, but the pressure to appear impartial in the race may lead to NBCUniversal, E!'s parent company, to voluntarily remove the show from its schedule.
The Cuomo and Nixon campaigns did not respond to requests for comment for this story.