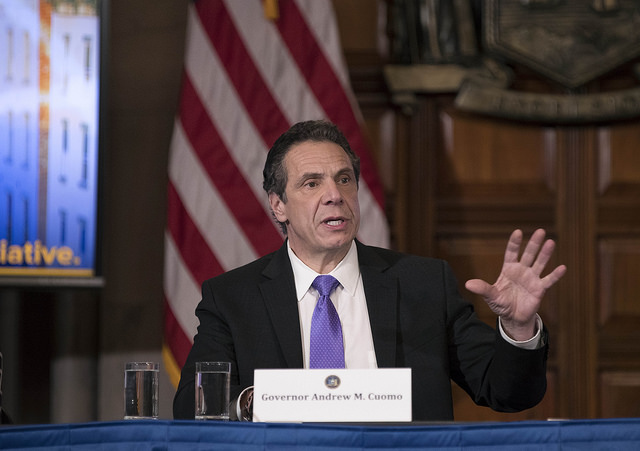 Gov. Cuomo (photo: Mike Groll/Governor's Office)
---
When the new state budget for fiscal year 2019 passed early Saturday morning in Albany, Governor Andrew Cuomo had successfully implemented several of his top policy priorities on issues like workplace sexual harassment, taxes, gun control, and public housing in New York City. But many of the policies the governor outlined during his January State of the State and executive budget presentations, and indicated he intended to see included in the adopted budget, were left out.
During a press conference on Wednesday in Manhattan, Cuomo announced a plan to unify Democratic factions in the state Senate and to win a majority in the chamber where he said his progressive policies have died. The Democratic governor, who is seeking a third term this year, acknowledged he was unable to sign into law many of the policies he favors. "We finished the budget. We did a lot of good things in the budget, but there are also things that we didn't pass that we need to pass," Cuomo said. "The Child Victims Act, more gun safety, bail reform, the DREAM Act, banning outside income, campaign finance reform, early voting."
He ascribed blame for omission of these policies, which were among a longer list of Cuomo priorities that have not passed this year, on the Republican-led Senate. "These are all core, essential progressive principles that were not passed in the budget and which we will not pass until we have a Democratic Senate," Cuomo said, echoing comments from the night before, made at a fundraiser for a Democratic Senate candidate running in a special election for a key empty seat in Westchester.
Cuomo criticized Senate Republicans for thwarting progress on key issues in stronger terms on Tuesday night at the event, which was in Harlem. "All the progress we want to make, [Republicans] are 100 percent against it," Cuomo said Tuesday night, according to lohud.com. "We just finished a budget, negotiating with them. They have no appetite whatsoever for any of the things we hold dear."
Along with the measures Cuomo listed on Wednesday, criminal justice reforms like ending cash bail for many lower-level offenses were among the top priorities of the governor and progressive advocates that did not make it into the budget.
Last weekend, the State Democratic Party, which Cuomo runs, expressed "disappointment with the progressive measures that were not enacted in this year's budget" after its passage. "The fact that additional gun safety measures, early voting, speedy trial, bail and discovery reform, the codification of Roe v. Wade, the Contraceptive Care Act, stronger campaign finance reforms, the closure of the LLC loophole, the ban on outside income for legislators, the Child's Victim Act, and the Dream Act, among other measures that failed, are all lost opportunities for progress in New York," according to a statement from Executive Director Geoff Berman reacting to the budget. "These are measures the Governor and Democrats pushed for."
But while Cuomo and Democrats in Albany, New York City, and elsewhere cast blame on their Republican counterparts for certain legislation being eliminated from the budget proposals, it's not clear what exactly the governor and Assembly Speaker Carl Heastie made the focal points of budget negotiations, and what they weren't pushing, given the opaque nature of the process. Requests for comment from the governor's office on why some of his priorities failed to be included in the finalized budget were unanswered, though Cuomo himself contended they were blocked by the Senate GOP.
Still, Cuomo was able to see several of his top priorities proceed, while a number of key policies Cuomo said he would pursue in the budget were left out.
As Cuomo indicated Wednesday, the Child Victims Act was among those high-profile proposals in his executive budget that did not pass the Senate. The bill would make reporting of child sex abuse easier by extending the statute of limitations and, most controversially, create a temporary, one-time "look-back" window for victims to bring claims.
On voting reform, Cuomo vowed to enact early voting, allowing people to cast their ballots for about a week prior to election day, and to implement same-day registration, permitting New Yorkers to register to vote on election day. Both were withheld from the budget despite the fact that Cuomo had for the first time included funding for early voting in his budget plan.
On campaign finance reform, Cuomo again this year said he wanted to close the LLC loophole, which allows limited liability companies to donate to campaigns under the same provisions to which individuals, providing virtually unlimited opportunities for entities to donate cash. "We should increase trust by closing the LLC loophole and open up the electoral process with public financing, but not our current public financing system that has public financing but private loopholes," Cuomo said during his State of the State address. "I mean a true public financing system in which the exception does not swallow the rule. That's what we need to do to regain the trust of the citizens in this state and across this nation." No campaign finance measures passed in the budget, though the governor did win a new law related to transparency in purchasing of election ads on social media.
On other government ethics reform, the budget did not ban outside income for state legislators as the governor had planned. "That's the reform that I've been pushing and I'm going to continue to push," he said in the aftermath of the conviction of his former top aide, Joseph Percoco, though Percoco's case had nothing to do with legislators' outside income and much more to do with blurred lines between Cuomo's government and campaign offices and LLC loophole. Cuomo has also supported adding more funding for a new JCOPE unit, a body tasked with investigating sexual harassment claims among other things. The new funding was not included in the budget, though the governor did implement new laws to prevent and punish sexual harassment in government and the private sector.
Additionally, despite Cuomo's January pledge to end cash bail for many alleged offenses as well as to enact speedy trial and discovery reform, the enacted budget does not fulfill these goals. "At his state of the state address this year, Governor Cuomo told me personally he would ensure passage of bail reform, speedy trial reform, and discovery reform," said Akeem Browder, a criminal justice activist and Kalief Browder's brother, in a statement. "I am disappointed that this budget includes no such reforms. Without including important criminal justice reforms in the state budget, it is poor families in every region of this state that will continue to suffer."
While presenting his budget in January, Cuomo called for passage of the DREAM Act, a measure to help reduce the cost of college for undocumented immigrants or their children by permitting their access to state financial aid. "This year I once again called on the Legislature to finally pass the Dream Act and ensure all of our students have access to an affordable college education, regardless of their citizenship status," Cuomo said in February. The DREAM Act, too, was excluded from the budget. As was another top stated Cuomo priority: codifying the Supreme Court's Roe v. Wade abortion protection decision into New York state law.
Cuomo also did not win the value capture proposal he had outlined which would have allowed the MTA access to increased New York City property tax revenue in certain declared zones. Nor did Cuomo see passage of a larger congestion pricing plan, instead settling for what he's calling a first step: a surcharge on taxi and app-based rides in the Manhattan business district south of 96th Street.
If Cuomo is successful in his promised efforts at Democratic unity and winning seats for Democrats in the April special elections and November general elections, and he himself wins reelection, he may have the opportunity to see virtually all of his professed progressive goals passed in 2019.