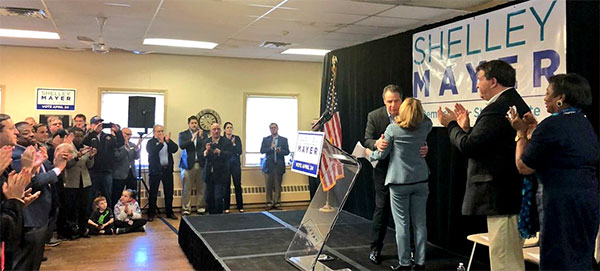 Gov. Cuomo endorsing Shelley Mayer for Senate (@Shelley4Senate)
---
Governor Andrew Cuomo appears to be contradicting himself about Democrats' chances to take majority control of the state Senate, currently Republicans' only stronghold in state government.
In announcing a unification deal between two Democratic factions in the state Senate on Wednesday, Cuomo said the Democrats would be able to regain a majority in the chamber if they win two state seats in special elections set for April 24 and if a renegade Democratic senator who caucuses with Republicans rejoins the fold as well. Just hours later, however, Cuomo signed off on an email blast from the State Democratic Party to its base that dubiously claimed that just one special election victory could swing control of the Senate.
At a news conference on Wednesday afternoon at the governor's office in Midtown Manhattan, Cuomo and Democratic leaders from the state Senate announced that the Independent Democratic Conference, a breakaway group of eight Democratic Senators who align with Republicans to control the chamber, would rejoin the mainline Democratic conference. Senator Andrea Stewart-Cousins, the Democratic minority leader, will lead the unified Democrats, with IDC leader Senator Jeff Klein serving as her deputy. As of today, that would give the Democratic conference 29 seats, while Republicans hold 31 in the 63-member body, though they get to a one-seat majority with Senator Simcha Felder, a nominal Democrat who is fully part of the Republican conference.
The Democrats are hoping for victories in special elections for two vacant state Senate seats on April 24, bringing them to 31 and a chance to woo Felder to their side or add to their ranks through this fall's elections, wherein all the seats in the Senate and Assembly will be on the ballot.
"Majority Leader Andrea Stewart-Cousins has a nice ring to it, don't you think?" read the Wednesday email, signed by Cuomo, from the State Democratic Party. It was an effort to recruit volunteers to phonebank for Shelley Mayer, who is running for one of the vacant Senate seats, in Westchester, and whose victory is crucial for Democrats' chances at a majority. The second vacant seat is in the Bronx, where the Democrats are all but guaranteed a win.
"Democrats in the state Senate have unified and now it's time for us all to come together to win a Democratic majority of 32 senators, making Andrea Stewart-Cousins our Senate Majority Leader," the email continues. "On April 24, Shelley Mayer can become that 32nd senator by winning her special election in Westchester County - and you can help!"
It's true that if Mayer wins (along with Assemblymember Luis Sepulveda, who is running for the Bronx Senate seat), there will be 32 elected "Democrats" in the state Senate. But there's no guarantee that that will give the Democratic conference control of the chamber because of Simcha Felder, who represents part of Brooklyn, where he was reelected in 2016 appearing on multiple ballot lines, including Republican, and has been elusive about his future allegiances.
Despite the language in the email, Cuomo himself acknowledged that reality at the news conference earlier on Wednesday.
"Our work is not done today. We have the special elections I mentioned on April 24th. We also have a Democratic Senator who is still a question mark, let's say, and we would have to convince him to come back to the Democratic conference," Cuomo told reporters, referring to Felder.
He also insisted that to get a "functional majority," Democrats would have to win more Senate seats in November. "[E]ven if Senator Felder decides to come back, and he's had ambiguous statements and he's had an ambiguous history, even if he comes back, you're right at 32, which means you would need him for every vote because 32 is the majority," Cuomo said. "We know from his past votes that Senator Felder does not agree with a lot of the issues that this conference wants to pass. So really, we need to win additional seats in November."
Cuomo had previously listed off top progressive policy priorities that he said Senate Republicans refused to pass, such as abortion protections, additional gun control measures, campaign finance reform, early voting, and more.
State Democratic Party Executive Director Geoff Berman did not respond to a request for comment for this article. Berman, who was hired by Cuomo, frequently signs e-blasts from his group, though Cuomo has signed nearly half a dozen in recent weeks, which some have tied to the recently-announced primary challenge against the governor from Cynthia Nixon. Berman, the State Democratic Party, and Mayer have also made repeated fundraising and organizing pitches on social media, calling on people to elect Democrats' "32nd State Senator" to flip the Senate and to donate $32 for the 32nd seat.
Felder is a conservative who represents a Brooklyn district with a large Orthodox Jewish population, and he has leveraged his position in the Senate to pass policies and budget items that have been favorable to his district. In his most recent act of opportunism, he held up the passage of the state budget until legislative leaders agreed to relax oversight of yeshivas, the private Jewish religious schools. He has previously indicated he will conference with whichever group can offer him the most for his district.
On Wednesday, after the Democratic unity deal was announced, Felder said in a public statement, "I'm only loyal to G-d, my wife, my constituents and New Yorkers. I don't care about political parties and more and more New Yorkers feel the same way."
Felder's office did not respond to an email requesting comment for this story.