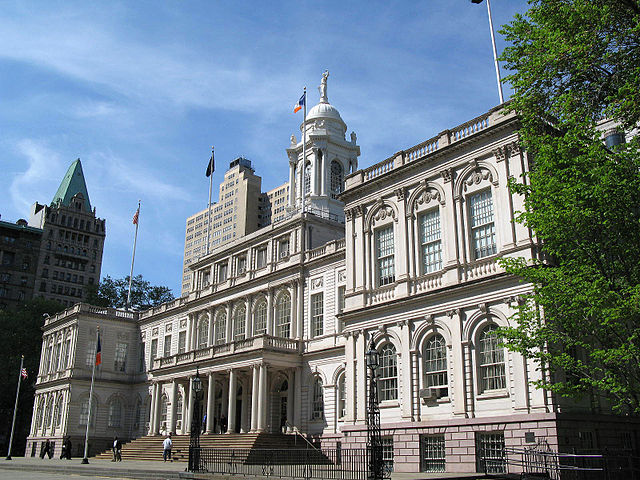 New York City Hall
---
What to watch for this week in New York politics:
The week begins with the New York political world fixated on the race for Governor after the Working Families Party endorsed Cynthia Nixon on Saturday. The WFP also endorsed City Council Member Jumaane Williams for Lieutenant Governor. Both Nixon and Williams are also running in their respective Democratic primaries, hoping to unseat Governor Andrew Cuomo and Lieutenant Governor Kathy Hochul.
The WFP endorsements came as the party itself was further fracturing, with Cuomo pulling labor unions from the party and the remaining progressive activists and advocacy groups sticking with the relatively small but influential group, and backing Nixon over Cuomo as she runs to the governor's left on virtually every issue. Nixon and Williams will now have the WFP ballot line for the general election, but the backing of the party and its members and member organizations are certain to boost their candidacies in the Democratic primary. It is unclear what further steps Cuomo and his allies will take to weaken the WFP and its chosen candidates, but the intra-Democratic party war is escalating.
The fallout from and analysis of these latest developments will headline at least the start of the week, also adding pressure on Democratic elected officials to choose between Cuomo and Nixon, as many have been hesitant to do so far. Added attention will come as state legislators return to Albany for three session days this week after the annual post-budget break. There are under two months until the end of the legislative session, and exactly 30 scheduled session days for legislative business in the capital. The return to session will also see the latest developments in the return of the Senate Independent Democratic Conference to the mainline Democratic fold.
That session will also be influenced by the outcomes of the special elections set to take place on Tuesday, April 24 -- one week from this Tuesday. There are 11 Assembly and Senate vacancies being filled, but the key race to watch is the state Senate race in Westchester.
There's clearly a great deal of intrigue in Albany and state government and politics more broadly. There will also of course be action in New York City, where there are several City Council hearings to be aware of this week, even as Speaker Corey Johnson and a delegation of Council members continues a trip to Israel -- they return this coming weekend.
As always, there are a variety of events to be aware of - see our day-by-day rundown below.
***Do you have events or topics for us to include in an upcoming Week Ahead in New York Politics?
e-mail Gotham Gazette editor Ben Max: This email address is being protected from spambots. You need JavaScript enabled to view it.***
The run of the week in detail:
Monday
At the City Council on Monday:
--The Committees on Health and Parks & Recreation will meet jointly at 10 a.m. to discuss a proposed law "requiring defibrillators at softball fields where youth leagues play."
--The Committee on Justice System will meet at 1 p.m. for an oversight hearing regarding "investigations and prosecutions of low wage theft."
The New York State Legislature will be in session on Monday in Albany, returning from the post-budget recess.
At 8:30 a.m. Monday, "NYIT, the University Transportation Research Center, NYU Polytechnic School of Engineering, Windels Marx, The City College of New York, and the New York City Council will host a symposium to discuss "Steps and Strides Towards A Sustainable Future", and the policies and evidence-based planning needed to use greener transportation. The event kicks off the week of Car Free Day which will take place on Saturday, April 21st."
At 10:30 a.m. Monday, city schools "Chancellor Richard A. Carranza will visit a STEAM lab and a dance class at P.S. 376 in Brooklyn." In the afternoon, he will meet with students and parents at town hall events: at 4 p.m. and at 5:30 p.m. at Brooklyn Technical High School.
At noon Monday, advocates and elected officials will gather on the steps of City Hall to "speak out against very bad and concerning practices of the Board of Elections," particularly regarding voter suppression. The rally is being led by The Black Institute.
At 12:30 p.m. Monday at the state Capitol in Albany, ""Seven prominent watchdog groups call for action on corruption in state government." Participants include: Citizens Budget Commission, Citizens Union, Common Cause NY, Fiscal Policy Institute, League of Women Voters NY State, New York Public Interest Group, and Reinvent Albany.
At 6 p.m. Monday Public Advocate Letitia James will deliver remarks at the Brooklyn Women's Bar Association and Brooklyn Law School Panel Discussion on Women's Suffrage, at Brooklyn Law School. At 7:45 p.m., James will deliver remarks at the 77th Precinct Community Council Gala, Milk River Restaurant in Brooklyn.
At 6:30 p.m. Monday, City Council Member Carlos Menchaca and the Consulate General of Mexico will host a welcome ceremony for new Schools Chancellor Richard Carranza at Sunset Park High School in Brooklyn.
On Monday, Mayor de Blasio will make his weekly appearance on NY1's Inside City Hall in the 7 and 11 p.m. hours.
On Monday "at 7:00 PM, Brooklyn Borough President Eric L. Adams will join the family and friends of 26-year-old Brandy Odom in marking a week since her body was discovered in Canarsie Park, having been the victim of a brutal murder. In remembrance of her life, and to keep attention on her still-unsolved slaughter, they will drape a memorial ribbon over several blocks of the park's fence, while urging the New York City Police Department (NYPD) to step up their efforts in apprehending her at-large killer."
Tuesday
A"Governor Cuomo is in Suffolk County, Westchester County, and Albany" on Tuesday. At 10 a.m. he'll make an announcement at Sunken Meadow State Park in Kings Park. At noon, he'll make an announcement at Teamsters Local 456 in Elmsford.
At 1:30 p.m. Tuesday, Mayor "de Blasio will visit Bushwick Houses. Immediately after, the Mayor will make an announcement concerning rat abatement. This event is open press. There will be Q-and-A."
At the City Council on Tuesday:
--The Subcommittee on Zoning and Franchises will meet at 9:30 a.m.
--The Subcommittee on Landmarks, Public Siting, and Maritime Uses will meet at noon to discuss proposed laws relating to "approval of cemetery uses on land acquired in Queens before 1973" and to "authorizing the Landmarks Preservation Commission to administer a historic preservation grant program."
--The Committee on Cultural Affairs will meet at 1 p.m. for an oversight hearing regarding "#MeToo and culture & the arts."
--The Subcommittee on Planning, Dispositions, and Concessions will meet at 2 p.m.
The New York State Legislature will be in session on Tuesday in Albany.
At 8 a.m. Tuesday, "By order of Mayor Bill de Blasio, NYC Parks will remove the monument to Dr. James Marion Sims. This order was given following the recommendations of the Mayoral Advisory Commission on City Art, Monuments, and Markers. Plans are being developed to commission a new work at this site. A temporary sign will be placed at the site tomorrow following removal."
The State Supreme Court will hold a hearing Monday on NYCHA tenants' demands for a preliminary injunction enforcing NYCHA to conduct new lead paint inspections. At 8:45 a.m., Danny Barber, the Chair of the Citywide Council of Presidents, Elie Hecht of At-Risk Community Services, and attorney Jim Walden will hold a press conference preceding the hearing. [Listen to Barber and Hecht explain their lawsuit and discuss issues with NYCHA on a recent episode of the Max & Murphy podcast]
"On Tuesday, April 17, the New York City Landmarks Preservation Commission (LPC) will hold a public hearing on the proposed designation of the Coney Island (Riegelman) Boardwalk as a scenic landmark, and the proposed Central Harlem West 130-132nd Street Historic District."
At 9 a.m. Tuesday, the CUNY Graduate School of Public Health and Health Policy will host "New York State Single-Payer Healthcare? Economics, Politics, and Prospects" at the CUNY School of Public Health, discussing the prospects of single payer healthcare in New York State. Panelists will include City Council Health Committee Chair Mark Levine, economist Gerald Friedman, Marissa Martin of Young Invincibles, and registered nurses Marva Wade and Kim Behrens.
At 10:30 a.m. Tuesday, the New York City Coalition for Adult Literacy will rally at Bronx Borough Hall to protest Mayor de Blasio's "proposed cuts to English and other adult literacy programs in the City Budget."
At 10:30 a.m. Tuesday in Albany, "tenants and legislators will rally "to demand stronger rent laws." Participants will include Senator Jose Serrano, Senator Liz Kruger, Senator Gustavo Rivera, Senator Brian Benjamin, and Senator Brad Hoylman; The Real Rent Reform Campaign including Met Council on Housing, Woodside on the Move, Catholic Migration Services, Neighbors Helping Neighbors, Fifth Ave Committee, Northwest Bronx Community Clergy Coalition, Chhaya CDC. They want the senate to pass three bills: End the Preferential Rent Scam (S.6527); Repeal the Vacancy Bonus (S.1593); Repeal Vacancy Destabilization (S.3482).
At 11 a.m. Tuesday, outside New York State Supreme Court, "Public Advocate James will make an announcement related to the legalization of marijuana in New York. She will be joined by elected officials and advocates" including City Council Members Antonio Reynoso and Donovan Richards; Brooklyn Defenders; Drug Policy Alliance; Latino Justice; Law Enforcement Action Partnership; Legal Aid Society; National Action Network; New York Cannabis Bar Association.
On Tuesday at noon, "New York elected officials and three of CUNYs [email protected] Studies institutes, along with other partners, will release the "Latinos United in Action - New York [email protected]" Report and announce the second annual Summit on Latinos to be held on June 1st, 2018."
Wednesday
At the City Council on Wednesday:
--The Committees on Land Use, Finance, and Education will meet jointly at 10 a.m. for an oversight hearing reviewing the recent Council report "Planning to Learn: The School Building Challenge," to discuss several proposed laws relating to school sitings and land use for education, and to discuss two resolutions: the first one calling on the state to confer the city with broad design-build authority for all capital projects, and the second calling upon the School Construction Authority "to more clearly communicate to the general public how city residents can submit potential school sites and the guidelines used by the School Construction Authority in considering whether a suggested school site meets the evaluation standards used by the authority."
--The Committee on Economic Development will meet at 10 a.m. for an oversight hearing regarding "modifying helicopter routes to reduce noise over residential neighborhoods," to discuss a proposed law relating to "an annual helicopter sightseeing plan," and to discuss a resolution "calling on the Federal Aviation Administration to amend the North Shore helicopter route to extend further west to cover Northeast Queens."
--The Committee on Technology will meet at 1 p.m. for an oversight hearing regarding LinkNYC.
--The Committees on Justice System and Juvenile Justice will meet jointly at 1 p.m. for an oversight hearing regarding "NYC's preparedness to Raise the Age."
The New York State Legislature will be in session on Wednesday in Albany.
Between Wednesday and Sunday, the National Action Network and the Rev. Al Sharpton will be hosting its annual National Convention at the Sheraton Hotel in Times Square. Speakers will include numerous "influencers" from all walks of civic life. Speakers include U.S. Senators Bernie Sanders, Kirsten Gillibrand, Cory Booker, Kamala Harris, and Elizabeth Warren; U.S. House Minority Leader Nancy Pelosi and other representatives; numerous advocacy leaders; local politicians such as First Lady Chirlane McCray, State Comptroller Tom DiNapoli, and City Comptroller Scott Stringer; and many others. See event website for specific days and times of appearances.
At 6:30 p.m. Wednesday, Mayor de Blasio will hold a town hall meeting at the Bronx School of Law, Government & Justice in Concourse Village. He will be joined by Council Member Vanessa Gibson, Bronx Borough President Ruben Diaz Jr, and Assemblymembers Michael Blake and Latoya Joyner.
Thursday
At the City Council on Thursday:
--The Committee on Land Use will meet at 11 a.m.
At 9 a.m. Thursday, City & State will host the "Healthy New York Summit" at the National Geographic Encounter in Midtown. The event will bring "insights and perspectives from all sectors of New York's health care decision-making together to identify challenges and discuss solutions to improve our system." Speakers will include politicians, government officials, academics, advocates, and business leaders.
On Thursday at 10 a.m. at City Hall, "Noting the devastating death of Saheed Vassell last week in Brooklyn, the Progressive Caucus of the New York City Council, Community Access, and Communities for Crisis Intervention Teams in NYC (CCITNYC) coalition will call on the Administration revive the Mayoral Task Force on Behavioral Health and Criminal Justice, which will be empowered to help create a sustained city-wide approach to emotionally distressed persons and the ongoing mental health crisis New York City faces. The Caucus and its allies are also calling for the City to create a new system where social workers or well-trained 911 call operators divert 911 calls to social workers or therapists or trained peers instead of police response; greatly expand mobile crisis teams who can respond within 30 minutes of a call; build a large system of co-response teams who can respond to 911 calls; and build a system where trained peers or therapist can meet police at the scene of 911 calls."
At 10:30 a.m. Thursday, "The City's Charter Revision Commission will hold its first public meeting on Thursday, April 19 – the first step in the Commission's process of reviewing the City Charter. This is an organizational meeting and does not include public testimony."
Friday and the weekend
At 9 a.m. Friday, the New York City Board of Correction will meet at 125 Worth Street in Manhattan.
Mayor de Blasio may make his weekly appearance on WNYC's The Brian Lehrer Show at 10 a.m. on Friday.
Saturday will be the annual "car free" day in New York City.
At 6:30 p.m. Saturday, Mayor de Blasio will appear at the 2018 Inner Circle Show at the New York Hilton Midtown. Inner Circle is a charity fundraiser comedy show hosted by the New York City press corps.
Sunday is Earth Day.
***
Have events or topics for us to include in an upcoming Week Ahead in New York Politics? E-mail Gotham Gazette executive editor Ben Max any time: This email address is being protected from spambots. You need JavaScript enabled to view it. (please use "For Week Ahead" as email subject).
***
by Ben Brachfeld and Ben Max
@GothamGazette