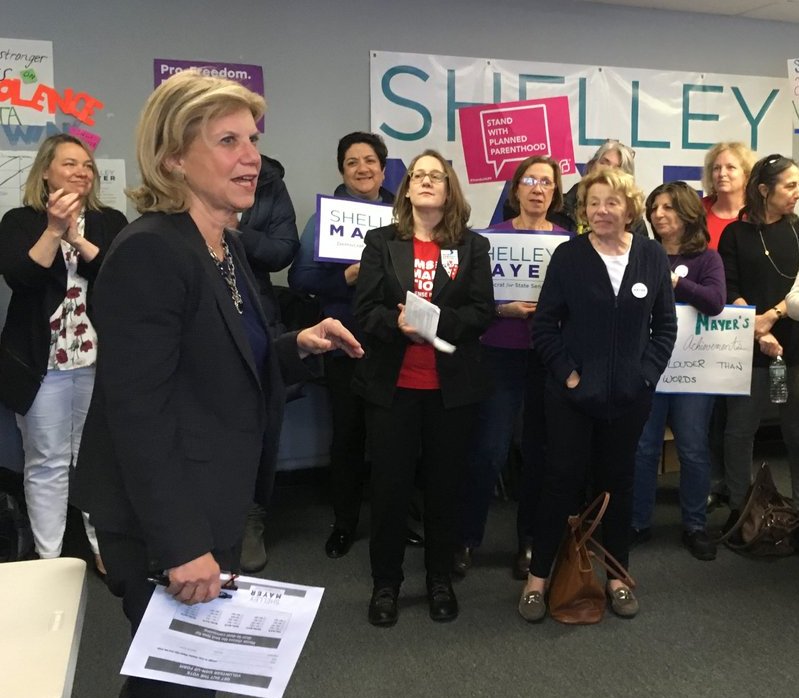 Shelley Mayer (photo: @Shelley4Senate)
---
The Democratic conference in the New York State Senate will soon be one seat shy of a majority. After special election wins Tuesday night to fill two vacant Senate seats, both previously held by Democrats, the party will soon have 31 members in the 63-seat chamber. Shelley Mayer has won in Senate District 37, in Westchester, and Luis Sepulveda has won in Senate District 32, in the Bronx. Both are currently members of the Assembly, seats they will vacate to move to the Senate.
Democrats hold an overwhelming majority in the Assembly, and are in control of all the statewide elected seats (Governor, Lieutenant Governor, Comptroller, Attorney General, and two United States Senators). The state Senate is Republicans' only stronghold of statewide power at this time.
In part, the new Senate Democratic conference size is due to the recent reunification of the mainline Democratic conference and the Independent Democratic Conference, which had been eight breakaway members, led by State Senator Jeff Klein of the Bronx that formed a coalition with the Senate Republican conference. That Republican conference holds 32 seats, including Brooklyn Senator Simcha Felder, elected repeatedly as a Democrat and, in 2016, on the Democratic and Republican ballot lines, who said on Tuesday that no matter the results of the special elections he would remain in the GOP conference for the rest of this year's legislative session, which runs until mid-June.
The special election wins give Democrats a new chance to woo Felder, or at least to set the stage for winning additional seats this fall, when there will be elections for all 213 seats in the state Legislature -- 150 in the Assembly and 63 in the Senate -- including those that held special elections Tuesday. The special elections also included nine seats in the Assembly.
The following results occurred Tuesday night across the state - projected winners, with a note if the seat has changed party hands - results will be updated:
Senate District 32 - Bronx
Luis Sepulveda, Democrat
Senate District 37 - Westchester
Shelley Mayer, Democrat
Assembly District 5 - Suffolk
Doug Smith, Republican
Assembly District 10 - Suffolk
Steve Stern, Democrat
(seat previously held by Republicans)
Assembly District 17
TBD
Assembly District 39 - Queens
Aridia Espinal, Democrat
Assembly District 74 - Manhattan
Harvey Epstein, Democrat
Assembly District 80 - Bronx
Nathalia Fernandez, Democrat
Assembly District 102 - Delaware
Christopher Tague, Republican - not an official result
Assembly District 107 - Rensselaer
Jacob Ashby, Republican
Assembly District 142 - Erie
Erik Bohen (party TBD)
Several of the vacancies occurred because the prior officeholder had won election to a different office, including Ruben Diaz, Sr., who had vacated his Bronx Senate seat to become a City Council member, and George Latimer, who had vacated his Westchester Senate seat to become county executive.
Diaz Sr. and Latimer will both be replaced by sitting Assembly members who will have to vacate their seats in the lower house of the state Legislature. Diaz Sr. will be replaced by Sepulveda and Latimer will be replaced by Mayer. Intrigue over control of the Senate is unlikely to dissipate despite Felder's announcement, in part given is known openness to cutting deals and with the fall elections looming.
"The Governor's position is clear: the Democrats must unify to take back the majority," said Dani Lever, a spokesperson for Gov. Cuomo, in reaction to Felder's announcement. "This conversation will continue in the morning."
Even if Felder were to change conferences this year, there are questions about whether Democrats can alter control of the Senate given rules that have been adopted for the two-year session ending at the end of this year. If the Democratic conference has 32 members, it still may struggle to push bills to the floor for votes. There may also be struggles to garner full 32-member support for some of controversial pieces of legislation that are not necessarily supported by Felder or current members of the Democratic conference.
"The voters have spoken, and we again have 32 Democrats in the State Senate," said Senate Democratic Conference Leader Andrea Stewart-Cousins, in a statement Tuesday night. "I congratulate my friend and colleague, Senator-elect Shelley Mayer, on her victory and look forward to welcoming her to the Senate Chamber as soon as possible. Senator-Elect Luis Sepulveda also won a resounding victory tonight and I look forward to him continuing his public service as a State Senator. These electoral wins are part of the 'blue wave' sweeping our state and nation which will help even more Senate Democratic candidates win in the upcoming General Election. Now is the time for all Senators elected as Democrats to work together and achieve the functional Democratic Majority that New York voters elected this past November, and again tonight."
The Senate Republicans had a different reaction, as outlined by spokesperson Scott Reif in a statement:
"The 37th district state Senate seat in Westchester County contains twice as many registered Democrats as Republicans, and has been held by the Democrats for decades. They were supposed to win this race. Despite going up against political history and voter enrollment, our candidate ran a strong race. There are a number of Democrat held seats that present better opportunities for us in November.

"The New York City politicians who think it will be easy to flip the State Senate and impose their radical agenda on the people of New York should take heed. Our Majority represents the checks and balances, and the real accountability that hardworking taxpayers need and deserve. Without us it's one party rule, higher taxes, runaway spending and New Yorkers will be less safe.

"Governor Cuomo, Bill de Blasio and others will say and do anything to hold onto or accumulate more power, and their agenda is far out of step with the priorities and values of middle class families throughout this state. We are ready for this fight and fully expect to retain our Majority in November."