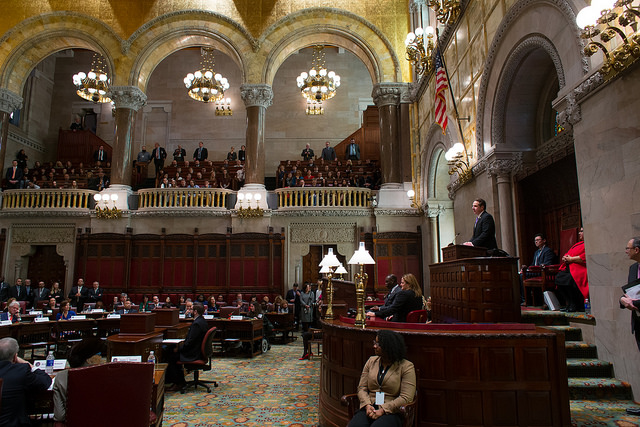 (photo: Philip Kamrass/Governor's Office)
---
As the Democratic primary between Governor Andrew Cuomo and Cynthia Nixon continues to heat up, a group of progressive activists is pushing for the state party to change its rules and open up the primary to unaffiliated voters.
New York Progressive Action Network, a grassroots coalition affiliated with Our Revolution, which grew out of Senator Bernie Sanders' presidential campaign, is drafting a resolution that its members hope to introduce at the State Democratic Party's nominating convention in May, the group's co-chair, George Albro, told Gotham Gazette on Tuesday.
The resolution will call for a change in the party's internal rules to allow registered voters without a party affiliation to cast ballots in the Democratic primary, which is currently a "closed" primary where voting is restricted to registered Democrats.
The potentially election-altering resolution will have to be signed by at least ten members of the party's state committee and delivered 15 days prior to the convention in order to be included on the agenda, according to the party's bylaws. It would need a two-thirds majority of delegates to pass. The group is guaranteed one signature -- Jay Bellanca, another co-chair of NYPAN from upstate, is a state committee member from the 113th Assembly District -- and Albro said the group was in talks with reform-minded lawmakers to support their resolution.
Albro said the group will "introduce a resolution to the effect of allowing unaffiliated voters, voters who are not in any party, what they call 'blanks'," to vote in the primary. As of April 1, there were 6.2 million registered Democrats in the state, 2.8 million Republicans, and about 2.6 million unaffiliated voters. Allowing those unaffiliated with a party to participate could drastically alter the outcome, but the chances of the resolution passing are unclear, and it may not stand up to legal scrutiny.
Top elected officials and legislators on both sides of the aisle have been hesitant to allow any but their own registered members to vote in their primary to avoid "party raiding," where members of one party could potentially flood their opponents' party primary with votes to either capture their ballot line or to dislodge the preferred candidate from the nomination ahead of a general election. That's also the reason that New York's deadline for changing one's party affiliation falls 25 days prior to the previous general election, an oft-criticized length far longer than in many other states.
If a Republican or member of a smaller party, like Green, Libertarian or Conservative, wished to vote in this year's Democratic primary in September, or a move in another such direction, they would have to have switched their party registration by October 13, 2017.
The proposed rule change in this case would alter that for the Democratic primary. "It would have no effect on any other party...it would not allow raiding of course...it would only allow pure unaffiliated voters who have no agenda but a desire to vote," Albro said, decrying the sorry state of voter turnout in New York, which ranked 41 out of 50 states in the 2016 general election.
"The people who can vote won't, and the people who want to vote, can't," he said.
There is precedent for the NYPAN proposal. The Independence Party in 2003 went to court and won the right to allow unaffiliated voters to vote in its primaries, though that has never been put to the test in a statewide election and the verdict left some unanswered questions about whether unaffiliateds could also vote on internal party business and election-related deadlines. Just last year, the Reform Party allowed unaffiliated voters to vote in its primary for mayor of New York City.
Neither Cuomo nor Nixon's campaign provided comment for this article. State Democratic Party Executive Director Geoff Berman, however, was unsure if the party could make such a change.
"Under state law, and this applies to all political parties, not just to Democrats, in order to vote in a party's primary, you have to affiliate yourself with that party in your voter registration," Berman said in a phone interview.
He added, "My understanding after consulting with election law attorneys and others is that state law does not permit Democrats to make this change unilaterally."
He wouldn't speculate on whether the state committee would support the NYPAN resolution -- Berman himself will not have a vote -- and he insisted that any change could create voter confusion and invite court challenges. "I think the most sensible way to go about changing it is through state law so that the resulting rules apply equally to all political parties and don't create a patchwork that's confusing to voters," he said.
Over the last several weeks, Berman has been at the receiving end of criticism over the role and independence, or alleged lack thereof, of the State Democratic Party in this year's primary elections, especially that for governor. Left-leaning activists and groups like NYPAN have questioned whether the state party is playing favorites by supporting the incumbent. Berman was appointed by Cuomo, who is, by virtue of his position, the de facto leader of the party in New York.
At the same time, those same grassroots groups are pushing for changes to the deadlines for registering in a party and for switching party affiliation, which would allow greater participation in primaries but require alterations to state law. Many of the activists, who tend to lean towards supporting Nixon's candidacy, have issued somewhat misleading statements, conflating state law with party rules, mistakenly placing blame on the party for the interminably long party affiliation-change deadline, and tying the lack of reform to Cuomo, an attack that appears to have validity.
Ultimately, though, Albro said it will be up to Cuomo to push for expanding access to the Democratic primary, and that the governor could not blame Republicans for holding up the change that NYPAN is proposing, as he often does when voting and electoral reforms fail in the state Legislature. "[T]he powers that be in the Democratic Party are sometimes not democratic," Albro mused. "I would think that the governor controls the state committee. It's up to him whether he wants this passed."