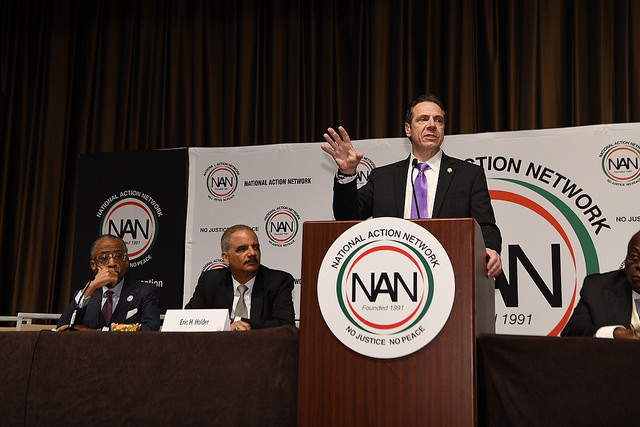 Gov. Cuomo at NAN (photo: Don Pollard/Governor's Office)
---
"Unity" is the trending word in New York politics, ever since Gov. Andrew Cuomo stepped into the back room of a Manhattan steakhouse and put together a deal to end the Independent Democratic Conference, a breakaway group of Democratic senators who collaborated with Republicans to control the state Senate. As a result of that "unity" deal, Democrats in Albany are prepared for the possibility of a truly united front in the upper chamber of the Legislature, with the ability to pass long-gestating progressive legislation blocked by Republican/IDC control.
But just in time for Cuomo to celebrate his Democratic leadership and progressive bona fides, a rift has blown wide open between the governor and activist groups that have been at the forefront of some of Cuomo's most noteworthy legislative victories. Tired of what they call Cuomo's broken promises and centrist governing style, the left-wing groups walked away. Given a new opportunity to back a challenger to the governor, the Working Families Party officially endorsed Cynthia Nixon one day after Cuomo allegedly asked labor unions to pull their financial support of the community groups who endorsed his challenger. And with that rift has come increased scrutiny of who is actually responsible for progressive victories in the state — and a clear indication the New York left is ready to pursue defeating Cuomo at almost any cost.
Just as he did in 2014 when he was seeking a second term, Cuomo has banked on a series of promises made to progressive organizations in order to get their approval over a left-wing challenger. Unlike that year though, left-wing organizations -- such as Citizen Action NY, Make The Road New York, and the Working Families Party they are affiliates of -- have chosen to throw their heft and organizing ability behind Cuomo's main opponent, unwilling to trust him again and challenging a governor whose progressivism they feel has come from political expediency, not deep conviction.
"He's scared, because he knows an unknown law professor ran away with one-third of the vote in 2014," Matthew Miles Goodrich, an organizer with the environmental advocacy group Sunrise Movement, which endorsed Nixon last Friday, told Gotham Gazette. "Part of it is survival instincts from him. New York has millions of Democratic voters who want to see institutional change, and he's positioned himself as a centrist for so long he has to swing left now."
When carrots like ending the IDC didn't work as a way to keep the Working Families Party and other community organizations from embracing Nixon, Cuomo's use of the stick, by allegedly asking unions to choose him over the WFP and to pull their funding from groups like Make The Road and New York Communities For Change, appears to have emboldened his critics.
Rather than bring those groups in line, it led them to go on the offensive against a governor they call a bully and hold a rally last Thursday as a show of strength. While some speakers talked about confrontation with Cuomo, expressed frustration with his strongarm tactics, and, in the case of The Black Institute's Bertha Lewis, compared the governor's defunding threats to progressive arch villain Rudy Giuliani's efforts, City Council Member Brad Lander laid out the fight as one between competing philosophies of where policy change really comes from.
"When people get elected to public office, they can sometimes come to think change happens because elected officials make it happen. They can sometimes come to think that community groups and the people are the ones who are there to serve and support the elected officials," Lander told the crowd, giving credit for the state's $15 minimum wage program and raise the age legislation to organizing efforts by the groups in attendance.
In Lander's point is the essence of a refrain being used against Cuomo by those to his left: that he has mostly adopted progressive stances when there was enough grassroots pressure and a clear political payoff. And, the resulting achievements are often watered down, critics say, the products of triangulation including Republicans the governor has at best tolerated and at worst empowered. For many, Cuomo's tenure has been marked by some significant successes, but also an extensive list of essential policy priorities left on the chopping block due to a chief executive who "governs like a Republican," as Nixon has said. It is only political pressure that moves Cuomo to adopt progressive stances he is otherwise cold to, those on his left say.
In the one month since Nixon entered the race, Cuomo has put an end to the IDC, said "the facts have changed" about legal recreational marijuana, announced plans to restore voting rights to felons on parole in New York, killed an offshore natural gas pipeline that had been in the works, and issued an executive order to prevent federal immigration official from state buildings. And yet Cuomo hasn't once acknowledged increased left-wing pressure is responsible for these abrupt turns, despite years of tolerating the IDC, calling marijuana a gateway drug just a year ago, and his top aide, Melissa DeRosa, dismissing activist pressure for environmental laws as "a counterproductive fraud."
The disconnect between how Cuomo uses power and who can compel him to use it is at the heart of the fight, according to Goodrich, who said the governor's recent actions have shown what he could have been doing in office all along.
"He feels he deserves the support of the grassroots since he's made significant [things] happen, like the fracking ban, which he should be credited for," Goodrich said. "It's nowhere near enough, though, and he doesn't get that because it runs up against his interests. His ideology is warped by pretty centrist and right megadonors. While he's trying to figure out what'll appease the grassroots, he thinks he deserves our support. Just because he's thrown us a bone a couple times though doesn't mean he automatically gets it."
With community groups still spurning Cuomo despite his attempt to strongarm Democratic unity and win WFP support, the New York political world entered something of a parallel universe in which the governor and his allies act like Cuomo has always been a champion of party unity and that the primary fight is about anything but progressive policy failures due to years of a sanctioned Democratic split.
DeRosa, the secretary to the governor, tweeted that left-wing activists aren't really Democrats (a possibly reference to the WFP as its own political party) and don't "support unity," given the WFP promise to continue backing primary challengers to IDC members after years of the governor inviting the IDC's leader, Senator Jeff Klein, into budget negotiations. Klein, who led the IDC for all seven years of its existence, embraced this new unity with the bizarre claim that the Working Families Party was "for disunity."
"They're an enemy of reform," he continued. "And, quite frankly, they're an enemy of a strong [Senate] Democratic majority." Cuomo campaign adviser Sarah Paden went as far as suggesting that the Working Families Party could become "a new IDC dynamic."
Cuomo isn't in any way totally cut off from normal Democratic areas of strength, finding support at a rally celebrating a successful unionization effort by nurses at the Albany Medical Center, and using his appearance at Al Sharpton's National Action Network convention to announce the plan to restore voting rights for parolees. He has significant labor union support, and cast his role in the WFP crackup as merely standing in solidarity with the unions who chose to leave the party.
But community organizations have used Cuomo's rhetoric to accuse him of being a hypocrite and a fraud by what they say is a gap between his words and actions, and by pointing to the paper trail of a governor who has dismissed progressive policies only to adopt them when the moment appeared politically advantageous.
His claim that he's just a normal "middle-class guy" from Queens was blasted by Citizen Action New York, which said the governor's idea of what a middle class person is "would explain why he's consistently given tax cuts to the wealthiest households in New York–like his own–while neglecting the true middle and working class families of our state." Similarly, Make The Road New York, an immigrants' advocacy group allegedly threatened by Cuomo, took aim at his historically dubious, if symbolic, statement that he's an "undocumented person."
"[I]t's unbelievable that the Governor would try to claim to have shared our experience," Make The Road member Antonio Alarcon said in a statement responding to the governor's claims. "It's even worse coming from someone who has failed repeatedly to use his political capital for our community's top priorities in Albany—including the New York Dream Act and passing driver's licenses for all."
Now, with a Democratic win in a Westchester state Senate special election that theoretically makes 32 registered Democrats in the chamber, Cuomo is fairly resigned to passing none of the remaining progressive wishlist items as Senator Simcha Felder chooses to continue to sit with Senate Republicans, though Cuomo is making public entreaties to Felder to switch conferences now and at least help ensure Senate votes on a series of policies before the legislative session ends in June. This, after Cuomo declined to call the special elections until they would occur after a state budget was passed, leaving Democratic districts underrepresented and no chance of a unified Democratic majority for budget negotiations.
Rather than make themselves a vessel through which Cuomo can position himself as a national progressive leader, community groups are backing candidates like Nixon, lieutenant governor candidate Jumaane Williams, and a slate of IDC challengers in September's primary in order to help remake the party in their image. While the governor has said Democratic unity is essential to passing a slate of progressive goals, like the Dream Act and campaign finance reform, groups at the forefront of advocacy on those issues are abandoning him, and he is threatening their very existence.
"I think for careful observers, there's a big progressive movement formed by activists that's coming, and the Working Families Party is going to electoralize that at the polls," WFP state director Bill Lipton told Gotham Gazette at Thursday's rally. "I think we're going to be able to elect great progressives who are going to pass all the things that have been bottled up by state Senate Republicans, the IDC, and Andrew Cuomo over the last eight years."
***
By David Colon for Gotham Gazette. Colon is a freelance journalist; on Twitter @DaveColon.
@GothamGazette