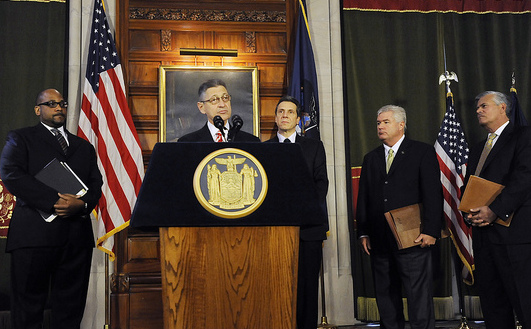 Sheldon Silver and other state leaders in 2011 (photo via the Governor's Office)
---
Former Assembly Speaker Sheldon Silver was found guilty Friday on all seven federal corruption charges he faced, ending a retrial spurred by a United States Supreme Court ruling that changed the definition of public corruption, which led to Silver's prior convictions being vacated and prosecutors from the United States Attorney for the Southern District of New York seeking a new chance to convict the man who was for decades one of New York's most powerful elected officials.
In recognizing the outcome, U.S. Attorney Geoffrey Berman said Silver "took an oath to act in the best interests of the people of New York State. As a unanimous jury found, he sold his public office for private greed."
Silver was convicted of fraud, extortion, and money laundering, among other charges.
In a very brief statement reacting to the verdict, Governor Andrew Cuomo said on Friday, "The justice system shows no one is above the law."
But during a Sunday appearance on NY1 television, Cuomo was asked about Silver's conviction and how it connects to other top government officials who have been found guilty of corruption, including Cuomo's own former top aide, Joseph Percoco.
"I think the common thread is...that people will do bad, stupid, criminal, venal things. And that's society. It's state government, it's local government, it's the federal government, it's the private sector," Cuomo said. "The question is do we have a system in place that finds it and corrects it? And we do. We should have, take confidence in that. Eric Schneiderman resigned the office. I went, moved very quickly to give my position which is that kind of behavior doesn't justify remaining in office and I called on him to resign. We then appointed a special prosecutor to make sure there is no conflict, no perception of conflict. And that's Madeline Singas who is the Nassau County District Attorney and a very experienced, proficient prosecutor in just these areas. So, my point is, will people do bad things? Yes. That goes back to Adam and Eve. Do we have a criminal justice system in place that says nobody is beyond the law or above the law? Yes, we do. And that's why we moved so quickly for special persecutor on Eric Schneiderman who was the Attorney General. Top law enforcement officer in the state. And justice will be done and that's how the system works and were going to make sure it works that way."
More from our Thursday story on the closing arguments in the Silver retrial case:
The retrial of former State Assembly Speaker Sheldon Silver on federal corruption charges neared a close on Thursday, with the jury beginning deliberations late in the day.
Silver, a Democrat representing Lower Manhattan who was for years a pillar of New York politics, was convicted in 2016 on charges of honest services fraud, extortion under the color of official right, and money laundering in connection with two separate pay-to-play schemes. He was later sentenced to 12 years in prison, but his conviction was overturned after the Supreme Court's decision in a separate corruption case redefined what constituted an "official act" that an elected official would have to take in exchange for money or services in order to be guilty of abusing their office. The vacated conviction prompted a retrial.
In federal district court in Manhattan on Thursday, prosecution and defense attorneys made their closing arguments to the jury, recapping a week-and-a-half long trial that saw 26 witnesses testify and a mountain of evidence presented. Like in the initial trial, Silver did not take the stand in his own defense. The case was argued this time by different prosecutors, as there has been significant turnover in the office of the United States Attorney for the Southern District of New York since Silver was first charged under the leadership of then-U.S. Attorney Preet Bharara.
Over the course of nearly three hours, assistant U.S. Attorney Tatiana Martins laid out the case against Silver, detailing the two schemes that he used to enrich himself. For the most part, both the prosecution and the defense agree on the details of the case, but only the prosecution believes Silver's behavior was illegal.
"What the defendant did to line his own pockets wasn't just wrong, it was criminal," Martins said.
Both schemes, Martins noted, involved the same modus operandi -- referrals for cash. In the first scheme, Dr. Robert Taub, a former Columbia University researcher who was a prominent witness at the trial, directed mesothelioma patients to Silver who then referred them to his law firm, Weitz & Luxenberg, for hefty referral fees -- totalling $3 million for 48 patient referrals. In exchange, Silver directed $500,000 in state grants to Taub's clinic and took other actions favoring Taub's family. "Dr. Taub was Sheldon Silver's golden goose and Sheldon Silver did whatever it took to keep getting Dr. Taub's golden eggs," Martins said, in outlining the alleged quid-pro-quo.
The second scheme involved Silver nudging two real estate firms -- Glenwood Management and the Witkoff group -- to send business towards a law firm, Goldberg & Iryami, which gave a 25 percent cut of the money to Silver, about $800,000 in total. In turn, Silver allegedly used his office to advance legislation and approve massive state tax credits that benefited the firms.
Silver faces three charges from each of the cases -- honest services wire fraud, honest services mail fraud, and extortion under the color of official right. He also faces a seventh charge of money laundering, stemming from his use of his allegedly ill-gotten gains to invest in blue chip stocks.
Silver corrupted his office, Martins said, "turning his official power into a cash cow to line his own pockets." She noted that Silver repeatedly lied about these various sources of income, failing to report it on annual disclosure forms required of state legislators. And she insisted that the defense's arguments were a "red herring" meant to distract the jury.
"This is bribery, this is extortion," she concluded, "This is corruption. This is the real thing. Don't let it stand."
Silver's defense attorney, Michael Feldberg, sought to poke holes through the prosecution's theory, broadly insisting that Silver's actions were far from violating the law. "It is perfectly legal for New York Assembly members to earn outside income," he pointed out in his closing.
In both schemes, Feldberg insisted that Silver was simply earning income as a lawyer, which was declared on his disclosure forms, and that referral fees for the type of work Silver was doing are a "common, standard and accepted" practice in the field. New Yorkers may not like some of the practices involved, Feldberg argued, but that does not mean they are illegal.
Feldberg insisted that none of the witnesses testified to the existence of a quid-pro-quo arrangement in either scheme. He said Silver and Taub were close friends and that their relationship "wasn't purely transactional," rebutting the prosecution's claims. And he insisted that in the real estate scheme, neither firm was aware that Silver was receiving referral fees, "so they couldn't have been bribing him."
"We're not arguing that Shelly is a perfect man...We're not arguing that he's a saint," he said, impressing upon the jury that even if Silver's actions were "unseemly," they were not enough to find him guilty.
Following a relatively short rebuttal from the prosecution, Judge Valerie Caproni read the charges to the jury, which then headed into deliberations briefly before the day was over. Jury deliberations will continue on Friday.