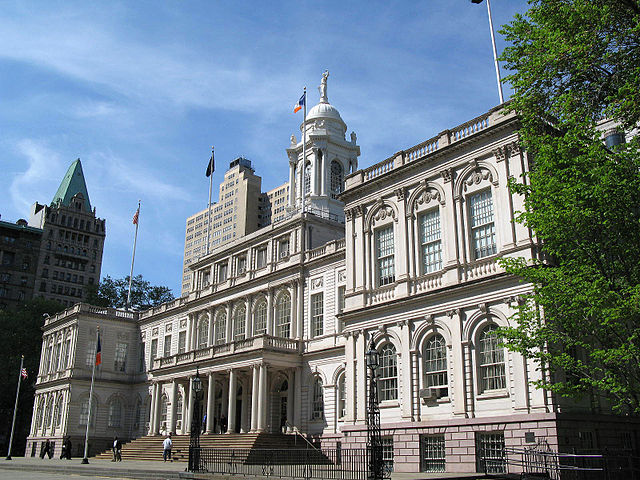 New York City Hall
---
What to watch for this week in New York politics:
On Friday, state legislative leaders released the list of candidates who applied to be named Attorney General through a process that will include public hearings on Tuesday and Wednesday of this week. The list of candidates includes current Attorney General Barbara Underwood, who took over upon Eric Schneiderman's resignation:
Thomas J. Abinanti; Lloyd Constantine; Michael D. Diederich, Jr; Jose W. Fernandez; Nicole Gueron; Elizabeth Holtzman; Thomas E. Humbach; Doris Ling-Cohan; Daniel J. O'Donnell; Sean Patrick Maloney; Mina Quinto Malik; Leecia Roberta Eve; Jennifer P. Stergion; Barbara D. Underwood; David Yassky; Alex Zapesochny
"Interviews will be held by a bi-partisan, bicameral committee of the Legislature on Tuesday, May 15, 2018, beginning at 2:00 p.m. and Wednesday, May 16, 2018, beginning at 10:00 a.m. in the Hamilton Hearing Room B, Legislative Office Building in Albany. These interviews will be open to the public and will be available for live viewing on the New York State Assembly website...Candidates will be given the opportunity to make an opening statement and to answer questions from members of the committee in order to assess their qualifications for the position."
The process is being led by Assembly Democrats. Senate Republicans have declined to participate, seemingly knowing that Democrats in the two chambers have enough votes to name their preferred candidate as AG through the end of this year and presumably not wanting the process to unfold and thus give an appointed person an advantage in this year's election. Assemblymember Joseph Lentol is heading the interview committee, which also includes Assemblymembers Jeffrey Dinowitz, Crystal Peoples-Stokes; Matthew Titone; William Barclay and Brian Curran; and Senators Martin Dilan and Brad Hoylman.
Public Advocate Letitia James is among several big names who have expressed or are known to have interest in the position of Attorney General who are not participating in the legislature's process. When James announced she would not be applying for the appointment, she said she would have more news this coming week about her future plans. Others who have also said they are considering jumping into this year's electoral race or are rumored to be interested or have expressed some openness to considering it include Rep. Kathleen Rice, law professor Zephyr Teachout, Senator Michael Gianaris, former City Council Member Daniel Garodnick, former U.S. Attorney Preet Bharara, former de Blasio counsel Maya Wiley, and Senator Todd Kaminsky, among others.
That's the headline of what to watch for this week, but there's a lot more happening, including Governor Cuomo's likely trip to Israel, Mayor de Blasio's trip to Washington, D.C., executive budget hearings continuing at the City Council, and more -- see our day-by-day rundown below.
***Do you have events or topics for us to include in an upcoming Week Ahead in New York Politics?
e-mail Gotham Gazette editor Ben Max: This email address is being protected from spambots. You need JavaScript enabled to view it.***
The run of the week in detail:
Monday
"On Monday, Mayor de Blasio will attend the viewing for NYPD Sergeant Richard Wetzel. This event is closed press. Later, the Mayor will appear on NY1's Inside City Hall," in the 7 and 11 p.m. hours.
At 2 p.m. Monday, Governor Cuomo will make an announcement from his Manhattan office. In the evening, Cuomo will deliver remarks at the New York League of Conservation Voters' annual gala in Manhattan.
The New York State Legislature will be in session on Monday in Albany.
On Monday morning, the New York Working Families Party announced it is starting to vet candidates for Attorney General "and plans to make an endorsement at the WFP's Convention on Saturday, May 19th at First Corinthian Baptist Church...The WFP believes that New York needs an independent Attorney General who will be unafraid to stand up to the powerful and investigate Donald Trump and Wall Street crime, and will restore public integrity."
At the City Council on Monday, the following committees will hold Executive Budget hearings:
--Public Safety at 10 a.m., regarding the NYPD.
--Justice System at 1 p.m., regarding District Attorneys and the Mayor's Office of Criminal Justice.
--Housing and Buildings at 2:30 p.m., regarding the Department of Housing Preservation & Development and the Department of Buildings.
At 10 a.m. Monday in Bushwick at NYCHA Hope Gardens, "Council Member Rafael Espinal (D37- Bushwick, Cypress Hills, East New York) joins NYCHA tenants who are leaders of Metro Industrial Areas Foundation and faith leaders to commend Mayor de Blasio's administration on their commitment to build affordable housing on underused NYCHA property. The coalition is hoping this site will be the model for the next 200 lots they have identified as viable for similar uses." The "lot at Hope Gardens is among the first of three projects slated to be used for affordable senior housing. An RFP for the development has gone out; the property will be officially revealed by the advocates for the first time at Monday's press conference."
At 10 a.m. Monday at City Hall, "Food delivery workers will be joined by advocates from Asian American Federation, Biking Public Project, Transportation Alternatives, Make the Road New York, Legal Aid Society, Council Member Carlos Menchaca, Council Member Margaret Chin, and other elected officials to demand revisions to the Department of Transportation (DOT) rule clarifying the legality of pedal-assist electric bicycles ("e-bikes"), and changes to the current NYPD practice of punishing food delivery workers." Participants will include food delivery workers, City Council Members Margaret Chin and Carlos Menchaca; Asian American Federation; Biking Public Project; Transportation Alternatives; Make the Road New York; The Legal Aid Society; and other elected officials.
On Monday at noon at City Hall, "City Council Health Chair Mark Levine will be joined by colleagues and advocates to call on the City to increase Tuberculosis (TB) funding for the City Department of Health and Mental Hygiene (DOHMH) Bureau of Tuberculosis Control (BTBC). TB is a communicable airborne disease and the leading infectious killer worldwide. In 2017, there were 613 new TB cases in NYC, a 10 percent increase. This marked the city's first increase since 2003 and its largest since 1993...Over the past 10 years, federal, state and city funding for TB has been cut by more than half, dropping from $29 million in 2007 to $14.7 million in 2017, with only $8.6M of that coming from the City." Levine will be joined by City Council Finance Chair Daniel Dromm, among others.
At noon on Monday, "Community Service Society and Riders Alliance's Grassroots Fair Fares leaders representing an unprecedented coalition of transit, anti-poverty, civil rights and racial justice organizations" will be at the 125th Street subway station in Harlem "engaging subway riders to call Mayor Bill de Blasio's office, get on the record in support of Fair Fares, and ask their mayor to join the cause in this year's city budget."
On Monday at 2 p.m., City Council Member Ydanis Rodriguez and taxi drivers "will be calling for a amnesty for fines of taxi drivers in New York City, this measure would benefit a large percentage of taxi drivers, who have pending payments totaling between $2 and $3 million and who do not have fines on major safety violations."
At noon Monday, Lieutenant Governor Kathy Hochul will deliver remarks at the Laborers' International Union of North America Conference, Albany Capital Center. At 6:30 p.m., Hochul will attend the Fortune Most Powerful Women Event, at Time Warner Conference Center in Columbus Circle.
"The Queens Borough Board, chaired by Borough President Melinda Katz, will hear a presentation from the New York City Department of City Planning (DCP) on its proposed M1 Hotel Text Amendment during the Board's meeting on Monday, May 14, 2018 at 5:30 PM in Queens Borough Hall."
Monday evening is the annual League of Conservation Voters gala, in Manhattan. Gubernatorial candidate Marc Molinaro will be among those in attendance. As mentioned, Governor Cuomo will deliver keynote remarks.
Tuesday
On Tuesday at 10:30 a.m. at City Hall, Rev. Al Sharpton and City Council Speaker Corey Johnson will lead a press conference to "call for the legalization and decriminalization of marijuana in the wake of published reports regarding a disproportionality of arrests targeting blacks and Hispanics" in New York City, per an advisory from Sharpton's National Action Network. Other elected officials and advocates will also participate, including Council Members Donovan Richards, Rory Lancman, and Ydanis Rodriguez. Sharpton will also call for a meeting with NYPD Commissioner O'Neill on the subject.
On Tuesday, Mayor de Blasio will be in Washington, D.C. to speak at the Center for American Progress' 2018 Big Ideas Conference. The mayor is expected to speak at 11:30 a.m.
At the City Council on Tuesday, the following committees will hold Executive Budget hearings:
--General Welfare at 10 a.m., regarding the Human Resources Administration and the Department of Homeless Services.
--General Welfare and Juvenile Justice jointly at 1 p.m., regarding the Administration for Children's Services.
--Fire and Emergency Management at 3 p.m., regarding the FDNY.
Also at the City Council on Tuesday:
--The Subcommittee on Zoning and Franchises will meet at 9:30 a.m.
--The Subcommittee on Landmarks, Public Siting, and Maritime Uses will meet at noon.
--The Subcommittee on Planning, Dispositions, and Concessions will meet at 2 p.m.
The New York State Legislature will be in session on Tuesday in Albany.
Legislative committee interviews of Attorney General candidates will take place in Albany on Tuesday afternoon.
At 6:30 a.m. Tuesday, Comptroller Scott Stringer will appear on NY1's "Mornings on 1" with Pat Kiernan. Afterward, Stringer will deliver remarks at the National Conference On Public Employee Retirement Systems.
Republican candidate for governor Marc Molinaro will also be a guest on NY1's "Mornings on 1" Tuesday morning, at 7:30 a.m.
On Tuesday, "Bronx Borough President Ruben Diaz Jr. will host the annual Bronx Week Business Luncheon, which recognizes business leaders in the borough for their contributions to the civic and economic health of The Bronx. During his remarks, Borough President Diaz will release the "Bronx Annual Development Report," outlining the total development that took place in The Bronx during 2017."
On Tuesday at 2 p.m., First Lady Chirlane McCray "will participate in a Facebook Live discussion with Kay Warren—a national faith leader, author and co-founder of Saddleback Church—about how faith leaders can address mental illness and addiction in their communities ahead of the upcoming third annual weekend for mental health with faith and community leaders nationwide (May 17-20)."
At 2 p.m. Tuesday at City Hall, "women leaders and activists will gather at City Hall to condemn Governor Cuomo's bullying of elected officials and community organizations. Cuomo is reportedly trying to block New York City Public Advocate Letitia James, a prominent woman of color, from accepting the endorsement of the Working Families Party for her Attorney General candidacy. This bullying of James comes on heels of Cuomo threatening to defund community organizations aligned with the Working Families Party. Many low-income women of color will be harmed if Cuomo follows through on such threats...Speakers will include Nomiki Konst, Zakiyah Ansari, and Natasha Capers. The list of speakers is still in formation. Other women involved in organizing or supporting this event include: Zenayda Mendez, Bertha Lewis, and Kat Brezler."
At 4:30 p.m. Tuesday in Union Square, "hundreds expected at first U.S. rally for age justice to confront ageism...organized by the Radical Age Movement and more than two dozen co-sponsors...Speakers and entertainers at the rally will testify loud and clear that "We are part of the future, too!" "Ageism exists because American culture demeans older adults and ignores how they can and will contribute to the country's future," says Alice Fisher, co-founder of The Radical Age Movement, a national non-profit based in New York that rejects long-standing misinterpretations of aging."
On Tuesday afternoon as MS 131 in Manhattan, schools Chancellor Richard Carranza will host two town hall s with parents.
At 6:30 p.m. Tuesday, City Limits will host "Fair Housing in a Rezoned City" at WeWork Harlem, examining the "difficult questions surrounding the city's fair housing assessment process." City Limits Executive Editor Jarrett Murphy will moderate a panel consisting of City Council Member Brad Lander, Leila Bozorg of HPD, Chanera Pierce of the Fair Housing Justice Center, and Barika Williams of the Association for Neighborhood and Housing Development.
On Tuesday evening, Council Speaker Johnson will speak at the WearingIrish New York City 2018 Showcase, at Bank of Ireland.
Wednesday
At the City Council on Wednesday, the following committees will hold Executive Budget hearings:
--Public Housing at 10 a.m., regarding NYCHA.
--Transportation at 2 p.m., regarding the Department of Transportation.
The New York State Legislature will be in session on Wednesday in Albany.
Legislative committee interviews of Attorney General candidates will continue in Albany on Wednesday morning.
At 8 a.m. Wednesday, the Center for an Urban Future will host "Scaling Up Small Businesses in the Bronx" at Hostos Community College, with a panel discussing the small business boom in the Bronx and the simultaneous lack of scaling and "sustained growth." The panel will consist of Bronx Borough President Ruben Diaz Jr, City Council Member Mark Gjonaj, Jessica Johnson of Johnson Security Bureau, Kerry McLean of WHEDco, Joyce Moy of the Asian American Research Institute, Anthony Ramirez II of Mainland Media, and Hashem Yehiya of Tasty Picks.
"On Wednesday, May 16th at 8am Council Member Ydanis Rodriguez, Melinda Hunt of The Hart Island Project and other council members will tour the burial grounds of Hart Island on the 150th anniversary since the purchase of the island by the City of New York in 1868."
Beginning at 8:30 a.m. Wednesday, a "Hospital Community Benefit Symposium" on "how hospitals can engage and invest in our health and well-being." The event at the Adam Clayton Powell, Jr. State Office Building on 125th Street is being hosted by WE ACT for Environmental Justice and partners.
At 6:30 p.m. Wednesday, Transportation Commissioner Polly Trottenberg and MTA New York City Transit Commissioner Andy Byford will host a town hall on the L train shutdown and potential transit alternatives for Brooklyn L train riders at the Progress School in Williamsburg. This is the second of two town halls after a Manhattan event last week.
Thursday
At the City Council on Thursday, the following committees will hold Executive Budget hearings:
--Sanitation and Solid Waste Management at 11 a.m., regarding the Department of Sanitation.
--Governmental Operations at 1 p.m., regarding the Department of Citywide Administrative Services, the Board of Elections, the Campaign Finance Board, and the Law Department.
Also at the City Council on Thursday: The Committee on Land Use will meet at 11 a.m.
At 9 a.m. Thursday, City & State will host its Sustainable New York Summit at the National Geographic Encounter in Midtown. The summit will "offer industry executives, public sector leaders and academics the opportunity to share ideas about how to connect, design, and implement innovative sustainability strategies in New York." Speakers will include City Buildings Commissioner Rick Chandler, Sanitation Commissioner Kathryn Garcia, Environmental Protection Commissioner Vincent Sapienza, City Council Members Ydanis Rodriguez and Costa Constantinides, State Senator Todd Kaminsky, and others.
At 9 a.m. Thursday, the Empire Center will host "Critical Condition: The State of New York's Hospitals and What Should Be Done to Revive Them" at the Yale Club in Midtown, discussing strategies for improving New York State's below-average hospitals. Empire Center Health Policy Director Bill Hammond will deliver opening remarks, and then will join a panel moderated by the NYS Health Foundation's David Sandman. In addition to Hammond, the panel will feature State Senate Health Committee Chair Kemp Hannon, former US Health Care Financing Administrator Bruce Vladeck, Elisabeth Ryden Benjamin of the Community Service Society, and former Chair of the NYS Commission on Health Care Facilities in the 21st Century Stephen Berger.
At 10 a.m. Thursday, the New York City Campaign Finance Board will hold a board meeting at 100 Church Street.
On Thursday at 1 p.m. at City Hall, "Council Member Antonio Reynoso and The Protect Our Places Coalition, a conglomerate of community advocacy organizations and institutions, will call for the passage of Intro 245. Each year, numerous charitable organizations, community gardens, and houses of worship are included in the City's annual tax lien sale even though they qualify for tax exempt status. The exemptions and transparency measures put forth in Intro 245 will protect not-for-profit and charity organizations from being permanently shut down over debt they should have never been charged." Participants will also include 596 Acres; Equitable Neighborhoods Practice at the Community Development Project; Picture the Homeless; Progressives Educating New Yorkers; religious organizations and groups of faith; and concerned community members.
Friday and the weekend
Mayor de Blasio may make his weekly appearance on WNYC's The Brian Lehrer Show on Friday at 10 a.m.
At the City Council on Friday, the following committees will hold Executive Budget hearings:
--Health and Mental Health jointly at 10 a.m., regarding the Department of Health and Mental Hygiene.
--Cultural Affairs at noon, regarding libraries and the Department of Cultural Affairs.
On Friday at 10 a.m. at Queens Borough Hall, Comptroller Tom DiNapoli is expected to release an economic snapshot of Queens.
On Saturday afternoon in Harlem, the Working Families Party will hold its 2018 state convention. Speakers will include endorsed candidates such as Cynthia Nixon for governor, Jumaane Williams for lieutenant governor, and others, as well as WFP National Director Maurice Mitchell. From 1:30 to 4:30 p.m. at First Corinthian Baptist Church.
On Sunday morning, "NY-12 candidates for Congress Carolyn Maloney and Suraj Patel will appear at a brunch and moderated discussion hosted by Empire State Indivisible and Indivisible Brooklyn." Politico New York's Laura Nahmias will moderate.
At noon Sunday, the Eleanor Roosevelt Democratic Club will hold its 2018 Spring Brunch at the Yale Club in Midtown. Public Advocate Tish James and State Comptroller Tom DiNapoli will be awarded the Eleanor Roosevelt Award for Service to New Yorkers.
***
Have events or topics for us to include in an upcoming Week Ahead in New York Politics? E-mail Gotham Gazette executive editor Ben Max any time: This email address is being protected from spambots. You need JavaScript enabled to view it. (please use "For Week Ahead" as email subject).
***
by Ben Brachfeld and Ben Max
@GothamGazette