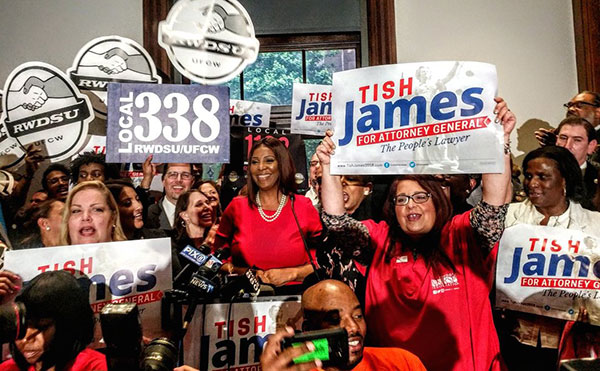 Public Advocate Letitia James at her AG campaign kickoff (photo: @saritamanhattan)
---
New York City Public Advocate Letitia James officially launched her campaign for attorney general on Wednesday, seeking to make history as the first woman of color to serve as the state's top legal officer.
James, who is serving her second and final term as public advocate, and is the first woman of color elected to a citywide position, is running in the Democratic primary to replace former Attorney General Eric Schneiderman, who resigned last week after facing allegations of physical abuse from four women with whom he was intimately involved. The position is being held in the interim by Barbara Underwood, who was solicitor general under Schneiderman and his predecessor, now-Governor Andrew Cuomo, while the state Legislature is assessing a slate of candidates, including Underwood, from which they will select an appointee to serve the rest of the term.
The Democratic primary for attorney general and other state-level positions is September 13.
James was seen as the frontrunner for the position even before the Legislature began its selection process, but amid outcry for Underwood to keep the position and against any backroom deals, she declined to seek the appointment and decided instead to only compete in the election. From a dais at the Brooklyn Historical Society on Wednesday, flanked by labor leaders and several members of the New York City Council, where she once served, James spoke of the inspiration she draws from legal stalwarts like Barbara Jordan and Thurgood Marshall, and made the opening pitch her candidacy.
"I was taught at Howard University that the law should be an instrument of change," James said in humble tones, "that the law must be used as a vehicle to right wrongs." She pledged to defend the state's most vulnerable communities, touting her past work as a public defender for the Legal Aid Society and an an assistant attorney general, and her current role heading the office of the public advocate, where she has often used litigation to fight for tenant protections, for children with disabilities, and others, waging high-profile legal battles against the de Blasio administration and against predatory landlords.
James promised to "never, ever waver in my fight to uphold and defend your basic rights," vowing to oppose any harmful policies imposed by the federal government.
There are no other declared Democratic candidates for the fall election at this time. The state party will hold its nominating convention next week, at which James is expected to at least earn a place on the ballot, if not the party's official backing. James has a strong base of support in New York City, including from the labor unions that immediately endorsed her and others likely to follow, but she will need to expand her reach outside the five boroughs to win statewide, both in the primary and what is likely to be a more competitive general election than she has ever faced in heavily Democratic New York City. She'll also need to raise a significant sum of money quickly, which could be helped if she wins the backing of Cuomo, a prodigious fundraiser with deep ties to wealthy donors and seeking a third term this fall.
Although James said in her speech that she tends "not to be about politics," the politics of the race were nonetheless inescapable. The New York Times reported earlier this week that James was telling supporters that Governor Andrew Cuomo and his allies were pushing her to refuse the nomination of the Working Families Party, a prominent smaller political party with a progressive base, or risk losing his support. The governor, who is known for his strong-arm tactics and has clashed with the WFP, which is backing his primary challenger, Cynthia Nixon, denied making the overtures.
On Wednesday morning, James' campaign indicated she will not seek the endorsement of the WFP, saying that she is focused on winning the Democratic nomination, though she has sought and earned both parties' support in the past (James was first elected to office in 2003 as a City Council member solely on the WFP line). The declaration sparked a rebuke of Cuomo from the WFP.
"It is nothing short of outrageous to see Andrew Cuomo demand Tish James jump through hoops that he would never ask a white man to do," four WFP leaders said in a statement that included further attacks on the governor, who had the WFP's backing in his 2010 and 2014 gubernatorial campaigns.
Asked repeatedly by reporters about eschewing the WFP after her launch announcement, James said, "My focus has been on securing the Democratic nomination and I've been working from sunup to sundown securing that nomination." She also denied that pressure from the governor had played a part in her decision not to seek the WFP's backing. "I'm an independent individual, I've always been an independent individual, and if you know anything about me you can rest assured that no one's going to bully me, no one's going to threaten me and no one's going to hold anything over my head."
The Democratic nominating convention will be held next week, while the WFP nominees are expected to be announced this weekend at its own convention. The party is already behind Nixon for governor and City Council Member Jumaane Williams for Lieutenant Governor. It is also backing Comptroller Tom DiNapoli for reelection.
Zephyr Teachout, a law professor who unsuccessfully challenged Cuomo in the Democratic primary four years ago, told Gotham Gazette on Wednesday that she is seeking the WFP nomination for attorney general and that she also plans to appear on the Democratic primary ballot for the position, a spot she will either earn through a vote at the convention next week or through collecting enough ballot petition signatures around the state. Teachout, who is not officially running for AG yet, is currently Nixon's campaign treasurer, an arrangement that may change if she officially declares her candidacy for attorney general.
James' announcement was backed by the forceful endorsements of three labor unions: the New York State Nurses Association, Communications Workers of America Local 1180; and the Retail, Wholesale and Department Store Union. "Tish James listens to every voice and fights for those without a place at the table. She doesn't preach. She acts," said Gloria Middleton, president of CWA Local 1180.
Former City Council Speaker Melissa Mark-Viverito also showed her support to the public advocate, standing on stage along with current City Council Members Laurie Cumbo, Alicka Ampry-Samuel, Andrew King, Mark Levine, Robert Cornegy, and Justin Brannan.
"[James'] whole public experience has been about utilizing the law to really right wrongs and to create equity," Mark-Viverito told Gotham Gazette. "So this particular time when we have such an affront to our democracy by the Trump administration, this attorney general position is critical in us pushing back."
She said James would be a "standard bearer of equity and justice" and said it's "way overdue" that a woman serves as attorney general. "I think it's critical," she said. "Gender does matter, and representation at all levels. We have a diverse state, a diverse city. So government needs to be truly reflective of those experiences and that reality."
While James is the first to officially jump into the primary race and Teachout appears close, several other possible AG candidates are possible. Democratic State Senator Michael Gianaris has said he's considering a run, as has Congressional Rep. Sean Patrick Maloney, also a Democrat. Former United States Attorney Preet Bharara has not ruled it out when making public comments. While Bharara is a Democrat, Bloomberg News reported he may run for AG as an independent. The only declared Republican in the race is attorney Manny Alicandro, though others are said to be considering a run given Schneiderman's resignation.
Ben Max contributed reporting.