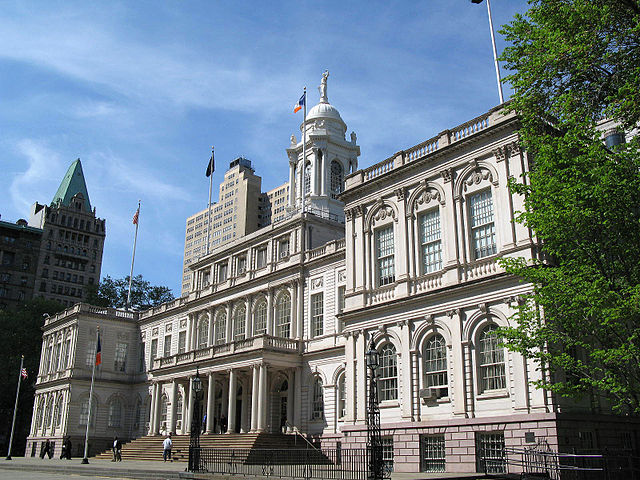 New York City Hall
---
What to watch for this week in New York politics:
It's political party nomination season as this state and federal election year heats up, with federal primaries on June 26, state primaries September 13, and the general election November 6.
Over the weekend, the Working Families Party held its nominating convention on Saturday and the Reform Party held its nominating convention on Sunday.
As expected the WFP nominated Cynthia Nixon for governor, Jumaane Williams for lieutenant governor, and incumbent Tom DiNapoli for comptroller. The party decided to install a placeholder for attorney general and give its backing to both Letitia James and Zephyr Teachout, with the planned intention to give its ballot line to whichever of the two emerges from the Democratic primary. James had said she wasn't seeking the WFP nomination, and her campaign declined to comment on the WFP decision on Saturday. But, James seemed to take a softer stance during remarks on Sunday, according to tweets from the New York Progressive Action Network, where she made an appearance.
"I am still a member of the WFP," James said according to one tweet. "We are joined at the hip. I am proud to be their standard bearer and to be the face of the WFP going forward." Another tweet said that James indicated that eventually she would be on the WFP line, but the language was not completely clear. A Sunday afternoon inquiry to James' campaign was not returned.
On Sunday, presumptive Republican gubernatorial nominee Marc Molinaro announced that Julie Killian would be his lieutenant governor running mate. Killian recently lost a special election for a Westchester state Senate seat to Democrat Shelley Mayer. The pair is expected to be on the GOP and Conservative party ballot lines, and soon after the announcement, the Reform Party leadership voted to back Molinaro for governor and Killian for lieutenant governor.
The Reform Party is also backing former U.S. Attorney Preet Bharara for attorney general, though Bharara has given no public indication he will accept the nomination or run for AG. The party also designated Chris Garvey, Nancy Regula and Michael Diederich to run for attorney general, so there will be a Reform Party primary for AG. And, for comptroller the party is backing DiNapoli, who is likely to have the most ballot lines of any statewide candidate in November.
Coming up this week are the Democratic and Republican state party conventions, both occurring on Wednesday and Thursday, with the Democrats on Long Island and the Republicans in Manhattan. Molinaro is expected to formally earn and accept the nomination on Wednesday, while on Thursday Governor Andrew Cuomo is expected to win and accept his party's nomination for a third time, while Lieutenant Governor Kathy Hochul is expected to accept the party's nomination for her position for a second time. It appears likely that Democratic state committee members will back James for attorney general, though one or more other candidates could earn the 25% of the vote needed to be automatically placed on the primary ballot. Teachout is the only other candidate who has indicated she is going to the convention to seek such backing. Along with the question of whether Teachout earns the 25% to make the primary ballot for AG is whether Nixon and Williams attempt to go to the convention and win the 25% each to appear on Democratic primary ballots as well. If candidates do not qualify at the nominating convention, they can petition to get on the ballot by collecting signatures across the state.
It's not completely clear yet who will be the Republican nominee for attorney general, given that former AG Eric Schneiderman's resignation changed the thinking for many potential candidates of various party affiliations, as well as party leaders. John Cahill, a former top aide to Governor George Pataki and the 2014 GOP nominee for AG is said to be exploring another bid. Jonathan Trichter is likely to be the GOP nominee for comptroller.
While the two conventions will be much of the focus this week, there's more to watch for -- see our day-by-day rundown below.
***Do you have events or topics for us to include in an upcoming Week Ahead in New York Politics?
e-mail Gotham Gazette editor Ben Max: This email address is being protected from spambots. You need JavaScript enabled to view it.***
The run of the week in detail:
Monday
Monday is Student Voter Registration Day, with efforts across the city to register eligible students to vote. (The deadline to vote in this year's congressional primaries, set for June 26, is June 1.)
On Monday, Comptroller Scott Stringer will appear on Fox 5 "Good Day New York" at 7:30 a.m. At 8:30 a.m., Stringer will deliver remarks at the Eleanor's Legacy Spring Breakfast in Manhattan. And at 5 p.m., Stringer will deliver remarks at the memorial service for Mary Sansone in Brooklyn.
On Monday at 10 a.m., "In the wake of one of the coldest outbreaks for December and January in New York City on record, on Monday, Brooklyn Borough President Eric L. Adams, Council Members Ritchie Torres, Robert E. Cornegy Jr. and Mark Levine, will join tenants to announce the introduction of new City Council legislation that would codify the City's ability to install and utilize remote temperature monitors (heat sensors) to enforce the heat requirements established in the City's Housing Code. Standing outside 509 W. 134th St in Upper Manhattan, an apartment building that has the highest number of heating related violations in the city, they will discuss the details of the legislation and how residents can use heat sensors like those created by 2014 NYC BigApps winner Heat Seek NYC- a nonprofit tech organization committed to keeping New Yorkers safe and warm- to remotely track temperature in their homes during the coldest months of the year. Underscoring the imperative to address heating-related harassment, the electeds will present data that highlights problem neighborhoods for heating complaints citywide, which correspond heavily with areas of economic hardship and gentrification."
On Monday at 10:30 a.m. at the Brooklyn Navy Yard, "Congresswoman Nydia M. Velázquez (D-NY) and U.S. Senator Kirsten Gillibrand (D-NY) will visit Ice Stone, a tile, stone fabrication and installation company, to urge the U.S. Senate to pass bipartisan legislation, the Main Street Employee Ownership Act, which just passed in the House of Representatives this month. This legislation would support small businesses that invest in their workers and communities by transitioning to an Employee Stock Ownership Plan (ESOP) or a cooperative (co-op)."
On Monday at 11 a.m. at City Hall Park, "Representative Adriano Espaillat (NY-13), joined by New York State Assemblyman Marco Crespo and community leaders, will hold a press conference calling for secure housing for residents of Puerto Rico in support of the Housing Victims of Major Disasters Act, introduced by Rep. Espaillat earlier this Congress." Other participants will include former City Council Speaker Melissa Mark Viverito, Frankie Miranda of Hispanic Federation, and Ana María Archila of Center for Popular Democracy, among others.
At noon on Monday, "Mayor de Blasio, Deputy Mayor Thompson and Schools Chancellor Carranza will meet with high school students at Manhattan Hunter Science High School who are registering to vote, and deliver remarks marking the first ever citywide student voter registration day. This event is open press. There will be no Q-and-A." At around 5 p.m., "the Mayor will deliver remarks at the memorial service for Mary Sansone" in Brooklyn.
At 12:30 p.m. Monday, Public Advocate Letitia James and City Council Speaker Corey Johnson will make an announcement regarding James' bid for attorney general.
At 6:15 p.m. Monday, "Lieutenant Governor Kathy Hochul Delivers Remarks at Western New York Women's Foundation "What She's Made Of" Event" in Buffalo.
At 7 p.m. Monday, "Census 2020 - Will Brooklyn Count?" at BRIC, featuring Lurie Daniel Favors, Esq., General Counsel, Center for Law and Social Justice at Medgar Evers College; Pastor Gil Monrose, Director of Faith-based and Clergy Initiatives, Office of the Brooklyn Borough President; Betsy Plum, VP of Policy, New York Immigration Coalition; and Steven Romalewski, Director, CUNY Mapping Service.
Mayor de Blasio will make his weekly appearance on NY1's Inside City Hall Monday evening at 7 and 11 p.m.
Tuesday
The State Legislature will be in session on Tuesday in Albany.
On Tuesday at 8 a.m. at New York Athletic Club, Crain's New York Business will host a breakfast featuring Health + Hospitals CEO Dr. Mitchell Katz, who "will talk about his strategies for effecting a financial turnaround at the city's public health system and his priorities going forward" and take questions from Robin Schatz and Jonathan LaMantia of Crain's.
On Tuesday at 8 a.m. at The Library at The Public Theater, "How Greener, Greater Building Tech is Powering NYC," hosted by Capalino+Company. Opening remarks will be given by Zach Aarons, Co-Founder and Advisor, MetaProp NYC, on investing in green building tech. A panel discussion will follow including City Council Member Costa Constantinides, Tucker Reed of Totem, Shane Eten of Lotik, and Marshall Cox of Radiator Labs, moderated by Challey Comer of Capalino.
On Tuesday at 8:30 a.m. at CBRE, "The Association for a Better New York cordially invites you to a breakfast meeting on Tuesday, May 22nd, featuring Carolyn Grossman Meagher, Director of Regional Planning for the Department of City Planning. Ms. Grossman Meagher will present an overview of regional trends in employment and residential growth, and unveil NYC Metro Region Explorer, a new tool for exploring regional data."
On Tuesday at 10 a.m. in Albany, there will be a joint hearing of the Senate committees on Health and Insurance and the Senate Heroin Task Force "To explore access to and coverage of opioid antagonists, such as Naloxone."
On Tuesday at 10:30 a.m. in Albany, there will be a meeting of the New York State Joint Commission on Public Ethics.
On Tuesday at the City Council:
--There will be an executive budget hearing on education at 10 a.m.
--The Committee on Health will meet at 10 a.m. on "Requiring defibrillators at softball fields where youth leagues play."
--The Committee on Transportation will meet at 11 a.m. regarding a bill that "would require that landowners be given at least 75 days, rather than 45 days, to make necessary repairs to the sidewalk adjacent to their property."
--The Committee on Civil Service and Labor will meet a noon on a bill regarding "Health insurance coverage for surviving family members of certain deceased employees of the DOT" and two resolutions: one regarding "US Supreme Court to protect public sector collective bargaining in Janus v. American Federation of State, County and Municipal Employees (AFSCME)" and the other "Acknowledging workers' gains through the American labor movement."
--The Committee on Governmental Operations will meet at 1 p.m. on a bill that "would require that mandatory debates under the Campaign Finance Act be broadcast on a City owned or operated television channel, in addition to any other channel or channels on which they are broadcast."
On Tuesday at 6 p.m., at the New York Bar Association, "Barbara Babcock, Crown Professor of Law, Emerita, Stanford Law School and author of Fish Raincoats: A Woman Lawyer's Life (a memoir) and Woman Lawyer: The Trials of Clara Foltz (a biography of the first woman lawyer in the west)" will deliver the Annual Justice Ruth Bader Ginsburg Distinguished Lecture on Women and the Law. She will speak after welcoming remarks from Roger Juan Maldonado, President, New York City Bar Association and introductory remarks by Associate Justice Ruth Bader Ginsburg, Supreme Court of the United States.
Wednesday
"The New York Republican State Committee will host its 2018 designating convention for the purposes of nominating candidates for the offices of Governor, Lieutenant Governor, Attorney General and Comptroller" on Wednesday and Thursday at The Ziegfeld Ballroom in Manhattan. Wednesday will include nominations for Governor and Lieutenant Governor, followed by the annual NYSGOP gala in the evening, which will feature Tennessee Governor Bill Haslam, chair of the Republican Governors Association.
The Democratic state committee nominating convention will begin Wednesday on Long Island.
The state Legislature will be in session on Wednesday in Albany.
Andy Byford, the head of New York City Transit at the MTA, will present his new plan for the long-term modernization of the subway system on Wednesday at an MTA meeting.
On Wednesday at the City Council:
--The Committee on Finance will meet at 10 a.m.
--The full City Council will hold a Stated Meeting at 1:30 p.m., prefaced by a press conference hosted by City Council Speaker Corey Johnson.
On Wednesday at 7 p.m., BRIC TV will host a forum "Whose war on drugs?" sponsored by The Marshall Project and the Drug Policy Alliance, including Brooklyn District Attorney Eric Gonzalez, journalist Tom Robbins, Kassandra Frederique of Drug Policy Alliance, and Dr. Hillary Kunins of the city Health Department.
On Wednesday at 6:30 p.m. at the Museum of the City of New York, "Dan Doctoroff, founder and CEO of the Alphabet company Sidewalk Labs, and veteran New York Times reporter Charles Bagli discuss New York's Big Comeback, the city's dramatic and unexpected recovery, inspired by Doctoroff's book, "Greater than Ever: New York's Big Comeback" (PublicAffairs, 2017)."
Thursday
When the State GOP convention continues Thursday in Manhattan, nominations will be made for Attorney General and Comptroller.
The Democratic state convention will continue Thursday on Long Island. The convention will conclude with the nomination of Gov. Cuomo for another term and his acceptance speech.
On Thursday in Albany, there will be a joint hearing of the Assembly committees on Judiciary and Health on "Gestational Surrogacy."
On Thursday at 10 a.m. the City Council finance and hospital committees will hold an executive budget hearing.
Friday
Mayor de Blasio may make his weekly Friday appearance on WNYC's The Brian Lehrer Show at 10 a.m.
This weekend is Memorial Day weekend. The next Week Ahead will be published on the evening of Monday, May 28.
***
Have events or topics for us to include in an upcoming Week Ahead in New York Politics? E-mail Gotham Gazette executive editor Ben Max any time: This email address is being protected from spambots. You need JavaScript enabled to view it. (please use "For Week Ahead" as email subject).
***
by Ben Brachfeld and Ben Max
@GothamGazette