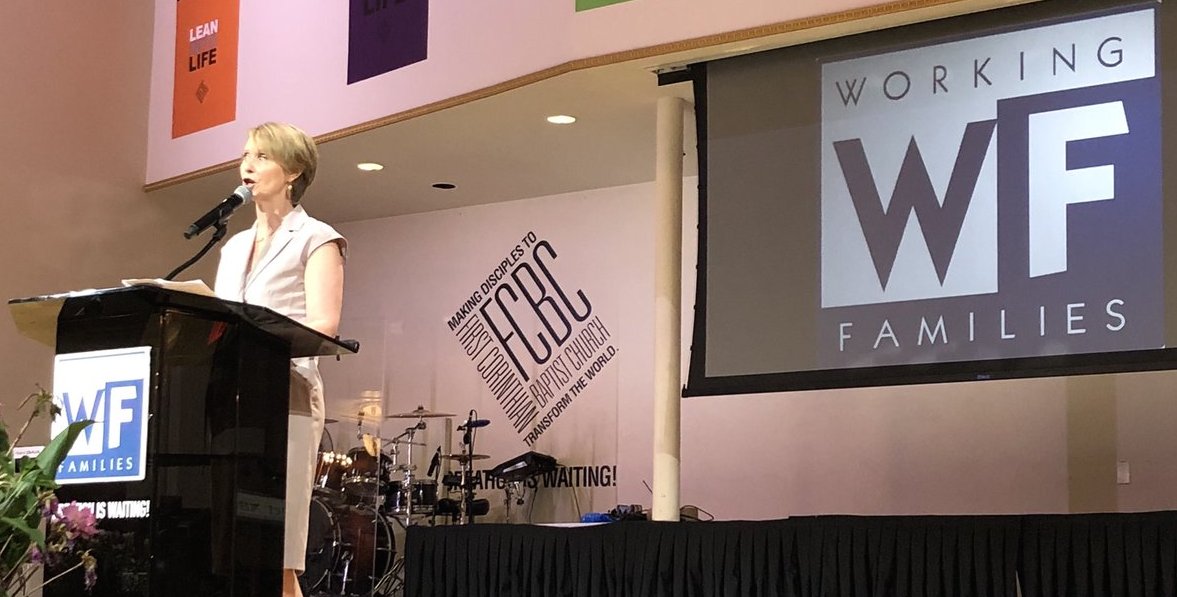 Cynthia Nixon at the WFP convention (photo: Make The Road Action)
---
It's political party convention season as this state and federal election year heats up in New York, with federal primaries on June 26, state primaries September 13, and the general election November 6.
Over the weekend, the Working Families Party and Green Party held their nominating conventions on Saturday and the Reform Party held its on Sunday. This week the Democratic and Republican state parties will hold their conventions, nominating candidates for the four statewide positions of governor, lieutenant governor, comptroller, and attorney general. It is also an election year for one of the state's two United State Senate seats, the one currently held by Senator Kirsten Gillibrand. Democrats currently hold all five of these positions.
Along with those formally backed by the political parties, in some cases other candidates may qualify for the primary ballot if they can earn enough votes from state committee members at the conventions. Candidates also have the opportunity to claim a primary ballot spot by collecting the requisite petition signatures across the state.
Given the weekend conventions, along with other announcements from parties and campaigns, the statewide tickets of the major and minor parties are coming into view.
The WFP
As expected, on Saturday the Working Families Party nominated Cynthia Nixon for governor, Jumaane Williams for lieutenant governor, and incumbent Tom DiNapoli for comptroller.
The party's state committee members decided to install a placeholder for attorney general and give its backing to both Letitia James and Zephyr Teachout, with the intention to give its ballot line to whichever of the two emerges from the Democratic primary. James had said she wasn't seeking the WFP nomination, and her campaign declined to comment on the WFP decision on Saturday. But, James seemed to take a softer stance during remarks on Sunday, according to tweets from the New York Progressive Action Network, where she made an appearance.
"I am still a member of the WFP," James said according to one tweet. "We are joined at the hip. I am proud to be their standard bearer and to be the face of the WFP going forward." Another tweet said that James indicated she would eventually appear on the WFP line, but the language was not completely clear. A Sunday afternoon inquiry to James' campaign was not returned.
The WFP convention was a raucous affair in Harlem on Saturday, with hundreds of party members and supporters gathered to enthusiastically back its slate and rally as it faces an existential crisis given its nasty split with Governor Andrew Cuomo, who is known for attempting to wipe his adversaries off the political map.

In her acceptance speech, Nixon went right after the incumbent governor, who the WFP backed in his 2010 and 2014 runs and she is hoping to defeat in the Democratic primary. (If she does not win that primary, the WFP may seek to replace her on the general election ballot so as to not play spoiler and allow Republican Marc Molinaro to win.)

But Nixon, WFP supporters, and many liberal Democrats are hopeful about the primary and pulling no punches when it comes to attacking Cuomo, who they say has governed as a centrist.

Listing off a progressive agenda of policy plans including tougher rent regulations, a more accessible ballot box, and legalized marijuana, Nixon pledged an inclusive New York for "all of us," that pursues racial, social, and economic justice.

"WFP founders Jon Kest and Bertha Lewis were the first ones to ask me eight years ago to consider running for Governor," Nixon said from the stage on Saturday. "Now, after eight years of Cuomo, and Trump in the White House, I couldn't say 'no.'"
In accepting his nomination, City Council Member Williams reiterated his promise to break the recent mold of lieutenant governors, and not be a rubber stamp or cheerleader for the governor.
"I am running to be the voice of the people in state government, and I could not be more proud to have the Working Families Party by my side," Williams said, during remarks that had the crowd more energized than any other portion of the program that Gotham Gazette saw. "As the people's Lieutenant Governor, I will be an independent advocate for all New Yorkers. I will make certain that our Governor and elected officials uphold their promises, and will hold them accountable for the actions they take."

The Green Party
The Green Party has put its statewide slate forward, with Howie Hawkins again topping the ticket as the gubernatorial candidate. Jia Lee will be the Green Party nominee for lieutenant governor.
After laying out a progressive policy agenda and framework for social, economic, and environmental justice, Hawkins said at Saturday's convention, "The way this is going to play out in the fall is there'll be the progressive Greens, the centrist Democrats, and the conservative Republicans. And the argument, the narrative against us is we're going to spoil it and elect the Republicans, and we have to say 'no, we're the progressive alternative, the Democrats won't solve our problems, don't waste your vote, vote for what you want, make your vote count, make the system come to what you want -- and that's how we leverage power and we make a difference."
Mark Dunlea will be the Green candidate for comptroller and Michael Sussman will be the Green candidate for attorney general.

The Reform Party
On Sunday, presumptive Republican gubernatorial nominee Marc Molinaro announced that Julie Killian, a former Rye City Council member, would be his lieutenant governor running mate. Killian recently lost a special election for a Westchester state Senate seat to Democrat Shelley Mayer. The pair is expected to form the top of the official ticket of the Republican and Conservative parties. Soon after the announcement, the Reform Party leadership voted to back Molinaro for governor and Killian for lieutenant governor.
"Many thanks to Reform Party for its endorsement of Julie and me today," Molinaro said in a statement. "Because no matter your political persuasion, if you are a New Yorker who desires reform, you know that the largest roadblock standing in the way is Andrew Cuomo. This state desperately needs change. Defeating Andrew Cuomo and breaking his iron grip over this corrupt state government is the only thing that will break down the floodgates and make change possible."
The Reform Party is also backing former U.S. Attorney Preet Bharara for attorney general, though Bharara has given no public indication he will accept the nomination or run for AG at all. The party also designated Chris Garvey, Nancy Regula, and Michael Diederich to run for attorney general, so there will be a Reform Party primary for AG. And, for comptroller the party is backing DiNapoli, who is likely to have the most ballot lines of any statewide candidate in November.
Democrats and Republicans
This week will see the Democratic and Republican state party conventions, both occurring on Wednesday and Thursday, with the Democrats on Long Island and the Republicans in Manhattan. Molinaro and Killian are expected to formally earn and accept their nominations on Wednesday, while on Thursday Cuomo is expected to win and accept his party's nomination for a third time, while Lieutenant Governor Kathy Hochul is expected to accept the party's nomination for her position for a second time.
It appears likely that Democratic state committee members will back Public Advocate James for attorney general, though one or more other candidates could earn the 25% of the vote needed to be automatically placed on the primary ballot. Teachout and Leecia Eve have indicated they will go to the convention to seek such backing. Cuomo endorsed James for attorney general on Tuesday, just before the convention.
Along with the question of whether Teachout and/or Eve can earn the 25% to make the primary ballot for AG is whether Nixon and Williams go to the convention and win the 25% each to appear on Democratic primary ballots as well. If candidates do not qualify at the nominating convention, they can petition to get on the ballot by collecting signatures across the state. Randy Credico, a comedian and activist who also ran for governor in 2014 and New York City mayor in 2013, may also be mounting an effort to make the Democratic primary ballot.
On Monday morning, Nixon announced her intention for the convention. "I am attending the convention because New York Democrats deserve to have at least one actual Democratic candidate for governor at their state convention," she said in a statement. "As Governor Cuomo has said himself, he's run this state in a way that would make any Republican proud. The Governor and his allies have bullied progressive community groups and rallied the full force of the big money establishment because they know he doesn't have any progressive credentials to stand on. But I won't be scared out of the room. New Yorkers deserve a choice."
The Nixon campaign also indicated that Nixon has invited state committee members to a conference call to discuss her candidacy, though the details of the call were not provided.
It's not completely clear yet who will be the Republican nominee for attorney general, given that former AG Eric Schneiderman's resignation changed the thinking for many potential candidates of various party affiliations, as well as party leaders. John Cahill, a former top aide to Governor George Pataki and the 2014 GOP nominee for AG was considering another bid but bowed out. Manny Alicandro and Keith Wofford have announced their candidacies.
Jonathan Trichter is likely to be the GOP nominee for comptroller.
State Democratic Party Executive Director Geoff Berman issued a statement on Saturday that took aim at the WFP and the GOP.
"It is convention week in New York, and I am proud to be part of the Democratic Party as we head into our convention," Berman wrote. "The state of the WFP today stands in stark contrast with the state of the Democratic Party. The union-founded party has no working families left after every union has left their ranks."
Berman went on to criticize WFP political director Bill Lipton for orchestrating the party's attorney general nominations and Williams for "an anti-choice and anti-marriage equality record." Williams has made many attempts, including during his WFP acceptance speech, to clarify his current stances in support of abortion access and marriage equality, but he has in the past expressed personal opinions against both.
Berman called Molinaro a "Trump mini-me," though Molinaro has said he didn't vote for Trump in 2016. Molinaro does appear to be mostly aligned with Trump and congressional Republicans on policy, however. "Molinaro is anti choice, anti gun safety, anti LGBTQ, and part of Trump's property and income tax increase plan that ended State and Local deductibility," Berman wrote, though Molinaro has expressed an 'evolution' on marriage equality and inclusiveness toward LGBT New Yorkers, and the Trump-led tax overhaul did not end such deductibility, it reduced it to $10,000 annually.
It is evident that Berman, Cuomo, and other Democrats will attempt to tie Molinaro, Killian, and other Republicans to Trump, who is deeply unpopular overall in New York, though he retains some pockets of significant support in his home state. Molinaro and others will have to rally the Republican base while also appealing to moderates, including many party-unaffiliated voters, in order to win statewide, especially in a year in which Democrats are energized and in good position to swing multiple House and state Senate seats.
One of the most important decisions of the weekend was Molinaro choosing Killian as a running mate. It's not immediately clear that she will be of significant help as the Dutchess county executive attempts to become the first Republican governor since George Pataki. Killian has only held elected office as a Rye City Council member and was a deputy mayor, and she has lost her last two races.
Republican sources indicated that the Molinaro campaign decided it was important to choose a woman for the ticket. Monroe County Executive Cheryl Dinolfo, who was a co-chair of the lieutenant governor candidate search committee for Molinaro, took herself out of the running after Molinaro was apparently strongly considering her, and may have made a better choice. With both Molinaro and Killian lukewarm toward Trump and from downstate, the ticket may not be best suited toward rallying the base or appealing to voters upstate or in western New York.
"Julie Killian is a champion for people who have no voice, who are left behind, who are in crisis and she will never back down from the challenges that are facing our state. I'm proud to have Julie as my partner in this campaign to restore New Yorker's belief in the future of our state," Molinaro said in a statement.
"Marc and I share a vision of New York, that is more affordable, accountable and accessible for all families and I am honored to join his team as a true partner, " said Killian.
A press release from the Molinaro campaign called Killian "a strong campaigner to the key suburban battlegrounds" and noted that in her recent state Senate race she "significantly outperformed President Trump in Westchester in 2016.
"Julie Killian stood out among many great picks to serve as @marcmolinaro's running mate," Dinolfo tweeted on Sunday. "As a former city councilwoman, she knows what it takes to run a government while protecting taxpayers. She will make a great LG!"
Other Parties
The three other parties that have guaranteed ballot lines this year include the Independence Party -- which appears to be nominating Cuomo, Hochul, and DiNapoli -- and the Women's Equality Party, which has not made its nominations yet, but will do so soon. The WEP is likely to back Cuomo, Hochul, and DiNapoli again this year -- the party was launched by Cuomo in 2014 as he attempted to undermine both his female Democratic primary opponent, Zephyr Teachout, and the WFP. It's not clear if either party will make an attorney general choice, though the WEP did issue a call to interested candidates in the wake of Schneiderman's resignation.
The Conservative Party appears set to cross-endorse the Republican ticket for statewide seats.
The Libertarian Party, meanwhile, typically petitions to get a candidate on the ballot and has this year nominated Larry Sharpe for governor. Sharpe and the Libertarian Party are hoping to crack the 50,000-vote threshold to earn an automatic ballot line over the next four years. The party came close in 2010 with a different candidate, and Sharpe, who has been actively fundraising and campaigning, is seen as the strongest candidate the party has backed in several cycles.
Note: this story has been updated as events change and to include Larry Sharpe's Libertarian candidacy.