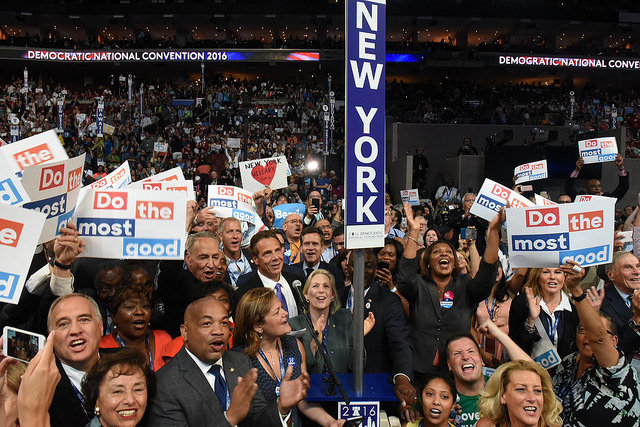 New York Democrats at the 2016 DNC (photo: New York Democratic Party)
---
This year's statewide election campaigns are in full swing, with the Democrats and Republicans hosting their nominating conventions this week. While Republicans are set to back a unified slate of candidates to avoid contested primaries, the Democratic Party finds itself in a degree of turmoil with multiple incumbents facing primary challenges from the left and a progressive base increasingly disillusioned with the state party machinery.
As the September primary and November general ballots begin to take shape, all eyes are on the State Democratic Committee, which will host its convention at Hofstra University on Long Island on Wednesday and Thursday, kicking off with a keynote speech from former U.S. Senator from New York, Secretary of State, and Democratic presidential candidate Hillary Clinton. Democrats from across the state, including more than 300 state committee members, will gather to vote on their preferred nominees and on various proposed resolutions and party rule changes.
Nominations for Statewide Positions
There's little doubt that Governor Andrew Cuomo, who is running for a third term, and his running mate, Lieutenant Governor Kathy Hochul, who is seeking a second term, will be chosen as the state party's nominees at the convention. Though both are being challenged from within the party, their nominations seem a foregone conclusion, according to a leaked convention agenda first reported by NY1's Zack Fink.
The key question, though, is how much support Cuomo and Hochul will each earn from their party members.
Cuomo is being challenged in the primary by actor and activist Cynthia Nixon, who won the nomination of the Working Families Party over the weekend and is guaranteed a spot on the general election ballot if she and the party decide to keep her there. As per the Democratic Party's bylaws, a candidate will have to receive 50 percent of the weighted vote of committee members at the convention to win the primary nomination. Cuomo controls the state party apparatus and has enough support to be guaranteed the nomination. He's also set to be endorsed by Clinton, who handily won New York in her failed bid for the presidency in 2016.
Nixon would have to receive at least 25 percent of the weighted vote to make it onto the Democratic primary ballot, failing which she would have to gather enough petition signatures to qualify. The same goes for New York City Council Member Jumaane Williams, who is running against Hochul and also has the WFP line. Both Nixon and Williams will be attending the convention. In a statement on Monday, Nixon said, "The Governor and his allies have bullied progressive community groups and rallied the full force of the big money establishment because they know he doesn't have any progressive credentials to stand on. But I won't be scared out of the room. New Yorkers deserve a choice."
Williams, in a phone interview, said, "I'm confident that I'll be on the ballot in September."
While governor and lieutenant governor candidates compete separately in the party primaries, they become a ticket for the general election.
Incumbent Comptroller Tom DiNapoli does not have any challengers and is expected to be nominated again without controversy.
On the other end of the spectrum, the recent resignation of Attorney General Eric Schneiderman, following allegations of physical abuse by four women, has led to a small scrum of Democrats vying for the open seat.
The presumed frontrunner is New York City Public Advocate Letitia James, who rejected the WFP's likely nomination over the weekend to focus on the Democratic convention (and perhaps to side with Cuomo, who had a dramatic falling out with the WFP, and key labor unions who chose Cuomo over the WFP). Fordham Law professor Zephyr Teachout, who challenged Cuomo in the 2014 gubernatorial Democratic primary, is also seeking the Democratic nomination for attorney general, though she has not officially declared her candidacy. The WFP chose a placeholder for their ballot line and expressed support for both James and Teachout and is expected to back whoever prevails in the Democratic primary.
It's not clear what kind of support Nixon, Williams, and Teachout will receive at the convention. All are popular with the left wing of the Democratic Party, but may not have sway over that many state committee members.
"I feel that it's going to be a coronation of Andrew Cuomo, you know, pre-orchestrated," said Jay Bellanca, a state committee member from upstate and co-chair of the New York Progressive Action Network.
New York State Democratic Party Executive Director Geoff Berman said in a phone interview that the nominations are not decided until the votes are complete. He refuted any suggestion that the convention was a formality, as some critics have said.
"I think we have a very strong progressive set of incumbent statewide officeholders who have accomplished a lot and have a strong record to run on for another term," Berman said. "We have an open attorney general race at this point and I'll let the members of the committee speak for themselves with their votes."
"We run an open, fair process," he insisted.
"The state committee is still...very opaque, even to members and still has the feeling of an insiders club," said Ben Yee, a state committee member.
"I'm not 100 percent sure that Cynthia and Jumaane will get the 25 percent required to not petition, but I do feel confident that a contingent of state committee members will vote for them," Yee added. He said there's a "good chance" they'll each get the 25 percent.
H. Scottie Coads, a state committee member from Long Island, said she is looking forward to the convention. "We have some really progressive candidates looking to get reelected and I'm supportive of all of them...I'm a team player and I'm staunchly behind my governor," she said. "It's an exciting time and I think when you have progressive people running, it's very important that we put our best foot forward and that's what we intend to do at the convention. Aside from that, I intend to have a good time."
Resolutions, Rule Changes & A Rogue Democrat
At each convention, the state committee votes on various resolutions advanced by members and on potential changes to its bylaws. The agenda revealed by NY1 showed proposals that were both humdrum and controversial, some of which were known beforehand.
A prominent rule change introduced by NYPAN's Bellanca and supported by progressive activists would allow as many as 2.6 million voters unaffiliated with any political party to cast their ballots in the Democratic primary. The change could significantly affect election results though it's unclear if it can pass the convention since it would require a two-thirds majority of state committee members.
Bellanca pointed to the leaked agenda, in which the resolution was already listed under "tabled," as proof that the results are predetermined. "I'm expecting it to be somewhat ridiculous," he said, assuming that that resolution and others that would reform the party are "probably" dead.
"I think they're going to try and kill them," he said.
Two resolutions were targeted at rogue state Senator Simcha Felder from Brooklyn. Felder is a registered Democrat who was reelected in 2016 on the Democratic, Republican and Conservative Party lines. He is a conservative who caucuses with Republicans, giving them a one-seat majority in the state Senate and effectively thwarting any legislation forwarded by the more progressive Democratic conference.
The convention's leaked agenda suggests that certain committee members may seek to kick Felder out of the party, or at least to formally support whoever challenges him in the September primary and devote resources to such a challenger, currently Blake Morris. If Felder is defeated, that alone could flip the state Senate to Democratic control, though there are a number of swing districts around the state that will be at play this fall when the entire Legislature is up for election.
The committee is also expected to take up a resolution to financially support Democrats running for state Senate seats and calling for loyalty pledges from former members of the Senate Independent Democratic Conference -- who used to caucus with Republicans and support their hold on the chamber. Cuomo, who tolerated and allegedly encouraged the IDC's existence for seven years, recently brought the breakaway conference back into the fold and is taking stronger steps to regain Democratic control of the Senate after lackluster efforts to achieve that in the past, leading to criticism from many Democrats, especially more liberal members of the party.
Another party resolution would call for the closure of the much-derided LLC loophole in the state's campaign finance law, which allows untold amounts of money to flow to state electoral candidates from hidden donors. Cuomo has repeatedly called on the Legislature to close that gap in the law, even as he has been its biggest beneficiary and declined to voluntarily turn off the spigot.
"The nominations will be pretty straightforward," Yee said. "It won't cause too much division...If they try to table the resolutions and refuse to allow debate on opening the primaries or ejecting Felder from the party, it'll cause displeasure and hurt the trust between the progressives and the party."
There are other proposals which have yet to be fleshed out but could make for heated debate, including changes to the process of selecting candidates for special elections; changes to how delegates to the Democratic National Convention are chosen; changes to how the state party's chair and executive committee are chosen; requiring statewide candidates to submit 10 years of tax returns; and an "outside independent investigator for sexual harassment allegations," among others.
Yee, who serves as secretary for the Manhattan branch of the state party, said that if a resolution calling for more budget transparency from the state committee to its own members fails to pass, it'll cause consternation among the progressives who are already incensed by what they see as the party's misuse of funds. Case in point: the party's massive outlay for a media campaign that seemed to support the governor rather than promote the party's positions. Yee said the issue was prominent in the last few months but has been subsumed by larger political developments.
Party Unity or Party Fealty?
It's hard to tell whether the Democrats will emerge from the convention as a unified force or as a fractured party. For many progressives, the nominations seem predetermined and the convention a farcical show of party democracy.
"It's very finely tuned and finely orchestrated, but I think there's going to be a lot more contention than we've ever seen before at this convention," Bellanca said. Cuomo's strongarm tactics have alienated members like Bellanca, who see the governor's influence extending through the state party and directed at his opponents.
Council Member Williams put the onus on the party leaders, noting that the party hasn't learned its lesson from the 2016 election, when the DNC chose to support Clinton's candidacy over Vermont Senator Bernie Sanders, who energized the left, whom Williams endorsed. "It seems whenever they talk about party unity, they always talk to the people on the left and never take ownership of party unity themselves," he said. "So it's about time the people who are in leadership, the people who are in power, also do some things that are unifying. They don't seem to do that very often and a good chance to do that is at this convention."
A number of progressive groups including NYPAN, Our Revolution, and Indivisible NY intend on holding a Tuesday presentation at the Marriott Hotel, where convention delegates will be holed up, on the DNC's Unity Reform Commission report -- issued in the wake of the 2016 presidential election -- to try to convince committee members to support their proposals.
Nixon also indicated on Monday that she had invited state committee members to a conference call to discuss her candidacy as she hopes to earn support at the convention.
The state party's Berman brushed aside any concerns about the future of the party and whether this election cycle will expose a deep rift between the various ideological factions within it. "The values and issues that unite us as a party far outweigh any disagreements folks may have," he said, "and I'm very confident that coming out of the convention and going into the elections in the fall, we will be a strong unified party supporting a strong progressive ticket."
Coads, the Long Island committee member, hoped and prayed for unity, holding up New York as an example to other states. "I'm positive about it and if we don't, we'll find a way to unify as we go forward," she said.
Bellanca disagrees. "I think the war's still going to be going on between the progressive, reform wing and the establishment that wants first class seats on the Titanic," he said.