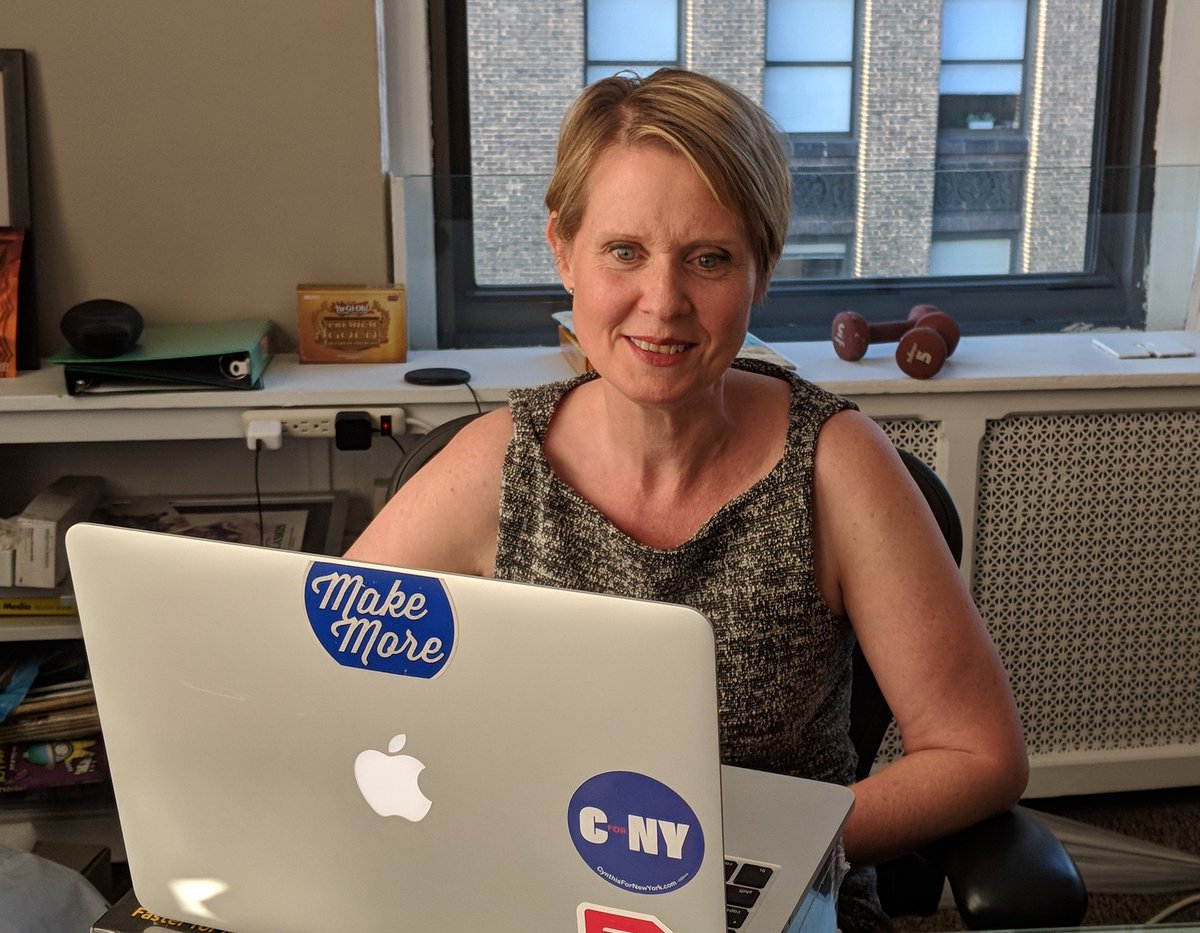 Cynthia Nixon (photo: @CynthiaNixon)
---
Cynthia Nixon is "unsurprised" by the result of the state Democratic party convention held this past week on Long Island, where she received less than five percent of the party committee members' vote ahead of the gubernatorial primary election in September, much less than the 25 percent she needed to have her name automatically included on the ballot.
The result means Nixon will have to petition thousands of people across the state to appear on the primary ballot against two-term incumbent Governor Andrew Cuomo, an endeavor she says she is confident she can achieve ahead of the July 12 petition deadline.
"I welcome this day with the Democratic convention behind us and I just want to be clear: This was not a shocking outcome, this is the outcome we expected," she told those on a Thursday evening video conference call run by the Working Families Party, a liberal party that, along with several other progressive groups, has endorsed her. "We're going to hit the streets and we're going to collect 50,000 signatures across the state."
Speaking to volunteers and supporters who had logged in to see Nixon speak about the campaign's next steps, she said she doesn't feel threatened by the party's overwhelming endorsement of Cuomo, who received 95 percent of the vote and was endorsed at the convention by a variety of figures, including by former presidential candidate Hillary Clinton and former Vice President Joe Biden. As governor, Cuomo effectively controls the state party apparatus, though some of criticized him for exercising too much control amid primaries, when the party is in theory supposed to stay largely neutral.
"The Democratic state committee made their choice and, on September 13, the people of New York state are going to make their choice," Nixon told the call, referencing the primary election date in September, ahead of the general election set for November 6. "[They will] make their choice, not for an administration that's in the pocket of big money and the real estate industry and the fossil fuel executives and the hedge fund managers, but...for a New York that works for all of us."
Since announcing her intention to run for governor in March, Nixon has been highly critical of Cuomo, saying his relationships with big corporate donors and tendency toward centrism prohibit him from delivering real change in areas such as education, immigration, affordable housing, and criminal justice reform. She escalated this criticism on the Working Families call, referencing a range of political touchpoints and slamming the governor for failing to deliver results.
"We can't just pay lip service to being a sanctuary state, we have to be a real sanctuary state," Nixon said, before taking a jab at Cuomo for his speech at the convention that accused President Donald Trump of demeaning and degrading the people of New York. "You can't just oppose Donald Trump rhetorically," Nixon said. "You have to do it with action and you have to do it with policy, if you mean it."
Nixon was particularly critical of Cuomo's hesitation in protecting undocumented New Yorkers with access to driver's licenses. "The governor could do this via Executive Order today if he had the will to," Nixon said. "Why doesn't he? And why aren't we offering protection?"
Another example of Cuomo failing to meet his promises, Nixon said, is his failure to pass "Kalief's Law," named after Bronx teenager Kalief Browder, who took his life in June 2015 after three years in Rikers Island prison where he was awaiting trial for allegedly stealing a backpack at age 16. The bill includes several measures to ensure the "effective and humane treatment" of incarcerated youth and, though Cuomo signed into law the "Raise the Age" bill in April last year, which will see the majority of cases involving 16- and 17-year-old defendants referred to Family Court, Nixon said the governor has not done enough for Browder's family or to prevent a similar tragedy from happening again. Cuomo had said bail reform was at the top of his agenda this year, but did not pass any measures through in the budget, blaming Republicans.
"Our governor says he's going to do it, he affirms it, he touts this family, and their tragedy, and their pain, but when push comes to shove it's not in the budget," Nixon said. "The session is almost over, we've got just a few more weeks, and I don't think…the Browder family is going to see their promise kept."
Nixon had held a community roundtable discussion in the Bronx earlier in the day, at which Browder's brother, Akeem, was an organizer and participant.
On education, Nixon said the governor doesn't have the "political will" to end segregation and inequality in state public schools. She also spoke about affordable housing, gentrification, and supporting small businesses, criticizing Cuomo between reiterating some of her own policy positions.
Nixon is seemingly using the convention result -- calling it a decision of the party's "power brokers" -- to enhance her public appeal as an outsider and an underdog. A cornerstone of her campaign is that institutionalized politicians like Cuomo are failing to deliver change because the institution itself -- in terms of campaign finance and voter accessibility -- is broken or corrupt.
She said that "at the state Democratic convention the voice of progressives was intentionally not being amplified," in reference to the fact that the meeting of the state committee's progressive caucus did not have a microphone set-up.
At the convention, Cuomo basked in the adulation of top party luminaries as well as the rank-and-file committee members. Other speakers and the governor himself painted Cuomo as the present and future of the Democratic Party, someone who is leading the progressive way in New York by getting things accomplished. Critics including Nixon say the convention was filled with party loyalists who represent more of the establishment wing of the party, not the ascendant progressive wing, frustrated with Cuomo for his triangulating approach to government.
Nixon said she knew what would happen at the convention, "but we wanted to show our faces and say: 'We're not afraid, we're not intimidated, we're here. You're going to make your choice, we know the choice you're going to make, and tomorrow we're going to hit the streets.'"
A portion of the call was dedicated to strategy around volunteer recruitment and, according to a press release from the Nixon campaign on Friday, more than 600 people were logged in listening to the best ways to become involved and support Nixon over the next few months. The call was designed to activate volunteers, who will go on to canvas and knock on doors to reach voters across the state. Community leaders, student leaders and a disability rights advocate also spoke, sharing their reasons for joining Nixon's campaign.
"I'm a lifelong Democrat and this is my party, too," Nixon told those on the call. "A Democratic primary is good for the party and good for the state and we were there to…walk right into the lion's den."
Note: this article has been corrected to reflect that Nixon was talking about driver's licenses for undocumented immigrants, not the Dream Act as originally stated.