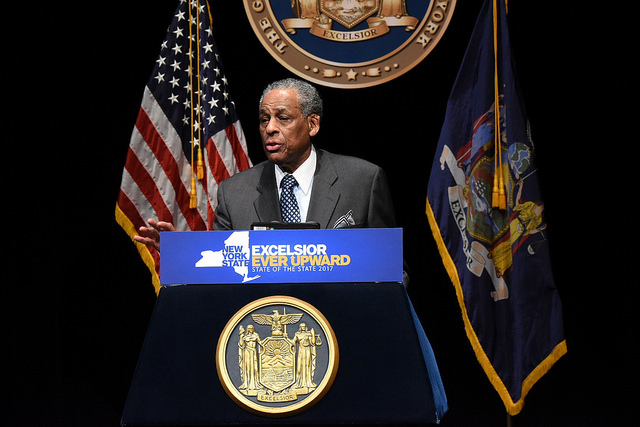 Carl McCall (photo: Governor's Office)
---
The pay commission tasked with proposing salary adjustments of New York State legislators, statewide elected officials, and top executive branch employees, created in this year's enacted budget, appears to be in a state of disarray.
The appointed chair of the commission, New York State Chief Judge Janet DiFiore, announced in May that she could not serve on the commission, citing what she believed to be the unconstitutionality of a judge determining matters that could end up before her in court. She has not been replaced, and the commission has not held a meeting.
The commission, as laid out in the budget document passed in late March, is to be made up of five individuals: DiFiore, State Comptroller Tom DiNapoli, City Comptroller Scott Stringer, former State Comptroller Carl McCall, and former City Comptroller Bill Thompson. McCall and Thompson are now chairs of the Boards of Trustees at SUNY and CUNY, respectively.
The commissioners have until December to submit recommendations for whether legislators in the Assembly and Senate, statewide officials (governor, lieutenant governor, comptroller, and attorney general), and certain executive branch officials should receive a pay increase, and if so, by how much. Legislators, who are elected every two years, have not had a base salary increase in nearly 20 years. A different effort at a pay commission went off the rails in 2016 when Cuomo, through his appointees, insisted on ethics reforms in conjunction with salary increases. The governor has said he supports higher salaries for lawmakers but that he also wants to see accompanying changes, and he has insisted that it is essential to raise the pay the state offers agency commissioners and top gubernatorial aides in order to attract top talent.
Along with salary, the new commission can also make other recommendations, such as the prohibition of outside income that Cuomo says is necessary, and its recommendations will automatically go into effect if legislators don't act to prevent it before January 1, 2019.
The commission, in the midst of the ongoing drama, has not held a meeting in the more than two months since its creation.
A spokesperson for DiNapoli, Jennifer Freeman, said that there are no firm dates yet decided on for the first meeting, but that "dates being discussed are currently in July." This would give commissioners approximately five months to deliberate and draw up recommendations. It is unclear what will happen with the position intended for DiFiore, and whether legislators may need to pass a bill to name a new commissioner before their session ends later this month.
State legislators receive a base salary of $79,500 per year, unchanged since 1999. Legislators are allowed to earn outside income, opening the door to conflicts of interest. Majority conferences also award stipends, colloquially known as "lulus," to committees chairs, a practice that has been abused.
The system, as it stands, has been alleged to help foster a culture of corruption and limit the pool of individuals who will consider working in state government.
When the 2016 commission fell apart, good government groups criticized it and state leaders for failing to raise lawmakers' salaries. Reinvent Albany, one reform group, is among those in favor of a pay raise, saying that the cost of living has risen substantially since the 1999 wage was set, and that the salary not keeping up with the cost of living leads to more lawmakers taking outside income.
"I think most people recognize that, in particular for the New York City members, that it's awfully hard to make a living off the salary they make if they're not holding outside jobs," said Alex Camarda, Reinvent Albany's senior policy advisor. "And there's certainly been a desire by the good government community to see elected officials have their outside income curtailed so that they don't have conflicts of interest when they are considering policy before the state."
Citizens Union, another government reform group, said the prior commission should recommend pay increases but not tie them to other legislation, including ethics reform, to avoid any exchange of policies that have merit on their own and the typical Albany horse-trading. Though a deal that largely involves aspects of legislators' jobs would be less transparently questionable than the 1999 trade that saw pay increase tied to legislation establishing charter schools in New York.
In a statement to Gotham Gazette, Ethan Geringer-Sameth, public policy and program manager at Citizens Union, said that CU's position remains unchanged: that legislators should get a pay raise, that the pay raise should be decoupled from other legislation, and that the increase should be even higher if outside income is banned. The organization also wants to see a wide range of ethics and campaign finance reform enacted separately.
The U.S. Congress and the New York City Council both pay members substantially more than the State Legislature: members of Congress make $174,000 while members of the City Council make $148,500. The City Council, in 2016, voted to raise salaries substantially, from $112,500 to $148,500, while also banning almost all forms of outside income.
"Outside income was severely limited and the Council Members here in New York City got a substantial pay raise," Camarda said. "And I think it serves as a model for the state as well as the U.S. Congress. And it would be good to put it to bed finally."
Cuomo, as of two months ago, conditionally supports pay raises for legislators; the governor said in March that he would support pay raises for legislators if the budget was passed on time, which it was. The governor's office appears to have reverted to a neutral stance on the issue.
"There is now an independent commission that will review legislative pay that has not increased for 18 years. We'll leave it to the commission to decide – that is what is in the law," said Cuomo spokesperson Tyrone Stevens in an email to Gotham Gazette. Stevens declined to comment about what will happen with the commission post DiFiore has declined.
Through a spokesperson, DiNapoli declined to comment on the commission or his positions on the matters at hand. A representative for Stringer did not respond to requests for comment. McCall also declined to comment; a representative said that the commissioners are refraining from public comment before the meeting takes place. Thompson could not be reached for comment.