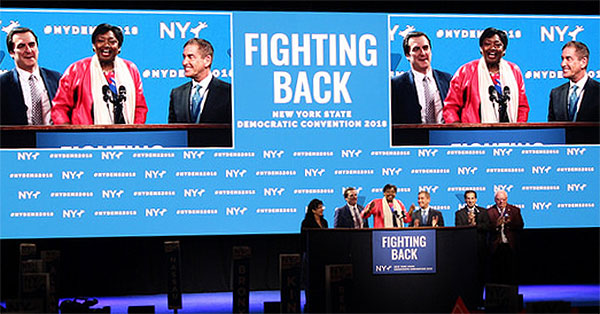 Andrea Stewart-Cousins at the state party convention (photo: Samar Khurshid/Gotham Gazette)
---
While policies to prevent and punish sexual harassment were being decided in Albany during state budget negotiations earlier this year, four men led the closed-door talks: Governor Andrew Cuomo, Assembly Speaker Carl Heastie, Senate Majority Leader John Flanagan, and the leader of the now-defunct Independent Democratic Conference Jeff Klein. Even as female aides had some level of participation, there was a great deal of scrutiny of the absence of Andrea Stewart-Cousins, the leader of the Democratic minority in state Senate, especially given that Cuomo's office had indicated she would be included.
"You would've thought you would've been able to get in a room and at least let her say something," Stewart-Cousins said of her own situation during a recent episode of the Max & Murphy podcast from Gotham Gazette and City Limits. "Never happened."
Stewart-Cousins called it a feature of "an institution that has institutionalized a lot of stuff," and said that "breaking those norms are really, really difficult things to do."
But breaking established ways of doing things is something of a pattern for Stewart-Cousins, who is both the first woman and the first African-American woman to be elected as the state Senate minority leader. Now, after post-budget reconciliation between the mainline Democrats she leads and Klein's IDC, Stewart-Cousins is also in position to become the first woman and woman of color to be the majority leader of the Senate, depending on the results of the fall elections. They are elections she is becoming increasingly involved with, she indicated on the podcast, connecting the upcoming attempts to flip seats from Republican to Democrat as part of a "blue wave" sweeping the nation.
Stewart-Cousins' frame for viewing the elections and potential Democratic majority in the Senate, and thus the Legislature given the party's stranglehold on the Assembly, is the recent Senate reunification, pushing her, it seems, to be more forgiving, take the long-view, and look ahead, not back.
Exclusion from the anti-sexual harassment talks – and the state budget discussions in general – may be a thorny issue, but not one that poses a major point of contention between Stewart-Cousins and her colleagues.
"It goes back to the basic tenet: a house divided against itself can't stand," Stewart-Cousins said in response to a question of her possible frustrations with elements of the unity deal that was struck among her, Klein and Cuomo in April, and whether she trusts Klein. "How are we gonna do this?...I'm not gonna be sitting there having people somehow undermine the efforts that we have to be a team. That's always been the case."
There are still challenges to the notion of a unified Democratic front: each of the eight former members of the IDC is facing a primary challenge, and while the Democratic establishment has agreed to mutual support, a number of grassroots groups and a handful of elected officials are backing the challengers.
On the podcast, Stewart-Cousins emphasized that she has endorsed all incumbent Democratic senators, including those who were formerly part of the IDC, "so that people are very, very clear where I stand," she said in response to a question of whether or not she would tell fellow party members to drop their support for the challengers. "I think that in and of itself sends a message."
While she did not call primaries a bad thing, Stewart-Cousins further emphasized the importance of moving past former divisions in order for the party to function. "I think that's over," she said of the Senate Democratic division, "and it's up to me...to give the kind of support and respect that I should be giving as the leader and as a colleague, and I believe that we set that tone," she said. "There's nobody coming in feeling less than, unworthy. There's no recriminations."
In response to a question of whether Cuomo – who has long been criticized for encouraging or at least tolerating the IDC's existence – could have brokered such a unity deal earlier on, and thus possibly prevented the handicapped progress on key issues for the Democratic Party, Stewart-Cousins said, "Like I always say, he did make it happen....I don't think he was terribly concerned about the situation because as far as we he was concerned, maybe it was manageable. I think it's gotten to the point where it was looking unmanageable because of all the different factors, so he asserted himself."
If the Democrats are able to obtain majority control of the state Senate in November, a policy agenda including action on immigration, climate change, voting and elections, campaign financing, reproductive rights, and more may move. Stewart-Cousins referenced pieces like the Child Victims Act and the Dream Act stagnating in the currently Republican-controlled state Senate. Additionally, Republican senators recently blocked Democrats' attempts to see voting on the Reproductive Health Act and the Comprehensive Contraception Coverage Care Act – two pieces of legislation that would, respectively, enshrine in New York law the same reproductive rights under the Supreme Court's Roe v. Wade ruling and mandate accessibility to birth control medication – when Democrats attempted to push them through late last month.
"There's so many things that we could do in addition to, obviously, the things that we're bringing up today," Stewart-Cousins said.
For their part, Senate Republicans often seek to 'warn' New Yorkers of what full Democratic control of state government could bring. "The New York City politicians who think it will be easy to flip the State Senate and impose their radical agenda on the people of New York should take heed," said Senate spokesperson Scott Reif, in an April statement. "Our Majority represents the checks and balances, and the real accountability that hardworking taxpayers need and deserve. Without us it's one party rule, higher taxes, runaway spending and New Yorkers will be less safe."
Democrats first need to contend with reconciling the different wings within their own party, a division apparent in the challengers to former IDC members and to Cuomo. Stewart-Cousins has unique perspective, representing Senate District 35, an area that includes towns like Yonkers, White Plains, and Scarsdale, with a wide variety of Democrats and plenty of Republicans and party unaffiliated voters.
Asked which wing of the party she identifies with, Stewart-Cousins deemphasized the ostensible differences in her party. "I've been able to, I think, gain a perspective that a lot of people don't have as it relates to governing," she said, referring to her unique position as the first Democratic leader representing a district outside New York City in a hundred years. "Everybody pretty much wants the same thing. It's not different. It's how you deliver these things or how you're able to characterize these things or how you react is really where the differences lie."
On the question of primaries, like that Governor Cuomo is facing, Stewart-Cousins took a different approach from some others, like Lieutenant Governor Kathy Hochul. "I certainly have no problem with the fact that there's a primary going on," she said, responding to a question of whether or not the gubernatorial candidacy of challenger Cynthia Nixon is emblematic of the Democratic Party being a 'house divided.' "The conversations about the vision for New York and who should lead it are valuable," she added.
For now, at least, Stewart-Cousins maintains a face of smiling unity toward Klein, who serves as her deputy, and the rest of the Democratic Party.
Asked if there's a chance that party members pull another IDC-esque ploy in the coming years, Stewart-Cousins said, "The environment has changed and that's why I think this unity works, because we've been to the other side. We know what that looks like, and I don't know if anybody needs or wants to go back there again."
[Listen: Max & Murphy Podcast: Senate Democratic Leader Andrea Stewart-Cousins]