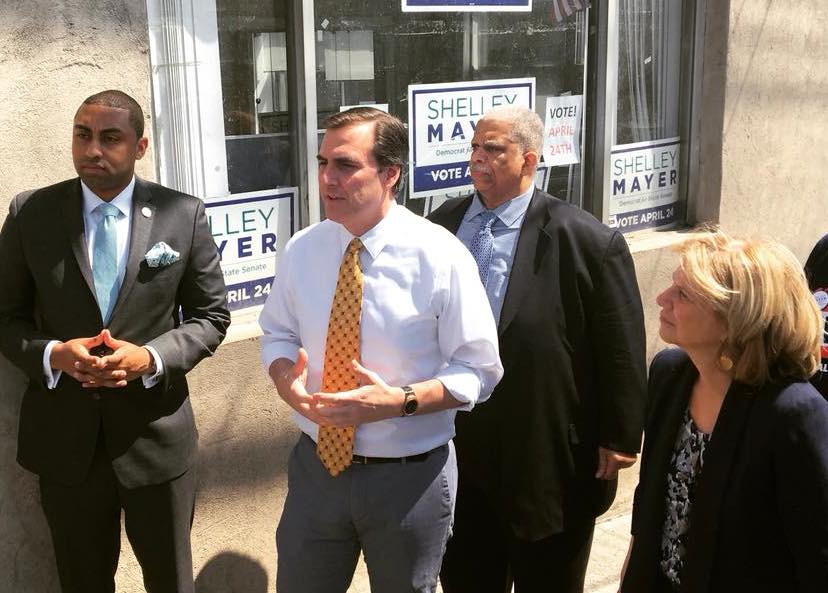 Senator Gianaris and colleagues (photo via Gianaris Facebook)
---
Predictions of a nationwide "blue wave" of anti-Trump sentiment resulting in major Democratic gains have been tempered as the president maintains strong support among Republicans and the economy, broadly speaking, is going strong.
But even if the blue wave ends up being more like a trickle, that would be good news to state Senator Michael Gianaris of Queens, who chairs the Democratic Senate Campaign Committee (DSCC) and needs to net just one seat this fall to take control of the chamber and thus the entire Legislature.
In an interview as the end of session and official start of campaign season approached, Gianaris said Republicans have been holding on to numerous seats by slim margins.
"By virtue of the gerrymandering that's happened here in New York in the Senate, Republican districts are stretched so thin and their margins of victory are always so narrow that a trickle is enough for us to make a difference," he told Gotham Gazette.
"It's just a question of degrees. Any tip in our favor will lead to more seats in our hands, and we're one seat shy. So, we're very optimistic," he said, echoing a sentiment shared by Senate Democratic Leader Andrea Stewart-Cousins, who could become the first woman and first woman of color to lead the Senate if the Democrats take control.
Gianaris said the DSCC won't start investing in individual Democrats' campaigns until late summer or early fall. He mentioned numerous seats the committee might target throughout the state, though it is yet to make a decision about Senator Simcha Felder and his Brooklyn district.
Republicans are blocking Democrats from controlling the chamber thanks to Felder, who is a registered Democrat and has repeatedly run on the Democratic line, but caucuses with Republicans. Felder ran unopposed in 2016 and appeared on both major party ballot lines.
At their state nominating convention last month, Democrats passed resolutions to kick Felder out of the party and support a challenger to him. He is still running as a Democrat, though.
While Gianaris called Felder's seat "a hostile district" -- and he faces a Democratic primary challenger, Blake Morris -- Gianaris said the DSCC was still waiting to determine if it would get involved in the race.
"What we're evaluating is, is beating Felder in a primary more or less likely than winning some of these general election contests?" Gianaris said. "We have a lot of opportunities on our plate."
Most of those opportunities appear to be outside the five boroughs -- there are just three members of the Senate Republican conference that represent New York City districts -- Senators Felder, Marty Golden, and Andrew Lanza.
Gianaris also shied away from committing to either of the Democrats in the other potentially intriguing New York City general election Senate race, for Golden's Brooklyn seat (Lanza, of Staten Island, is not seen as beatable). The incumbent has provoked a streak of damaging headlines -- ranging from alleged threats against a bicyclist to parachuting while receiving disability payments -- providing Democratic challengers Ross Barkan and Andrew Gounardes plenty of fodder for attacks.
"There's one blunder after another that will make that race even more possible than usual," said Gianaris.
But he added, "I try to look at it coldly. As long as I pick up the seats I need, which right now is one...I'm agnostic as to where it comes from."
Golden ran unopposed in 2016. He won easily in 2014 and 2012, when he beat Gounardes by a decisive margin.
As this year's legislative session ended, the Senate -- Republicans' only stronghold at the state level given Democratic control of the Assembly and all four statewide positions -- was deadlocked 31-31 between Republicans and Democrats since the GOP's 32nd senator, Tom Croci of Long Island, was called to active duty with the Navy last month. Through the fall elections, Democrats must net just one seat to take the majority in the chamber for the first time in nearly a decade. Depending on the results of the gubernatorial race -- no Republican has been governor since 2006 -- Democratic control of the upper chamber could pave the way for passage of a slew of the party's priorities.
Gianaris indicated Democrats are likely to focus on two Long Island seats where the incumbent won by razor-thin margins two years ago: Republican Senator Carl Marcellino, who won parts of Nassau and Suffolk Counties by less than 1 percent of the vote; and Democrat Senator John Brooks, who won by an even smaller margin.
Gianaris also pointed to the high number of Republicans who have announced they aren't seeking reelection. In addition to Croci, they include John Bonacic of the Hudson Valley, John DeFrancisco of Syracuse, William Larkin of Orange County, and Kathy Marchione of Saratoga. Not all of the seats are in play for Democrats, but some appear to be.
Gianaris is also eyeing Republican seats that Democrats have won in the past - the 46th district outside Albany, currently held by George Amedore; and the 41st district in the Hudson Valley, where Sue Serino is the incumbent.
"Before you know it, you're looking at 10 to 12 pockets of opportunity on offense and, effectively, the only seat we have to defend is John Brooks,'" he said.
Senate Democrats have crowed over Republicans' resignation announcements, saying they show the GOP knows it's doomed this year. A Senate Republican spokesperson did not answer a request for comment for this article.
Senator John Flanagan, the Senate majority leader, has tried to sound a confident note amid the flurry of resignations.
"New Yorkers know that our Majority is the only thing standing in the way of the New York City politicians implementing an agenda that will hurt our economy and make life more difficult for hardworking middle-class taxpayers," he told the New York Daily News. "We will succeed in November and maintain our majority so the true priorities of New Yorkers continue to be put first."
Senate Democrats increased their ranks in April, when the group of eight renegades known as the Independent Democratic Conference (IDC) ended its coalition with Republicans and rejoined the mainstream Democratic fold, taking the conference from 23 to 31 members. The move came as nearly all of the IDC members faced primary challengers who decried them as "Trump Democrats" willing to empower Republicans in order to gain perks at the expense of progressive values.
Gianaris was one of the strongest critics of the IDC during its seven-year alliance with Republicans, and he was part of a long-term feud with Senator Jeff Klein, the leader of the IDC. But Gianaris said the DSCC has no intention of supporting challengers like Alessandra Biaggi, who is running against Klein, of the Bronx, as long as the ex-IDC members don't break their promises.
Gianaris noted that Senator Stewart-Cousins, the Democratic leader, is supporting all members of her conference, including former IDC members, a point she recently stressed during a Gotham Gazette/City Limits podcast appearance.
"At this point, the former IDC members are members of our conference," Gianaris said. "We've committed to not opposing them."
Asked whether he would go so far as to discourage Democrats from challenging ex-IDC members, Gianaris declined to comment.
"Everyone seems to be on their best behavior on both sides and there seems to be genuine effort to work cooperatively and get to where we're trying to go, so hopefully that continues," he said of the Democratic conference since ex-IDC members rejoined it.
Asked whether he actually trusts the former IDC members -- who reneged on campaign promises to quit their alliance with Republicans in 2014 -- Gianaris said with a laugh, "I've come to trust very few people in politics."
"But I can say…there's been action behind the words. Hopefully that holds," he added.
As in previous years' elections, the Republican campaign committee has much more cash than the Democrats do -- $1,549,017.70 compared to $691,274.46, according to the latest disclosure reports.
However, Gianaris said trends are favoring Democrats this year.
"That gap is much smaller than it would normally be," he said. "I think we're about a half-million ahead of pace and they're a million below pace, if you went back to 2016."
Around this time in the 2016 election cycle, Republicans had more than $2 million and Democrats had a little over $225,000.
True to his role as Democratic cheerleader, Gianaris said he's confident this year will bring a "blue wave" to the state.
"All around the country, Democrats are performing at a higher clip than would normally be expected," he said. "I think it's a legitimate wave."