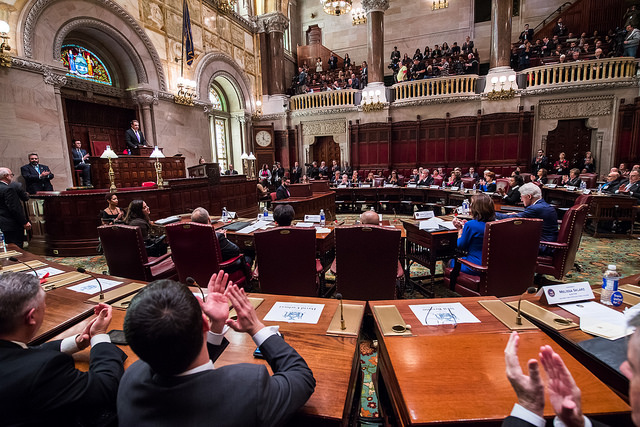 (photo via the Governor's Office)
---
The problem of sexual harassment in New York state politics is systemic and plaguing young women beginning their careers, according to a group fighting to change the culture and the laws around the issue. And, they argue that recently adopted state measures to fight the scourge are insufficient, despite being touted by Governor Andrew Cuomo as "the best in the nation."
The seven women of The Sexual Harassment Working Group -- all of whom have been personally affected by sexual harassment while working for lawmakers in the New York State Legislature -- have consulted a handful of advocacy and legal groups, and called upon their own experiences and expertise, to put together a detailed report with recommendations for ways to better protect women working in government.
"We wonder why there aren't women in higher office, we wonder why women are so underrepesented in our legislature and in all levels of our government. And this is a big part of why: It does not feel safe to work in government if you're a woman," co-author Eliyanna Kaiser, a one-time chief of staff to former Assemblymember Micah Kellner, said during an event in Manhattan on June 19. Kaiser was not herself directly a victim of sexual harassment, but instead reported to Bill Collins in the Assembly Counsel's office, under former Assembly Speaker Sheldon Silver, that Kellner had been sending inappropriate messages to one of his staffers, which led to initial inaction, attacks against Kaiser, and, eventually, Kellner's ouster from the state Legislature.
Also on the panel were working group members and co-authors Danielle Bennett, former administrative assistant to Kellner who reported his harassment to Kaiser; Leah Hebert, former chief of staff to the late, disgraced Assemblymember Vito Lopez; Tori Burhans Kelly, former legislative aide to Lopez; Rita Pasarell, former legislative counsel and deputy chief of staff to Lopez; Erica Vladimer, former education policy analyst and counsel for the Independent Democratic Conference (IDC); and Elizabeth Crothers, former legislative aide in the New York State Assembly who publicly accused Assembly lawyer Michael Boxley of rape in 2003, two years after the alleged incident and when another victim of Boxley's came forward. The discussion was moderated by political consultant and columnist Alexis Grenell, who has helped bring to light victims' experiences as well as the insufficient responses from government officials.
The stories of these women run together in a horror plot that involves countless obstacles to reporting, near-dismissal, and a reluctance to investigate from those in charge, as well as forcibly implemented nondisclosure agreements that hinder the complainant's chances of reemployment and their ability to warn others.
"I agreed not to file a civil suit in exchange for [him to get] a HIV test," Crothers said, adding the "loss of anonymity" after going public "follows you."
"I really didn't think there was another way out aside from suicide," said Hebert, who was one of the first women to complain about Lopez groping and harassing female staffers, of her experience.
"These things that are happening are not the product of an individual harasser, they're not mistakes," Pasarell, another complainant against Lopez, added. "It's massive, it's systemic, and whenever I hear a new person coming out I say, 'hey remember us, remember this happened to us in 2012?'"
It's a cycle that exploits women and protects men who behave abhorrently and, as Grenell pointed out, it's a reality yet unchanged by Governor Andrew Cuomo's claims that New York has the "strongest and most comprehensive anti-sexual harassment protections in the nation" following the recent budget, wherein the anti-harassment legislation was passed. Grenell compared the governor's statement to the "mission accomplished sign" former President George W. Bush stood in front of during 2003 remarks about the war in Iraq, only two months after the U.S. first invaded.
The Working Group is calling for Cuomo to hold public hearings to listen to victims of sexual harassment -- as its members demanded before the policies were decided by all-male leadership with little apparent regard for the opinions of victims. The group's Harassment-Free Albany website states: "New York State has not held a state hearing on sexual harassment since Governor Mario Cuomo [Andrew Cuomo's father] created a Sexual Harassment Task Force in 1992."
The reporting system has no transparency for complainants, limited uniformity, and an obvious lack of objectivity, the panel urges. For example, when Vladimer, who this January publicly accused now-Deputy Democratic Conference Leader Jeff Klein of kissing her forcibly and against her will outside a bar in 2015, was asked where her case is at now, she said she has no idea.
"Your guess is as good as mine," Vladimer told event attendees on Tuesday. "[It's with] the state's Joint Commission on Public Ethics [JCOPE], which under some very vague executive law somehow has the authority to investigate sexual harassment claims. There are no experts on this commission and the commissioners who vote to decide whether or not there is wrongdoing are all appointed by elected officials." They are also almost all men, with one woman in 14 commissioners.
"I don't know where my investigation is and I think that's one of the biggest things we've talked about is that there is no transparency and I know, and have been told, I don't have a right to know where my investigation's going," Vladimer added.
When Vladimer went public, Klein immediately denied the allegations, and Senate Majority Leader John Flanagan said the Senate would not investigate given no formal complaint had been lodged with its internal staff. Klein himself asked JCOPE to investigate, but other than Klein indicating an investigation had commenced, there is little information to go by.
In the lead-up to the new state budget, Cuomo had called for sweeping anti-sexual harassment policies, including greater resources for and transparency in JCOPE investigations. While Cuomo pushed through some measures, those JCOPE recommendations were not among what was passed into law.
The same Klein accused of sexually harassing Vladimer was one of the three other elected men, and no elected women, who assisted Cuomo in deciding the sexual harassment legislation this March, ahead of the annual budget. According to the budget, there are five measures designed to address sexual harassment in state politics -- as the governor's office puts it, to "further build upon his 2018 Women's Agenda for New York."
In a press release announcing highlights of the new budget in March, Cuomo said, "We put into place the strongest and most comprehensive anti-sexual harassment protections in the nation, ending once and for all the secrecy and coercive practices that have enabled this unacceptable behavior for far too long."
Under the new legislation, all employers working with the state, including vendors and contractors, must implement a written policy addressing sexual harassment prevention and provide prevention training to all employees. This is an extension of a previously-existing law to include contracted workers, and means that employers may now be held liable for the sexual harassment of non-employees if the employer knew, or should have known, of the harassment and failed to take action. It does not, however, address the ambiguity around employees of elected officials.
The Sexual Harassment Working Group is recommending the definition of "employee" be changed to clearly include employees of elected and appointed officials, and that the New York State Human Rights Law should stipulate elected officials are also considered "employers."
"Our recommendation is to specify employees as everybody -- essentially someone for hire -- this is how the labor law defines it and we just want every worker to have the same protection, including staff of elected officials," Pasarell told Tuesday night's event.
In the new legislation, New York employers are prohibited from requiring mandatory arbitration of claims of workplace sexual harassment, except where inconsistent with federal law, and this will come into effect in July.
Any officers and employees of the state or any public entity who is subject to a final judgement of personal liability in cases of sexual harassment will have to reimburse the state for the award given to the complainant, however the Sexual Harassment Working Group points out this is only applicable for cases determined by a judge, not necessarily to those settled out of court.
Cuomo's legislation also states no employer has the authority to include or agree to include in any settlement a nondisclosure agreement, unless the condition of confidentiality is the complainant's preference. And, notably, a model sexual harassment guidance document and a sexual harassment prevention policy is to be created with the Division of Human Right by October -- meaning a key portion of the new policy is not yet written.
"This year, Governor Cuomo signed the strongest anti-sexual harassment policy in the country," Dani Lever, press secretary for Cuomo, told Gotham Gazette in a statement. "It closed gaping loopholes that entrapped women in toxic workplaces, extended protections to contracted workers, and strengthened rules that prevent companies from shirking their responsibility to root out bad actors—instead of sweeping problems under-the-rug."
On the surface, all measures included in the enacted budget appear to go a long way towards exactly what the governor is promising but, according to the panel of women who've experienced sexual harassment in state politics first-hand, there are some areas of ambiguity that impede the path to reporting and justice for potential victims.
First, the budget hasn't defined "sexual harassment" and the way the issue is currently treated under state law leaves much room for interpretation. The Sexual Harassment Working Group recommends adding "sex and gender" to the list of classes protected from discrimination in the New York State Constitution, to offer another level of protection for all New Yorkers, including victims. And the authors suggest the current standard for behavior to qualify as sexual harassment in state law -- that it must be "severe or pervasive" -- be changed to mirror the recent changes to New York City law, where the standard for discrimination and harassment reads simply that the person is treated "less well."
"When you're talking about standards in law, the 'litigative itch,' as they call it, is all in these terms," Kaiser said. "People are always going to bicker about the actual event that happened. We'd prefer that bickering to be asking, 'didn't he treat her less well?' Rather than, 'was it severe and pervasive?'"
The working group is also calling for an independent body to oversee all discrimination harassment policy enforcement. At the moment, JCOPE members are appointed by state elected officials. Of the 14 members, three are appointed by the Temporary President of the Senate, three are appointed by the Speaker of the Assembly, one is appointed by the Minority Leader of the Senate, one is appointed by the Minority Leader of the Assembly, and six are appointed by the Governor and the Lieutenant Governor.
Many of the stories from the women in The Sexual Harassment Working Group involve some level of disbelief from those charged with investigating their reports of sexual harassment. In Crothers' case, it wasn't only disbelief, it was outright protection of her alleged attacker.
"Before it came out in the press and when I met with the speaker [Sheldon Silver], I didn't feel he didn't believe me, he just said 'well I won't let him go out to bars anymore and my first priority is protecting the institution,'" Crothers said at the panel event. Silver resigned as speaker in 2015 after being arrested on federal corruption charges, and long after being accused of facilitating former Assemblymember Lopez's harassment of eight women who were on his staff. The panelists believe this culture of cover-up and protection will continue unless there is an independent body appointed to investigate, and determine, reports of sexual misconduct in Albany.
It's the Lopez example that best shows the need for further restrictions around the use of nondisclosure agreements, beyond what is outlined in the new legislation. Two of the women in the working group, who were on the panel, ultimately signed nondisclosure agreements after accusing the former Assembly member of sexual harassment and groping. They said they didn't want a nondisclosure agreement -- it wasn't implemented to protect their privacy -- but it was offered to them as a 'take it or leave it' measure.
"We wanted an investigation, we asked multiple times for an investigation," Hebert said. Hebert's name went public, despite her having signed a nondisclosure agreement, when reports from other victims were published by the media ahead of Lopez's resignation in 2013. Instead of an investigation, Hebert said she, along with Pasarell, were made to sign nondisclosure agreements and were told Lopez would go through sexual harassment prevention training.
"The NDA, it wasn't just that...we couldn't speak to anyone," Hebert said. "It was, at first, $10,000 in liquidated damages if we broke it for every occurence, and it would happen with a mediator behind closed doors so no one would know they were enforcing the agreement. And it also contained a provision that we could never apply to the Assembly again." This last measure effectively limiting their opportunities to work in state government, and the fine making it impossible for the complainants to explain their circumstances to future employers, file for unemployment benefits, or warn others or the Human Rights Division of Lopez's behavior.
They pushed back on their exclusion from the Assembly and the response was, "we could never apply to Lopez's office again, which was fine, but they increased our liquidated damages cost to $20,000," Hebert said.
Pasarell, another of Lopez's victims, said the anti-sexual harassment legislation in the budget regarding nondisclosure agreements -- that they can only be used in cases where the complainant consents -- can too easily be twisted to benefit the harasser.
"The way they phrased the new law is for the complainant to have a nondisclosure agreement, it's got to be the complainant's preference. In our case we saw repeatedly how the Assembly portrayed it as if it was our preference when it absolutely was not," she said. "The nondisclosure agreement came to us very late in the game and it was 'take it or leave it.'"
Women reporting sexual harassment will be better assisted, The Sexual Harassment Working Group argues, if the Legislature provides greater protection against victim coercion into signing nondisclosure agreements. The group also recommends the law allow for individual liability, so harassers can be targeted without taking the Legislature or State to arbitration or court. And, in cases where complainants do want a nondisclosure agreement for confidentiality reasons, there should be a "Sunshine in Litigation" law to prevent serial harassers (who've offended at least once prior) from re-offending. "Limited information would be shared but a pattern of harassment would be outed," Pasarell said.
The way to change the culture of sexual harassment and exploitation is through changing the law, The Sexual Harassment Working Group maintains, and the way to do that is through consulting with victims, advocacy groups, and others, including lawmakers -- a process much more extensive than how Cuomo and legislative leaders, all men, went about it.
In response to The Sexual Harassment Working Group's report, Cuomo's team said it will review the recommendations but gave no indication of whether or not they will consider holding or pushing for a public hearing on the issue.
"No woman should ever be violated, let alone in the workplace—period. And that's why Governor Cuomo has championed measures that hold employers accountable for ensuring a hospitable workplace," Lever, Cuomo's press secretary, told Gotham Gazette. "The 'Me Too' movement has caused an awakening in our society, and while we've taken positive concrete steps in New York, we need to continue to see progress in our state and across the country. We look forward to reviewing these recommendations and continuing this important work."
Note: this article has been corrected to reflect that Lopez allegedly harassed eight women on 33 counts, not 33 women; that two, not three, of the women mentioned signed NDAs; and that Kaiser reported Kellner's behavior to the Assembly counsel's office, not Speaker Silver directly.