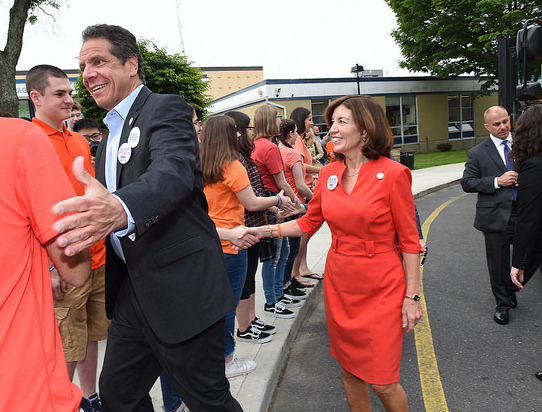 Gov. Cuomo and Lt. Gov. Hochul (photo: Governor's Office)
---
With the September primaries for New York state elections fast approaching, Governor Andrew Cuomo and Lieutenant Governor Kathy Hochul, both Democratic incumbents, are being forced to defend their records in challenges from the left. While many other elected officials and labor unions are supporting the incumbents, a wide swath of activists that form part of the party's base is supporting challengers to Cuomo, Hochul, and a group of state senators who, until recently, made up the rogue Democratic faction known as the Independent Democratic Conference, which aligned itself with Senate Republicans.
It is a contentious, and potentially damaging, split within the party that Cuomo, Hochul, and other incumbents are attempting to overcome, keeping them from focusing their full attention on unseating Republicans in the state Senate or House of Representatives, both of which could swing to Democratic control through the fall elections.
Actor and activist Cynthia Nixon, who is campaigning to become governor, and City Council Member Jumaane Williams, vying to become lieutenant governor, have both been endorsed by the liberal Working Families Party (WFP) and are currently petitioning the public for a place on the September Democratic primary ballot, claiming the party under Cuomo's leadership has lost its way, falling into corruption and leaning too far across the aisle.
Hochul, a former member of Congress from western New York who was also Cuomo's 2014 running mate, lamented the challenge, saying the "only beneficiaries" of a divided Democratic party are Republicans.
"I approach every challenge with the effort and an attempt to understand where people come from, so I am trying to put myself in their shoes, but I also understand history very well and I know what happens when Democrats attack each other and there's polarization," Hochul said on a recent episode of the Max & Murphy podcast from Gotham Gazette and City Limits, when asked about the Nixon and Williams campaigns.
"What I would love to do is harness all that energy and set it on fire against the Republicans because what I would be doing right now, if I didn't have a challenge, is what I set out to do, which is to help elect Democrats to Congress," said Hochul, who Williams has accused of being too moderate and not being an independent voice to check Cuomo.
Hochul's sentiment is opposite to that of Nixon and Williams, who have made no mention of running together but who've appeared jointly on community calls run by the WFP (governor and lieutenant governor are voted on separately during party primaries but appear on the ballot as a ticket in the general).
Speaking on a May 24 call, Nixon said, "A Democratic primary is good for the party and good for the state." Both candidates are critical of Cuomo's lack of action, rhetoric to the contrary, in areas of criminal justice reform; protecting undocumented immigrants; rent regulations, and education funding fairness, among other issues.
A cornerstone of Williams' campaign is his promise to redefine the role of lieutenant governor and act only for the benefit of New Yorkers, even if it means independently of the governor. "I will make certain that our governor and elected officials uphold their promises to you and will hold them accountable for the actions they take," his website reads, a sentiment he echoed on an earlier WFP call to rally volunteers in early May.
Though he doesn't mention Hochul by name, Williams has drawn a clear comparison to the incumbent, who herself acknowledges that she sees the job as to support the governor and be the "advocate in chief," as she said on the podcast. Hochul travels the state promoting and explaining Cuomo administration initiatives, while at times also helping craft them. Economic development and women's issues are key pieces of her portfolio. During the podcast discussion, Hochul applauded Cuomo for his efforts in reinventing the city of Buffalo with an injection of $1 billion, and saying he has done "an exceptional job" in fighting for working-class people across the state.
"A primary keeps you on the ropes; you have to focus on it, because I need to be there to finish the job with Governor Cuomo," Hochul said. "It is what it is, but I wish people would understand this energy is better spent on the other party right now because of the threat of [Republican President] Donald Trump."
"We can all be purists about everything when we have a Democrat in the White House, when we have the House and the Senate, and when we have New York State Legislature," she continued. "Then we can fight each other on the nuances."
On the Republican side of the aisle, there is no corresponding set of primaries -- the GOP is nominating Marc Molinaro for governor and Julie Killian for lieutenant governor. They now have months to join in the attacks on Cuomo and Hochul, raise money, and stake out their positions, while also watching Democrats in-fight.
While Nixon and Williams are calling upon a grassroots movement of volunteers and a network of liberal groups to expand their support base, Hochul and Cuomo are embracing the establishment while reminding voters of their work over the past four, or in Cuomo's case, eight, years.
"You ask anybody on the streets of Buffalo, you go up there today and ask anyone if they can see and feel the difference and the answer will be 'yes'," Hochul told the podcast. "There is literally not just a physical change where you can see an area that was abandoned wasteland on our waterfront which is now a place where 2 million people go every summer for concerts…And the businesses that are coming, it's one of the top destinations for millennials in the country. The success is seen in the jobs, the transformation of neighbourhoods, the physical change but also the psychological change. There's a pride that never used to be there."
The change can be replicated -- is being replicated, according to Hochul -- in other places in New York. She spoke of Syracuse (now the "international capital for drone technology") and Rochester ("we're now bringing technology jobs there"), saying the Buffalo example shows: "If we can bring back the hardest hit area of the state, we can bring back anything."
Yet when pressed on the corruption attached to the "Buffalo Billion" and other Cuomo administration economic development programming, which has seen one completed and one ongoing federal trial this year, with charges against individuals including former top aides and major donors to Cuomo, Hochul downplayed its significance.
"There are trials on that right now and it was heartbreaking to see how people abused the trust that was placed in them. It really is," she said, apparently referring to former Secretary to the Governor Joseph Percoco, who was convicted earlier this year, and former SUNY Polytechnic President Alain Kaloyeros, who is currently on trial. "We need accountability and we're getting accountability. There was a separate entity that had been orchestrating much of the economic development that has changed."
Now, Buffalo's development projects are consolidated under Empire State Development with former Buffalo business leader Howard Zemsky at the helm (Zemsky also co-chaired the Western New York Regional Economic Development Council, part of the network of REDCs that Cuomo and Hochul oversee) and with a new entity, NY CREATES, about to launch under new leadership, while consolidating the assets of two scandal-plagued nonprofits.
Of Zemsky, Hochul said she "trusts him enormously" and that he has a "stellar reputation for integrity."
On other touchpoints that appear pivotal in the Hochul-Williams Democratic primary, such as LGBTQ rights and support for immigrant communities, Hochul is adamant she's been consistent in upholding true "democratic values," though she did admit to some regrets from her time as Erie County Clerk. She's been a stalwart supporter of marriage equality, which was legalized in New York under Cuomo in 2011, she said, while also taking an apparent shot at Williams, who has not always been vocally behind marriage rights for same-sex couples (or abortion rights for women).
On the other hand, on the podcast Hochul said she regrets the opposition she expressed in 2007 to providing driver's licenses to undocumented New Yorkers. At the time, Hochul threatened to turn undocumented immigrants in to law enforcement if they sought licenses, which were a controversial topic at the time and are again a key issue this year.
"It was the time, and I said I would uphold the law. There were people who would break the law and I said 'if this is what the state of New York decides to do, I will uphold that law.' It became very contentious within our community," Hochul said, noting work she did on Capitol Hill early in her career helping immigrants should speak to her "commitment" to the issue.
"I wish I had not gone that route [in 2007], I really do, because I realize it was hurtful to people and that was never my intent," Hochul said. "I would never do anything to intentionally hurt anybody."
[Listen to the full conversation: Max & Murphy Podcast: Lieutenant Governor Kathy Hochul]