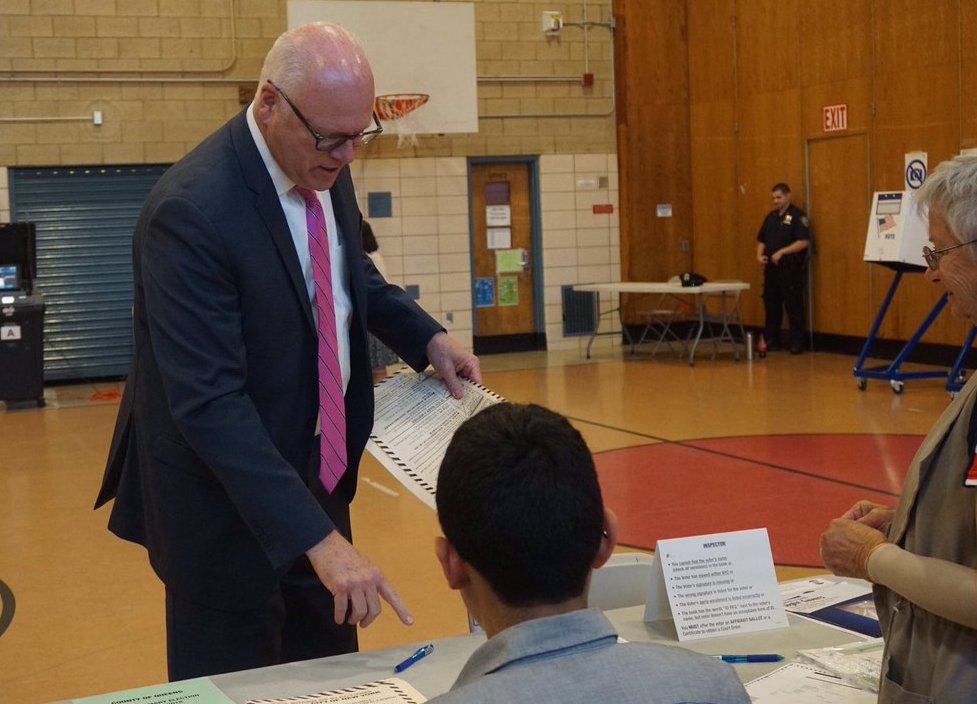 Rep. Joe Crowley votes (photo: @JoeCrowleyNY)
---
Alexandria Ocasio-Cortez's upset primary defeat of Representative Joe Crowley has sent shockwaves through both the New York and national political worlds.
The 28-year-old Latina democratic-socialist who has never held elected office and refused money from corporate PACs stood in stark contrast to Crowley, a 56-year-old, ten-term Congressional representative who was a prolific Democratic Party fundraiser, served as the chair of the Queens Democratic Party, and was seen by some as the next Democratic Speaker of the House.
Ocasio-Cortez's win is being partly attributed to her campaign's organizing, strong ground game, and significant social media presence, as well as its embrace of progressive policies such as ICE abolition and single-payer healthcare. She didn't merely upset Crowley, she won handily, by a margin of 57.5 percent to 42.5 percent.
Maps compiled by the CUNY Center for Urban Research show that support in the election that has the country buzzing did not break down neatly on racial lines; in fact, Ocasio-Cortez maintained strong support throughout the district, across areas of various demographic makeups.
"This wasn't a fluke," said Steven Romalewski, of the Center for Urban Research. "She was able to get voters from almost every neighborhood to come out and support her." Romalewski noted that, contrary to the conventional wisdom of voting on racial lines, the areas where Ocasio-Cortez's showing was strongest were areas that weren't predominantly Hispanic, signaling that her showing may not have been due to the district's changing demographics (it has been steadily becoming less white for years), but due to desire for change from Crowley.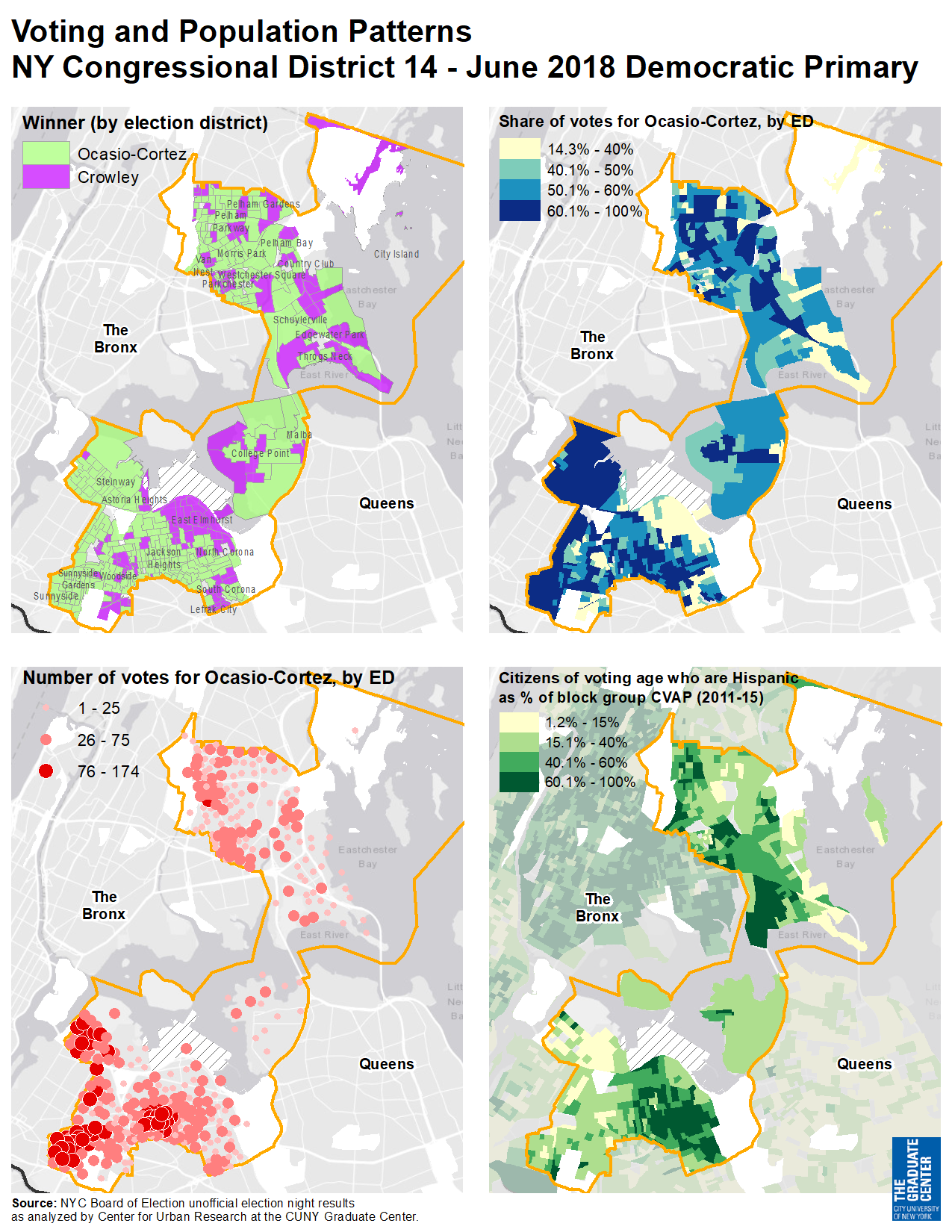 Though Ocasio-Cortez whipped up energy among voters in the Queens and Bronx district, and there is little to compare voter turnout to because Crowley had not been challenged since 2004, the primary election was decided, like most elections in New York, by a relatively small number of people.
With 98 percent of precincts reporting as of Wednesday, the State Board of Elections shows 27,826 registered Democrats cast votes in Tuesday's primary in New York's 14th District. With 235,745 registered Democrats as of April, according to the BOE, this comes out to a turnout of around 11.8 percent.
This turnout is about the same as in Crowley's last competitive primary, in 2004. According to the Federal Election Commission, 12.4 percent of Democrats in Crowley's district voted that year, which was a presidential election year, unlike this year, and saw congressional and state-level primaries on the same September day. New York has since moved its congressional primaries to June.
For comparison, when Crowley was reelected to Congress two years ago, in 2016, he faced no primary opponent and nominal competition in the general election, but in the general he received 147,567 votes as many more voters turned out on Election Day than typically do for party primaries, even when they are competitive. Ocasio-Cortez will herself now face Republican Anthony Pappas and Conservative Elizabeth Perri in the general election, but is expected to win easily.
Regardless of the low primary turnout, Romalewski characterized Ocasio-Cortez's win in the same way as most other observers: a massive upset.
"The challenger was able to do something with her supporters that the incumbent wasn't," Romalewski said. "And that's surprising given that the incumbent has the power of incumbency, has the power of the party machine behind him, and has the power of endorsements, and long time political support in both counties, Queens and the Bronx, and that was not enough to hold off the challenger. So that's a big upset."
Turnout on Tuesday was similarly low in other closely-watched congressional primaries. In the 9th District, in Brooklyn, where Representative Yvette Clarke narrowly beat New York Times-endorsed Adem Bunkeddeko 52 to 48 percent, Democratic turnout is only at about 8.2 percent with 99 percent of precincts reporting, according to the BOE. 28,663 Democrats voted out of 347,466 total in the district.
In the 12th District, including parts of Manhattan and Brooklyn, where Representative Carolyn Maloney dispatched challenger Suraj Patel 58 to 41 percent, Democratic turnout stands at about 13.6 percent with 99 percent reporting. 41,460 Democrats voted out of 304,115 total in the district.
Turnout was slightly higher in the Republican primary in the 11th District, covering Staten Island and part of southern Brooklyn, where incumbent Representative Dan Donovan was seemingly running a tight race with his predecessor Michael Grimm, only for Donovan to handily beat Grimm, 63 to 36 percent. That primary, featuring a rare such primary battle of the two most recent officeholders and an apparently race-altering endorsement of Donovan by President Donald Trump, saw a turnout of 17 percent of registered Republicans -- 20,118 Republicans voted out of 117,983 registered in the district.
Romalewski said that the high profile nature of the race played a part in the higher turnout. "Not only was it a high profile race, but there was an incumbent and a former incumbent running for the primary vote," he said. "So there was a lot of institutional support on both sides, and a lot of interest on both sides, and a lot of familiarity with the voters, so it's not surprising that there was relatively robust turnout in District 11."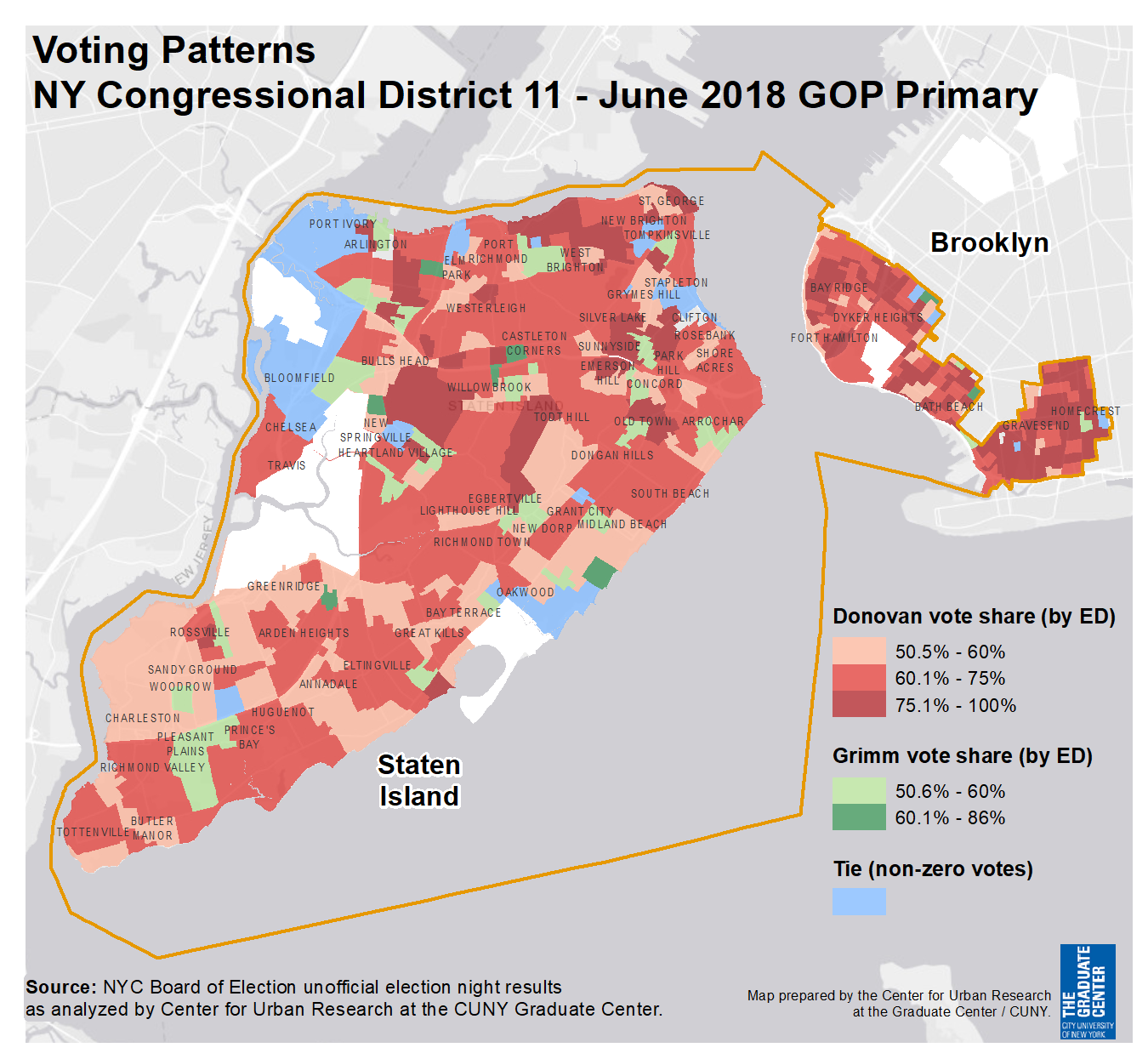 Similarly to Ocasio-Cortez's convincing win District 14, Romalewski noted that Donovan's strong support was widespread across the district rather than being concentrated in pockets. He won the overwhelming majority of election districts, and beat Grimm by significant margins in both the Staten Island and Brooklyn sections of the district.
In the crowded Democratic primary in District 11, Max Rose defeated five other Democratic hopefuls with 63 percent of the vote. That primary saw a turnout of 8.5 percent -- 17,098 Democrats voted out of 200,410 total registered in the district. The Donovan-Rose general election is expected to draw a lot of interest, and money, from around the state and country, as Democrats see it as a possible pick-up toward flipping the House.
In Maloney's last noteworthy primary challenge, from Reshma Saujani in 2010, turnout stood at 16.4 percent. The last competitive primary in the district represented by Donovan was in 2010, when it was the 13th District and Grimm defeated Michael Allegretti in an election with 13.7 percent turnout. Both of these primaries occurred before a 2012 federal court decision that led New York to become the only state this year with separate federal and state primary days, wherein the state was forced to move its congressional primary earlier in the year and lawmakers declined to also move the state-level vote. The separate days can depress turnout, says Romalewski.
"In recent years, there's been as many as four elections within a year, primaries and generals, that people have to turn out for," he said. In 2016, New York voters turned out for presidential primaries in April, congressional primaries in June, state and local primaries in September, and finally the general election in November. "It definitely risks voter burnout, the opposite of turnout."
Clarke's last primary challenge, in 2012, saw a 6.2 percent turnout. Maloney faced a challenge in 2016 from attorney Peter Lindner, in a race that saw a 6.7 percent turnout.
Turnout was similarly low elsewhere in the city and state. In the 5th District, where Representative Gregory Meeks won 81 percent of the vote against two challengers, Mizan Choudhury and Carl Achille, saw a 3.8 percent turnout. In the 16th District, Eliot Engel dispatched three challengers -- Jonathan Lewis, Derickson Lawrence, and Joyce Briscoe -- with 74 percent of the vote in an election with 9.8 percent turnout.