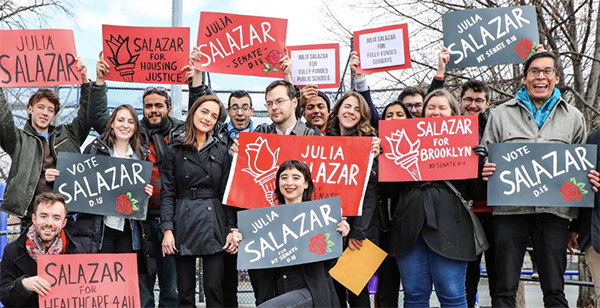 Julia Salazar, middle in black (photo: Salazar campaign website)
---
The Harlem apartment where Julia Salazar lived in 2013 while completing her undergraduate work at Columbia, where she majored in Middle Eastern Studies, was falling apart.
It was run "by a totally abusive management company, a neglectful landlord," Salazar, 27, told Gotham Gazette. "They didn't heat the building adequately in the winter, failed to make repairs that were really urgent. Some people had been waiting for well over a year for really serious stuff to just make our apartments liveable."
It was, in a word, decrepit. So she organized. Salazar, 22 at the time, "looked on the city's website" and discovered that the tenants could legally stage a rent strike "if done the right way."
"I talked to my neighbors and my roommates and organized us to withhold our rent for three months. And it led to us going to housing court with the management company, and we won concessions from them," Salazar said. The tenants did not have to pay back the rent they withheld during the strike, and necessary repairs were made, she said.
But the organizing had negative consequences, too. Most of the building's units were not rent-stabilized, the management company raised rents "super-high," and Salazar was displaced.
"What this represented to me was that this is a systemic problem and it demands a systemic solution," she told Gotham Gazette. "Ultimately, it got me thinking: How do we systemically change these problems through policy?"
After additional years of organizing around issues of housing, economic, racial, and criminal justice, Salazar is now eyeing elected office. She is running to represent parts of northern Brooklyn in the New York State Senate, staging a primary challenge against incumbent Democratic state Senator Martin Malavè Dilan, who is running for his ninth two-year term and represents Senate District 18. The election is September 13.
Gotham Gazette spoke with Salazar at her campaign headquarters along a quiet road in Bushwick, near what seemed to be an industrial park, on Saturday afternoon. Outside the beige, one-story building was a folding table with ballot petition sheets, pamphlets on the candidate, and "Salazar for State Senate" pins; a chalkboard beckoned visitors, in Spanish and English, to enter and register to vote.
In a small room adjacent to the main campaign space, which was full of canvassing materials, maps of the district, and busy-seeming young adults, Salazar explained the path that led to her candidacy, an uphill battle against a long-time incumbent buoyed by new progressive energy and momentum behind candidates like her. A first-time candidate for office, Salazar paused before answering questions, and her answers did not appear canned, as if she'd already delivered them hundreds of times. She clearly articulated her motivation to run, largely staying away from attacks on Dilan.
Salazar is centering housing justice in her campaign to represent a district containing neighborhoods like Williamsburg and Greenpoint that, by some measures, have experienced the city's most severe gentrification.
"In North Brooklyn, from Greenpoint to Cypress Hill, every inch of the district, people see the effects of lack of regulation in the housing market, the lack of affordable housing, and the failure to protect tenants. So, for me, it's a very apparent issue," she told Gotham Gazette.
So Salazar's calling for universal rent control, which she says is attainable through a package of policies: expansion of the rent stabilization system throughout the state, capping the amount landlords can raise rent annually, and ending vacancy decontrol, vacancy bonuses, and improvement-induced rent increases, all technical mechanisms that allow landlords to raise rents.
She called it "egregious" that housing justice is not a more visible political issue, especially in North Brooklyn, where, she said, "a lot of community members have long been trying to pressure Senator Dilan to change his course on housing policy to end vacancy decontrol," which allows landlords to charge market price, if it's at least $2,000, for rent-controlled properties when their tenants leave. Dilan voted to institute vacancy decontrol in New York City while on the City Council in 1994, but has publicly expressed regret at his vote and has sponsored several unsuccessful repeal bills in the Senate, where, during most of his tenure, the Democrats have been in the minority. Current rent laws will expire in 2019 and will be largely renegotiated on the state level from January to June of next year. Those crafting and negotiating the details of the legislation, including the governor, will be elected or reelected this fall.
On her campaign website, Salazar critiques her opponent as part of "the political machine in North Brooklyn," and vowed, at a Monday cross-endorsement rally with gubernatorial candidate Cynthia Nixon, to "replace legislators in Albany who have failed to advocate for tenants." A Dilan campaign spokesperson did not provide a comment for this story.
Thus far, at least, Salazar is running a largely positive campaign, with a focus on what she wants to see out of Albany. While at the endorsement rally in Bushwick's Maria Hernandez Park, Nixon railed against Dilan and Governor Cuomo, her opponent, calling them both "corporate Democrats," but Salazar did not mention Dilan by name in her prepared remarks.
Most of Salazar's campaign platform makes maximalist, rather than incrementalist, demands. In addition to supporting universal rent control, she advocates for the elimination of cash bail, free tuition at CUNY and SUNY schools, and Medicare for All, and she's rejected corporate donations. Salazar is a member and endorsee of the New York City chapter of the Democratic Socialists of America (NYC-DSA), the burgeoning left-wing organization that recently helped another one of its members, Alexandria Ocasio-Cortez, defeat Rep. Joe Crowley of Queens and the Bronx in a primary upset that sent shockwaves nationally. Salazar's platform is rooted in her theory of change — she refuses to "make political concessions from the outset" — and, like Ocasio-Cortez and NYC-DSA, she articulates broad, concise visions.
Salazar told Gotham Gazette that "the language of universal rent control is kind of radical. The development lobby and for-profit real estate developers have so much power and are so entrenched in our political system in many ways that these demands seem out-of-reach for so many people, even housing advocates, but it's policy that all tenants want. There's still a gap in political imagination."
Recent events have shown that the boundaries of the political imagination may prove weaker than is generally accepted. For instance, the stance to abolish Immigration and Customs Enforcements was, until quite recently, the domain of the Democratic Party's leftist fringe. Ocasio-Cortez was one of the first national political figures to hold that position, and, since her victory last month, "Abolish ICE" has become a mainstream Democratic position with stunning speed, endorsed within the past two weeks alone by U.S. Senator Kirsten Gillibrand, gubernatorial candidate Cynthia Nixon, and Mayor Bill de Blasio. Salazar, for her part, would also like to see ICE abolished.
However, Salazar warned of ideas becoming diluted when they leave the Left and enter the mainstream, province of politicians and political expediency: "What really matters is that we want to make these ideas mainstream as long as we maintain the integrity of the idea," she said. "We need to be explicit in these demands, as much as sometimes it's tedious to talk about the technicalities of policy to people who don't live and breathe politics and policy."
Her politics are informed heavily by what she calls her "lived experience and class experience." Salazar was born in Colombia in 1990 and moved as a baby to South Florida, where her mother raised her and her brother.
"She really struggled to support me and my brother financially," Salazar said. "I started working when I was 14 in a grocery store, then through high school in the service industry, then as a domestic worker through college at Columbia."
Entering Columbia in 2009 immediately after high school, Salazar found her first opportunities to become involved in social justice work, joining the Israel/Palestine activism scene as a member of J Street and Jewish Voice for Peace. The Ivy League school also exposed her, for the first time, to immense wealth, and was instrumental in developing her class consciousness and progressive politics. Salazar said that Columbia "is an institution with an immense amount of wealth, with a lot of people who had gone to private school, who had resources their entire lives that were shocking to me."
After Columbia, which she did not graduate from, Salazar began grassroots organizing in New York City more heavily. She is currently a staff organizer in Jews for Racial and Economic Justice, a partner in Communities United for Police Reform, and active as a member of NYC-DSA. Her work has often centered around police accountability — Salazar campaigned extensively for the passage of the Right to Know Act, a city legislative package providing protections for civilians and restrictions on police during encounters, and recently published an essay in Jacobin on sexual assault at the hands of NYPD officers.
She was engaged in extensive legislative advocacy, describing herself as "on the forefront" of the citywide push for the passage of the Right to Know Act and involved with state police accountability measures, as well. The experience shaped her views of the New York political system: "Driving buses of advocates up to Albany to demand special prosecutor legislation and ultimately, after going back to the same legislators over and over again, making what we know are common-sense demands, you get to the point where you just think, 'We have to replace these people.'"
Salazar was in Nashua, New Hampshire with her union, the United Automobile Workers, for whom she organized during a contract dispute at Barnard College, on Election Day in 2016. They were there on a get-out-the-vote campaign, and, she said, "collectively, we all felt certain that Hillary Clinton would win. When the results came in, it was really, really devastating...My heart hasn't stopped racing since that moment, basically."
The election of Donald Trump was a clarifying moment for many on the Left, and it sparked a well-covered surge in progressive activism nationwide — the Democratic Socialists of America, for instance, gained over 1,000 members in the single day following the election. For many, like Ocasio-Cortez, Nixon, Salazar, and their supporters, there has been a reevaluation of what kind of Democrat is acceptable, and an interest in running primaries against those not deemed sufficiently progressive. In New York, this shift has also produced primary challengers to the eight state senators who formerly made up the Independent Democratic Conference, which formed a ruling coalition with Senate Republicans.
"The Trump Administration has motivated more people, myself included," Salazar said, "to shift our focus to trying to effect change as much as we possibly can at the city and state level, where we have more control, where we can effect change in a practical sense and also do harm reduction in response to federal policies across the board."
So when three friends from NYC-DSA approached her in the beginning of 2018 about running for the state Senate seat in District 18, Salazar took their urgings seriously.
"I really love being a community organizer and a labor organizer…at first I didn't even consider it," she said. "But after a while of deliberating and going back-and-forth, I committed to doing it." She finalized her decision in March, and publicly announced her run in April.
Since then, Salazar has been mounting a campaign in North Brooklyn based on grassroots organizing principles. It's composed of Salazar, three paid staff members, and "hundreds of volunteers," she said. She emphasized her efforts to "meet community members and voters where they are, and have our ear to the ground" — one of her goals is to use "the campaign to amplify the organizing that's already being done in the community," especially around housing justice. DSA members have been showing up to the Bushwick campaign headquarters to sign up for canvassing shifts, and the organization has helped inform Salazar's electoral strategy and path to victory.
The similarities to Alexandria Ocasio-Cortez are striking — both are Latina democratic socialist challengers of outer-borough Democratic incumbents — and many, including Nixon, have drawn comparisons between the two. In announcing its endorsement of Salazar, New York Communities for Change described her as "the next Alexandria Ocasio-Cortez." On Twitter, Ocasio-Cortez pushed back against the direct comparison, writing that "[Julia Salazar] isn't the next me, she's the first HER."
Salazar volunteered for Ocasio-Cortez's campaign and knows her personally from their time in NYC-DSA. In fact, the pair canvassed together several weeks before Ocasio-Cortez's primary election, and Salazar's staff members and volunteers helped with her get-out-the-vote drive.
With her seat in the U.S. House of Representatives nearly assured, Ocasio-Cortez has "definitely" played a role in the Salazar campaign, Salazar said. "A bunch of people from her campaign have already come out to canvas multiple times," Salazar told Gotham Gazette, and the vocal, public support of her DSA-comrade-turned-national-figure has been welcomed gratefully. Also on Twitter Monday, Ocasio-Cortez urged her followers to "return the favor" to Salazar and "help her get on the ballot for September." That tweet, to date, has been retweeted almost 4,500 times and received over 24,000 likes.
Ocasio-Cortez and Nixon cross-endorsed each other the day before the congressional primary, and Nixon appeared at Ocasio-Cortez's victory party, where she told NY1 television that her campaign is of the same ilk. Nixon's Monday event with Salazar struck the same theme. This time, the cross-endorsement comes a little more than two months before both women will be on the ballot, attempting to dethrone deeply entrenched incumbents. Beneath a cloudless sky and in 90-degree heat, Bushwick residents and members of New York Communities for Change, an activist organization backing both candidates, spoke of the issues facing their community — high rents, soaring cost of living, financial precarity — before Nixon and Salazar made their cases for themselves, each other, and their shared political vision.
"As true progressives," Salazar said to the crowd of 30 gathered in a Brooklyn neighborhood with over half of its residents rent-burdened, an incarceration rate 1.5 times the city average, and the city's third-highest uninsured rate, "we don't operate from a position of scarcity, but from a position of abundance."
Note: this article has been corrected to reflect that Salazar did not graduate from Columbia.