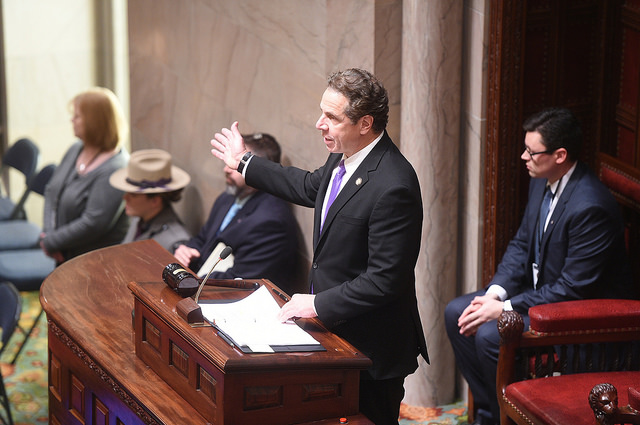 Gov. Cuomo (photo: Kevin P. Coughlin/Governor's Office)
---
Behind the veil of an unproductive state legislative session where, in its aftermath, the focus has been on what did not get done, one significant piece of legislation that made its way through both chambers and toward the governor's desk is a bill to create a new, independent state commission tasked with investigating prosecutorial misconduct by district attorneys, including misconduct that could lead, and has led, to false convictions. If the controversial bill is signed into law by Governor Andrew Cuomo, a Democrat running for a third term this year, the commission would be the first of its kind in the nation.
The legislation passed the Republican-led state Senate 45 to 12 and the Democrat-dominated Assembly 98-46, with members of both parties on either side of the bill. The bill has been lauded by public defenders and criminal justice reform advocates, but has been excoriated by prosecutors, an association of which is calling it unconstitutional and threatening a lawsuit.
The commission would consist of three appointees from the state's Chief Judge, currently Janet DiFiore, two by the Governor, two each by the Assembly Speaker, currently Carl Heastie, and the Senate Majority Leader, currently John Flanagan, and one each from the Assembly Minority Leader, currently Brian Kolb, and the Senate Minority Leader, currently Andrea Stewart-Cousins. According to the bill, the Governor's appointees would have to consist of one public defender and one prosecutor, while the Chief Judge's appointees must consist of one appellate judge and two judges from other jurisdictions. The rest of the appointees must be split evenly between prosecutors and defense attorneys.
The commission, which would oversee the state's 62 district attorneys and their subordinates, would be given full subpoena power for prosecutors and witnesses, be able to request relevant documents, and would be able to conduct investigative hearings against prosecutors accused of misconduct. If wrongdoing is demonstrated, the commission can take several actions, such as a censure or even recommending that the prosecutor be removed from their post. The commission's findings and recommendations would be compiled into an annual report to the Governor, Legislature, and Chief Judge.
False convictions, and subsequent exonerations, have become so commonplace in New York's criminal justice system that some district attorney offices, such as that in Brooklyn, have set up whole units dedicated entirely to reviewing past convictions. As of December 2017, the Brooklyn DA's Conviction Review Unit had requested exonerations for 24 wrongfully-convicted defendants.
"It's a significant problem," said Bill Gibney, director of the Legal Aid Society's Criminal Practice Special Litigation Unit. "The last time I looked, I think New York State was up in the top tier of numbers of wrongful convictions that have occurred. And with some regularity, prosecutorial misconduct is in the mix." It is impossible to fully account for all wrongful convictions. However, the University of Michigan's National Registry of Exonerations placed New York at number four in the country for exonerations in 2017.
The Registry recorded 13 exonerations in New York in 2017, for offenses including fraud, weapons possession or sale, sexual assault, and murder or attempted murder. Eleven of the 13 recorded exonerations involved "official misconduct" by individuals in positions of authority such as police officers or prosecutors.
One of them, Johnny Hincapie, served for 26 years before being exonerated for a 1991 subway killing. Several key witnesses had not been asked to provide testimony in the original case; when allowed to testify in 2015, they stated that Hincapie was not involved. Hincapie further claimed that he was coerced into a confession by a physically abusive detective.
The Registry has, as of June, counted 12 exonerations in New York State in 2018.
A 1963 U.S. Supreme Court ruling, Brady v. Maryland, established that prosecutors must turn over all potentially exculpatory evidence to the defense. And last year, New York's court system became the first in the country to require that prosecutors turn over all potentially exculpatory evidence to defendants, before trial. Nevertheless, New York's discovery laws are poorly regarded by advocates and politicians alike; despite the precedents and rules, no timetables for turning over evidence or penalties for failing to do so exist. Discovery reform has repeatedly failed to advance in Albany despite widespread support.
"There have been so many major cases, murder cases, of people staying in jail for years and years and years, and with the availability of DNA evidence now, there's been a lot of exonerations," said Senator John DeFrancisco, a retiring Republican who was the bill's primary sponsor in the Senate, in an interview on WQXR's The Capitol Pressroom.
"And what happens is, people get exonerated, and in the course of that, when they show by DNA it's not them, further investigation shows that evidence was withheld by prosecutors that should've been turned over by the law," DeFrancisco told host Susan Arbetter. He noted that taxpayers end up on the hook for an unnecessary jail sentence and remuneration fees, while prosecutors get off scot-free.
"We've had the same thing for judges since the '70s," he continued, referring to the state's Commission on Judicial Conduct, established through two constitutional amendments in 1976 and 1978, which serves to investigate, reprimand, and/or discipline judges accused of misconduct. In an interview with Gotham Gazette, DeFrancisco noted that judges were "apoplectic" when the commission began, but it has been highly successful.
"After several years, after complaints were brought and it was shown how fair the commission was, right now it's second nature," he said. "It's changed the conduct of judges."
Nevertheless, district attorneys are strongly against the proposed commission. "This legislation is a mistake and quite likely unconstitutional, and I urge the Governor to veto it," Staten Island District Attorney Michael McMahon, a Democrat, told Gotham Gazette in an emailed statement. "As oversight already exists to address prosecutorial conduct, any attempt by the Legislature to impose additional measures will only tie the hands of prosecutors, and potentially threaten the safety of those we are sworn to protect."
These existing oversight measures include "grievance committees," subdivided by appellate division but sometimes with multiple committees per division. These committees investigate claims of misconduct by both prosecutors and defense attorneys, and can lead to censure or professional misconduct charges leveled against attorneys.
But the bill's advocates say that the grievance committees are not enough. DeFrancisco and Legal Aid both told Gotham Gazette that the committees rarely, if ever, disciplined prosecutors. Legal Aid cited a study, from the Center for Prosecutor Integrity, a criminal justice reform think tank, which found that less than 2 percent of prosecutorial misconduct cases nationwide resulted in punishment. The same study noted 151 cases of misconduct in New York State, found by trial and appellate courts, with only 3 of those cases resulting in sanctions.
DeFrancisco, who has sponsored the bill for several sessions, said that he waited years for the state's prosecutor association, District Attorneys Association of the State of New York, to provide him evidence of the grievance committees effectively policing prosecutors, but it failed to do so.
The Queens District Attorney's office directed Gotham Gazette to a letter sent from DA Richard Brown to the New York Law Journal on June 22, in which he stated that both the New York State Commission on Statewide Attorney Discipline, chaired by former Chief Judge Jonathan Lippman, and the New York State Justice Task Force found that allegations of "rampant prosecutorial misconduct" were unfounded.
"Despite each of these findings, the legislature has elected to pass legislation that subjects prosecutors, alone among those who practice law, to a duplicative and intrusive process that is not only violative of the state constitution, but will surely cause delay to the progress of ongoing investigations and prosecutions, much to the detriment of all New Yorkers," Brown wrote. He is also urging Cuomo, a former assistant district attorney in Manhattan and former attorney general, to veto the bill.
The district attorneys for the Bronx, Brooklyn, and Manhattan did not return requests for comment.
In a separate appearance on Capitol Pressroom, David Soares, the president-elect of the District Attorneys Association of the State of New York, raised both constitutional and content-based critiques of the legislation.
On constitutionality, the legislation allegedly circumvents a section of the state's governing document allowing only the Governor, not the Legislature nor an independent commission, to remove district attorneys from office. He noted that the Commission on Judicial Conduct was established through constitutional amendments, not regular legislation -- such amendments must be passed by consecutive sessions of the Legislature, then the voters by popular referendum.
Soares also criticized the legislation as not requiring complainants to provide a sworn affidavit, "under the penalty of perjury," and that most instances of "misconduct" were actually not intentional.
He added that if the legislation were to be signed by the governor, then DAASNY would sue the state to block its implementation. The governor's office, in a statement to Gotham Gazette, did not address the potential lawsuit nor signal an intent to sign the bill or not.
"We believe there should be accountability for all officers of the court, and we will absolutely be reviewing this bill," said Cuomo spokesperson Tyrone Stevens.
DeFrancisco told Gotham Gazette that he believes the governor will sign the bill. "I think he will sign it. The governor, I think, understands this history here."