Ben Max, left, of Gotham Gazette, and Jarrett Murphy, right, of City Limits
---
July 9, 2018 - Max & Murphy Podcast: Attorney General Candidate Zephyr Teachout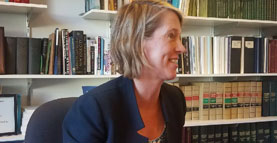 Zephyr Teachout is pursuing the Democratic nomination for Attorney General of the State of New York, part of a somewhat crowded group of candidates that also includes New York City Public Advocate Letitia James; Representative Sean Patrick Maloney; and Leecia Eve, a Verizon executive who is a former Hillary Clinton and Andrew Cuomo aide.
Teachout joined the podcast to discuss her vision for becoming the next Attorney General, highlighting the importance of fighting what she calls the law-breaking of President Donald Trump, his businesses and his presidential administration. Teachout also discussed fighting corruption in state government, and how the Attorney General must both work closely with and be an "independent voice" from the gubernatorial administration, no matter who the governor may be (Teachout ran a primary against Gov. Cuomo in 2014 and was campaign treasurer for Cynthia Nixon in this year's election until Eric Schneiderman's abrupt resignation created this year's AG electoral scramble). Teachout expressed concerns about Cuomo's concentrated power and the facts of the federal corruption cases occurring this year and involving top former aides to Cuomo, and much more.
Listen to the full conversation and let us know what you think -- we're on Twitter @TweetBenMax and @JarrettMurphy, and guest @ZephyrTeachout. You can listen to the episode through the embedded audio below or download the episode wherever you get your podcasts.