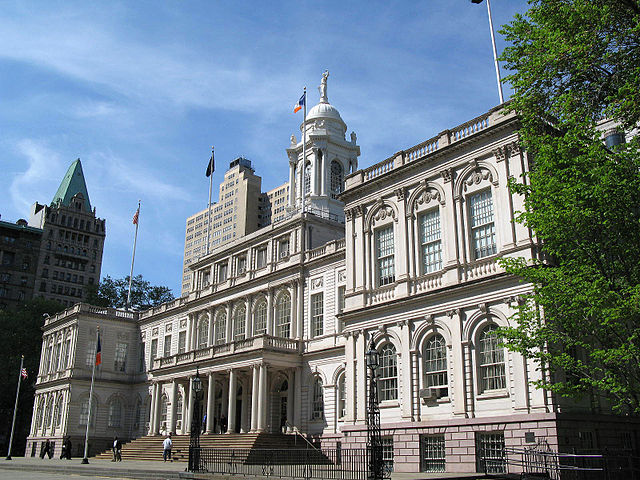 New York City Hall
---
What to watch for this week in New York politics:
We're less than two months from primary day, September 13, in the 2018 races for state-level seats. The entire state Legislature is on the ballot this fall, as well as the statewide offices of Governor, Lieutenant Governor, Comptroller, and Attorney General. There are far more Democratic than Republican primaries given that the GOP has few, if any, sitting state legislators being challenged and the party ensured that its four statewide candidates would not be challenged. Republicans haven't won a statewide election since Gov. George Pataki won his last term in 2002.
On the Democratic side, there are intense, possibly damaging primaries happening in the races for Governor and Lieutenant Governor, where incumbents Andrew Cuomo and Kathy Hochul are being challenged by Cynthia Nixon and Jumaane Williams, respectively. The open Attorney General primary is a contentious four-way race. Comptroller Tom DiNapoli is not facing a primary challenger. And, there are spirited, intense campaigns being run against all eight state senators who made up what was the Independent Democratic Conference, six of whom represent parts of New York City.
There are other intraparty fights happening, including three in Brooklyn where Julia Salazar is challenging Senator Martin Dilan, Blake Morris is challenging Senator Simcha Felder, a registered Democrat who has conferenced with Republicans, helping ensure them a slim majority, and the Ross Barkan-Andrew Gounardes primary to see who will try to unseat Senator Marty Golden. There are also a few Assembly primaries worth watching, though that chamber is less interesting in election season because of Democrats' significant majority.
So this week we're watching candidate fundraising totals that are made public through Board of Election filings; to see if there are any new polls in the statewide races; for any news of whether Cuomo will accept a debate challenge from Nixon (he has said there would be a debate) and when there might be one or more Hochul-Williams or AG candidate debates (the AG candidates have been participating in candidate forums, but not debates as of yet), and how things progress in some of the aforementioned legislative primaries. Nixon's campaign got a boost this past week when additional Cuomo associates were convicted on federal corruption charges related to the governor's Buffalo Billion economic development program. It is the second trial this year involving Cuomo aides and donors to result in convictions.
It's not all elections, of course, as there is action this week at the City Council, a few panel events to be aware of, and more happening -- see our day-by-day rundown below. We're also watching for the announcement of a federal monitor to oversee the city's NYCHA consent decree, which could come as early as this week, and for any news of a possible special legislative session in Albany to address issues such as speed cameras around city schools and the Reproductive Health Act, which would codify Roe v. Wade abortion protections in New York law.
***Do you have events or topics for us to include in an upcoming Week Ahead in New York Politics?
e-mail Gotham Gazette editor Ben Max: This email address is being protected from spambots. You need JavaScript enabled to view it.***
The run of the week in detail:
Monday
The New York State Board of Regents will meet on Monday and Tuesday.
At 8:45 a.m. Monday, city schools Chancellor Richard Carranza will deliver remarks at the 21st Annual National Principals Leadership Institute, at Lincoln Center.
On Monday at 11 a.m. in Brooklyn, "Lieutenant Governor candidate Jumaane Williams will announce his endorsement Julia Salazar, a progressive candidate running for New York State Senate today in Williamsburg, Brooklyn. Salazar will also announce her support for Williams, and both will be endorsed by the Jewish Vote, a grassroots organization focused on organizing the people-powered wing of the Democratic Party."
On Monday at 11:15 a.m. at City Hall, advocates and elected officials will rally to raise issues related to zoning and development of "megatoweres" on the Upper East and Upper West Sides, with a particular focus on a Tuesday hearing at the Board of Standards and Appeals related to two planned megatowers that are said to be exploiting zoning loopholes. "Join Manhattan Borough President Gale Brewer, State Senator Liz Krueger (rep.), and Council Member Ben Kallos, together with FRIENDS, Carnegie Hill Neighbors, Landmark West! and others in calling for a comprehensive solution now, not six months from now."
On Monday at 11:30 a.m. at Brooklyn Army Terminal, "New York City Economic Development Corporation (NYCEDC) and City officials plan to unveil Freight NYC, an action plan that includes various strategies to modernize and strengthen the City's freight distribution network. This plan is a major component of the City's NY Works initiative to create 100,000 good-paying jobs by 2027." The announcement will feature Deputy Mayor for Housing and Economic Development Alicia Glen; James Patchett, NYCEDC President and CEO; Congressional Reps. Jerrold Nadler and Nydia Velazquez; City Council Member Carlos Menchaca; Assistant Assembly Speaker Felix W. Ortiz; and others.
At 1 p.m. Monday at City Hall, the City Council "Committee on Standards and Ethics will hold a meeting on a matter regarding section 10.80 of the Council Rules." Section 10.80 relates to the code of conduct and "disorderly behavior," which can include sexual harassment and using a government for office for political work -- there is no other information available at this time on what matter the committee may be dealing with or who may be involved.
At 1 p.m. Monday outside City Hall, Republican gubernatorial candidate Marc Molinaro, with lieutenant governor candidate Julie Killian and City Council Member Joe Borelli, "will call on Governor Andrew Cuomo to keep his hands off New York tip wages."
At 1 p.m. Monday outside Kings County Supreme Court, "Housing Rights Initiative (HRI) and Brooklyn Borough President Eric L. Adams will announce a $10 million, 19-plaintiff lawsuit, filed by the Law Offices of Jack Lester in Kings County Supreme Court, based on a comprehensive investigation by HRI that has found that Kushner Companies appears to have employed a deliberate campaign to systematically harass rent-stabilized tenants in a 338-unit building out of their apartments using illegal, destructive, and dangerous construction practices. According to an independent lab analysis, families, including children and babies, were exposed to highly toxic and cancer-causing substances, including, but not limited to, the lung carcinogen crystalline silica and lead."
At 5 p.m. Monday, the City Council's Charter Revision Commission will hold its first public meeting since its members were named, at the Council Chambers in City Hall. The commission, separate from the mayor's ongoing charter revision commission, will work toward ballot proposals for November 2019.
Mayor Bill de Blasio will make his weekly appearance on NY1's Inside City Hall on Monday in the 7 and 11 p.m. hours.
Tuesday
At the City Council on Tuesday:
--The Subcommittee on Zoning and Franchises will meet at 9:30 a.m.
--The Committee on Criminal Justice will meet at 10 a.m. to discuss proposed laws relating to telephone services for inmates in city jails and prisons, and to "requiring the department of correction to report on use by department staff of any device capable of administering an electric shock."
--The Committee on Consumer Affairs will meet at 10:30 a.m. to discuss proposed laws related to "disclosure of premium or compensation charged by bail bond agents" and to "requiring that bail bond agents make certain disclosures."
--The Subcommittee on Landmarks, Public Siting, and Maritime Uses will meet at noon to discuss the landmarking proposal for the Coney Island Riegelmann Boardwalk.
--The Subcommittee on Planning, Dispositions, and Concessions will meet at 2 p.m.
"On Tuesday, the First Lady Chirlane McCray will travel to Oakland, California to participate in the Well Being Legacy Convening." She will return on Friday.
At 8:30 a.m. Tuesday, the Association for a Better New York will host John Miller, the NYPD's Deputy Commissioner of Intelligence and Counter-Terrorism, for a "Power Breakfast" at the Roosevelt Hotel in Midtown.
At 9 a.m. Tuesday, City & State will host its "Protecting New York Summit" at Baruch College, discussing "New York's security strategy from elections to community policing." NYPD Commissioner James O'Neill and Roger Parrino, Commissioner of the State Division of Homeland Security and Emergency Services, will deliver keynote addresses. Other speakers will include Elizabeth Glazer, director of the Mayor's Office of Criminal Justice; Michael Ryan, executive director of the New York City Board of Elections; State Senators Todd Kaminsky and Liz Krueger; Assemblymember David Buchwald; City Council Member Donovan Richards; and others. Gotham Gazette's Ben Max will moderate a panel on election integrity at 11:15 a.m.
At 9 a.m. Tuesday, City Council Speaker Corey Johnson, Comptroller Scott Stringer, and Public Advocate Letitia James will be among those to deliver remarks at a rally against hate at the Annual Amazon Web Summit, at Jacob K. Javits Convention Center.
At 11:30 a.m., Stringer will host a press conference outside of City Hall Park. At 3 p.m., James will hold a press conference at her office at 1 Centre Street. At 11:30 a.m., Johnson will delivers remarks at Judith White Senior Center, and at 6 p.m. Johnson will deliver remarks at the LGBTQ Memorial Launch, at the LGBT Center.
At 10 a.m. Tuesday, the State Senate Standing Committees on Labor and Economic Development will meet at the Dulles State Office Building in Watertown, Jefferson County, for a public hearing regarding the state's MWBE program.
At 11 a.m. Tuesday, the mayor's Charter Revision Commission will hold a public meeting to discuss the "preliminary staff report" at the Pratt Institute's Manhattan campus.
At 6 p.m. Tuesday, TransitCenter will host "Access Delayed" at One Whitehall Street, discussing how New York became the "least accessible subway system in the country" for people with disabilities, and strategies for remedying it. Panelists will include NYC Transit President Andy Byford, State Senator Michael Gianaris, Monica Bartley of the Center for Independence of the Disabled NY, and Emily Seelenfreund of Disability Rights Advocates. City Comptroller Scott Stringer will deliver opening remarks.
On Tuesday at 6 p.m. at LaGuardia Community College, the "Department of Consumer Affairs' (DCA) Office of Labor Policy & Standards (OLPS), in partnership with the City Commission on Human Rights (CCHR) and the Mayor's Office of Immigrant Affairs (MOIA), will hold a public hearing on the state of workers' rights in New York City. "The State of Workers' Rights in NYC: Advances and Setbacks in Turbulent Times" public hearing will include panels of workers who will testify on issues they face in today's workplace, followed by an open session for testimony from low-wage and immigrant workers, advocacy groups, labor unions, nonprofits, and community-based organizations on topics including access to paid safe and sick leave, scheduling problems, freelancer payment issues, wage and hour, immigrant worksite enforcement issues and more. The hearing will inform DCA's future efforts to protect workers, particularly low-wage and vulnerable workers." Participants will include Lorelei Salas, DCA Commissioner, Carmelyn Malalis, CCHR Commissioner, Bitta Mostofi, MOIA Commissioner, Manhattan Borough President Gale A. Brewer, Council Member I. Daneek Miller, and "dozens of workers."
The Working Families Party is holding its 20th anniversary gala on Tuesday evening in Brooklyn. The event will include the WFP's endorsed candidates for governor and lieutenant governor, Cynthia Nixon and Jumaane Williams, as well as other WFP candidates, supporters, and allies.
Wednesday
The City Council will hold a stated meeting at 1:30 p.m. Wednesday. There is expected to be the usual pre-stated press conference led by Speaker Corey Johnson at 12:30 p.m.
Also at the City Council on Wednesday:
--The Committee on Land Use will meet at 9:30 a.m.
--The Committee on Housing and Buildings will meet at 10 a.m. to discuss a proposed law relating to "regulation of short-term residential rentals."
--The Committee on Finance will meet at 10 a.m. to discuss the distribution of funds to organizations in the new city budget.
Just ahead of the Council's stated meeting, at 1 p.m. outside City Hall, "Council Members Antonio Reynoso and Steve Levin will join with advocates to rally for the passage of Intro 157, a bill to cap the amount of waste handled by overburdened communities." Along with Reynoso, Levin, and other Council members, including those in the Progressive Caucus, participants will include Teamsters Joint Council 16, Teamsters Local 813, New York Lawyers for the Public Interest, New York City Environmental Justice Alliance, The Natural Resources Defense Council, and other community groups and environmental justice advocates.
Wednesday from 5 to 6 p.m. will be the first weekly Max & Murphy show on WBAI radio (listen at 99.FM or stream at WBAI.org). Gotham Gazette's Ben Max and City Limits' Jarrett Murphy are moving their weekly podcast to the radio -- the show will still consist of interviews with newsmakers and analysts that will be made available as podcasts, and it will include listener calls! The first episode will include a conversation with Public Advocate Letitia James, who is running for Attorney General.
At 5:30 p.m. Wednesday, the New York City Campaign Finance Board's Voter Assistance Advisory Committee will hold a public meeting at the CFB's headquarters at 100 Church Street.
At 6 p.m. Wednesday, Parks Commissioner Mitchell Silver will deliver a two-year update on the "Parks Without Borders" initiative at the Museum of Natural History's Kaufmann Theater.
Thursday
At 8 a.m. Thursday, the Citizens Budget Commission will host New York Attorney General Barbara Underwood as a guest speaker at its annual trustee breakfast at the Harvard Club. The Attorney General will discuss "the U.S. Supreme Court nomination; the Attorney General's lawsuits to protect New Yorkers, such as on family separation, the 2020 Census, and more; and the ways in which New York State can lead to protect New Yorkers' rights."
At 6:30 p.m. Thursday, City & State will unveil its Queens Power 50 list at the Ravel Hotel in Long Island City. Queens Borough President Melinda Katz will speak.
Friday and the weekend
There are no Friday or weekend events of note on our radar as of Sunday evening.
***
Have events or topics for us to include in an upcoming Week Ahead in New York Politics? E-mail Gotham Gazette executive editor Ben Max any time: This email address is being protected from spambots. You need JavaScript enabled to view it. (please use "For Week Ahead" as email subject).
***
by Ben Brachfeld and Ben Max
@GothamGazette