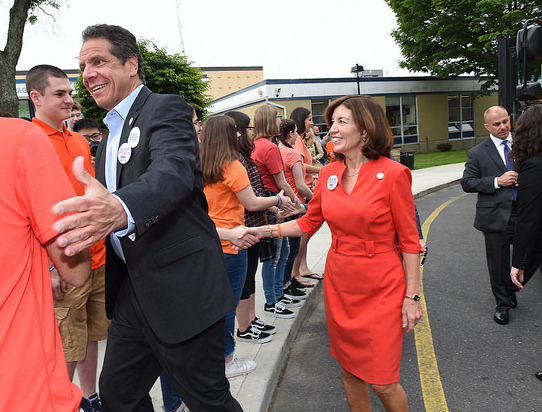 Gov. Cuomo and Lt. Gov. Hochul (photo: The Governor's Office)
---
Governor Andrew Cuomo and Lieutenant Governor Kathy Hochul have increased the frequency of their public appearances together in recent months, perhaps a reaction to the Democratic primary challenge against Hochul by City Council Member Jumaane Williams, not to mention Cynthia Nixon's parallel attempt to unseat Cuomo.
Between the close of state budget season at the end of March and mid-July, Cuomo and Hochul appeared together at 17 separate public government events, eight more than their nine joint events in the same period of 2017. And, ahead of the September 13 primary, the pace of Cuomo-Hochul events has picked up in June and July, with 14 events together as of July 13, compared to four such events last year through the same period.
Many of these events have revolved around two hot-button issues, women's reproductive rights and gun control. Notably, these are not only high-profile national issues, but also topics already important to both the Cuomo-Nixon and Hochul-Williams races. They represent strong and weak points for Hochul and Williams: in their Democratic primary, Williams is strong on guns and vulnerable on reproductive rights, while Hochul is strong on reproductive rights and vulnerable on guns.
Meanwhile, Nixon has attacked Cuomo for a failure to pass the Reproductive Health Act, which would codify Roe v. Wade abortion rights into New York state law and he has expressed support for but pointed to refusal to pass it by Republicans who control the state Senate. Nixon, in turn, accuses Cuomo of having long tolerated, if not propped up, that Republican control of the upper house of the Legislature. On guns, however, Cuomo continues to run on his aggressive Safe Act, which he pushed through the Legislature in the months after the 2012 Sandy Hook Elementary School massacre.
At recent events, all billed as official government rallies and press conferences, Cuomo and Hochul have regularly praised each other, at times appearing to blur campaign lines with talk of the upcoming November elections and their shared mission to help flip the U.S. House of Representatives and the state Senate to Democrats.
"I would guess that the optics of the team is stronger when together, particularly when the governor's opponent is a woman," said Blair Horner, executive director of the New York Public Interest Research Group, in an email. "Also, the lieutenant governor is facing a contested primary of her own. By appearing with the governor, it helps build her visibility among voters."
Williams, a New York City Council Member from Brooklyn, has aligned himself with the Working Families Party and activist organizations, and is running to Hochul's left on many issues, like rent regulations. He is also building his campaign around the notion that the lieutenant governor should not simply be a booster for the governor, but a check on the state's chief executive. He is seen as a significant threat to Hochul given his New York City base (she is from the Buffalo area), the progressive energy within the Democratic Party, and his ability to appeal to people of color and white progressives who make up a sizeable total share of the primary electorate (Williams is black, Hochul is white).
Williams, who describes himself as an "activist-elected official," criticized Hochul's characterization of her office as "advancer-in-chief." "I don't think that that is what people want to see in a lieutenant governor now," Williams told Gotham Gazette in an interview. "They do want to see the type of leadership which is working with the governor, he or she, to advance projects, policies, that is helping the people of the state."
The lieutenant governor's office told Gotham Gazette that the increased frequency of Cuomo-Hochul events is because the actions out of Washington, D.C. bring increased urgency to policy-making in New York.
"Now more than ever they're working together standing up for protections against gun violence and fighting for the rights of women and immigrants that are under attack by the federal government," said Haley Viccaro, a spokesperson for Hochul, in an email.
On the campaign trail, Williams is regularly lambasting Hochul's record on issues such as guns and immigration, calling her conservative. "With that kind of record," Williams said in an interview, "my guess is that you would have to try to tack on to someone, in this case Cuomo, who has his own questionable record." Williams noted Hochul's 2011 vote in Congress for a concealed carry "reciprocity" bill, allowing individuals licensed to carry concealed weapons in one state to legally bring it to another state without legal concealed carry. Hochul, who was a one-term representative, has said that she regrets voting for the bill, and has been strongly behind the "red flag" gun control bill that she, Cuomo, and others have been pushing this year, to no avail in the GOP-held state Senate.
In the state budget deal reached in March, Cuomo was able to convince Senate Republicans to back a measure to strip guns from those convicted of domestic violence.
Hochul, meanwhile, recently released a campaign video accusing Williams of not being committed to women's reproductive rights, given his history of personal opposition to abortion. "Mr. Williams has been socially conservative and has not consistently supported a woman's right to choose," Hochul said, adding that New York's leaders need to be "100 percent personally committed" to upholding Roe v. Wade.
Williams said that he was "better" on both gun control and reproductive rights than Hochul "in terms of achievement." "It was strange to me when I watched that ad, what the lieutenant governor seemed to imply is that any person has to choose to have an abortion in order to personally support a woman's right to have a safe, legal abortion," Williams said, claiming that he has always been in support of a woman's right to choose.
"If you have no real record of achievement as an elected official, what else do you have," Williams said. He told Gotham Gazette that he would like to debate Hochul on an issue of her choice, and on her terms. Hochul has said she is happy to engage in debates, though none have been scheduled at this time.
Nixon has repeatedly challenged Cuomo to debate, and the governor at one point said there would be a debate, but there has been no further public movement on the topic in months.
The second-term governor, who added Hochul to the ticket four years ago after his first-term lieutenant governor, Robert Duffy, declined to seek another term, has been focusing his attacks on Trump and Congressional Republicans, as well as Republicans in the state Senate, while largely ignoring Nixon. His campaign and governmental spokespeople have regularly criticized her, however, while she has gone on the attack against Cuomo over his management of the MTA, corruption in state economic development programs, and more.
While touting his record over two terms, Cuomo has sought to train the public focus on his fight for abortion rights and gun control. And, he has apparently sought to raise Hochul's profile. The lieutenant governor, meanwhile, is closely aligning herself with a governor who remains well ahead in the polls, including among New York City voters and voters of color. While the two positions are voted on separately in party primaries, they form a party ticket for the general election.
On Monday, the Cuomo campaign announced that the governor had raised another $6 million in the latest state campaign finance filing period, spending almost the same amount, and maintaining about $31 million in the bank, far outpacing Nixon's roughly $1 million cash-on-hand. The Cuomo campaign noted that of the governor's disbursements, he had maxed out to Hochul's campaign committee, with a $21,000 donation, helping her bring in about $1.2 million over the filing period, which is about the same amount that she now has on-hand to spend.
Last month, Cuomo and Hochul held twin events around the "red flag" gun control bill, including in the Bronx and Westchester, and Hochul appeared at other related events without the governor. Cuomo said he did not expect that Senate Republicans would return to a special session in Albany to pass the measure, but that he wanted to apply public pressure and that voters should remove Republicans from power in the fall.
Then, the Cuomo-Hochul events increased in frequency after the announcement by Donald Trump of his Supreme Court pick, elevating the status of Roe v. Wade in the national and state conversation. In July, Cuomo and Hochul appeared at events centered around reproductive rights on five consecutive days, July 9-13. Hochul has introduced Cuomo at the events while noting that she and Cuomo are responding to "the onslaught of attacks on women's rights coming out of our nation's capital," as she said on July 13.
In contrast, their joint events last July included the 2017 Adirondack Challenge and the announcement of a neighborhood stabilization initiative for Buffalo.
Ben Max contributed to this article.