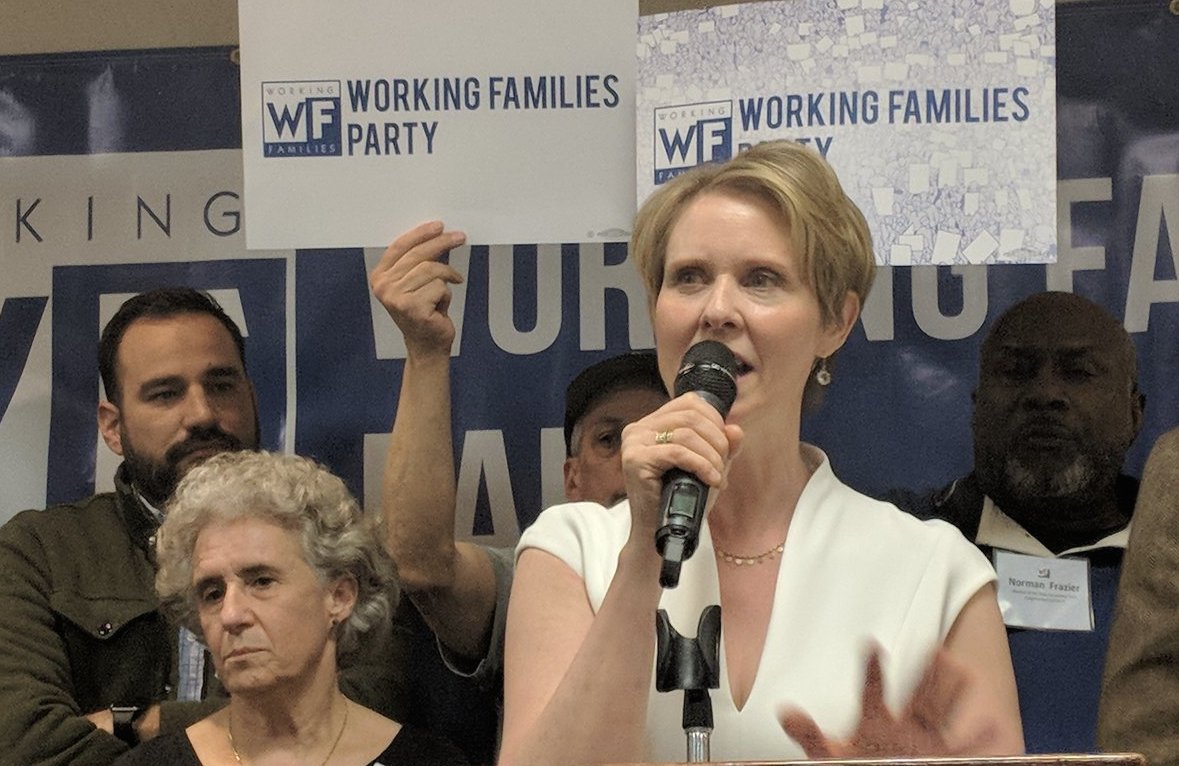 Cynthia Nixon and the WFP (photo: @CynthiaNixon)
---
If Cynthia Nixon is unsuccessful in her attempt to defeat Governor Andrew Cuomo in the September 13 Democratic primary, she is likely to vacate the Working Families Party ballot line for the general election in order to avoid playing "spoiler" by pulling votes from Cuomo and helping elect another candidate, such as Republican gubernatorial nominee Marc Molinaro.
While Nixon has been endorsed by the Working Families Party, in a move that has put the WFP's existence at risk, the party has arranged a back-up plan to move Nixon off its gubernatorial ballot line and onto its line in the state Assembly race in Nixon's home district on Manhattan's west side. The 66th Assembly District, which includes neighborhoods like Greenwich Village and Tribeca, is currently represented by long-time Democratic Assemblymember Deborah Glick, whom the WFP informed of its plans before the party filed ballot petitions for a placeholder candidate to occupy the ballot line in anticipation of its possible use by Nixon.
The broad contours of the arrangement were first reported this weekend by The New York Post. However, The Post indicated that Nixon may run against Glick for the Assembly seat if she moves to that ballot line, something that both the Nixon campaign and WFP told Gotham Gazette would not occur.
According to spokespeople for the Nixon campaign and the WFP, both have high hopes for a Nixon upset victory over Cuomo in the Democratic primary, at which time Nixon would remain on the WFP line for the general election and have two ballot lines.
"We are very confident that Cynthia will win the Democratic primary, but if she does not, as we have said many times before, she will decide at that time if she will continue on the WFP line or not," said Lauren Hitt, a Nixon campaign spokesperson, in a Monday statement to Gotham Gazette. "And as we told the Post, Cynthia has no intention whatsoever of running against Glick and will in fact campaign for her. The only questions that remain unanswered are what the Governor will do when he loses - as he is on the WEP [Women's Equality Party] and Independence Party Lines."
A WFP spokesperson said the party had explained the precautions to Glick and indicated the party has no intention of running Nixon, or the placeholder, Doug Seidman, against her in the general election. There are a handful of ways that a candidate can be removed from a ballot line, one of which is to be nominated for another race.
"WFP has put everything on the line for Cynthia because we believe in her, and from the start, we've known she could win," said Working Families Party New York Director Bill Lipton, in a statement to Gotham Gazette. "Over the last few weeks, the path to that win is getting clearer. We're creating a placeholder as a precaution that we take in almost every contested primary, in case our candidate wants to remove themselves from the ballot."
Like Hitt, Lipton also noted that if Nixon wins the Democratic primary, there will be questions about Cuomo's status on the two general election ballot lines he has secured.
Glick, meanwhile, told Gotham Gazette that she plans to be successful in winning another term this November, no matter who is on the ballot against her.
"I didn't speak to the Nixon campaign," Glick said in a brief Monday phone call. "I spoke with Working Families Party representatives shortly before they were going to be filing petitions for Doug Seidman for the November election. And I fully expect to win that general race, regardless of who is on the line, whether it's Mr. Seidman or Cynthia Nixon. And, the explanation as to what their machinations are, should really be discussed with the Working Families Party, not me."
Ben Brachfeld contributed reporting.