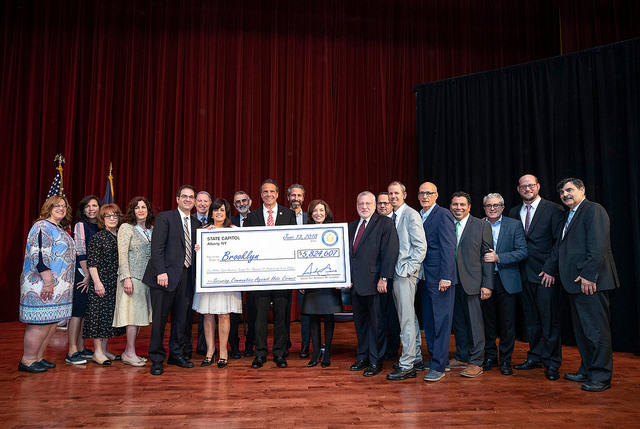 Gov. Cuomo at a funding event (photo: The Governor's Office)
---
With less than two months till the September 13 primary election, candidates running for state office filed campaign financial disclosure reports with the New York State Board of Elections by the Monday deadline, showing fundraising and expenditures from a six-month period between January 16 and July 16.
Governor Andrew Cuomo, the two-term incumbent Democrat who is running for reelection, continues to maintain an overwhelming funding advantage with more than $31 million in his campaign coffers. Cuomo raised more than $6 million since January and spent about $5.3 million in the same period.
Cuomo's campaign attempted to tout the number of small-dollar donations it received, likely a response to criticism of the governor's reliance on wealthy donors and contributions from Limited Liability Companies (LLCs). The campaign said 57 percent of the number of donations received were for less than $250. But those donations only added up to less than $64,000, eliding the fact that nearly 99 percent of the total value of the fundraising came from big donors, including $500,000 in corporate donations and $2.5 million from LLCs and PACs. Cuomo also received 69 separate contributions from the same individual, Christopher Kim of Long Island City, which his primary opponent Cynthia Nixon, the actor and education activist, called an attempt to "astroturf" his campaign (New York Times reporter Shane Goldmacher found that Kim shares an address with a Cuomo aide; several other Cuomo aides, relatives of aides, and long-time associates gave Cuomo small donations in an apparent attempt to inflate his small-dollar numbers).
Nixon, who has staked her campaign on small donors, has been issuing scathing critiques of Cuomo's fundraising practices that she says are a symptom and cause of a pay-to-play culture in state government. Nixon brought in about $500,000 in the last six months, paling in comparison with Cuomo's haul, and spent about $274,000. Her campaign has noted that she received more than 30,000 individual contributions since she launched her campaign, and that 97 percent of those were small-dollar contributions. She has just under $658,000 in cash-on-hand.
Marc Molinaro, the Republican nominee for governor who doesn't have a primary challenger, raised more than $1.1 million and has spent $250,000, leaving him with $887,000 with four months to go until the November 7 Election Day. Molinaro's general election competition will become more clear after the Democratic primary is settled, but there are several smaller party and independent candidates running. His running-mate, Julie Killian, does not appear to have filed her discloure yet, but Molinaro's campaign filing shows a $45,000 loan from Killian herself, as reported by Nick Reisman of Spectrum News.
Green Party nominee Howie Hawkins brought in $24,000 and spent $7,000 in the filing period, leaving him just under $17,000 in his campaign account.
Former Democratic Syracuse Mayor Stephanie Miner, who only jumped into the governor's race last month and is running as an independent, and her running mate Republican Michael Volpe, the mayor of Pelham, together raised $409,000, spent $247,000 and have $162,000 in cash on hand. The two plan a general election ticket on the Serve America Movement ballot line, for which they are petitioning with the help of the organizers of the new movement.
Libertarian gubernatorial candidate Larry Sharpe, who, like Miner, is petitioning his way onto the general election ballot, has raised $115,000, but his expenditures amounted to $154,000, leaving him with a negative balance of just above $13,000.
Lieutenant Governor Kathy Hochul, a Democrat seeking a second term alongside Cuomo, faces New York City Council Member Jumaane Williams in the primary, which will be Thursday, September 13. Hochul reported an intake of $1.25 million and had only spent $150,000 in the same time. She has about $1.24 million at her disposal. Williams' fundraising report was delayed in being published to the Board of Elections website, something the campaign said was over "technical issues" and Hochul criticized him for.
"Our campaign's financial disclosure report was filed on time Monday evening but there were technical issues that we are working with the Board of Elections to immediately address," said William Gerlich, a spokesperson for Williams' campaign, in a Tuesday statement. Gerlich said Williams had raised nearly $200,000. When the report was finally published, it showed Williams having raised $183,469.62 and spending $137,967.13, to leave a balance of $45,502.49. However, the campaign appeared to take in several corporate contributions over the limit, and a subsequent need to refund several thousand dollars.
Candidates for governor and lieutenant governor run separately in a primary and on a joint ticket in the general.
Four candidates are competing for the Democratic nomination for attorney general, in a spirited race that has seen several of them posting strong fundraising numbers.
New York City Public Advocate Letitia James was chosen as the Democratic Party's designee at its state convention. Before her disclosure was posted to the BOE website, her campaign claimed it had raised more than $1.1 million in just two months, and nearly 60 percent of the contributors gave $200 or less. According to the actual filing, James raised exactly $1,165,897.55 and spent $174,417.04, leaving her campaign $991,480.51 in the bank.
Zephyr Teachout, the Fordham Law professor who unsuccessfully challenged Governor Cuomo in the 2014 Democratic primary, is running for attorney general, pledging to refuse corporate, LLC, and PAC donations. Teachout showed about $551,000 in fundraising from more than 10,000 individual donors -- 97 percent of her funds came from donors who gave less than $200 -- and has spent about $284,000. She has $314,000 in cash on hand.
Former Cuomo and Hillary Clinton aide Leecia Eve raised $300,000 in total for her bid for attorney general and spent about $50,000. Rep. Sean Patrick Maloney reported a $1.1 million haul and spent $145,000, but his campaign told The New York Times last week that he has another $3.1 million in funds raised for his congressional reelection that he believes he can use in the statewide race. He is running for both offices simultaneously, with the state AG primary set to determine whether he stays on the November ballot for congressional reelection.
The latest filings also revealed that former Attorney General Eric Schneiderman, who resigned after facing accusations of physical abuse by several romantic partners, triggering the Democratic primary, returned $982,000 to campaign contributors. He still has several million dollars in the bank.
Keith Wofford, the Republican nominee for attorney general, raised more than $1 million in total and has only spent about $25,000 since entering the race. He is not facing a primary.
State Comptroller Thomas DiNapoli, an incumbent Democrat, isn't facing a primary opponent this year either. He reported raising $683,000 since January and spent $351,000. He has about $2.6 million in his campaign account, eclipsing his two general election opponents.
John Trichter, until recently a registered Democrat, received the Republican Party's nomination for comptroller. Trichter has only raised $156,000 and spent $18,500. He has about $138,000 in his campaign chest. The Green Party's Mark Dunlea is also running for comptroller and has $5,000 in campaign cash.
Note: This article has been updated with comment from a spokesperson for Jumaane Williams' campaign and additional information.