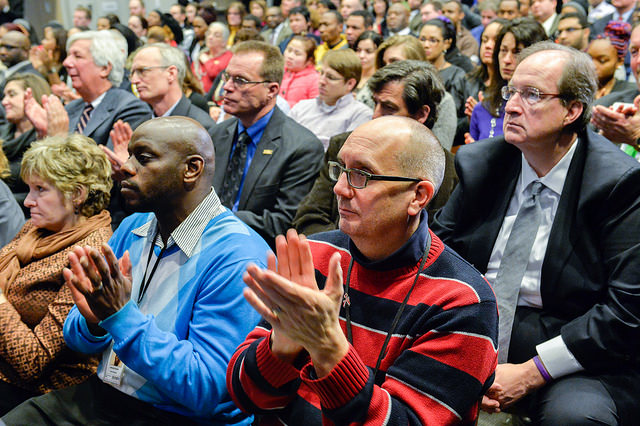 (photo via the Governor's office)
---
The latest statewide poll from Quinnipiac University shows New York voters' preferences in the races for governor, attorney general, and others. But it also divulges the issues that New Yorkers say are most important to them in the run-up to the September primary and November general elections.
One question asked what issue voters prioritize most in their vote for governor, with a short list of issues provided to those being polled, as opposed to it being an open-ended question. With 23 percent of those polled, the economy was the number one choice of New York voters, followed by government corruption and health care at 19 percent each, taxes and education at 15 percent, abortion at 4 percent, "don't know" at 3 percent, and "something else" at 2 percent. Issues like the environment, transportation, affordable housing, and criminal justice were not provided as options, though all are prominent in the public discourse and the gubernatorial campaign.
Among Democrats, health care stood as the most highly prioritized issue of the choices, at 26 percent, with education and the economy at 21 percent each. For Republicans, taxes and the economy co-led at 24 percent; for independent voters, the economy led at 26 percent and government corruption was at 22 percent. Younger respondents were more likely to prioritize the economy than older voters, who were more likely to prioritize health care or government corruption. The poll was taken as federal corruption convictions continued to roll in among former top state lawmakers and former top aides to Governor Andrew Cuomo.
Though transit was not provided as an option in this most recent poll, a February Quinnipiac poll found that just 29 percent of respondents approved of Cuomo's handling of the MTA, which runs the subways and buses and is largely controlled by the governor, versus 49 percent who disapproved and 22 percent who were unsure. Cynthia Nixon, Cuomo's Democratic primary opponent, has made the MTA a major focus of her campaign, accusing the governor of negligence and mismanagement.
The percentage of respondents to the July poll who believe government corruption is a very serious or somewhat serious problem is largely unchanged from February, despite the convictions of four high profile government officials, including two with close ties to Cuomo: Joe Percoco, Alain Kaloyeros, Sheldon Silver, and Dean Skelos. In February, 83 percent of respondents said government corruption was a very serious or somewhat serious problem in New York, while in July 85 percent said the same. Among people ages 18-34, there was a drop: 54 percent said government corruption was a very serious problem in February while only 36 percent said so in July. It's unclear what could account for this.
In February, 47 percent of respondents told Quinnipiac that all current elected office holders in New York State need to be voted out if political corruption is to be addressed, versus 38 percent who said the current crop are capable of addressing the problem. Forty-nine percent called Governor Cuomo "part of the problem."
The issues of this year's race diverge somewhat from the issues that defined the 2014 election cycle. A major issue in 2014 that had largely been out of the discussion this year is fracking, with a July 2014 Siena poll showing sharply divided opinion on the process. Cuomo signed an executive order banning fracking in New York State in December 2014, after winning reelection. This year, environmental activists and some candidates are calling for the banning of all fracking-related infrastructure, often meaning piping that moves fracked gas into or through New York from elsewhere, while Republican nominee Marc Molinaro is saying he would undo Cuomo's order and allow a pilot fracking program in the Southern Tier of New York.
Government corruption, on the other hand, is similarly in focus this year as it was in 2014. That year, Cuomo disbanded the Moreland Commission to Investigate Public Corruption, after its investigators reportedly began to probe prominent Cuomo donors and practices by legislators, and a package of ethics reforms were included in the enacted state budget as part of a deal to shutter the commission prematurely. Some, including former U.S. Attorney Preet Bharara, accused Cuomo of having disbanded the commission after it began looking into him and his administration's dealings.
According to an August 2014 NBC/WSJ/Marist poll, 62 percent of New York voters felt Cuomo should not have intervened in the commission, with 52 percent of respondents claiming that the governor's office had acted unethically, though only 23 percent of respondents said that the Moreland Commission scandal was a "major factor" in their vote choice in November.
Nixon has promised to open a new Moreland Commission on Public Corruption if she's elected governor, while Molinaro has outlined a slate of government ethics reforms. Molinaro has made corruption in state government, especially in the Cuomo orbit, a major focus of his campaign so far. Nixon -- whose election against Cuomo is September 13, while Molinaro awaits the winner for the general election, along with other, smaller-party candidates -- has unveiled several policy packages, including on education, criminal justice reform, and housing. Molinaro has pledged more policy agenda items in the coming weeks and months, including a major plan to overhaul the state's property tax system.
For his part, Cuomo has staked his pitch for a third term on his accomplishments from terms one and two, as well as a wish-list consisting of progressive priorities that have not passed the state Legislature. Cuomo largely boasts of accomplishing marriage equality, a major gun control law, a paid family leave program, and a significant minimum wage hike, as well as some criminal justice reforms and massive state investments into infrastructure. He's said other items will pass next term if he's returned to the executive chamber and Democrats can swing the state Senate (they already control the Assembly by a wide margin), such as voting, campaign finance and bail reforms, among others.